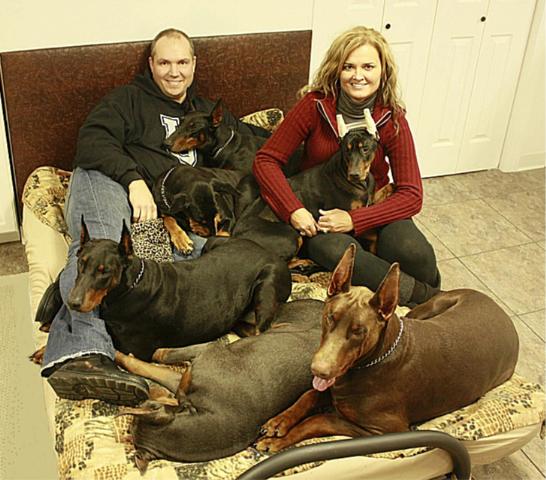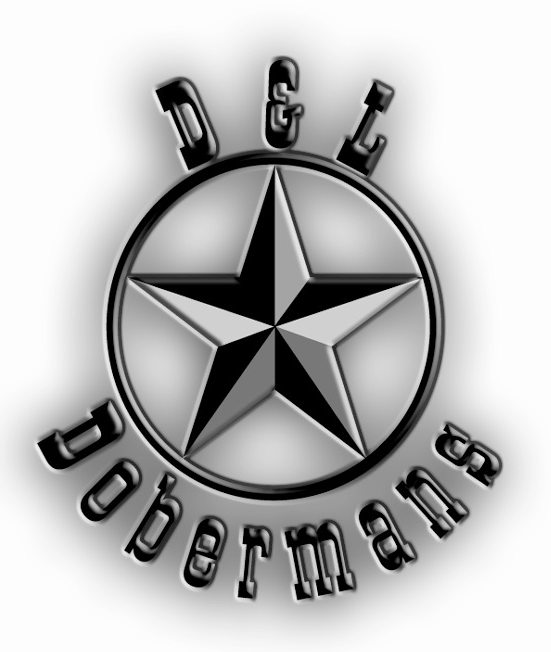 "SOLID IN BODY AND MIND"

Click the marquee to visit our LIVE Doberman channel!
Above: Christmas 2009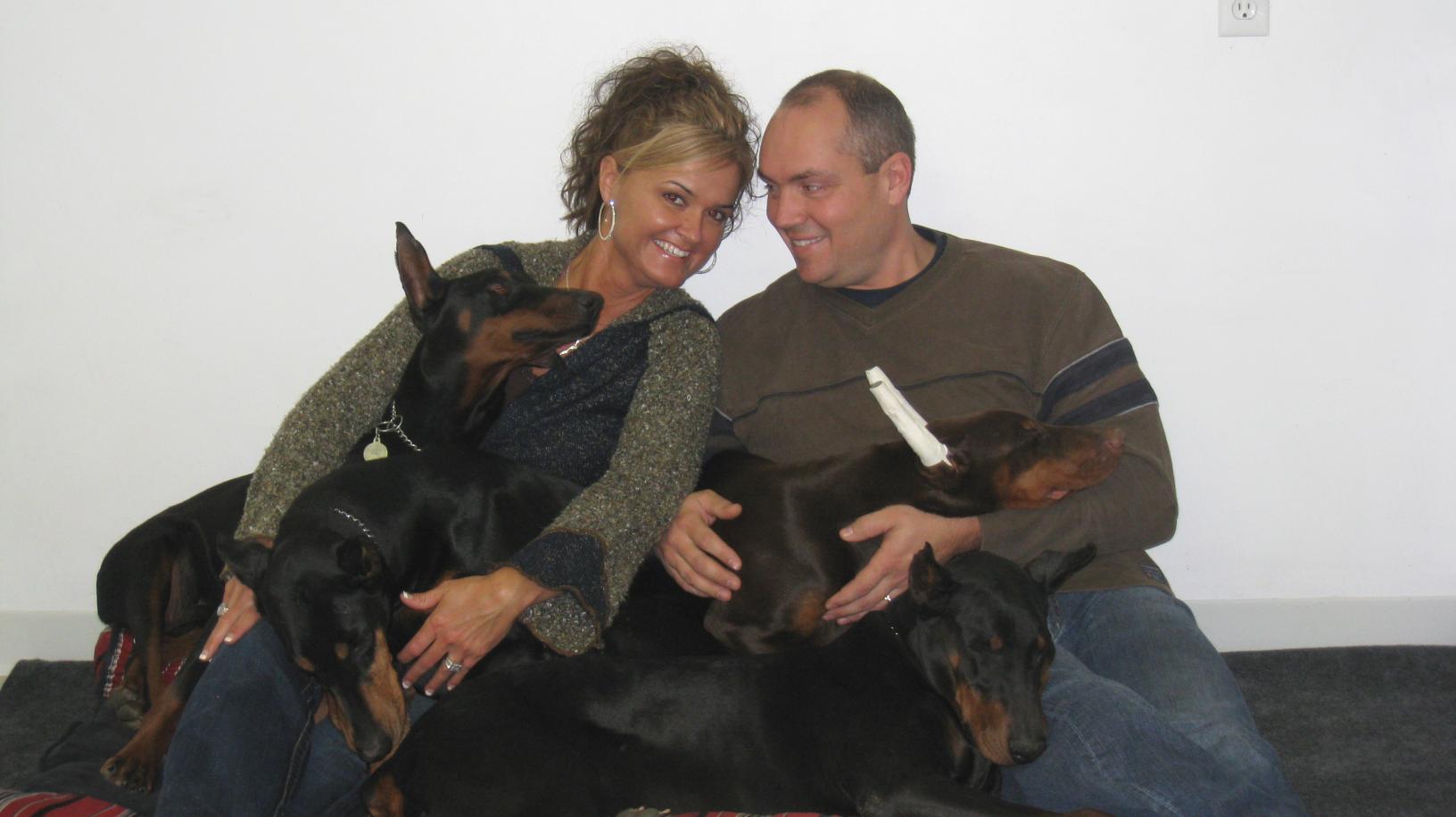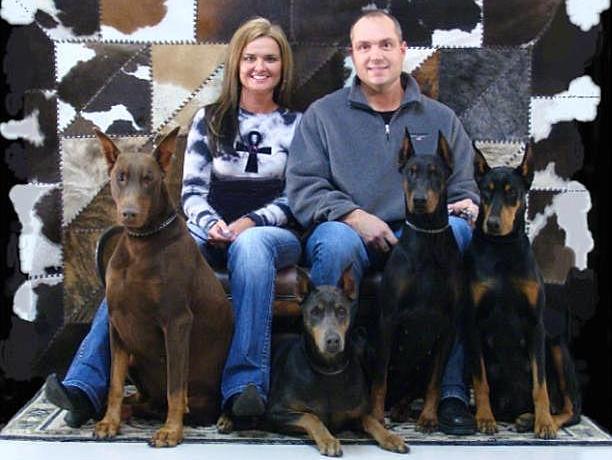 L: Christmas 2008
R: Christmas 2007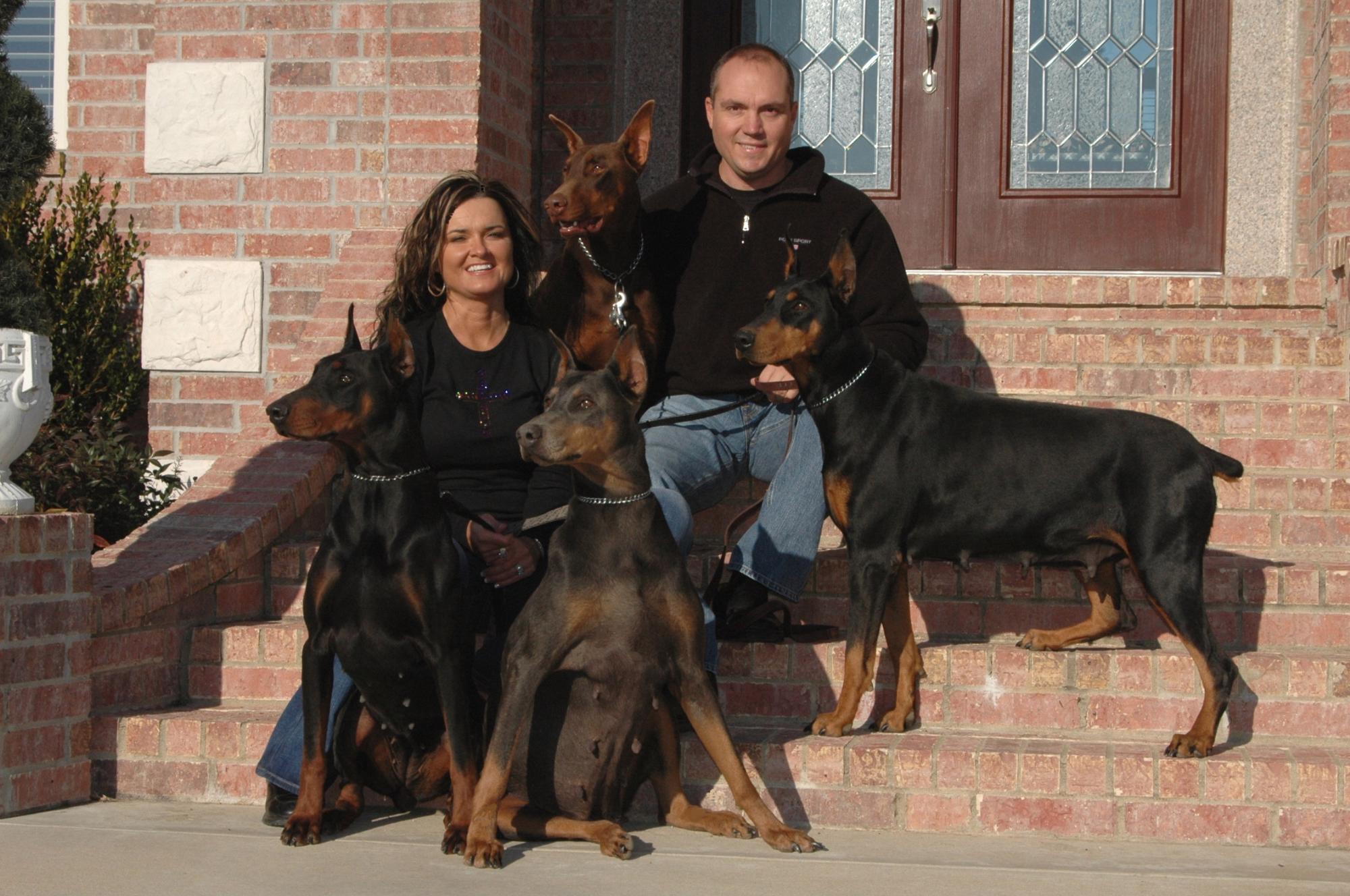 L: Christmas 2006
R: Christmas 2005
Below: Christmas 2004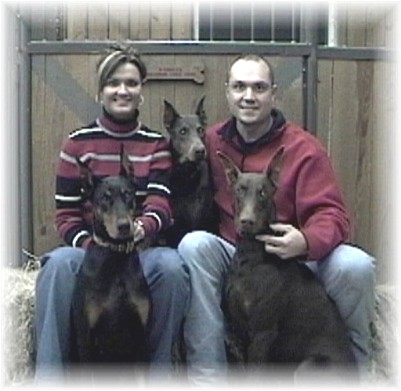 We do not currently have any puppies for adoption.
We will update this section when a litter is planned and pregnancy is confirmed. Possible plans are spring 2013. We only plan for an occasional litter as puppies are very special and a lifelong commitment for us. Litters are only planned when the time is appropriate for our dobies and for us as we are a team in the care of these puppies. We also consider the wonderful families that are on our waiting list in this decision. Please contact us about adoption if you are a committed family. We only plan for one litter at a time. Our last litter was in May 2010.
(Please see more details and contract link below)
Puppy adoption cost of $2,500 includes: High quality breeding and care, Full breeder support, Full AKC registration (NO "Z"/white factor), Custom ear crop, Microchip, Tails docked, Dewclaws removed, Vaccinations and De-worming current, Paper trained, Detailed puppy record (past and future), Health guarantee, Weekly photos/updates and our LIVE broadcast to watch your puppy grow! Shipping by air in United States is available ($400 including crate). Reservations can be discussed with D&L (Dwight and Lesa) at dandldobermans@gmail.com or (870)974-0095. ($500 deposit required).
Click here for the PUPPY CONTRACT/GUARANTEE.
Please page down for photos of our adult dobies and their "Bone Sweet Bone".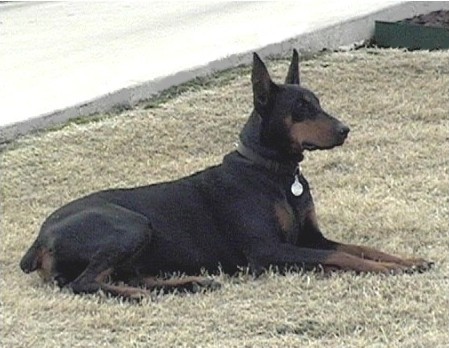 D & L's Outlaw Josie (AKC pedigree link)
Josie is a #4 black female with mahogany markings and a large build. We chose Josie from Gracey's first litter. She is such a sweetheart and is a natural when it comes to great manners. She has a very attentive and careful personality. Josie's Cryptonite breeding proved to be an incredible cross of pedigrees with D&L's Regal Redford. Josie has proven herself and her pedigree well with the exceptional puppies that she produced with very large bones and beautiful heads. Josie is 26 inches tall and weighs 85 pounds. She is now retired and enjoying her time with us and her dobie friends here at D&L.
More photos of Josie (click here)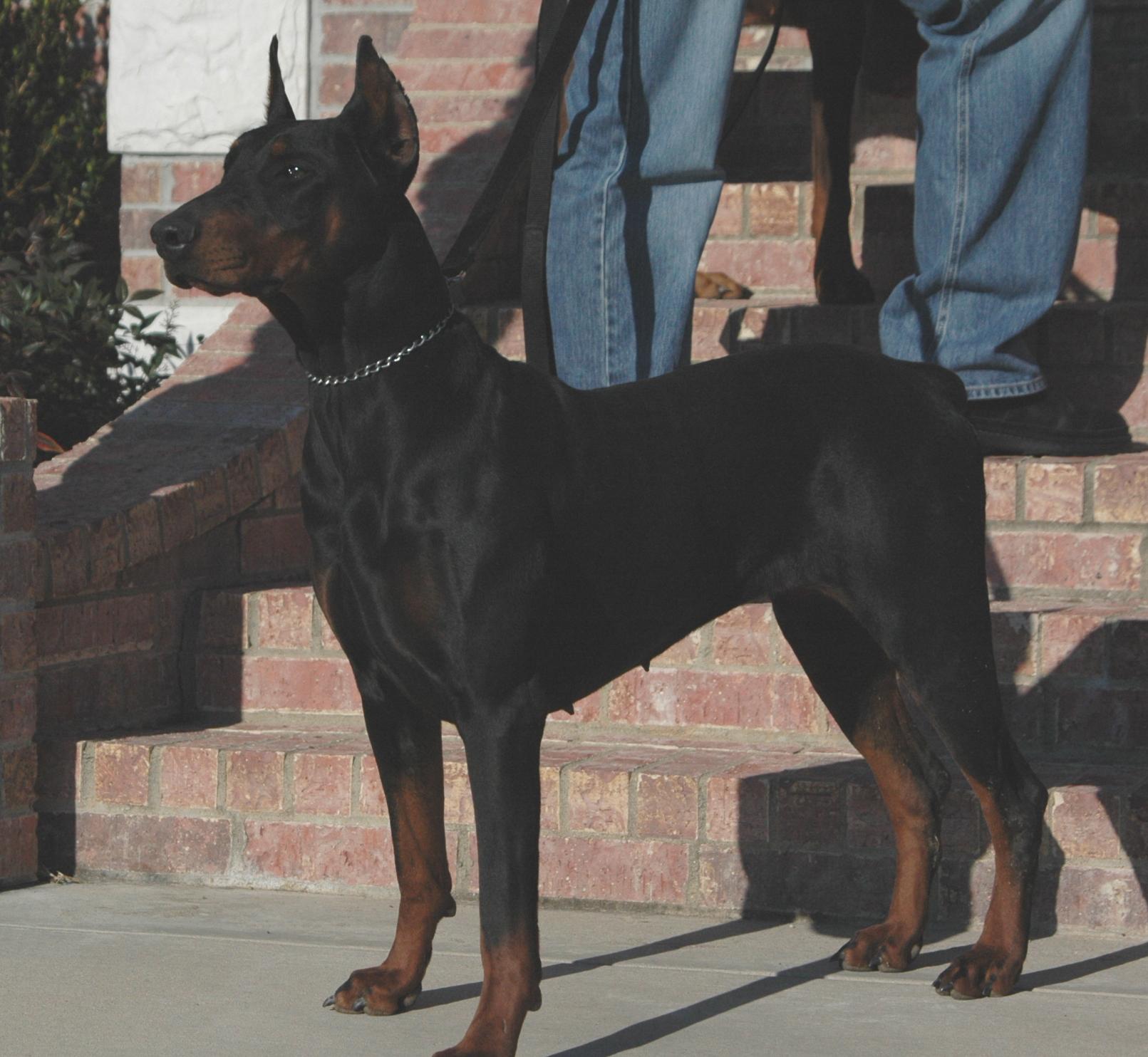 D & L's Kimbertal Star (AKC pedigree link)
Star is an extremely blocky built, black female with dark mahogany markings. She is such a sweetheart and is very intelligent. We are very proud of Star and worked hard to acquire a girl that is similar to Gracey in pedigree. After a year of research and hours of driving, Star was handpicked by us to join the family. Star's quality breeding is evident in her large bone structure and beautiful head. Star has continued the consistency that we have in our breeding program and the wonderful puppies that are raised by D&L Dobermans. Her puppies are gorgeous and have large bones, blocky heads and very dark markings. Star is 25 inches tall and weighs 80 pounds.
More photos of Star (click here)
SPECIAL NOTE: Star's ear crop was NOT done by D&L's veterinarian.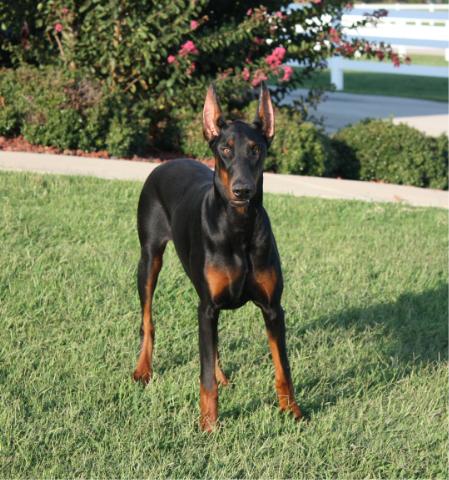 D & L's Starlet Gressa (AKC pedigree link)
Gressa is an extremely athletic girl with a gorgeous head, beautiful shiny coat and very dark mahogany markings. She is the first puppy that was born to Redford and Star. She is exactly what we were expecting with this incredible cross. She has an intelligent personality just like her mother, Star, and is very loving and attentive to what is going on around her. She is a big lover like her dad, Redford. She is an exciting addition to the D & L Doberman family and a shining example of what the pedigrees and care at D & L Dobermans will produce.
More photos of Gressa (click here)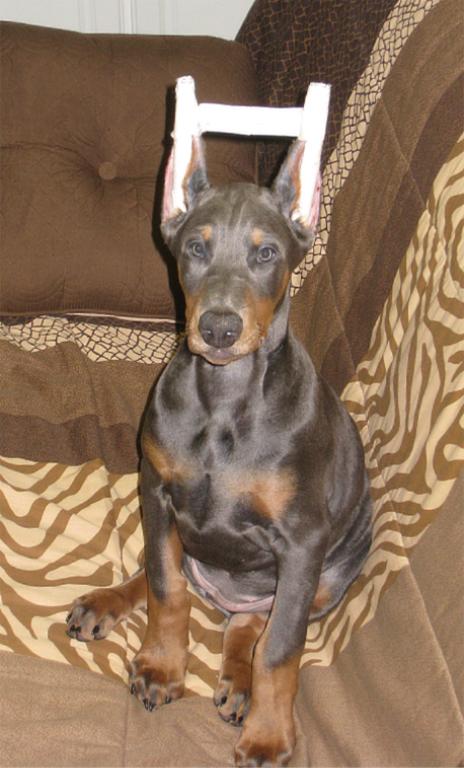 D & L's Amazing Jacey (AKC pedigree link)
Jacey is a very special girl to D & L Dobermans. She was born in the first litter of fourth generation D & L puppies (March 2009). She is the great granddaughter of D & L's Amazing Gracey who was the start of D & L Dobermans. Jacey is the daughter of Star, the grandaughter of Redford and the granddaughter of Josie. Her name means "healer" and is a combination of "Josie" and "Gracey". Jacey's blue color, like Gracey, was a total surprise as we were hoping to keep a female puppy from this litter. Jacey has a very loving and smart personality and is a large girl with large bone structure like her mother Star. Jacey inherited her athletic ability and height from her sire, Mierko. We are so excited to have Jacey in our family and she will continue the quality of D & L Dobermans that was started by her great grandmother, D & L's Amazing Gracey.
More photos of Jacey (coming soon)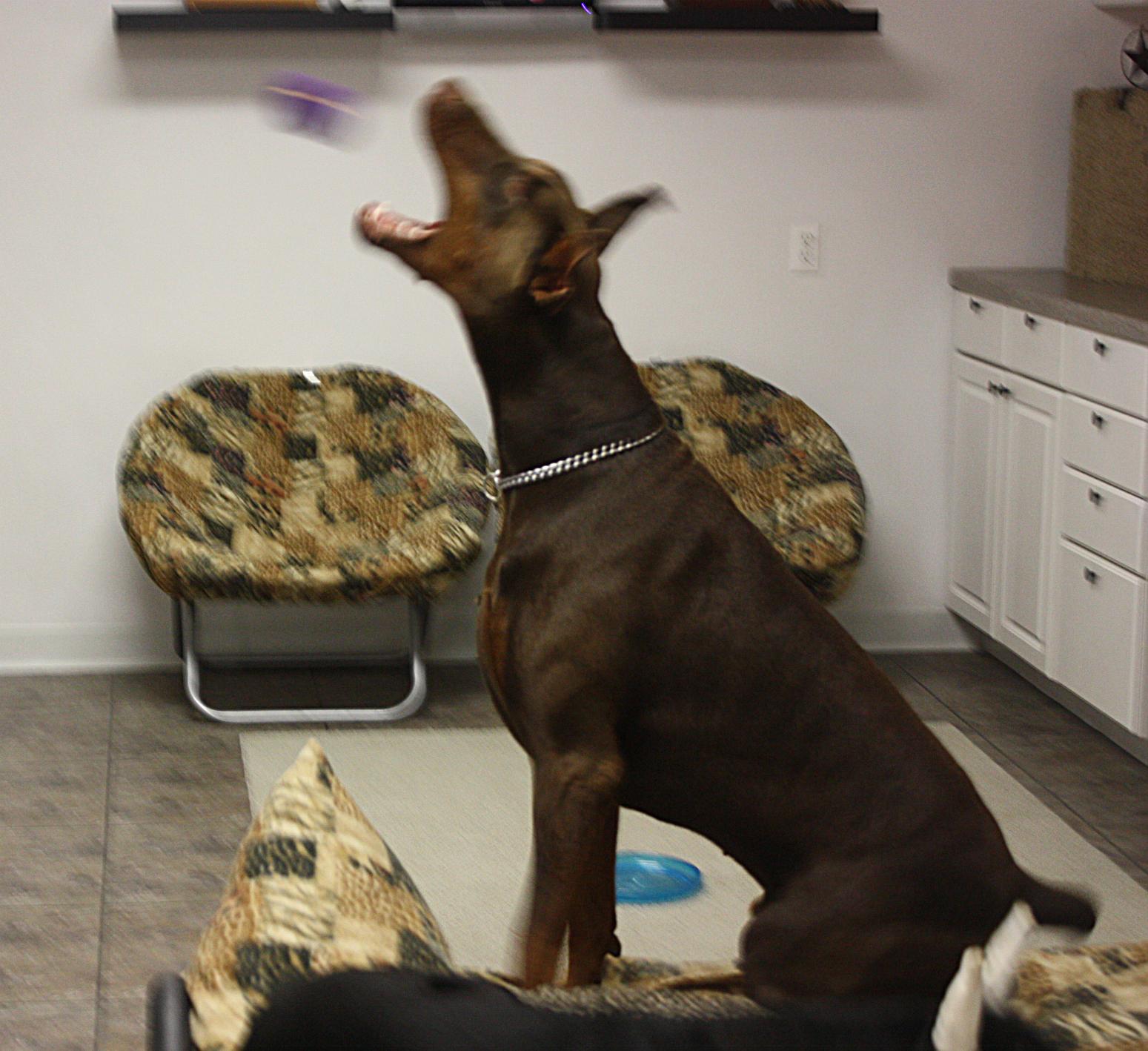 D & L's Regal Deezel (AKC pedigree link)
Deezel is a very large boy (120 pounds and 30 inches tall) with a gorgeous square block head, and an extremely large frame. He is a very calm and loving boy with strong European breeding. His strong working bloodlines are obvious since he absolutely loves to play fetch but he has an exceptional balance because most of all he loves to fall asleep on your lap. Deezel has a beautiful red color with golden highlights.
More photos of Deezel (click here)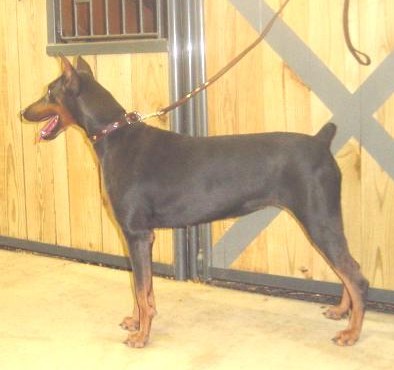 D & L's Amazing Gracey (AKC pedigree link)
Gracey is a beautiful #6 blue who has filled our lives and hearts with joy. She is very playful and loves to help us do chores around the barn. She has a very loving personality and is also protective of her home and companions. Gracey's quality breeding is evident by the large puppies that she produced (including our own D & L's Outlaw Josie). She produced puppies with lots of personality, smarts and size! Gracey is now retired and enjoying life with the rest of the gang! Gracey is 26 inches tall and weighs 90 pounds.
Gracey passed away on 04/08/08. Rest in peace Gracey girl. We miss you every day...
More photos of Gracey and her story (click here)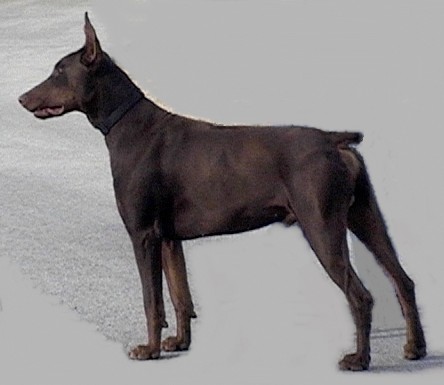 D & L's Regal Redford (AKC pedigree link)
Redford is very muscular and is bred from strong working bloodlines that trace back to International Champion Kalina V. Norden Stamm thru his sire Amaris' Poetic Justice. Redford's deep red color is strong in his dam's (Amaris' Serenade) pedigree back to Champion Terra Dell's One In a Million. Redford is serving his heritage proud by the tremendous puppies that he has produced. He has an extremely loving personality and loves to play. He is a #7 red on the color inheritance chart. Redford is 28 inches tall and weighs 100 pounds.
Redford passed away on 08/24/08. Rest in peace sweet Redford. We miss you every day...
More photos of Redford (click here)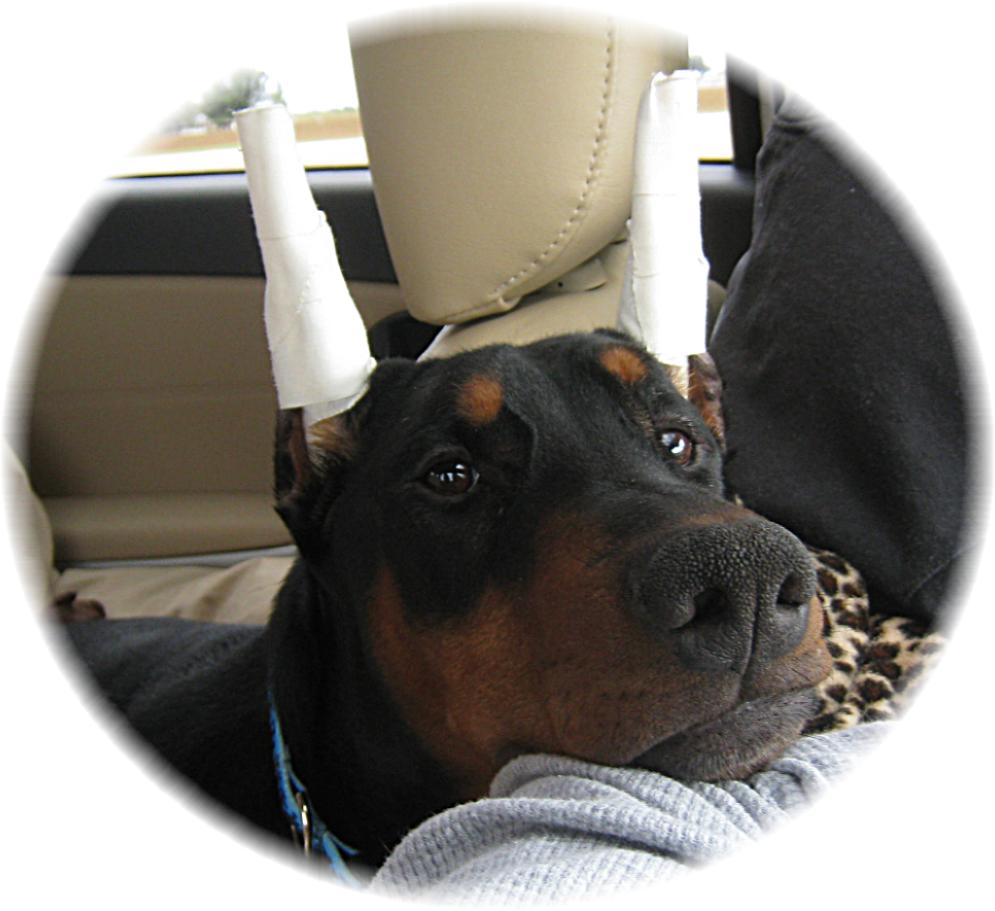 D & L's Mighty Twister (AKC pedigree link)
Words cannot describe D & L's Mighty Twister and what he meant to us. He was born on March 18, 2009 (March 2009 litter). He was the joy of our lives and was loved by so many.
Our hearts were broken when we lost Twist on 06/08/10 Rest in peace Twisty. We will never forget...
See Twister's story at: www.MightyTwister.com

D&L's - Bone Sweet Bone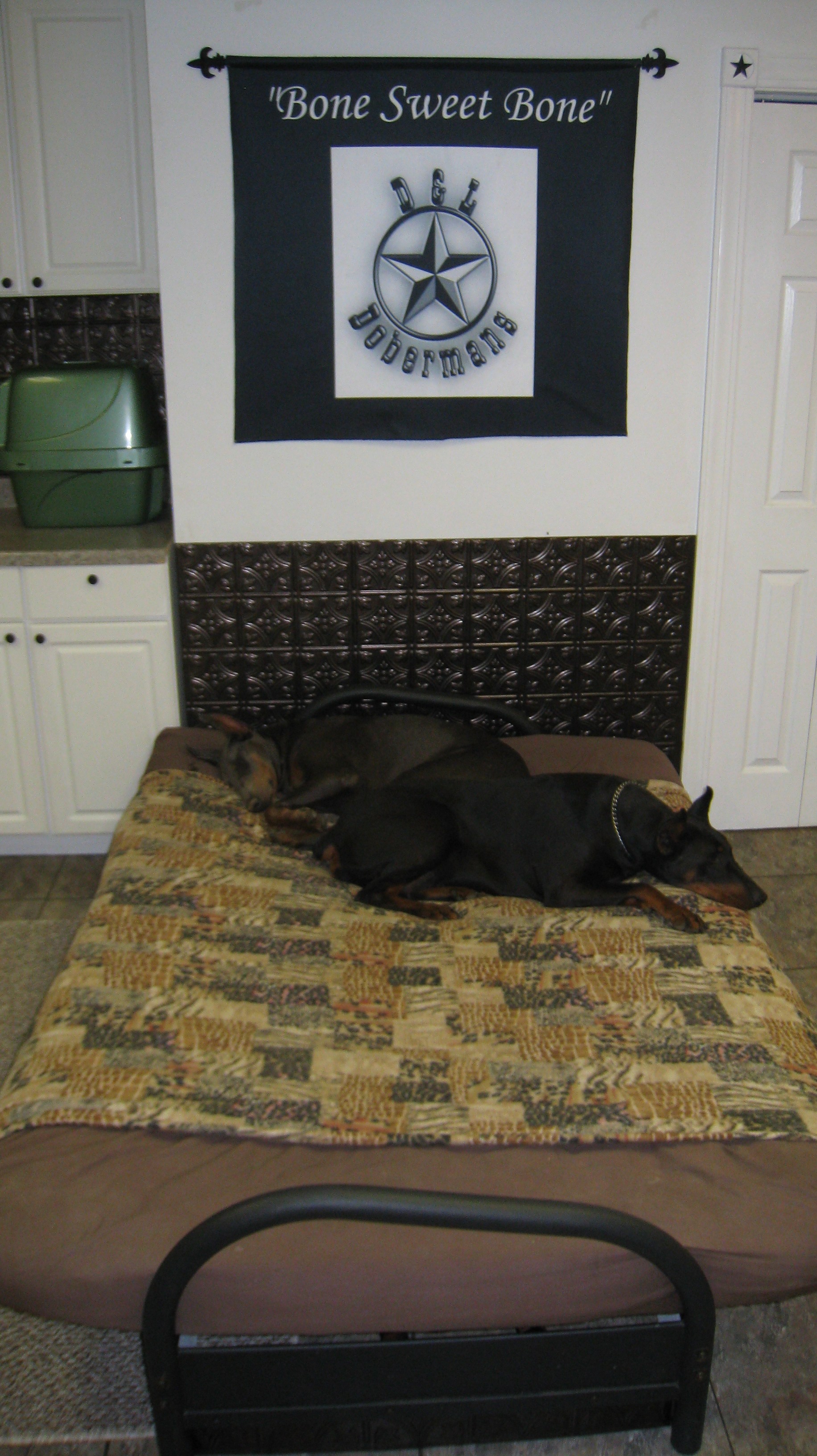 The dobie room is approximately 600 square feet and is inside our home. This space was designed for our dobies and puppies to have the most enjoyable life as possible. There are 2 full size beds in the dobie room where they spend lots of time napping, after playing outside. They come and go into their room thru the dog door and they have a 6 acre fenced yard to enjoy. Some of the dobies sleep while others play and then they all settle in for the night together. Sometimes you will hear them barking loudly on the webcam as Deezel loves to lay down and block the door. :)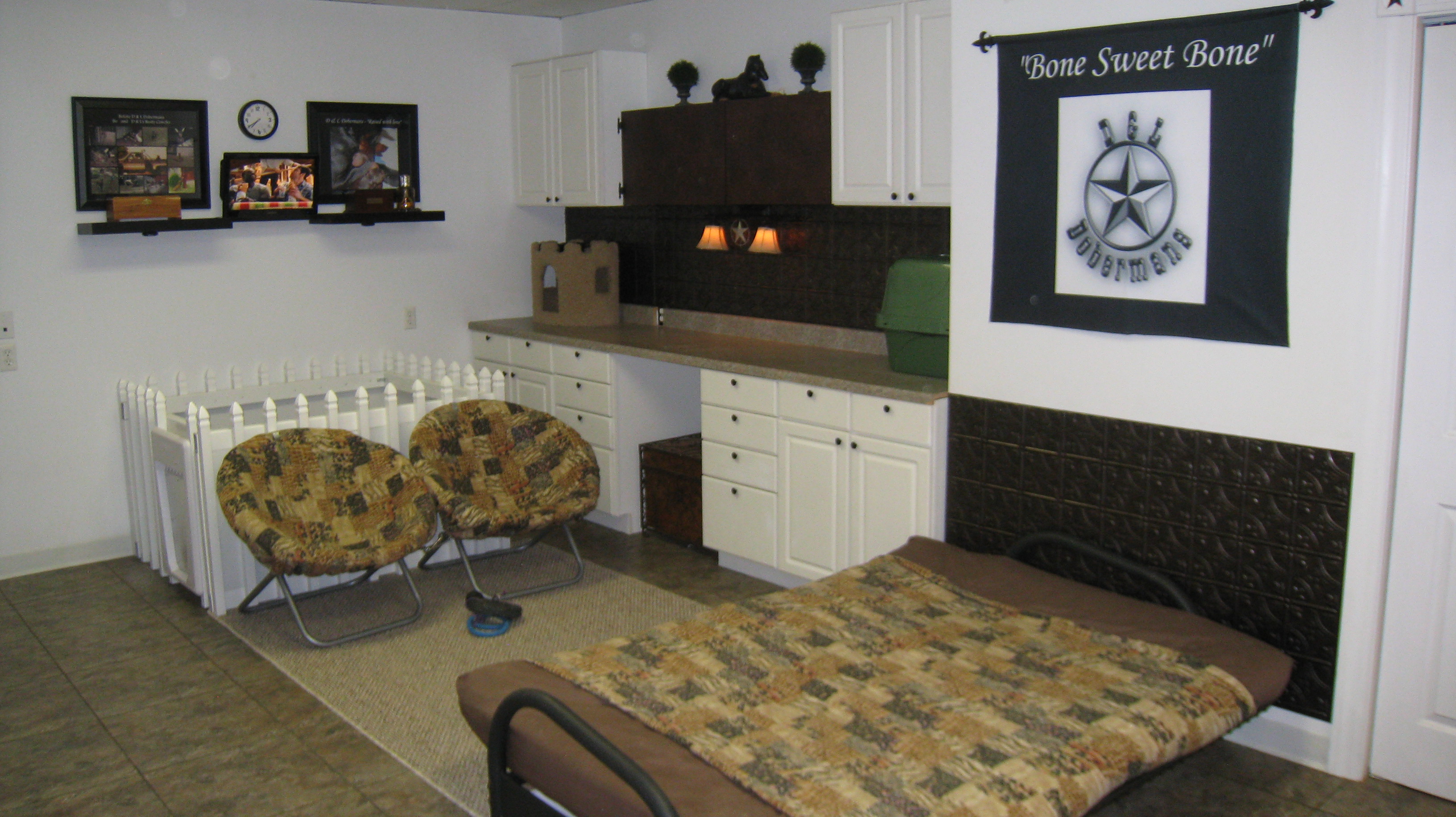 Some of the dobies also like to sleep in the 2 mushroom chairs in their room.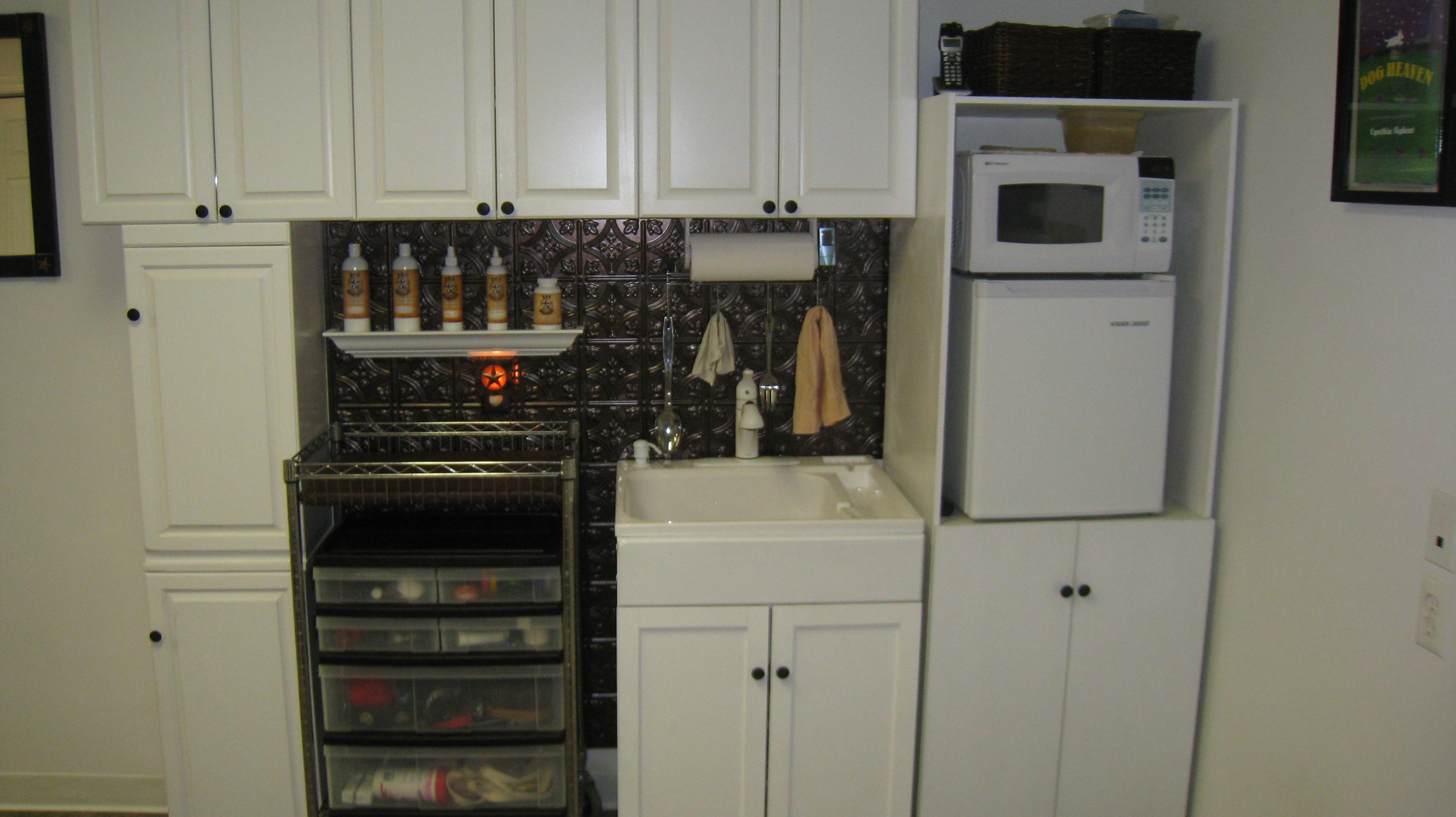 The dobies have their own kitchenette where we prepare their food and keep all the things that dobies and puppies need!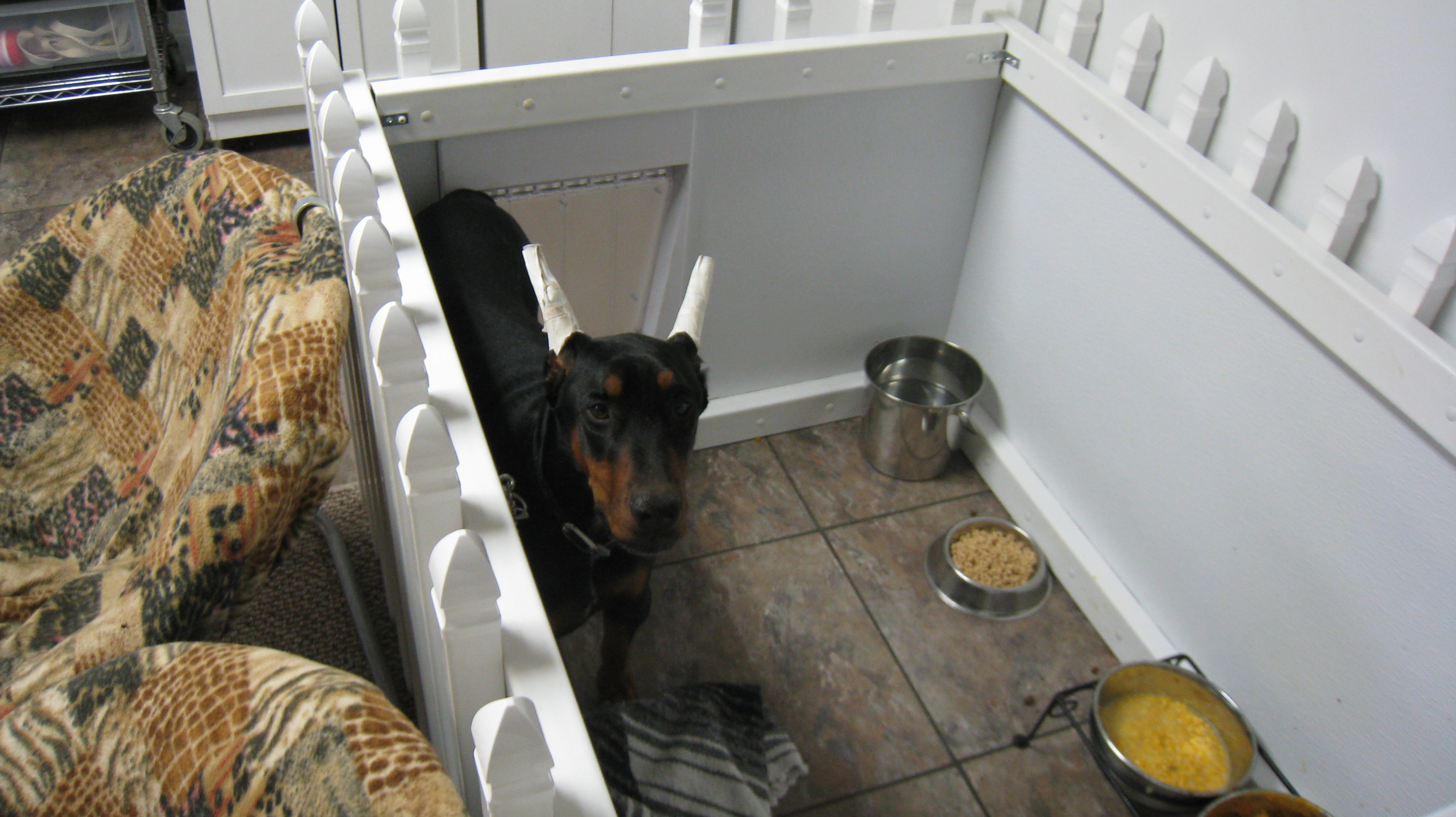 Twister's "dining" room with veggie and cheerios buffet that only he and his "key" collar could enter! :) RIP Twister, we miss you.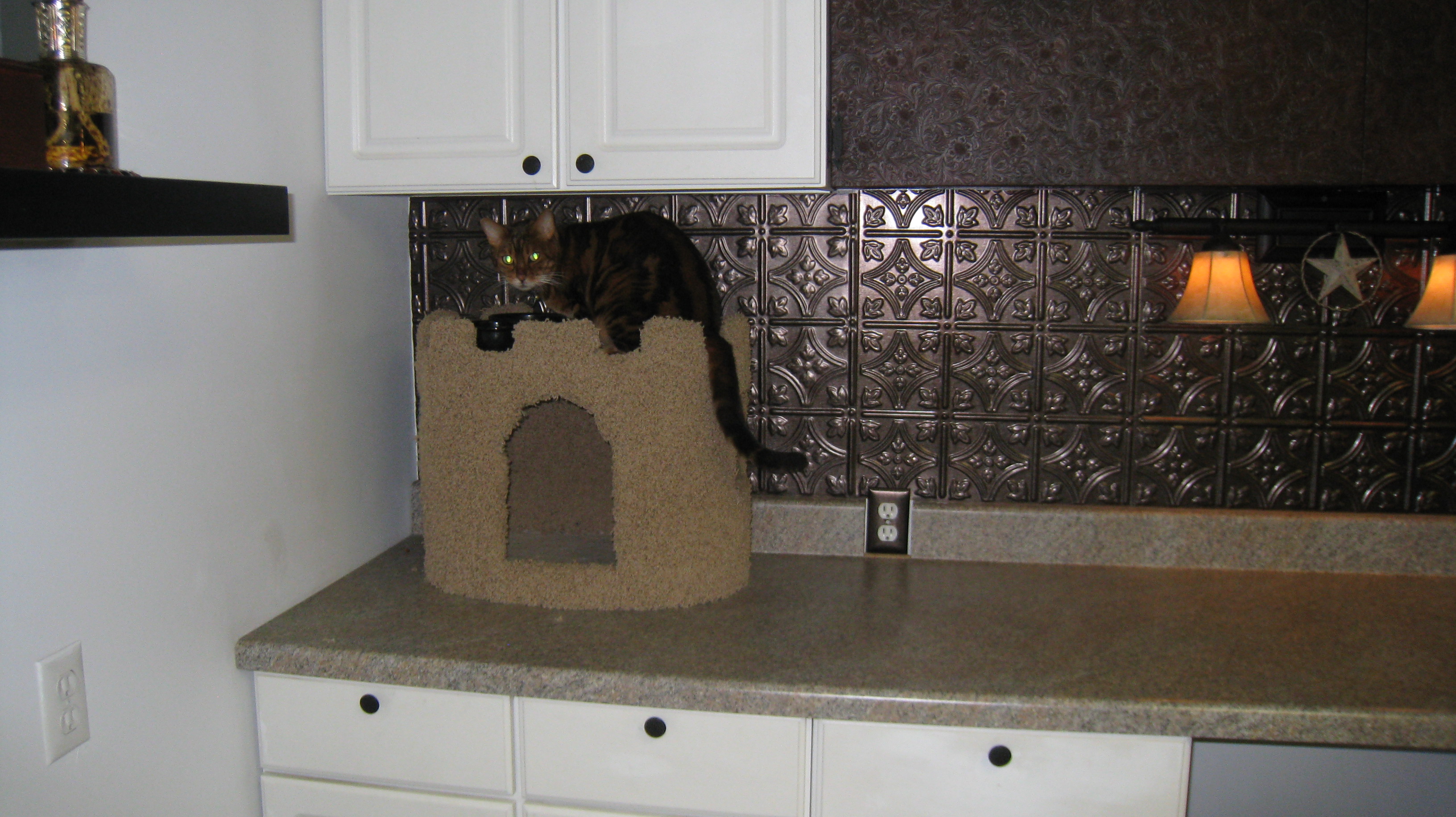 Moana kitty enjoys her special area in the dobie room and her "buffet on the castle"!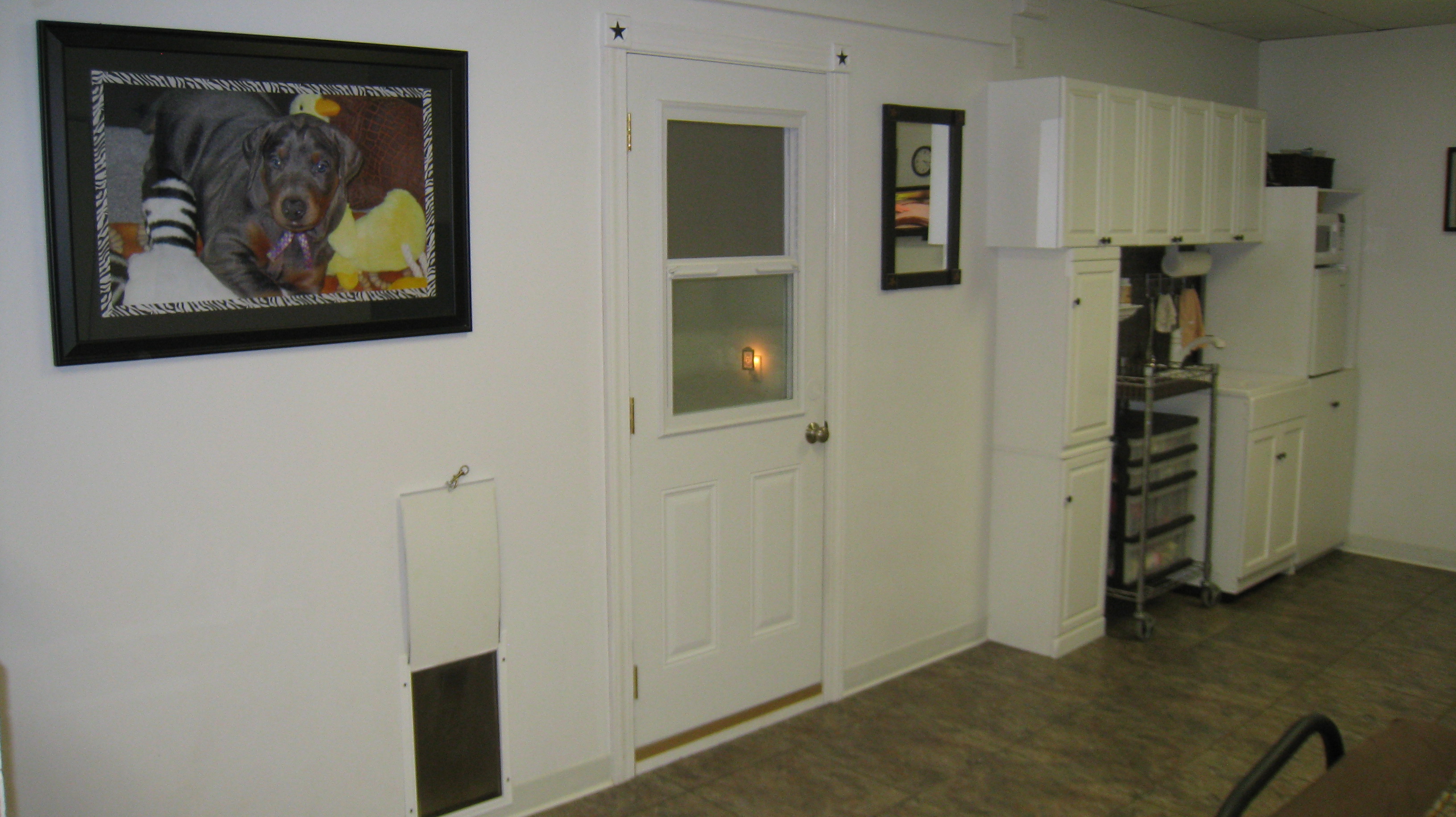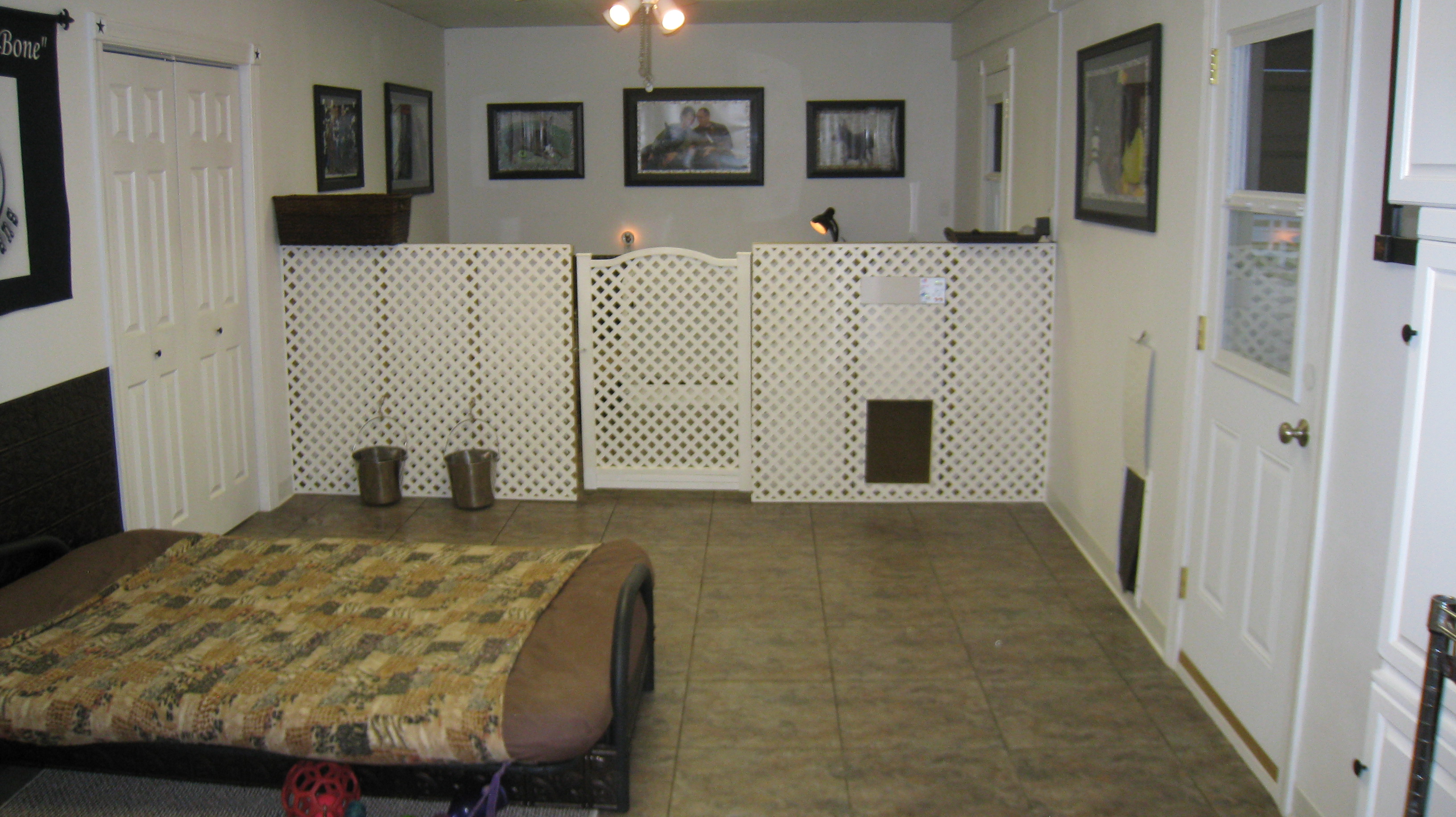 There is a half door/wall in the dobie room that can be closed and used to keep the D&L Dobies separate when there are puppies or a girl in heat. The glass dog door in the right side of the half wall is electric and controlled by a key collar. The door opens into the wall above and closes automatically when mom is completely thru the opening. This allows the mom of a litter to come and go with the other dobies to play outside without allowing the other dobies in or the puppies out of their room. This clear glass door also allows the other dobies a clear view of the puppies.
This is the other half of the room behind the half wall that can also be used for whelping and puppies when needed. This is the second full size bed in the room that we also sleep on when puppies are due and during the first week with new puppies to keep a close watch over them.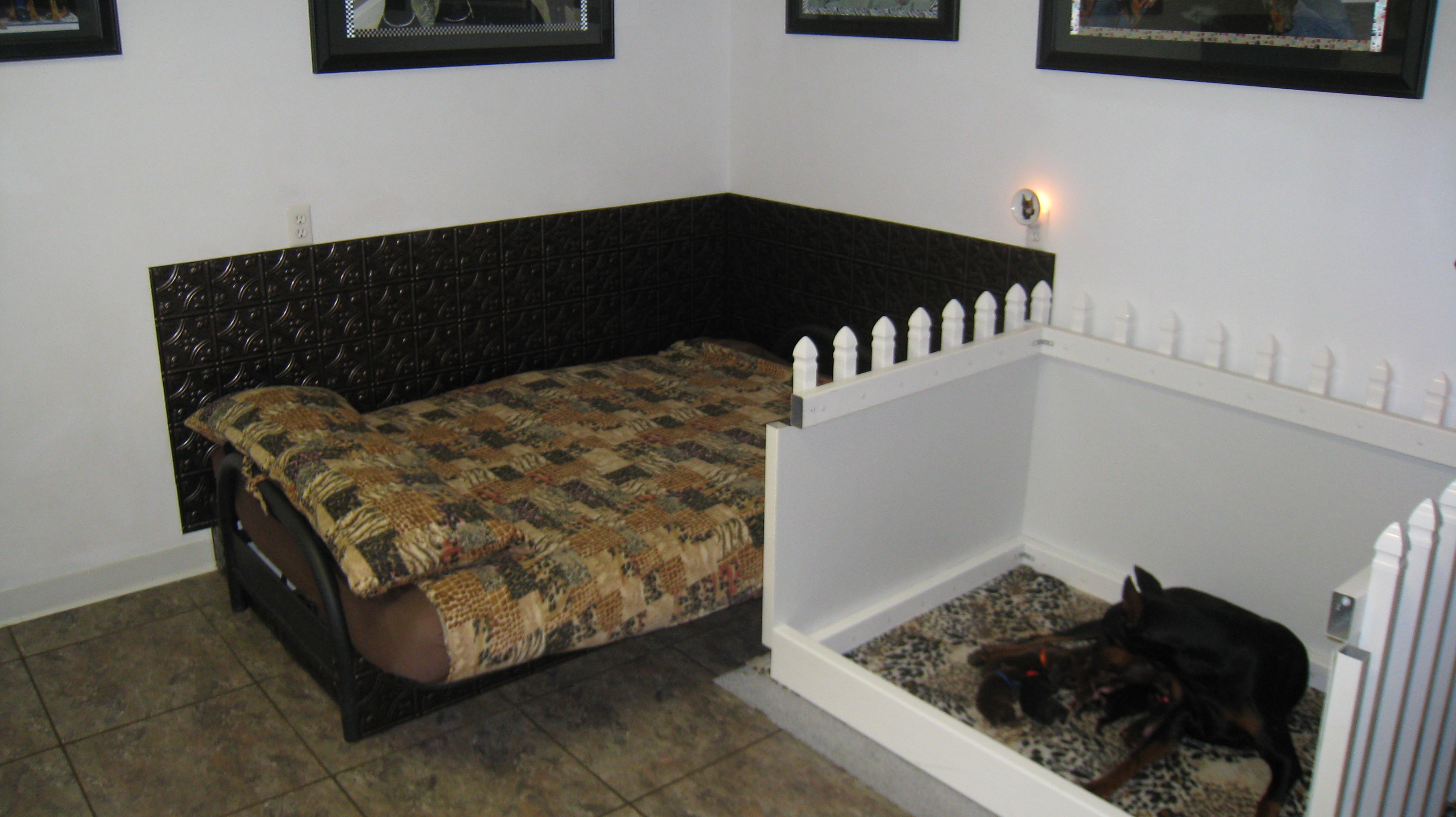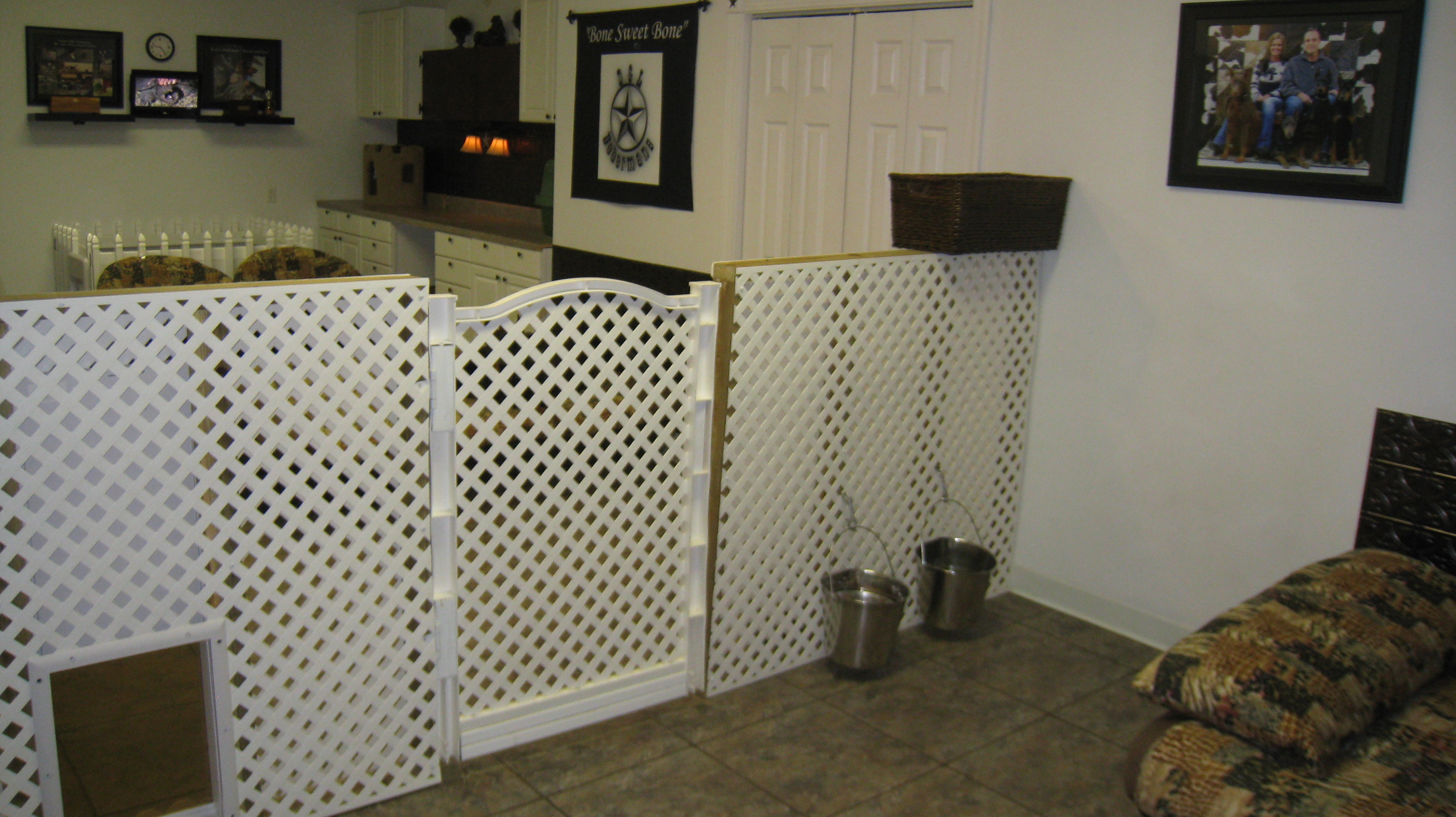 Notice the long brown basket on top of the half wall. This is where our kitty likes to nap and spend time watching over the dobies. All of our dobies are extremely "cat friendly". It is easy to have a dog/cat family with just a little time spent in the beginning on the introduction. Kittens should always be supervised and protected from injury during playtime until they are mature and everyone understands what is allowed. If we can have a happy dog/cat home with this many canine kids and one kitty, then anyone can!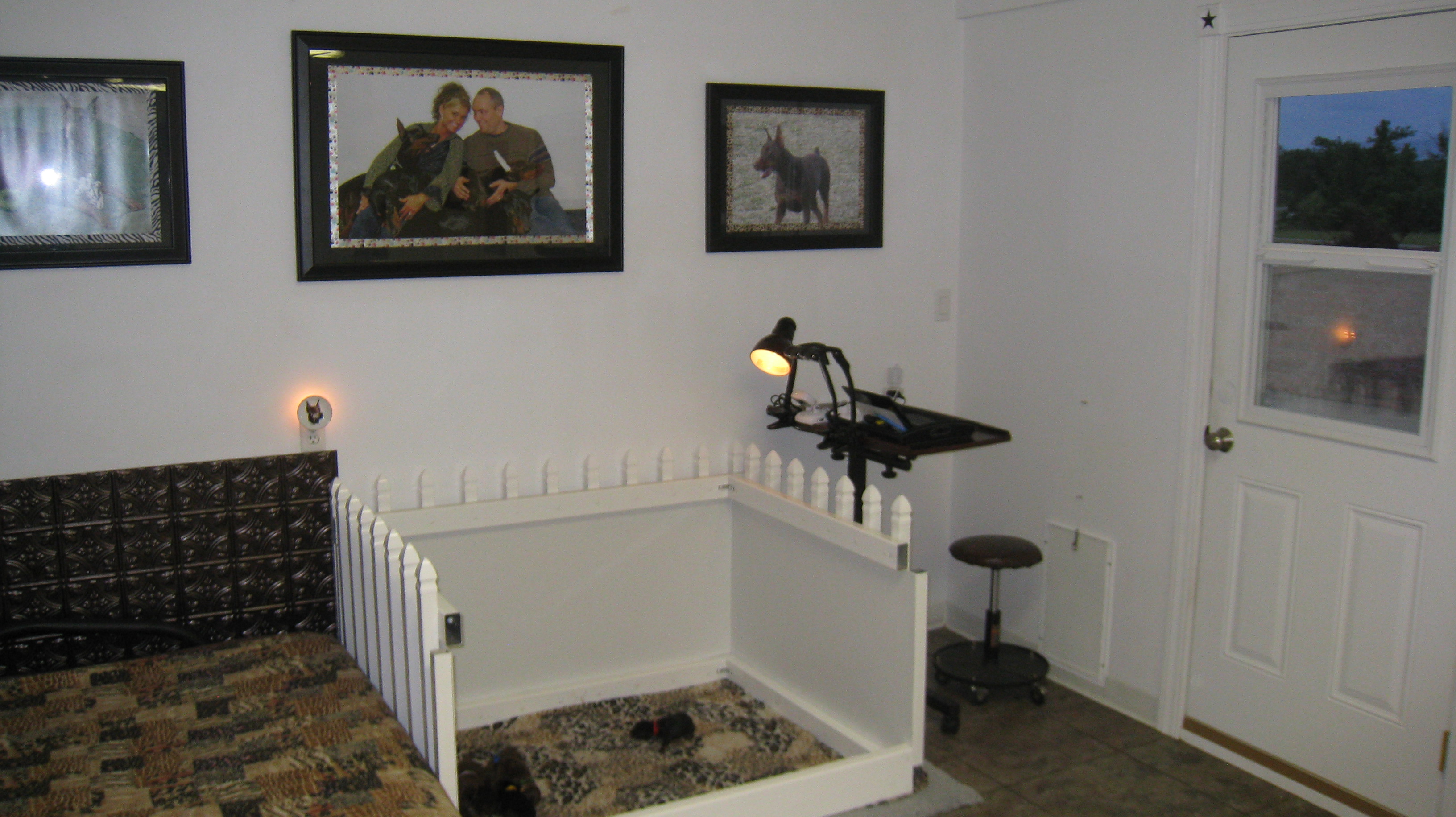 This end of the room also has a separate entrance and another dog door near the walk thru door. This dog door is used by all of the dobies to go through the garage dog door to the yard to play. As you can tell, we LOVE the convenience of dog doors and the freedom, happiness, and exercise they give our dobies. Dobies are very active and need lots of outside playtime to be happy and to stay out of trouble. :) Notice the cam cart which is where the LIVE broadcasting of the litter and the dobie room takes place.
Hopefully these photos give you a full picture of where our dobies live and where our puppies are raised. Hopefully it also give you an idea of everything that surrounds the screen on the D&L Doberman channel at www.DobermanTv.net .