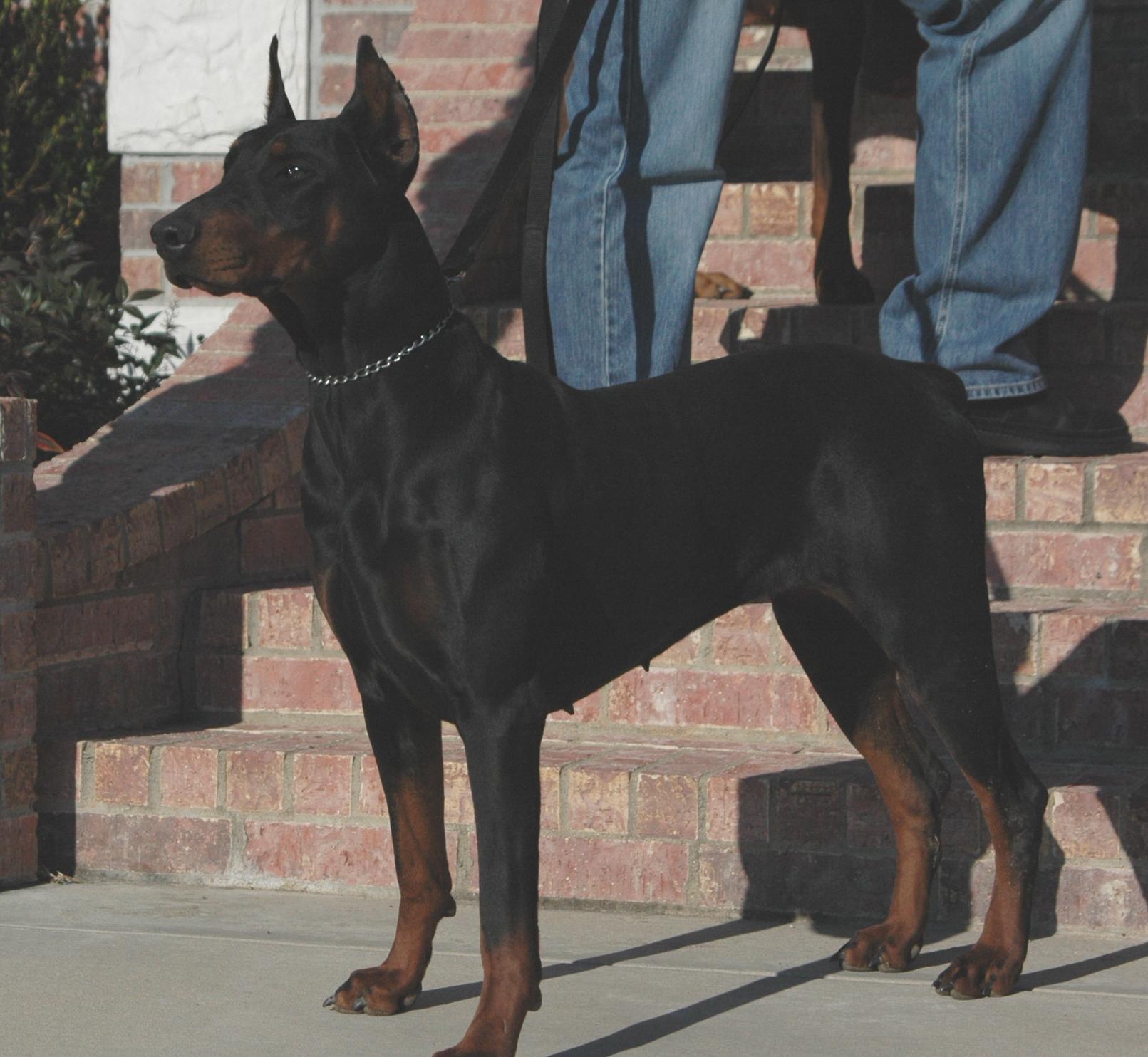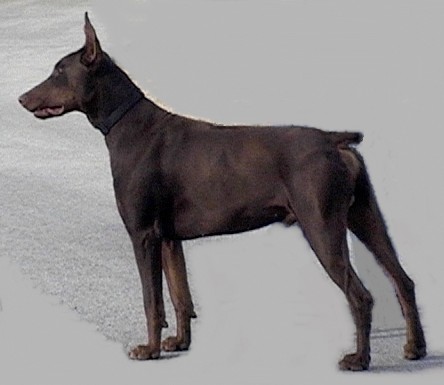 D & L's Kimbertal Star (AKC pedigree link) and D & L's Regal Redford (AKC pedigree link) delivered 5 beautiful puppies on February 4, 2008. This litter has been anticipated for over a year!! We are so excited to finally have a litter of puppies between this exceptional pair!
Good luck everyone and THANK YOU for providing wonderful homes for your D&L Doberman!!!
Please call or email with any questions.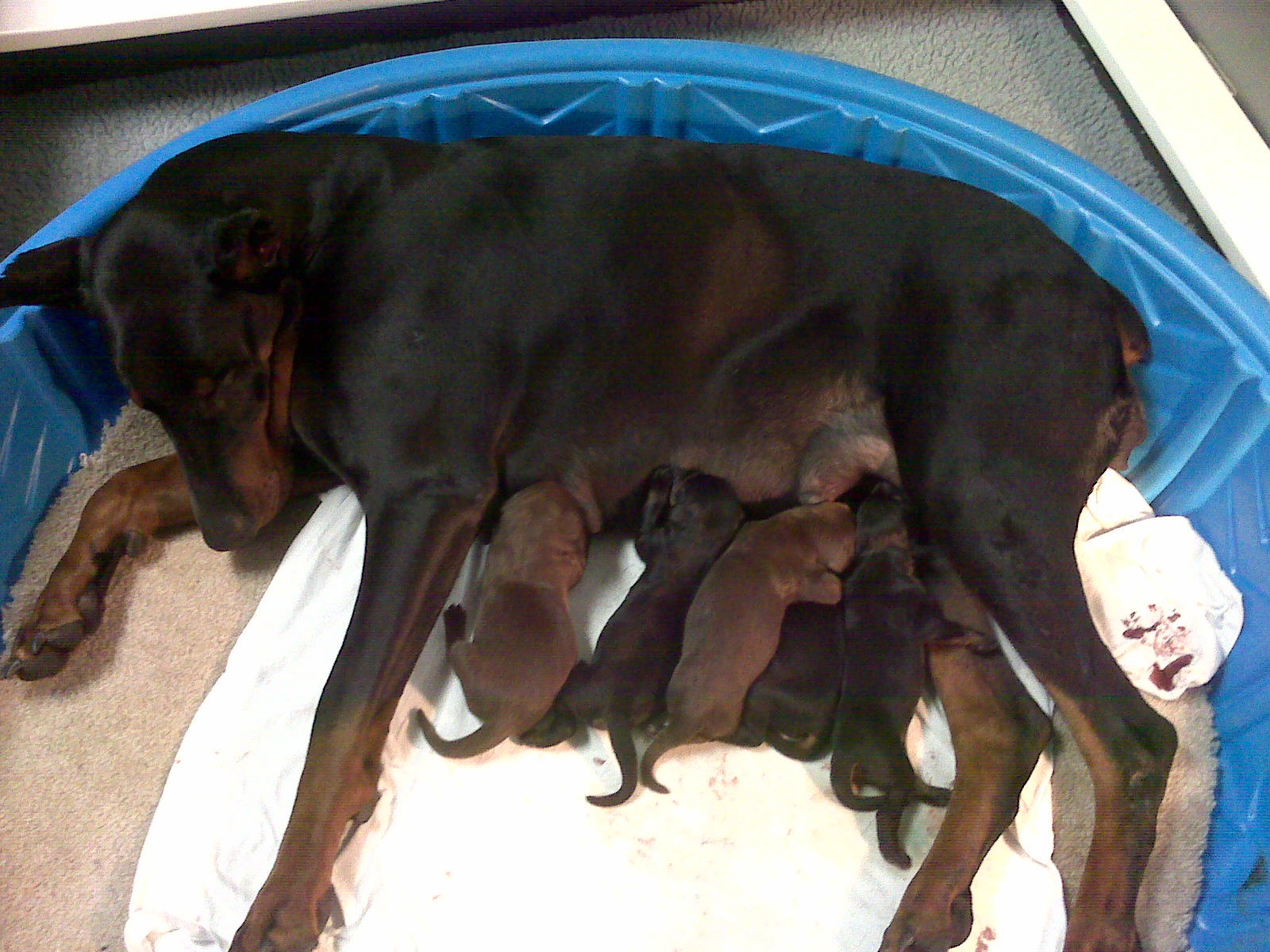 Star and her babies on 2/4/08, immediately following delivery.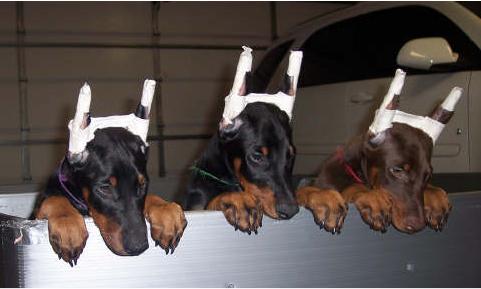 CONGRATULATIONS TO THE FOLLOWING: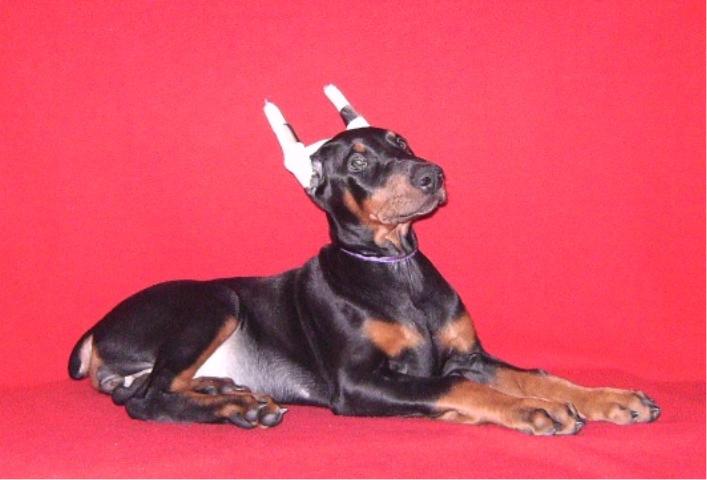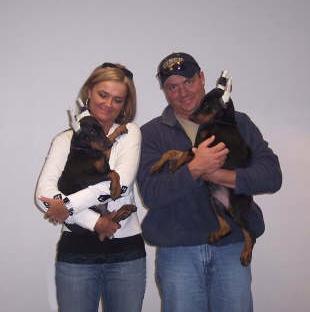 black female - purple collar - born 4:10 PM - Dwight and Lesa Lewis - Jonesboro, Arkansas - This special girl, "Gressa", chose us at birth. Not quite sure how the connection happened but after losing Gracey, during this period of time, we felt this puppy had chosen us for a special reason from the very beginning. She will join the D & L Doberman family and we are very excited to see her grow up with the gang. Her name is in honor of our friend Vanessa Whitwell and D & L's Amazing Gracey. Thanks to John David Kemp who visited us a few days after Gracey's passing and he helped us with Gressa's name. "D & L's Starlet Gressa" has a very special meaning for a very special puppy.
Updates: Gressa is doing great and is quite the looker! She is already a very big girl! September 08: Gressa loves to play with her mom, Star, but Josie has become her next best friend! She is keeping Star and Josie on their toes! She is a natural when it comes to great manners and she sticks to us like glue.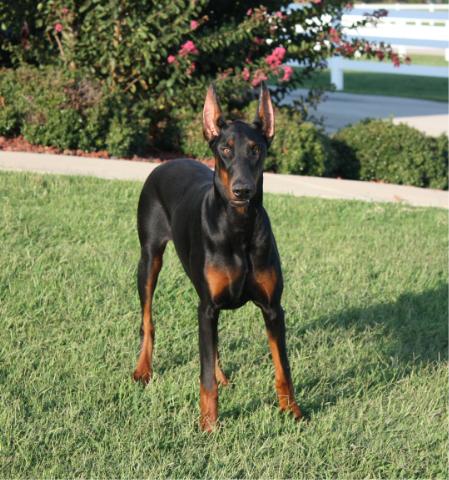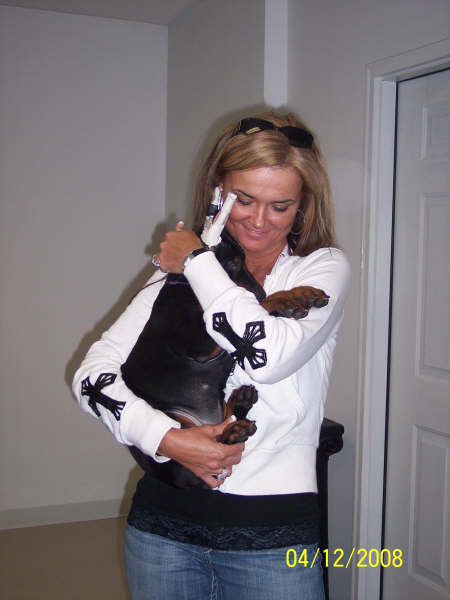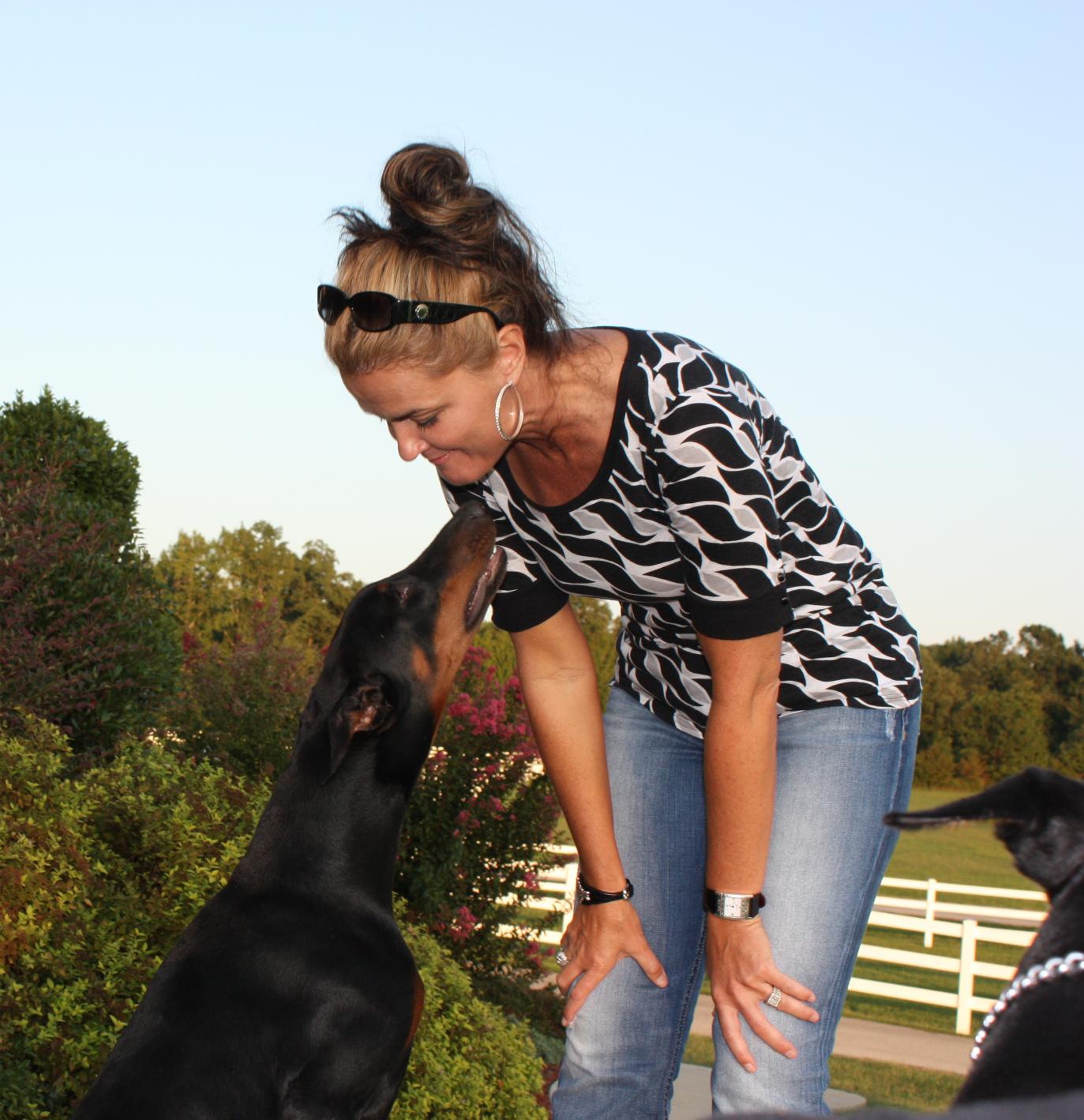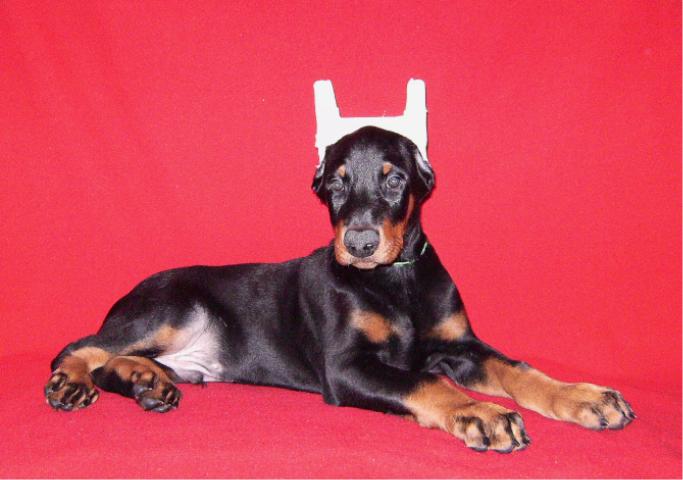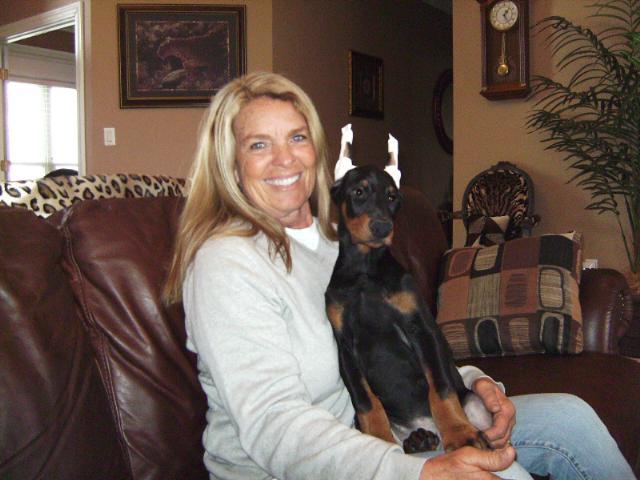 black male - green collar - born 5:05 PM - Elizabeth Elam - Richland, Missouri - "Huck" is such a smart boy and is going to have lots to keep him busy when he joins Liz on her large farm in Missouri. He will be a great companion and offer security to her as well. He should learn to love cattle quickly since he will be helping Liz care for her Angus cattle on her farm. He should fit right in since he was not raised as a city boy! His new name fits perfectly. Liz mentioned ideas and Huckleberry was one of the names. We mentioned loving the movie Tombstone when Doc Holiday said "I'll be your Huckleberry". Liz then said she actually just received a tshirt from a friend's trip to Tombstone, AZ that said "I'll be your Huckleberry". We all immediately knew that was his new name. His name "I'll be your Huckleberry" is absolutely perfect.
Updates: "Huck" is doing wonderful! Liz says that he is the best puppy she has ever had. He and her Great Pyranees ("General Lee") are best buddies and play constantly. Huck is getting to ride the 4 wheeler and he sleeps the entire night right next to Liz. Huck's ears look great and Liz is a natural at ear taping! Great job Liz! Looks like General Lee is getting a break while Huck decides to play with a stick for a little while. :) September 08: Huck is getting lots of exercise as he runs almost 8 miles daily with Liz as she works on the farm on her 4 wheeler. Liz says he is doing marvelous and she reports that his ears look beautiful as well. New photos are coming soon when Liz has her new computer up and running. February 09: Huck had an accident on the farm but Liz is taking great care of her boy. Liz called and we were able to get her the name and number to an amazing vet that will take awesome care of Huck! Huck is Liz's best friend and we were so happy that we were able to help Liz and Huck. Huck will be back to normal following his surgery and we know that Liz will be soooo happy to have her helper, companion and best friend back to 100%.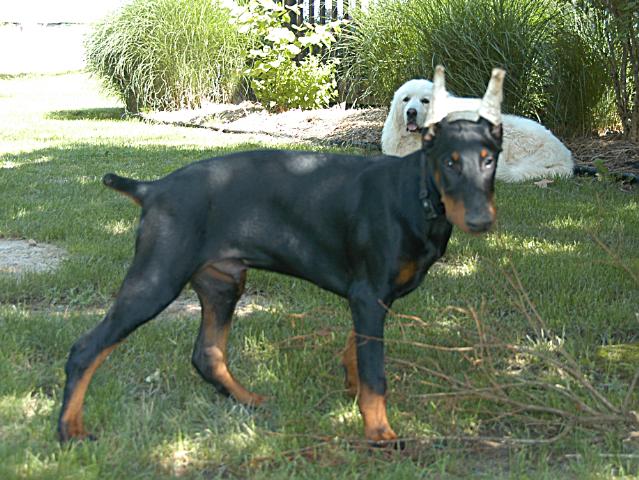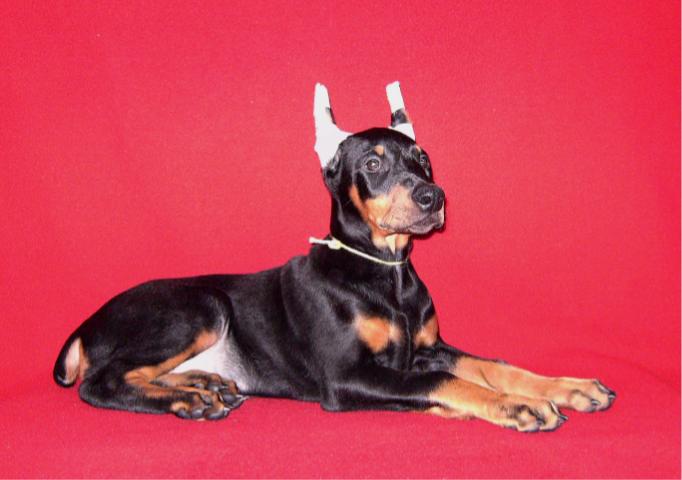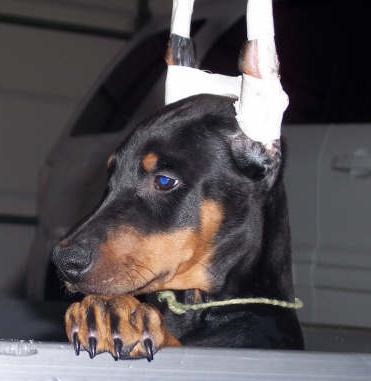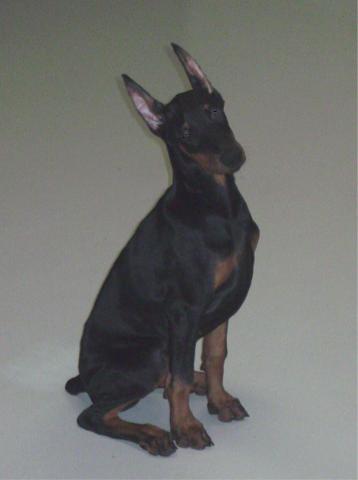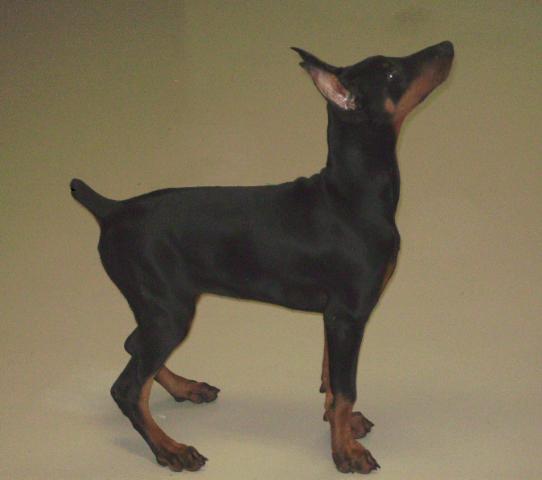 black female - yellow collar - born 6:15 PM - Dave Vigneault - Bentonville, Arkansas -"Daisy Duke" is full of personality. She loves to play but enjoys cuddling even more. Everyone that visits falls in love with Daisy immediately. She has very attentive eyes and a wonderful attitude. She is a very sleek and eye catching dobie! Daisy will love her new home with Dave in Bentonville. She will have lots of room to run and play both indoors and out. There is no doubt she will be spoiled royally since Dave has thought about every detail relating to Daisy's care for 2 months before deciding to bring her home. We knew this match was meant to be when Dave mentioned the name "Daisy Duke" which was the same name that we had been calling her all along. "Daisy Duke" is a name that fits her well and Dave felt this before even meeting her in person. Dave didn't look at any other dobies except Daisy, she was obviously the one for him. Dave and Daisy are meant to be together and we believe the upcoming months and years will be great for both of them!
Updates: August 08: Daisy and Dave together at last. Daisy settling in with a visit to her new yard just as she arrived home in Bentonville. She is settling in well and is starting obedience school soon. Dave and Daisy Duke are having a great time together. September 08: Dave reports that pretty girl Daisy is getting more beautiful everyday. She is being spoiled beyond belief and loving every minute of it. They spend lots of quality time together and have lunch on the deck and take walks at night. February 09 - Daisy is now 1 year old and Dave says she is a regular little "social butterfly" and a little spoiled too. She loves the dog park and spending time with her "dad".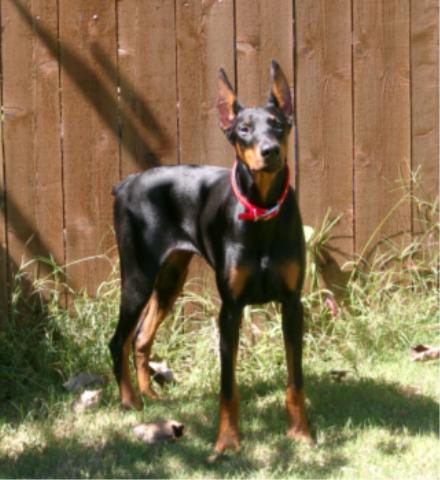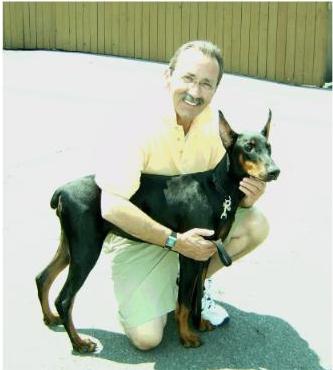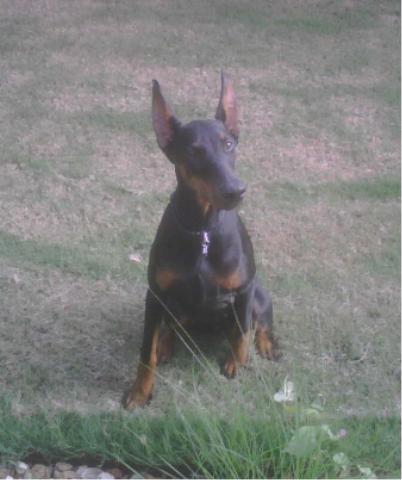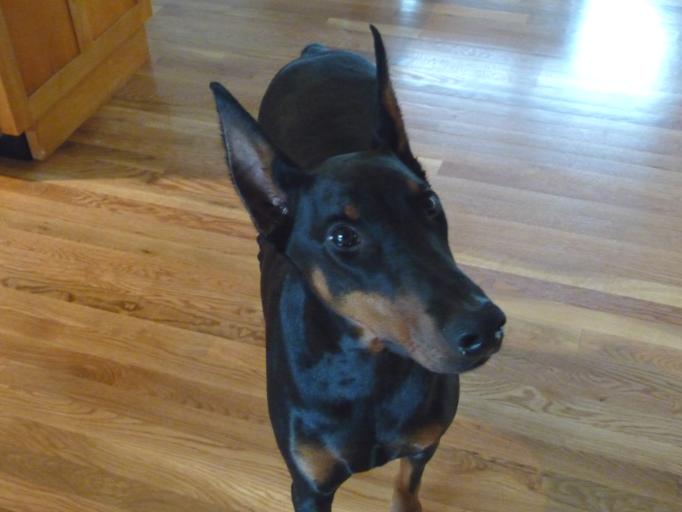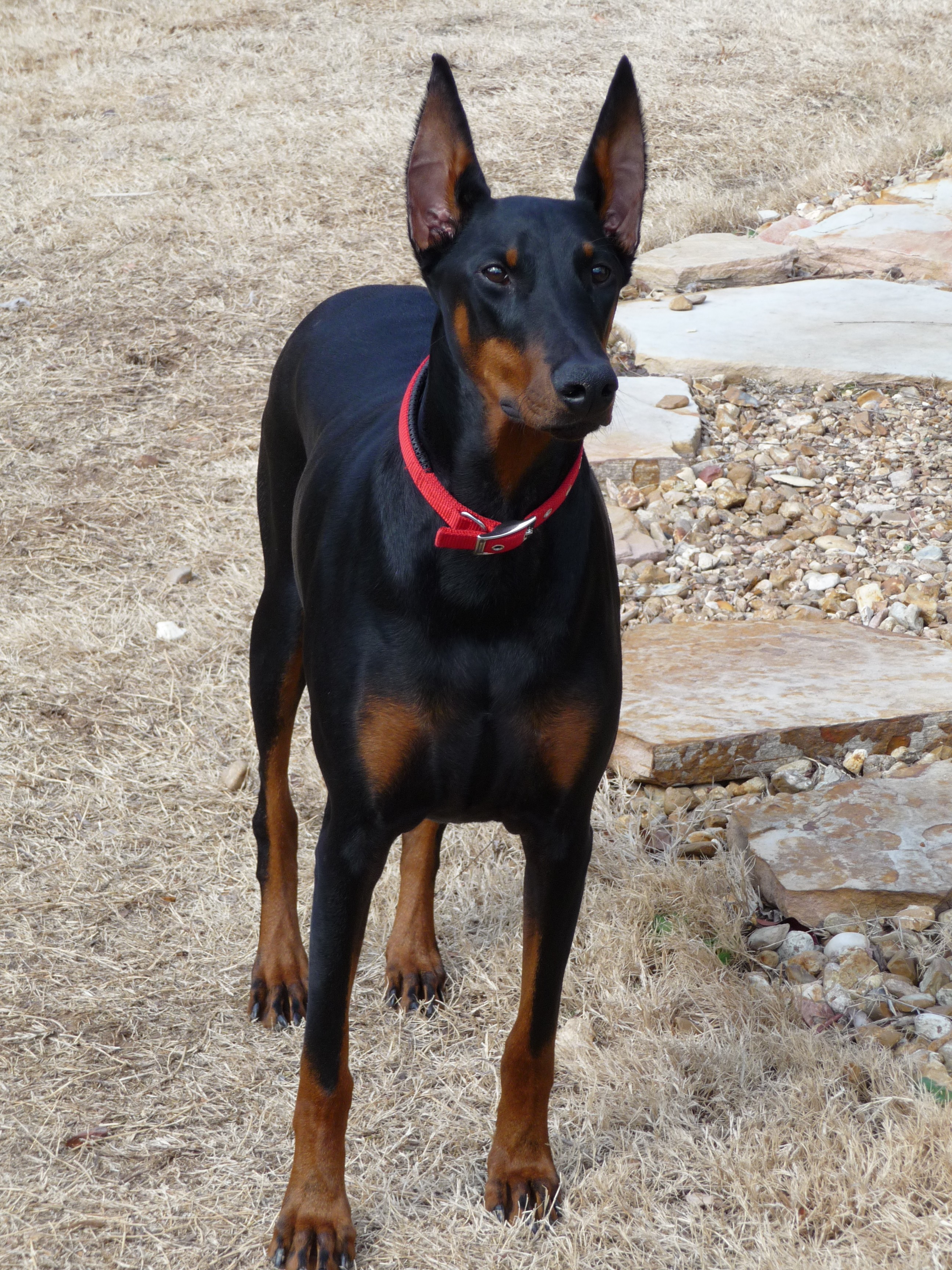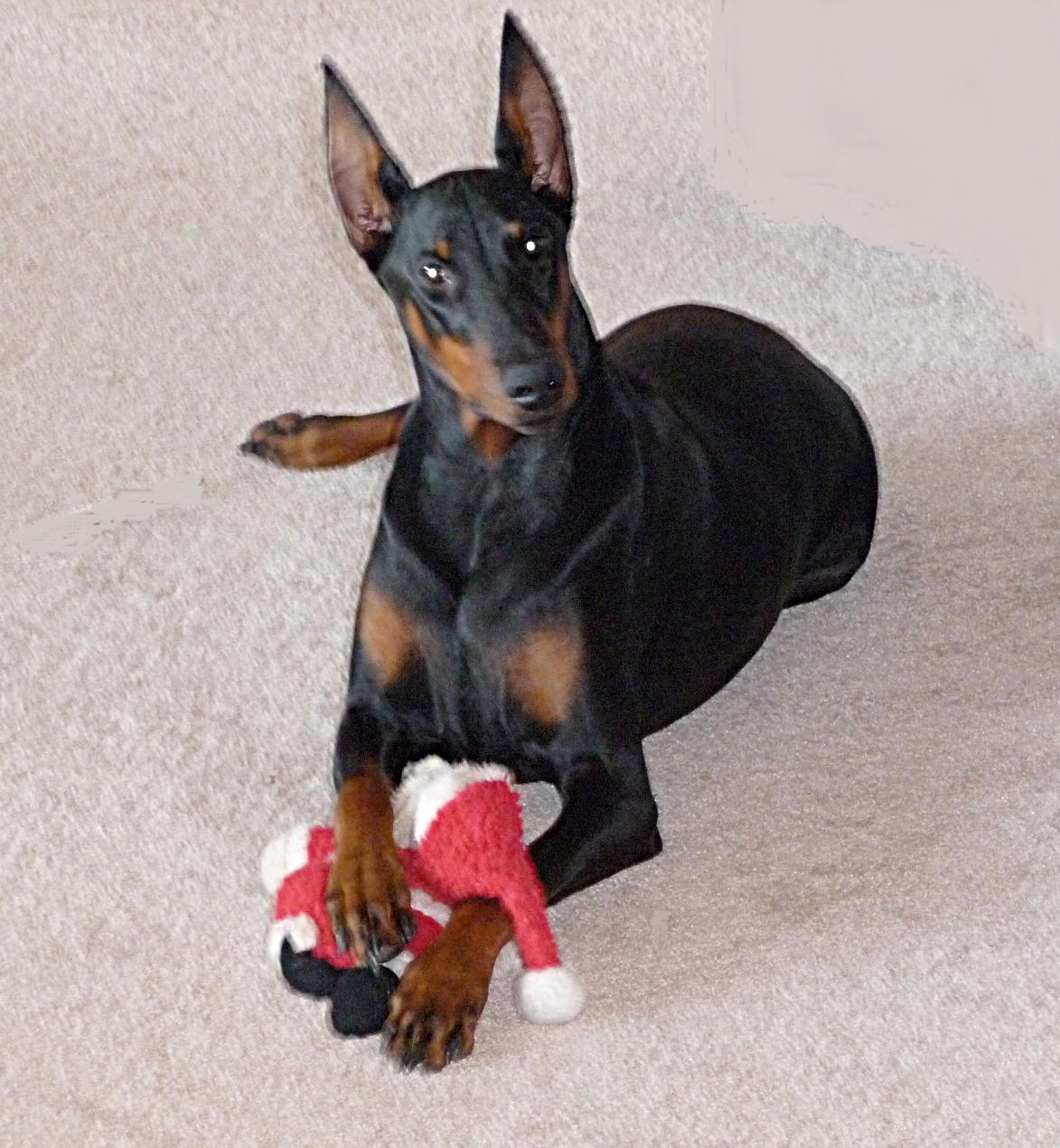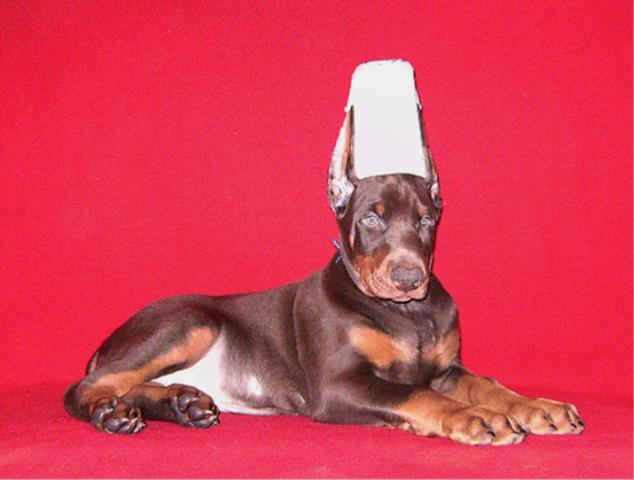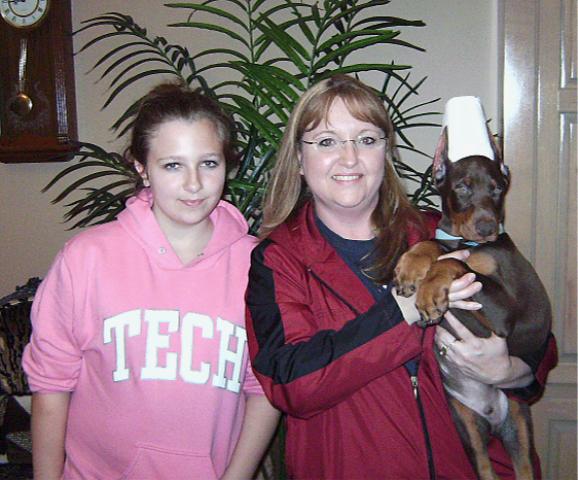 red male - blue collar - born 7:13 PM - James, Polly, Julie & Bryce Parker - Pottsville, Arkansas - Polly has been waiting and dreaming of her "Mojo" for years since her father thought the only dogs the family needed were ones that would hunt. Mojo is now part of the Parker's happy family and Polly can say "she got her Mojo back". At least that is what James says she will be saying. Mojo will enjoy lots of walks on trails with Polly as she enjoys her photography. Mojo is definitely going to be big enough to protect Polly when she and Mojo are out on the trail alone. Polly may even be trading in her nice crew cab "Hemi" so that Mojo will be more comfy in a new mini van! She said she is trading in her dream truck for her dream dog. Polly and Bryce came to Jonesboro just as soon as they could to get their Mojo! At least he got one ride in the Hemi before it is gone!
Updates: Mojo is doing wonderful! He has even learned how to give Polly a shower instead of the other way around. James says "Did we mention he is gorgeous?" And he loves tulips! Polly's personalized plate on her new van says "GOTMOJO". Everyone will know when they are following Mojo's new ride! September 08: To answer everyone's calls and emails about why Mojo's ears look different in his photos, we want to take this opportunity to reeducate on ear crops and aftercare. First and foremost, Mojo is doing great but his ears were re-cropped. We at D&L Dobermans are very upset about this happening to Mojo. Polly did her best in caring for Mojo's ears. Unfortunately ear infections are a common part of ear taping and this happened to Mojo, like it will most puppies during the posting process. Ear infections progress quickly, that is why re-taping every 3 days in the BEGINNING is critical. (Refer to the ear taping guide on the website, or your puppy record notes, or by all means call or email us anytime.) It is of the utmost importance to know what is going on under the tape especially in the BEGINNING as the edges are tender and the ears are getting used to the tape/posting. If/when an infection occurs, call us immediately so we can help. Do not leave the ears un-taped. The ears will kink and this is very bad. But instead, clean the ears thoroughly and re-tape them with gauze underneath for 2 -3 days at a time. Once again, refer to photos on the "ear taping guide" page. Then repeat cleaning, gauze and taping every 2 - 3 days until healed. Mojo's ears were taped for a week while an infection began brewing underneath and one tip became very damaged. Due to the damage and the vet and the Parkers feeling that Mojo had a "great dane cut", his ears were re-cropped. Polly quoted Mojo's vets as saying: "Who cut his ears? He has a great dane cut...not dobie. No breeder should ever send a dobie home with someone when they are still taped up. The breeder should either let the new owner take the dog to have them cut, or not sell the pup until the ears are finished." The vet also commented on never seeing a dobie this large and this beautiful. Note: The crop on your D&L dobie is provided by D&L's vet to match the size and shape of your dobies' head when grown and this also requires ears in tape until 6 months of age at least. A show crop (longer than our crop) requires even longer taping. Ear cropping, care and taping is not taught in vet school but is an acquired art. Our vet has acquired this art and has been cropping our dobies for years (refer to past dobie photos and "letters from home" page). Fortunately we are always here for you and we have acquired the skill of taping and aftercare. Please take this very serious and know that we have ABSOLUTELY seen and heard it all on ears and from vets that feel they know these dobies and their ears better than we do. They don't. Please communicate with us and let us make this simple for you. An ounce of prevention is worth a pound of cure. We know and care about your puppy and we want your dobie to be happy, healthy and beautiful!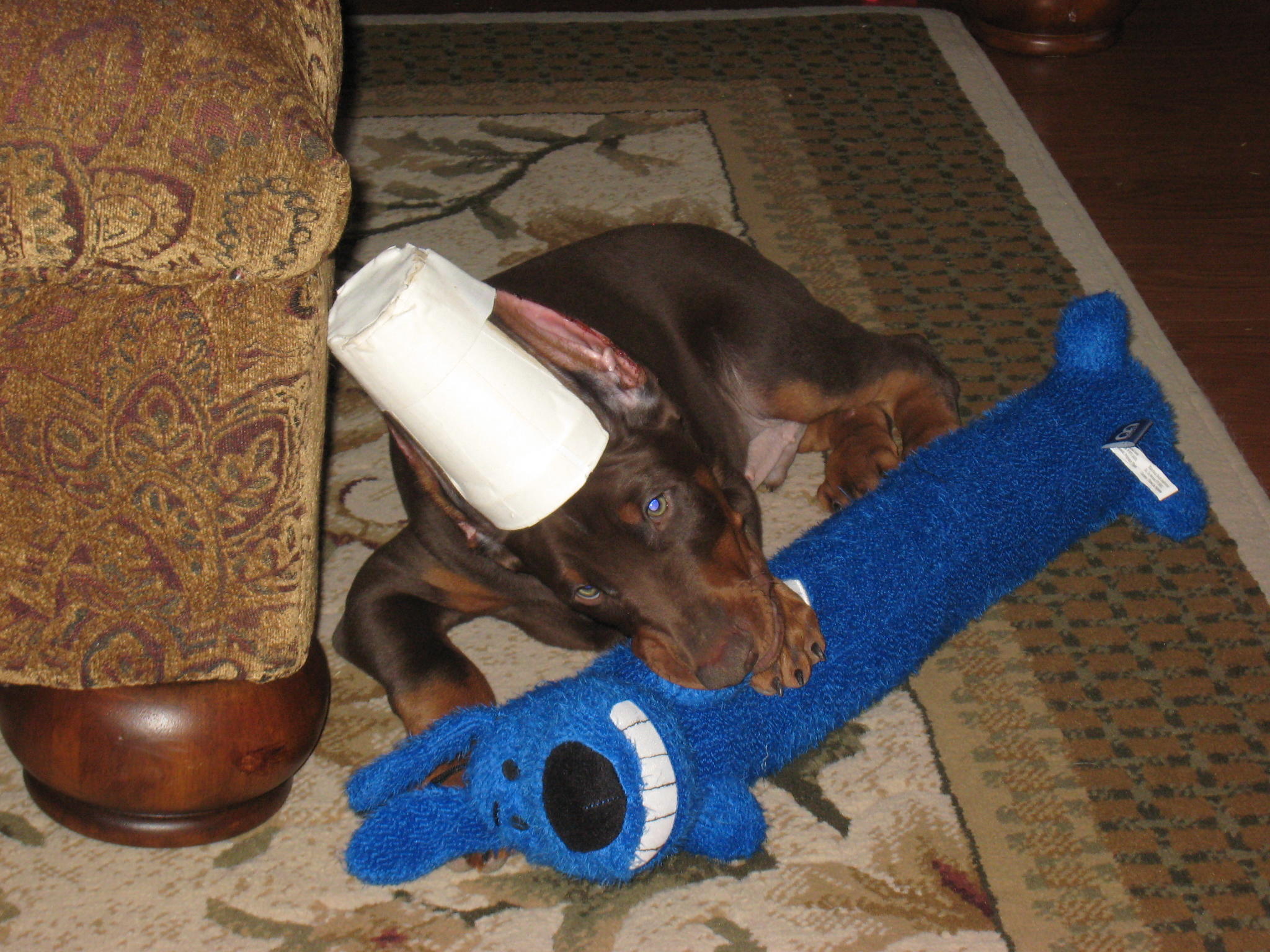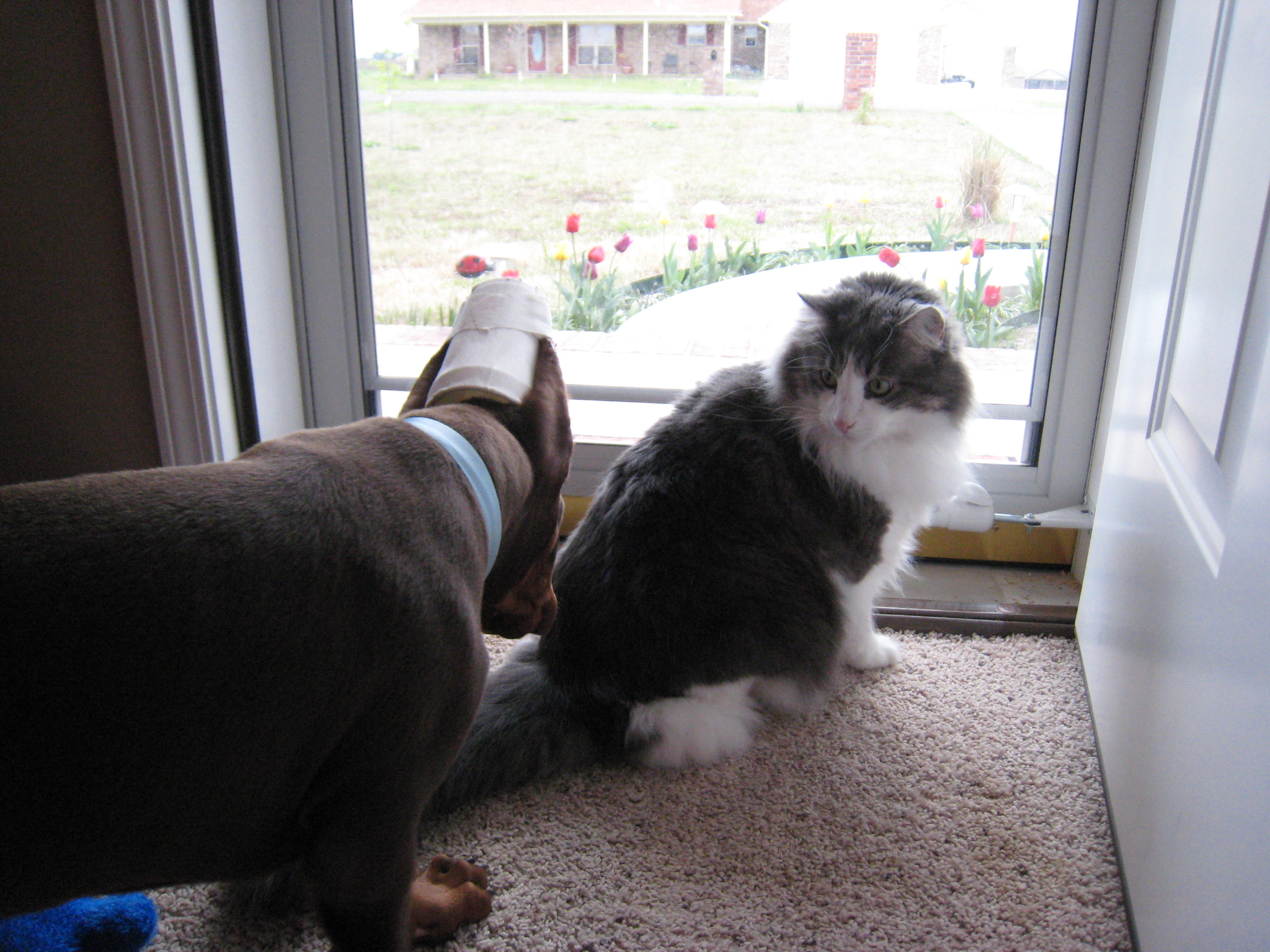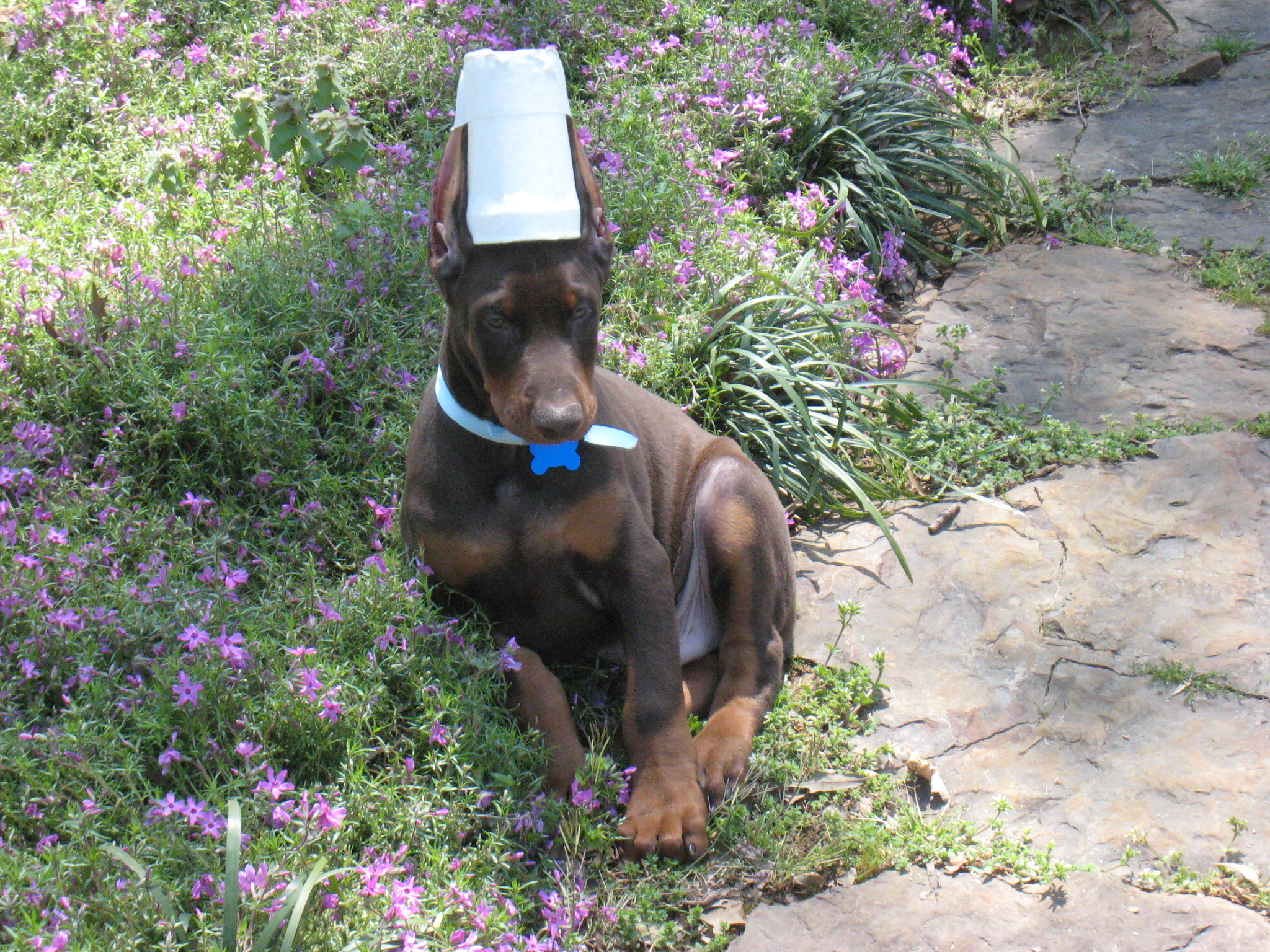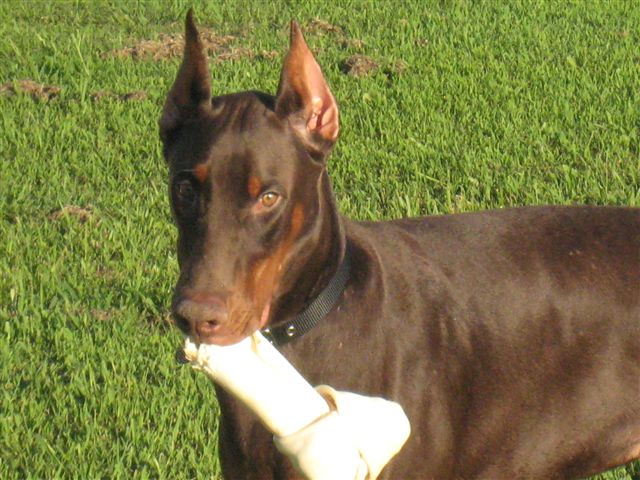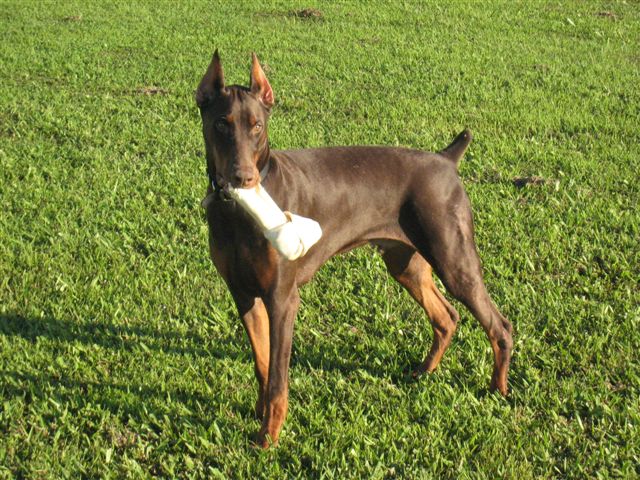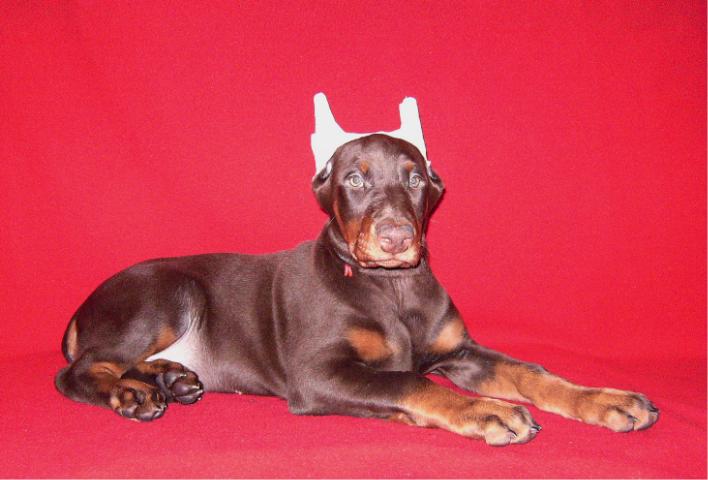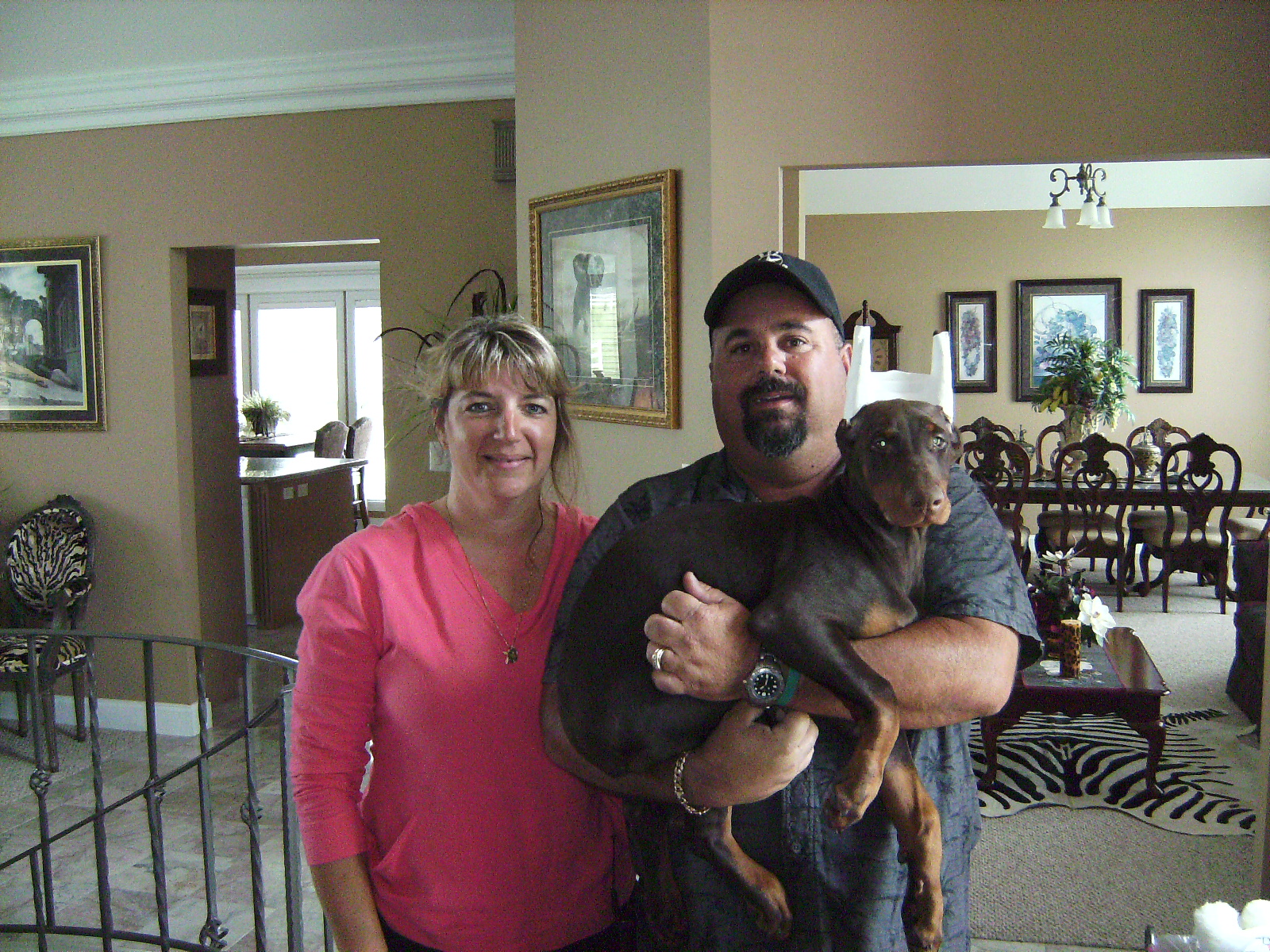 red female - pink collar - born 8:40 PM - Chris, Jackie, Johnathon, Michael and Steven Ramsey - Belleview, Florida - Chris and Jackie have been watching the website for 2 years and have wanted a red female for their family of 2 black dobies, 1 Shitzhu and 3 teenage boys. "Gracie" is the perfect puppy for them. They love big dobies and this gorgeous girl is going to measure up in many ways. She is very smart, quick to learn and will be a very big girl. What a happy girl and what a looker! "Gracie's Red Rose" traveled in style back to her new home and family in Florida. They traveled in their motor home to pick up Gracie and head home but not before they got lots of puppy time and kisses from Gracie and her sisters, Gressa and Daisy. We thought they were going to take Daisy too! :) "Gracie's Red Rose" is a very blessed girl, and she has a very special name and family!
Updates: "Gracie" is doing great and her and the other dobies are having a ball! Jackie says that Gracie wants to be a big dog so bad and she tries so hard to keep up with the big dogs when she has the chance. She loves Jackie and stays right by her side and in sight at all times. Gracie enjoys greeting the boys when they come home from school and is a very happy girl! August 08: Gracie is becoming quite the guard dog at only 6 months old. She is Jackie's buddy but Chris is the man when it comes to ears! This girl will have the best ears in the country when Chris is finished. You can tell from the other dobies in the family, that he is an ear expert and Gracie's look GREAT!!! December 08: Gracie is doing wonderful and is still the most protective dobie of the bunch. She is very protective of Jackie and is a big lover too. Gracie is quite the chunk as you can see in the Christmas photo of her with Maggie, Dalen and Blade.