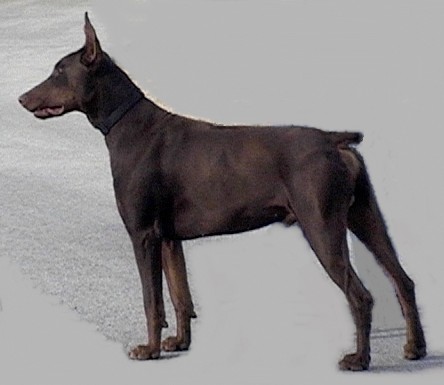 D & L's Amazing Gracey (AKC pedigree link) delivered 11 awesome puppies on March 4, 2005. The sire of this litter is D & L's Regal Redford (AKC pedigree link).
Good luck everyone and THANK YOU for providing wonderful homes for your D&L Doberman!!! Please call with any questions and PLEASE send photos!!!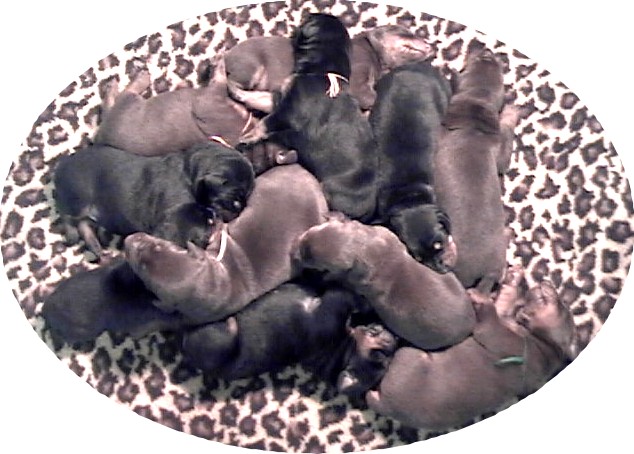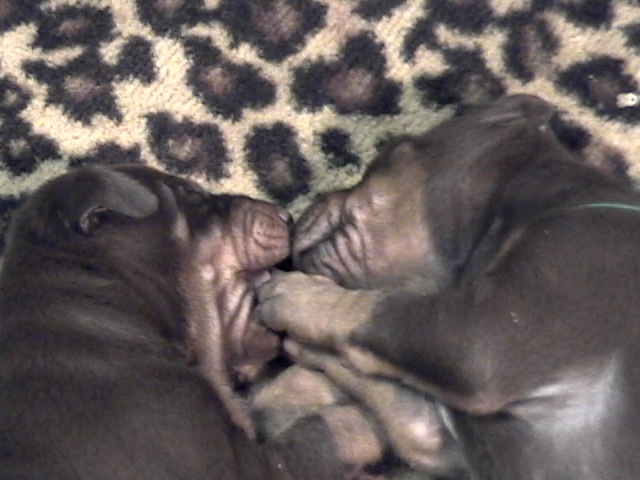 CONGRATULATIONS TO THE FOLLOWING: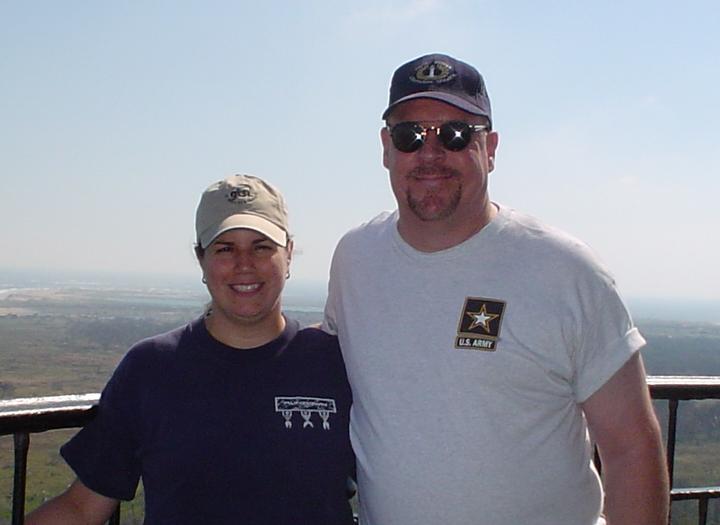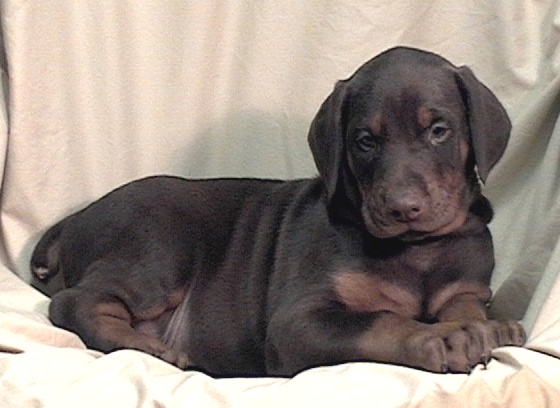 Doug and Diane Kingdom - Alexandria, VA - red male. The Kingdoms recently lost their companion "Chance" and hope their adorable "Chase" will help Gracie Lee (lab) and Rudy (cat) feel happy since their loss. We believe that sweet little "Chase" will only bring smiles to the entire family when he arrives in Virginia.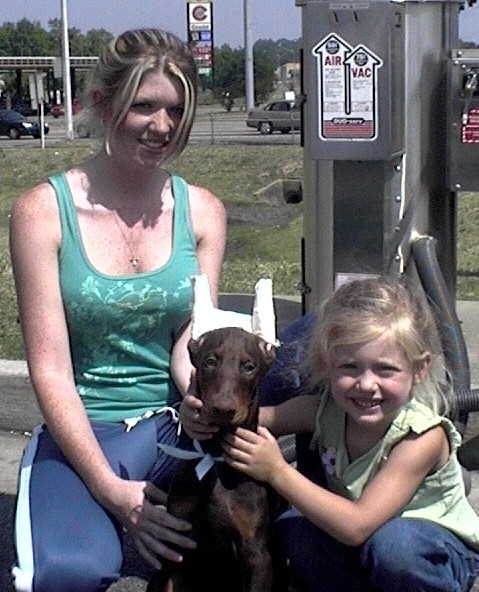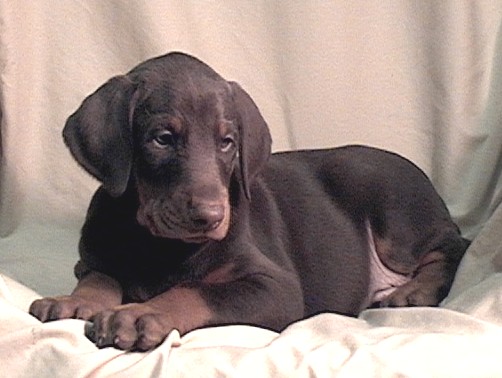 Courtney Emfinger - Winnsboro, LA - red male.Courtney and Abbygail woke up at 3 am to drive to pickup "Damion". Damion seemed to be in love with Abbygail and it wasn't long before he gave her puppy kisses. Courtney and Jared have a family of dobies at home so Damion should fit right in. This is the first cajun puppy from D&L dobies.
Update: "Damion", at 6 months old, starting his hunting career in Louisiana!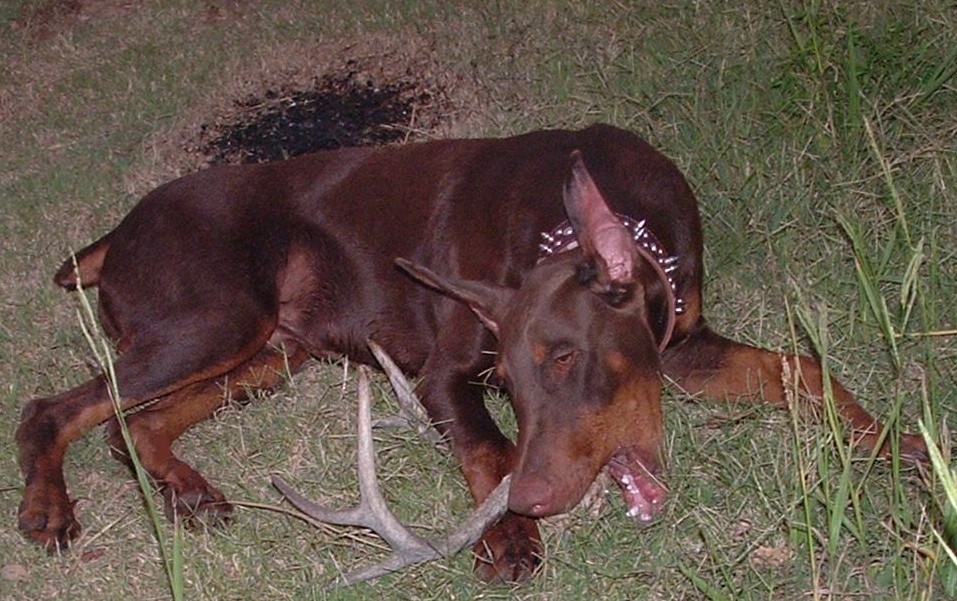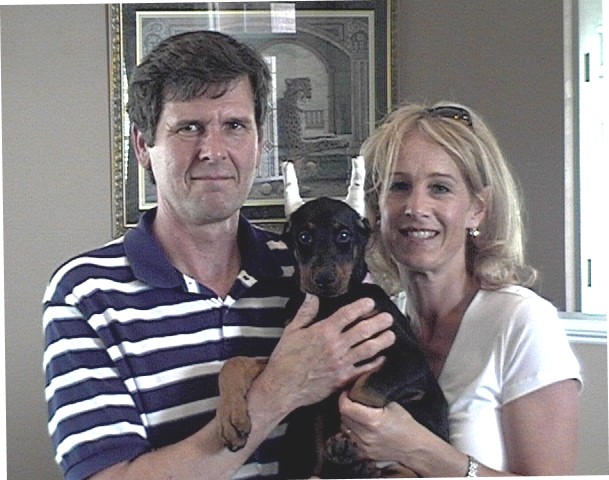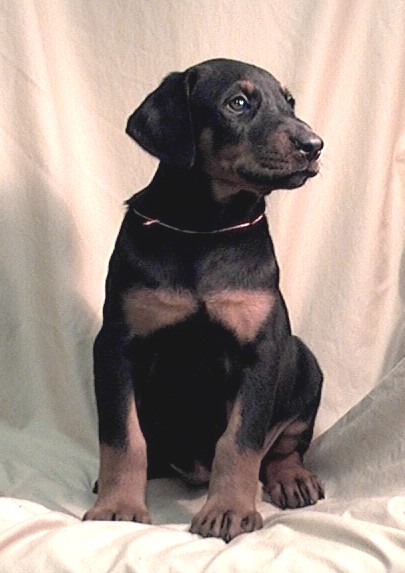 The Stone Family - Maryland Heights, MO - black female. "Belle" will be sharing her home with "Barkley" (dobie) and 3 college guys when she arrives home with Shelley and Mark. I hope Belle likes basketball!!! The guys couldn't wait until college was out so mom and dad came early to pick up Belle. Guys, she is on her way and I hope you are ready to play!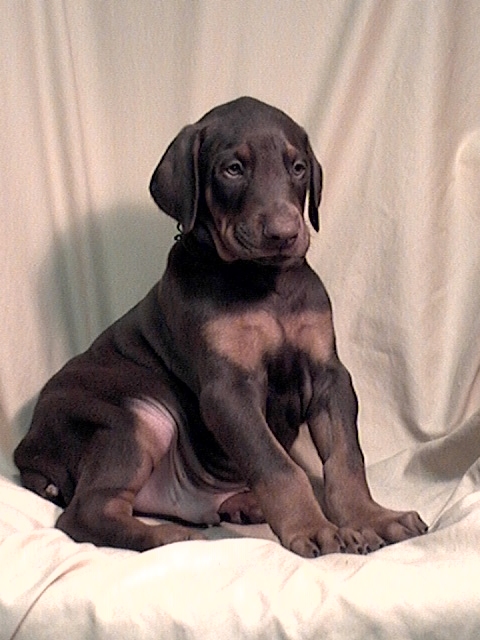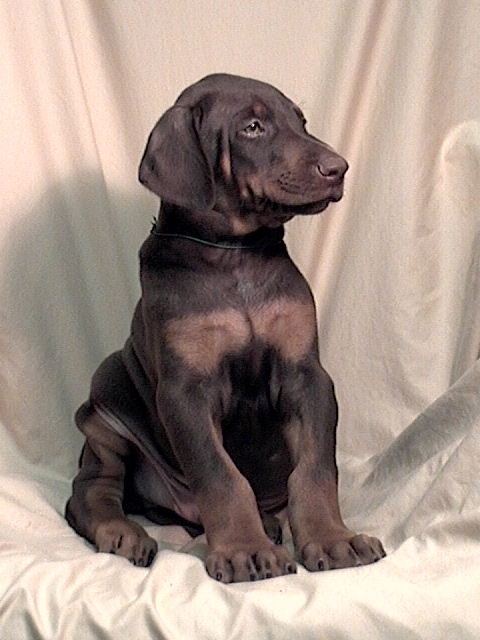 Adam and D.J. Kelley - Crestview, FL - red male. D.J. was on our waiting list for Josie's litter for two puppies but she could not pass up this handsome boy so she will now have a puppy from Gracey and a puppy from Josie within 8 weeks of each other. She is so excited to be able to bond with "Rajah" before she welcomes her second puppy home. Her lab, Eddie will have a couple of new partners in agility very shortly. D.J is a vet tech so we know this sweet boy will only get the best of care and lots of love in his hew home!
Update: Rajah and his baby sister from the May 2005 litter.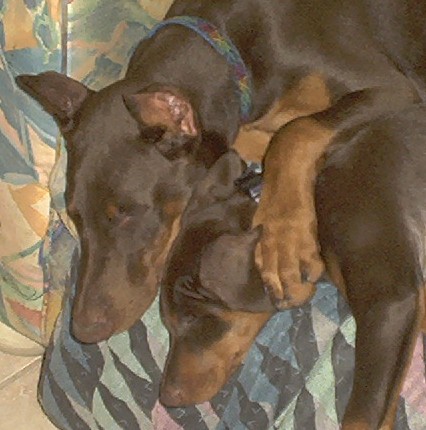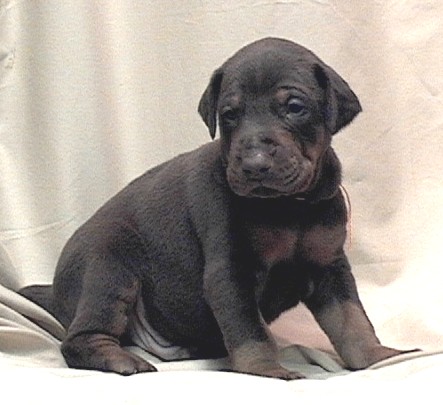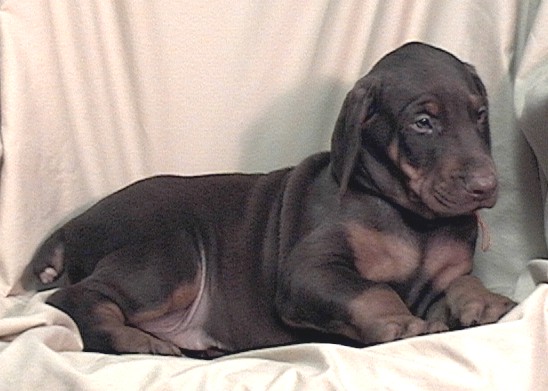 Matt Gray - Rocklin, CA - red male. Matt is a police officer and his family has a history in the K9 division. Matt and his beautiful puppy will make their own history together. Matt has recently purchased a new home and "Guinness" will make it perfect.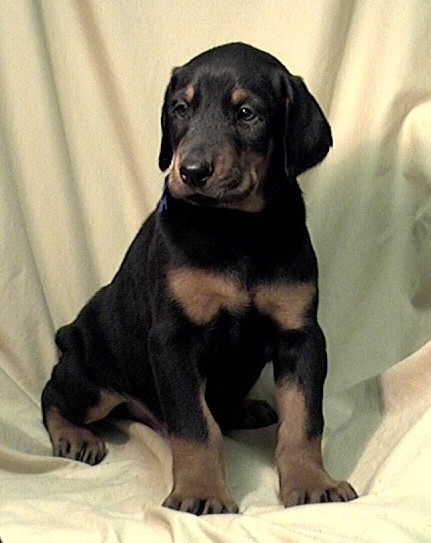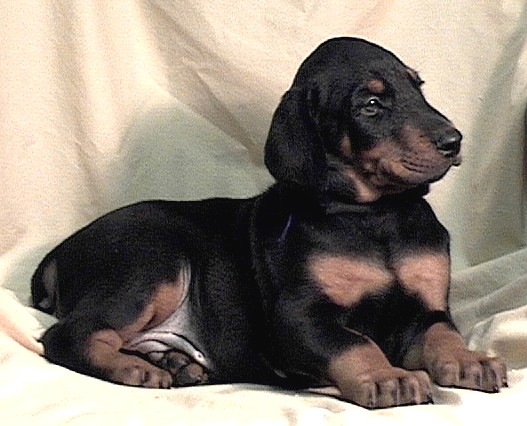 Shenoa Leslie - Carbondale, CO - black male. Shenoa loves to hike in the mountains of Colorado and is hoping "Baron Von Bauzer" will share her love of the outdoors. If Baron follows in the "paw"steps of Redford and Gracey then Shenoa may not be able to keep up with him.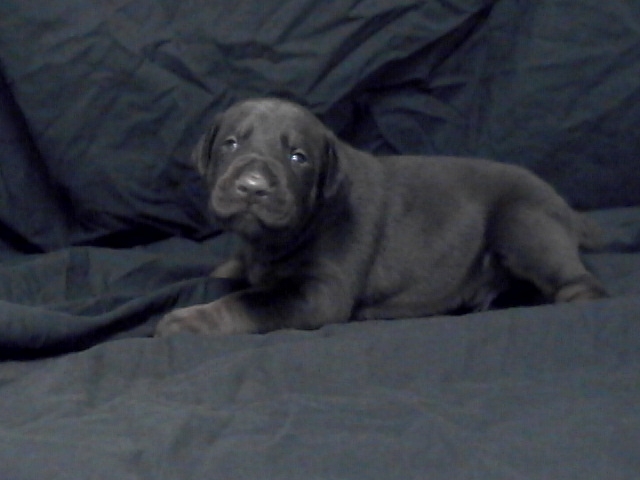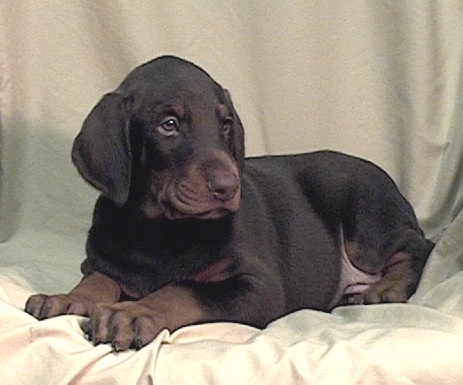 Chris Weinman and Danielle Corso - Richmond, VA - red male. Chris and Danielle can't wait to bring "Haze" home to play with their Siberian Husky. Danielle is planning on dedicating lots of time to spend with her new puppy and he will love all the attention!!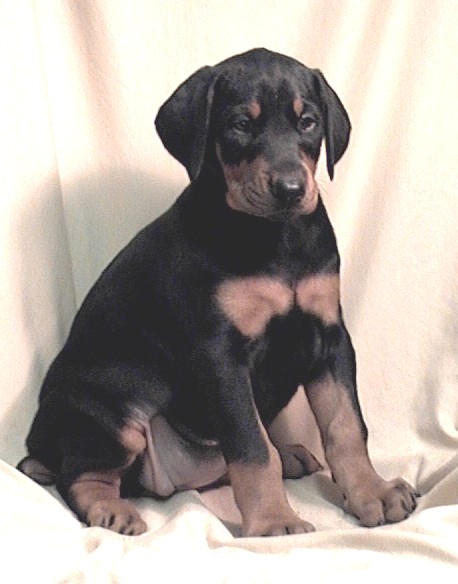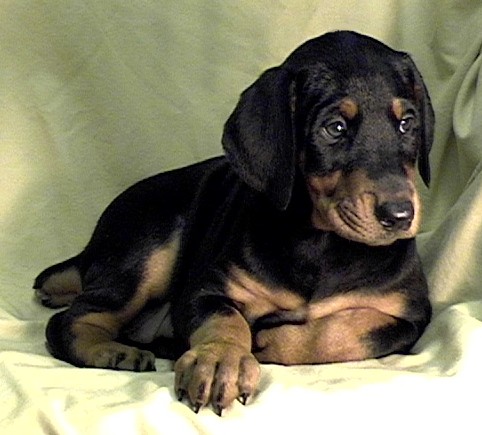 Marylou Felton, Adam Garcia, Abby and Gabby - White Sands Missile Range, NM - black female. Marylou can't wait to see the faces of her girls when their first puppy "Trinity" arrives in New Mexico. Her girls have been asking for a puppy and they think mom's answer is "no", but mom has a wonderful surprise in store for them!!!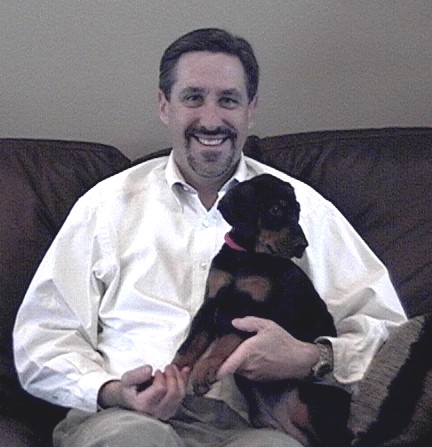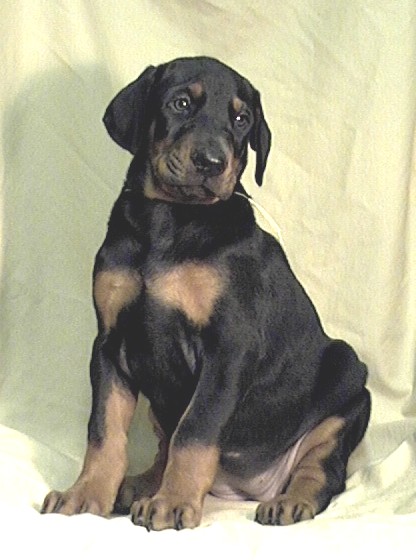 Dr. Scott, Melanie, Victoria, Micah, Katie and Annaka Vande Griend - Marshfield, MO - black female. This awesome baby girl will have lots to do on her new farm with new friends including 3 horses, 5 dogs, 3 cats, 2 chickens, 3 cockatiels, 2 canaries, a donkey, hamster, turtle, lizard, rat and some fish. But the biggest surprise will be for Melanie when Scott walks in with her beautiful birthday present, "Dixie"! Happy Birthday Melanie!!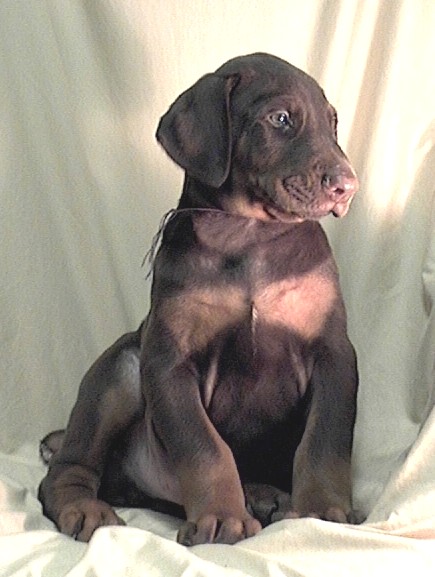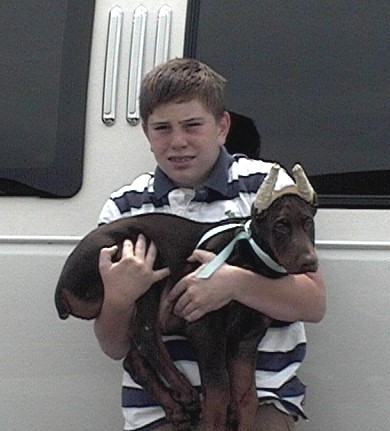 The Crites Family - Batesville, MS - red male. Robert has always had Shepherds in the past but was convinced by his friend, who owns 3 Dobermans, that the Doberman is the dog to love. Chance Crites will have all summer to love and bond with his new puppy. We told Chance that "Leroy" was a very big boy so Chance found the biggest limo to take Leroy back to Mississippi. "Leroy" is movin' on up!! The Crites have lots of room to roam but "Bad Bad Leroy Brown" will spend most of his time inside with the family. But he may see a peacock or 2 when he goes outside to play!!! Congratulations Chance!!!!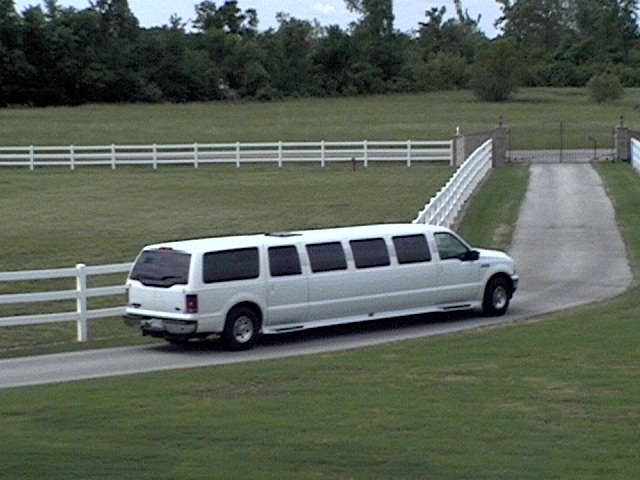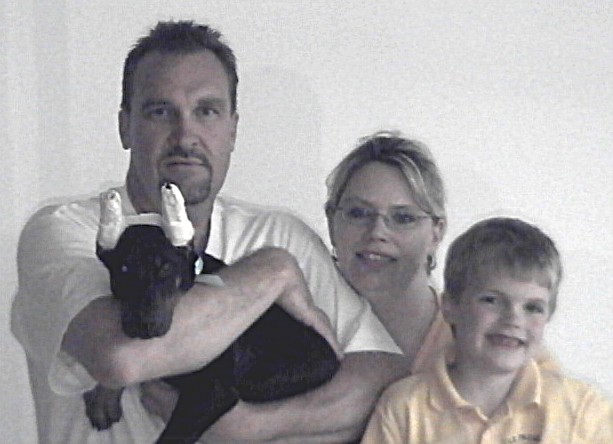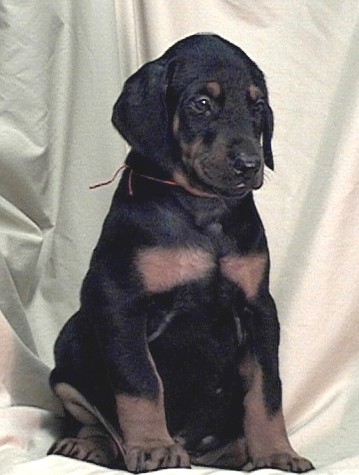 David, Charice, and John David Kemp - West Memphis, AR - Black Male. "Thunder Zeke" will share his home in the evening with Pepe the poodle but during the day he will be companion and protector with David in his job. "Thunder" already knows his family since they have visited him every other week since he was one day old!!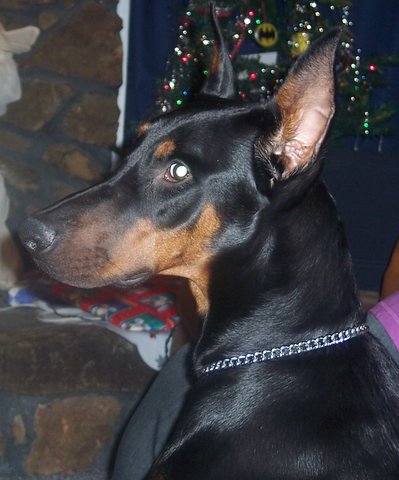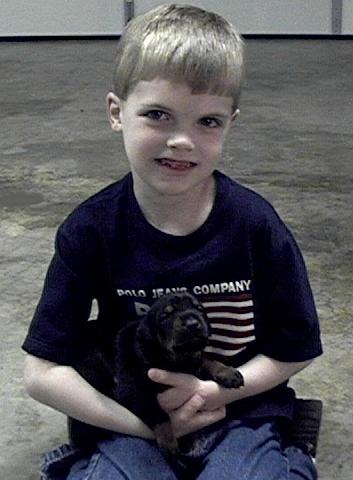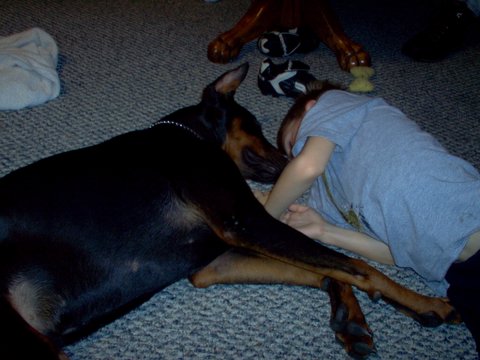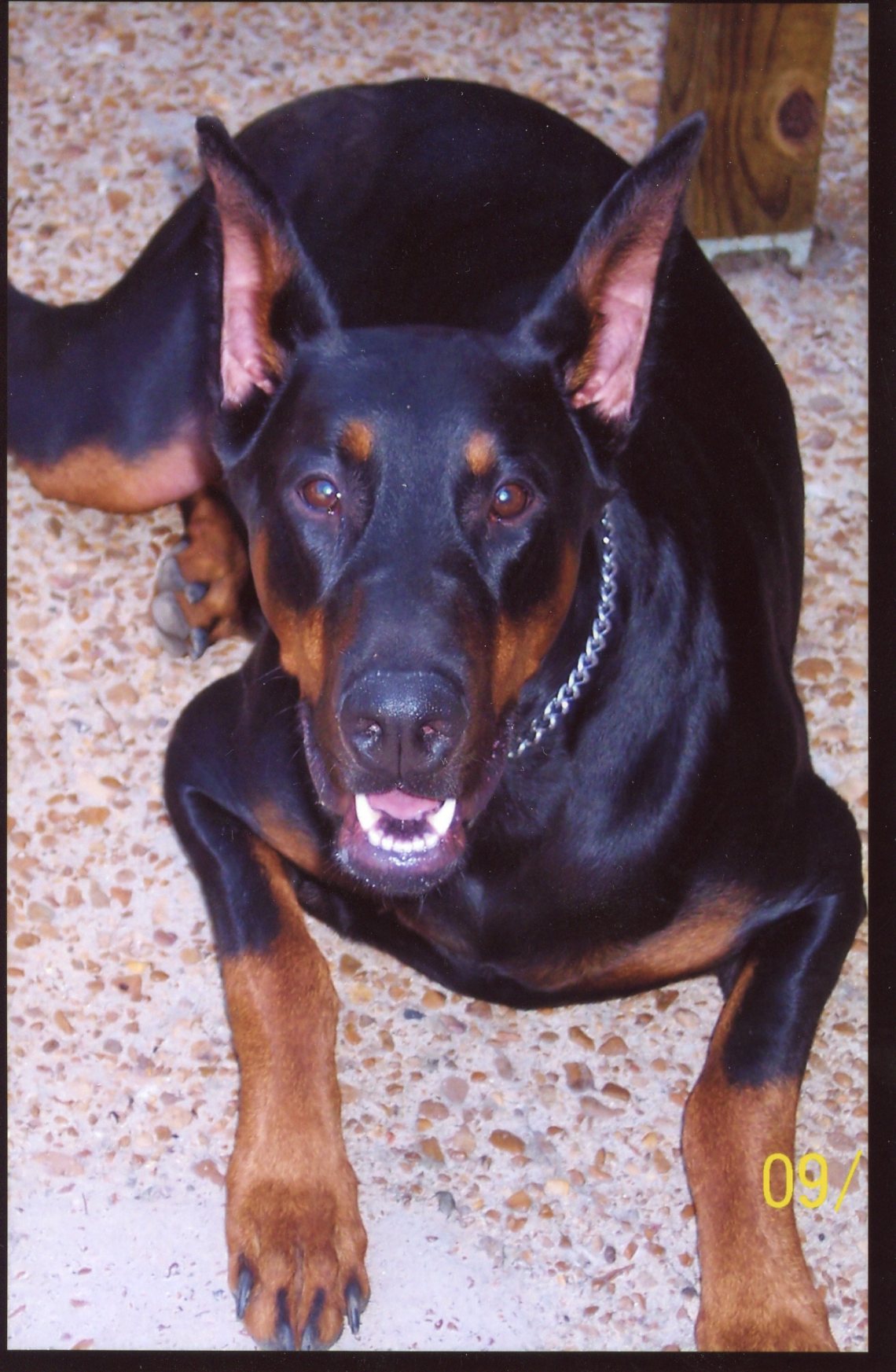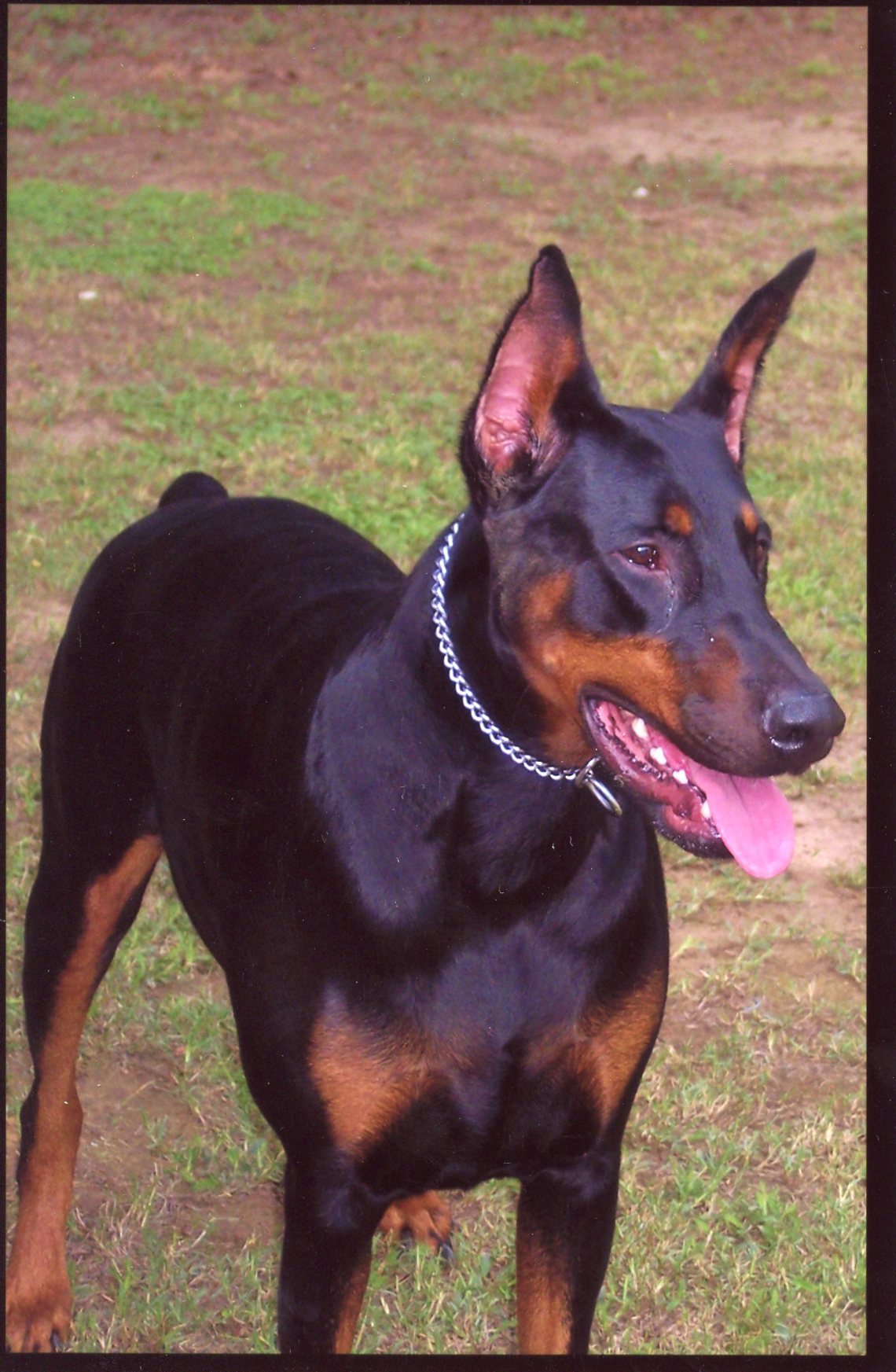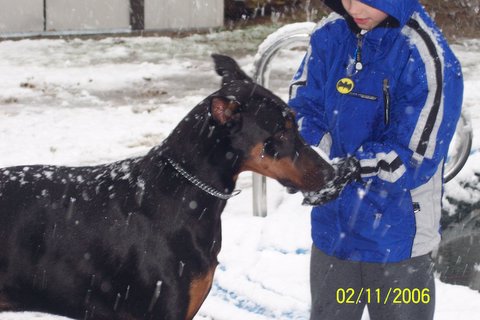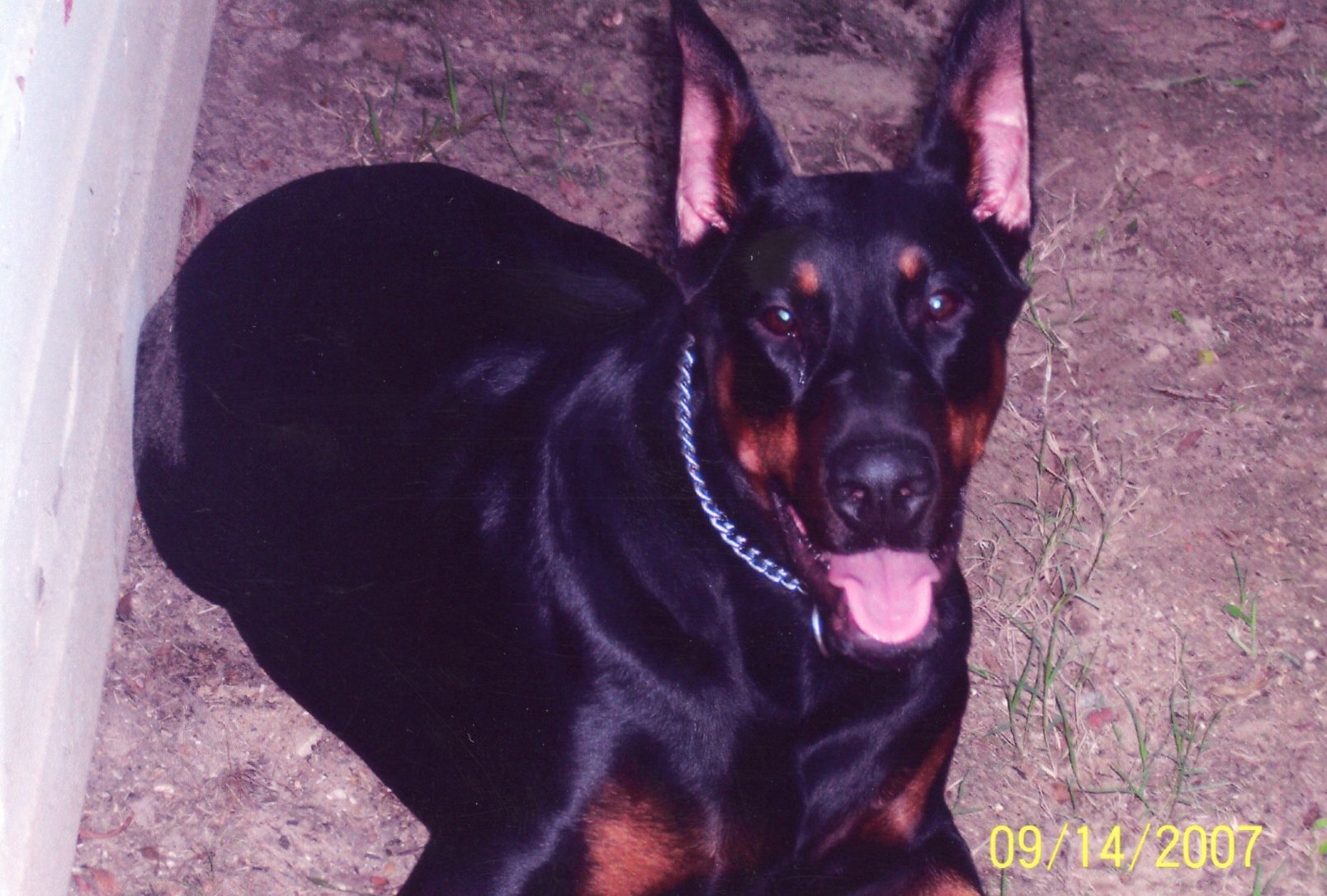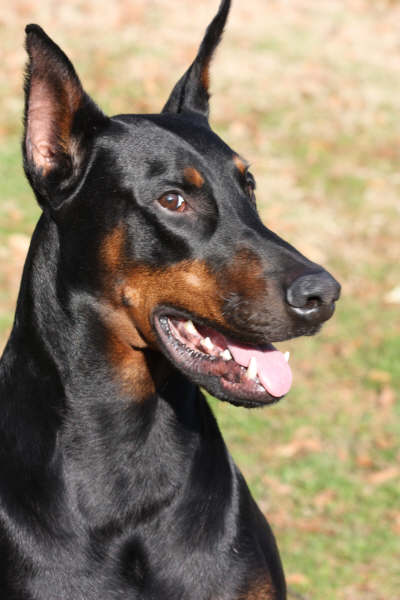 Update: March 2008. Thunder (3 years old and 124 pounds) trying to fetch snowballs for John David.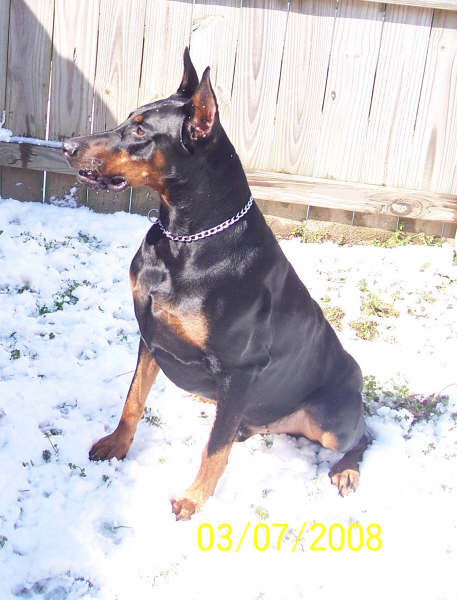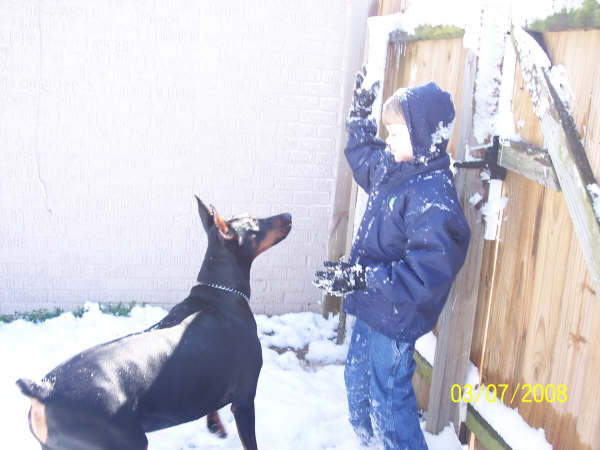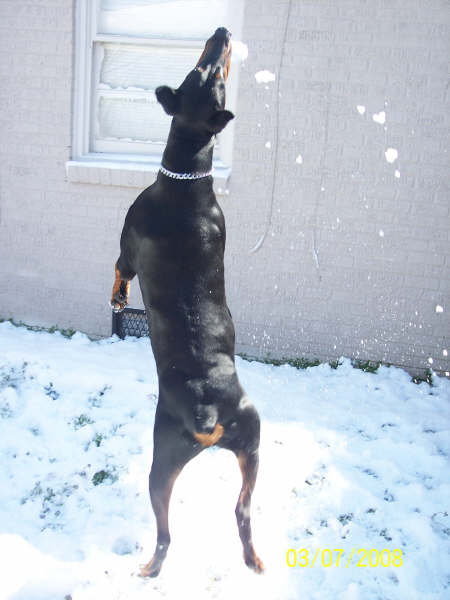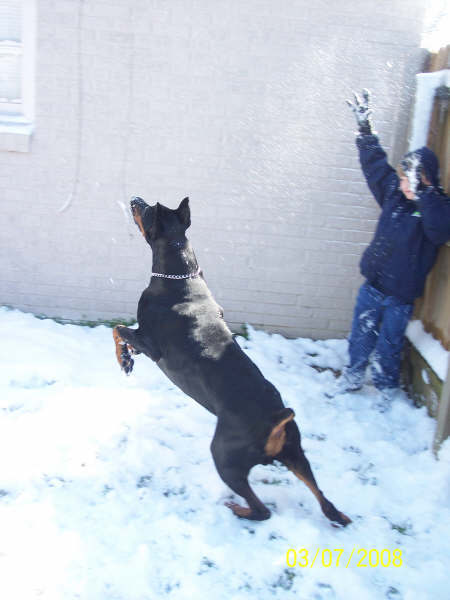 March 2009. Could Thunder (4 years old) possibly be any more handsome?! 2011 update: Unfortunately Thunder passed away in 2011. He will be dearly missed. RIP Thunder.