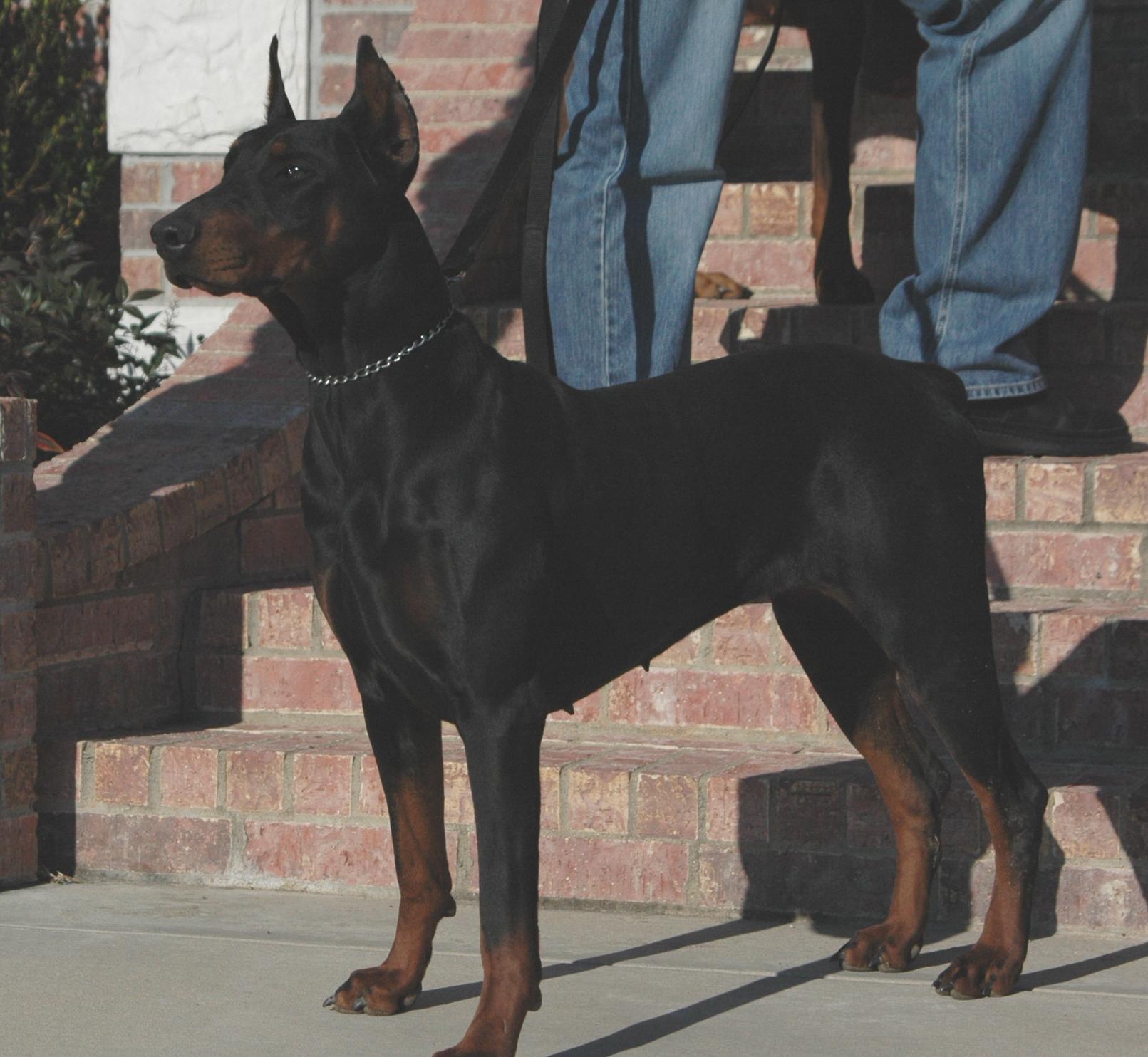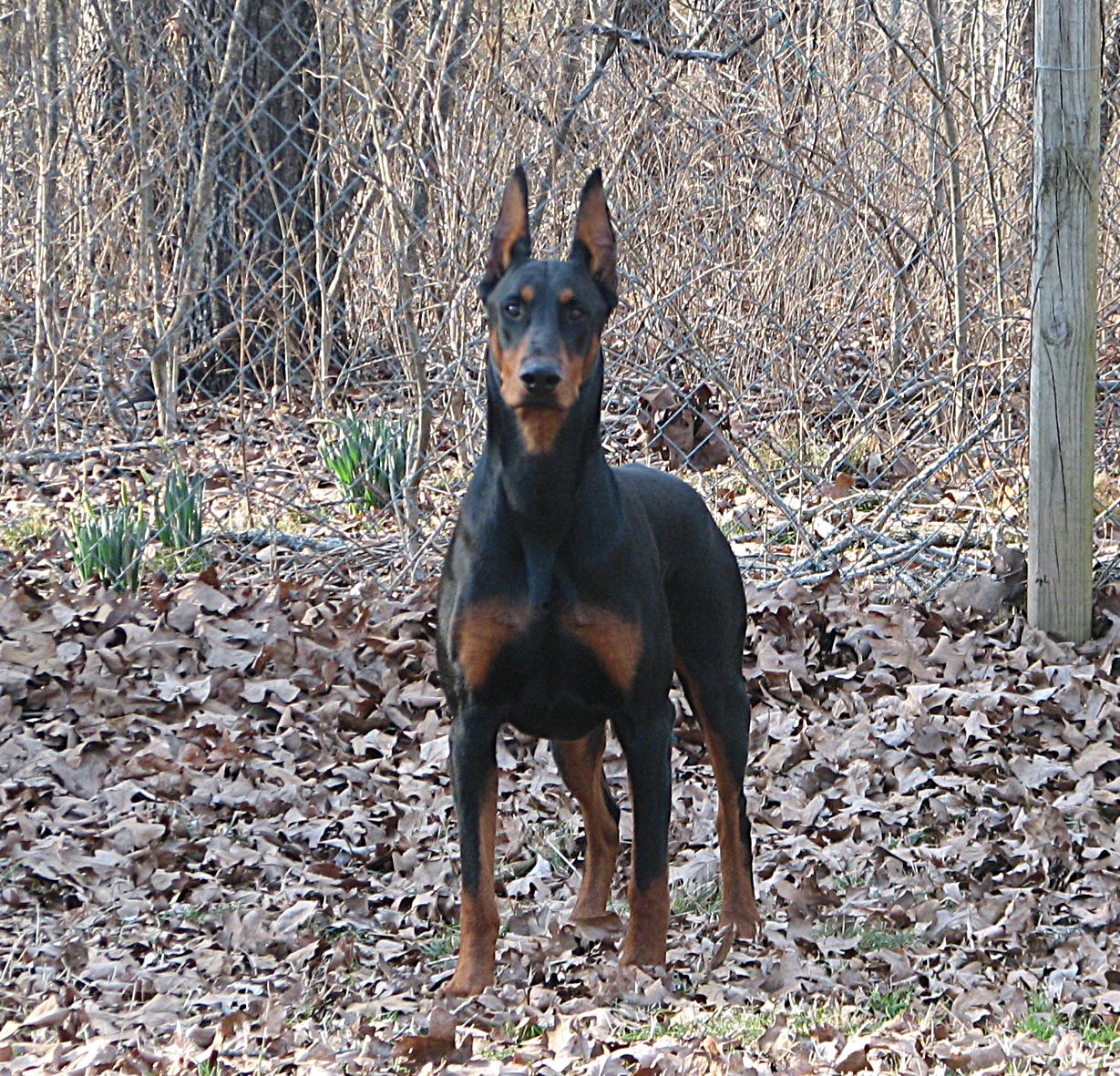 Click above to visit our
LIVE webcam!
D & L's Kimbertal Star (AKC pedigree link) and D & L's Mierko (AKC pedigree link) delivered 5 beautiful puppies on March 18, 2009. We are so excited about the potential of our first litter of FOURTH generation D & L puppies!!!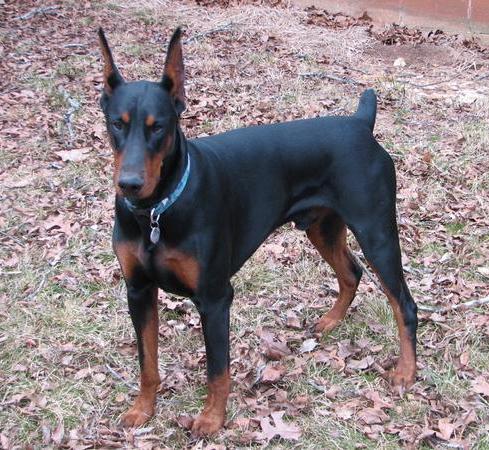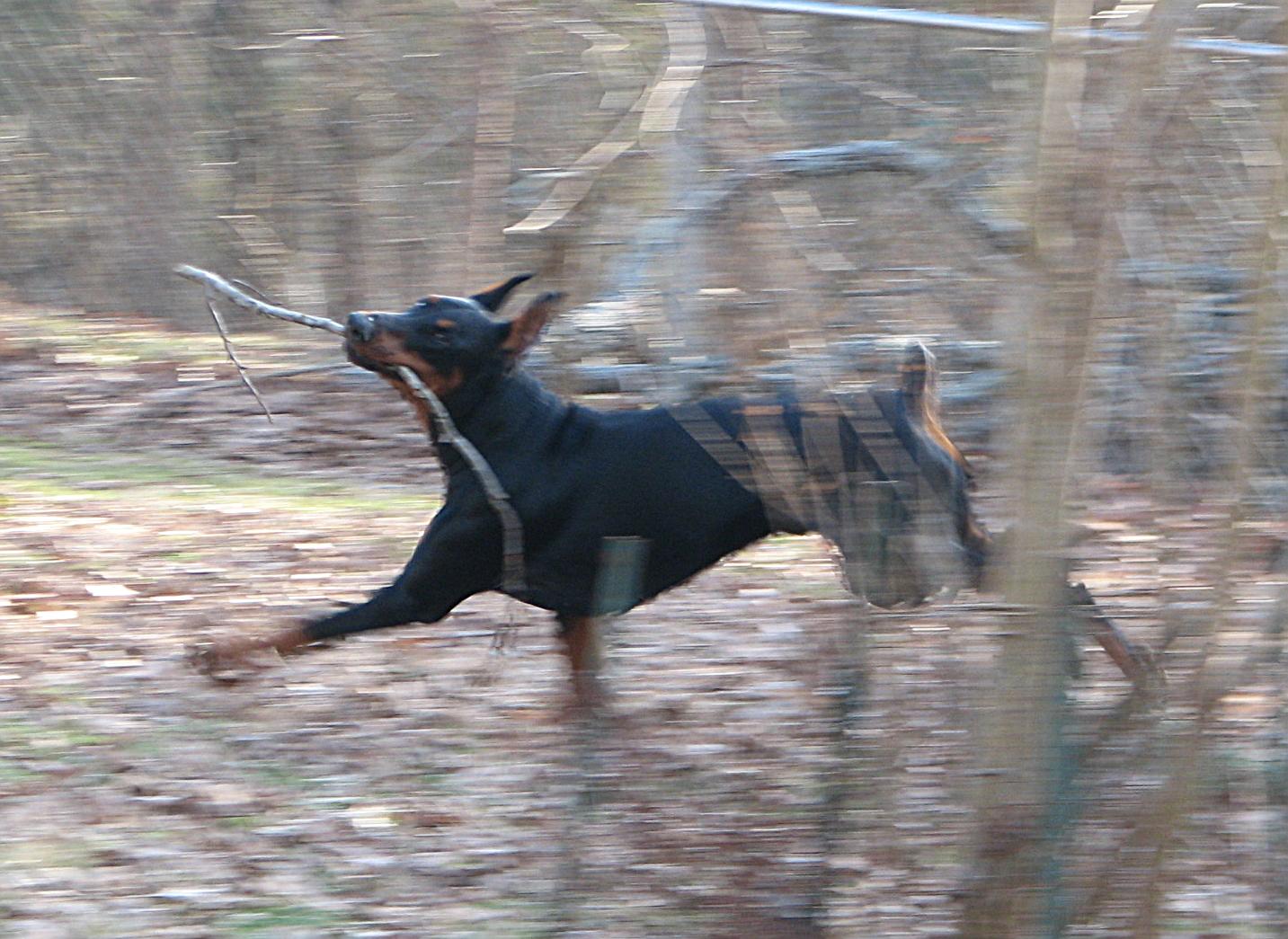 Click here to see more photos of "Mierko"!!
Mierko was bred by D&L Dobermans. His parents are D&L's Regal Redford and D&L's Outlaw Josie. He is a huge boy with deep mahogany markings. Mierko is very muscular and athletic!! He weighed 100 pounds at 1 year of age and should mature to a weight of 110 - 120 pounds, which is even larger than his father. We are EXTREMELY excited about this cross with "Star" and plan on keeping a female puppy for our family and to build our breeding program.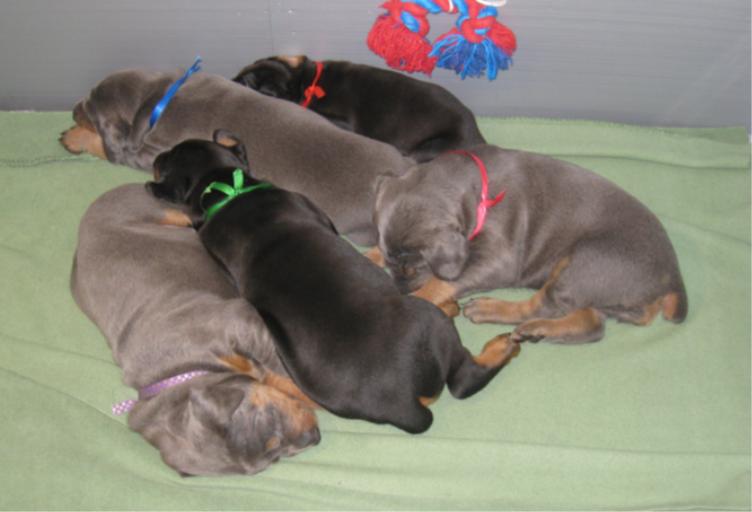 CONGRATULATIONS TO THE FOLLOWING: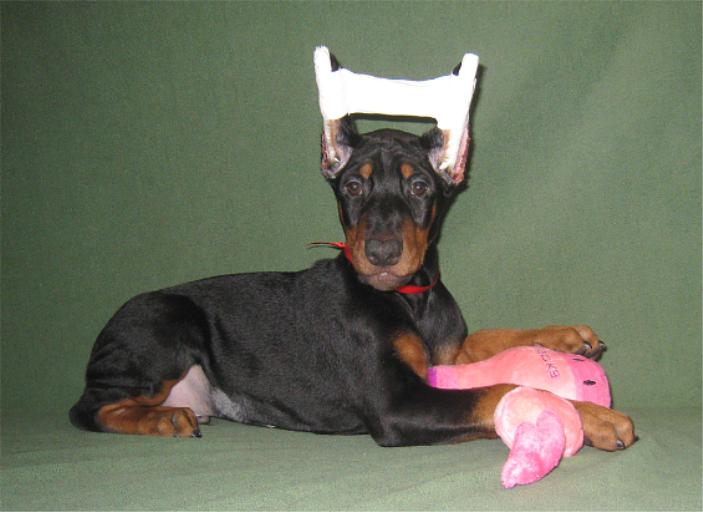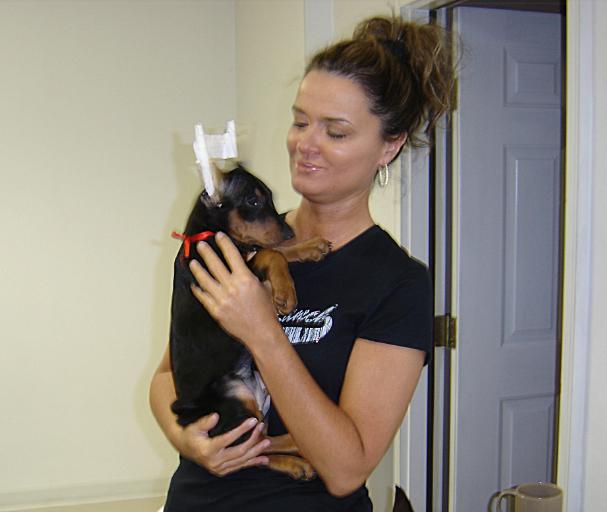 black male - red collar - born 8:00 AM - Dwight and Lesa Lewis - Jonesboro, Arkansas - "Twister" has tons of personality and has won everyone's hearts on the puppy cam! We wonder if anyone would notice if we removed all the puppies from the bed as long as Twister was still on the cam. :) He is the star of the show! He absolutely loves to cuddle and fall asleep in your arms and is extremely devoted to "people" already. Twister is loved by so many. He has a wonderful family in Apple Valley, Minnesota that will always be a part of his life. Bernie, Alicia and Nathan Getman waited on Twister for over 2 months in hopes that he would join their home. Half way thru the wait, we discovered that Twister was born with a liver shunt and had to have very specialized surgery to lead a healthy life. The emotional ups and downs while dealing with the wait for surgery thru different universities was just too hard for the Getman's and we totally understand. In July, we all agreed that it is best for everyone and Twister for him to stay with us at D&L Dobermans so that we can get him the surgery and care that he needs. We and the Getman's love Twister so much and know just how special he is. Twister even traveled to Minnesota in May to visit the Getmans for a few hours before he returned to Arkansas to have his surgery. He absolutely loved playing in the leaves in the woods behind their home. He played with the toys they had ready for him and even tried out his new bed. Nathan had placed pieces of paper all over the house with arrows showing Twister where to go since he had never been there before. :). Nathan was such a strong boy when we explained that Twister had to come back home with us so the doctors can make him better. Twister's new "blue" dog toy is from Nathan so he will not forget all the love he has for him with the Getman's. We will not forget the Getmans and our visit that beautiful day in May. They are an awesome family and they have a tremendous love for Twister. We are so sorry this situation happened to them and to Nathan, but believe they feel blessed to have met and loved Twister as we all do.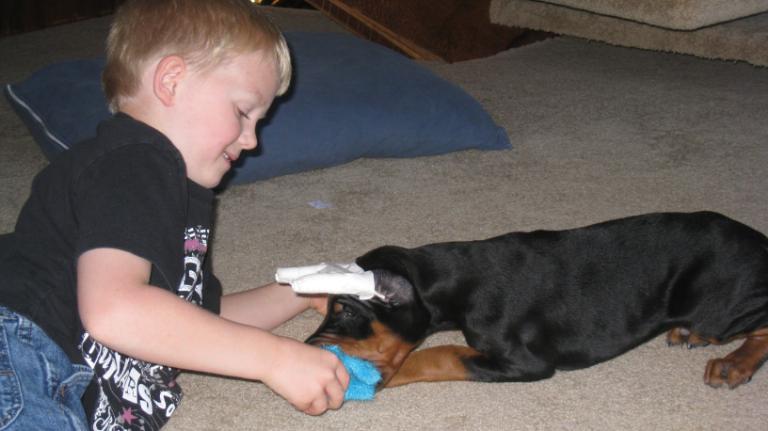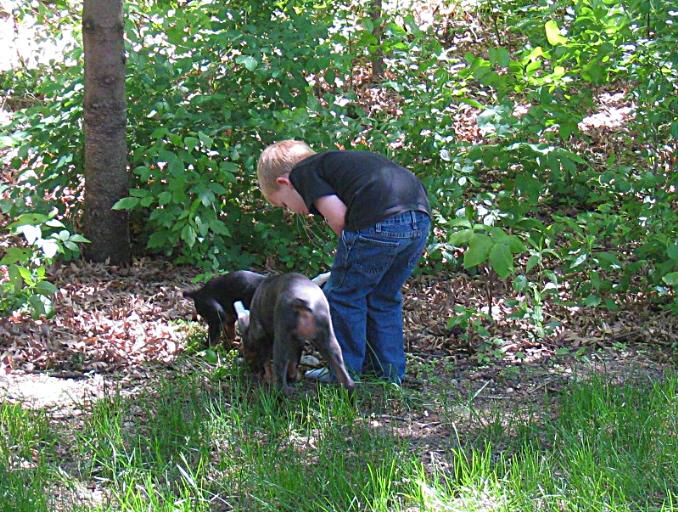 Update: June 09: Twister waited 4 weeks for the surgeon at the University of Tennessee. He went to UT veterinary school for his tests on June 30 and scheduled surgery on July 1. After tests were ran on Twister at the University of TN, his shunt was found to be inside his liver (intrahepatic) instead of outside his liver (extrahepatic). The "constrictor band" technique at UT cannot be used on internal shunts. It was also confirmed that Twister does have only one shunt so that was great news. July 09: We are waiting to complete communication with the University of Pennsylvania regarding Twister. Their "coil" procedure is used for intrahepatic shunts The surgeon was out of the country for the first 2 weeks of July but we have been in contact regarding Twister. We will keep you updated on the next steps and the information that we are given from the surgeon at the University of Pennsylvania. Twister is doing great while we all play this waiting game. He is on a his special LD diet and loves his other liver friendly food on the side, which includes canned green beans, carrots, sweet potatoes and a few Cherrios for treats. We hope that Twister has a huge success story and his experience and this website will help another family that is starting from scratch with this diagnosis. July 09: Twister is doing great and is 27 pounds and fat for the first time in his life. We have talked with the surgeon at the University of Pennsylvania and sent all of Twister's test results to him for review. If the tests show Twister to be a good candidate for surgery, we will be planning surgery for mid September. The surgeon, Dr. Chick Weisse, is leaving the University of Pennsylvania for a specialty referral hospital in New York City (Animal Medical Center of New York) so Twister's surgery will be in New York City if all goes as we hope. October 09: After pushing and pushing for a date and a missed date due to complications with Twister's health in September, we are planning for Twister's surgery in NYC on October 19th!!! This has been an extremely long wait for Twister and he has been a fighter over and over again. He is so special and we are hoping for the very best with surgery. Twister's other family, the Getmans in Minnesota, still check in on Twister. Hopefully, they can visit with Twister again in person some day since they are waiting on a puppy from D&L. October 09: Twister traveled to New York City for tests and surgery and was found to have a heart condition that is more critical than his liver The surgeons recommended further heart diagnostics before proceeding with the liver surgery. Twister enjoyed the road trip to NYC and we will travel in the next 60 days to Texas A&M Cardiologists for more heart tests. December 10: We are on the road again and took Twister to Texas A&M Veterinary College for more heart testing. Twister's heart seems to have something going on that can't be explained but his heart function is good. The surgeons at Texas A&M were able also able to per form the LONG AWAITED liver repair while doing his heart cath procedure. It was quite the week as we had one failed surgery attempt due to a fire alarm that caused the hospital to be evacuated at the start of Twister's procedure. Once again, Twister was such a fighter and he woke up from a surgery in progress (with an extremely high anesthesia risk) and we had a successful surgery the next day. March 10: Happy 1 year birthday Twister!!! June 8, 2010: Twister is truly our angel now. We love and miss Twist more than words could ever say. We lost the joy of our lives today but we know he will never leave us in spirit. Twister was too much a part of our lives as well as his large extended family to ever be away from us. We know he is near and he will live on in many ways and in many hearts. We love you Twisty sweet boy and will never forget you for one second. You were and will always be our baby.
To visit Twister: www.vettv.net/show/mighty-twister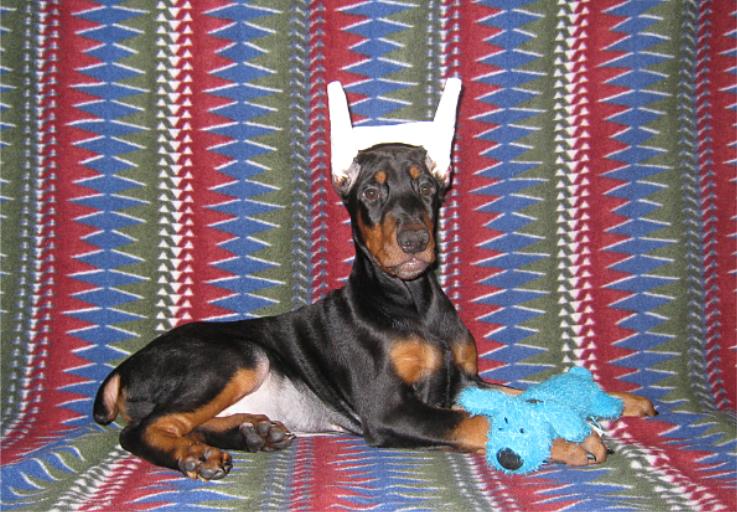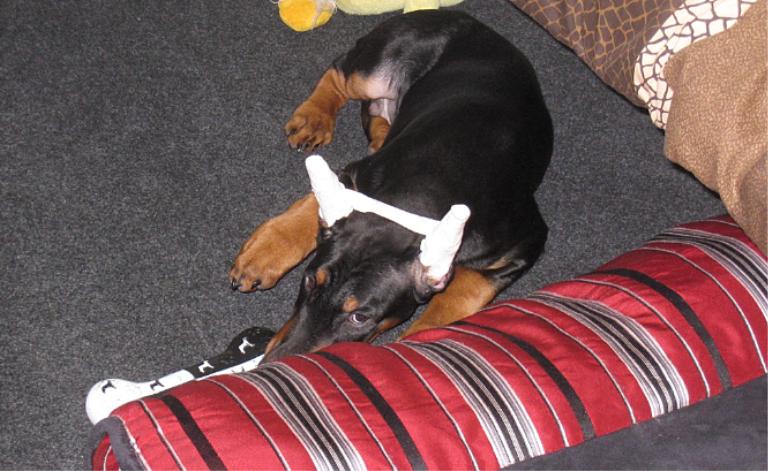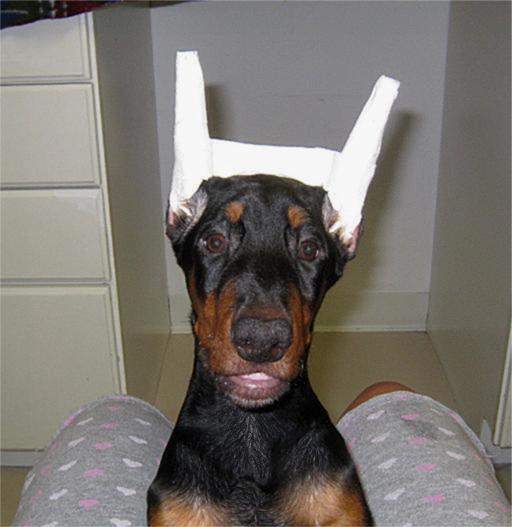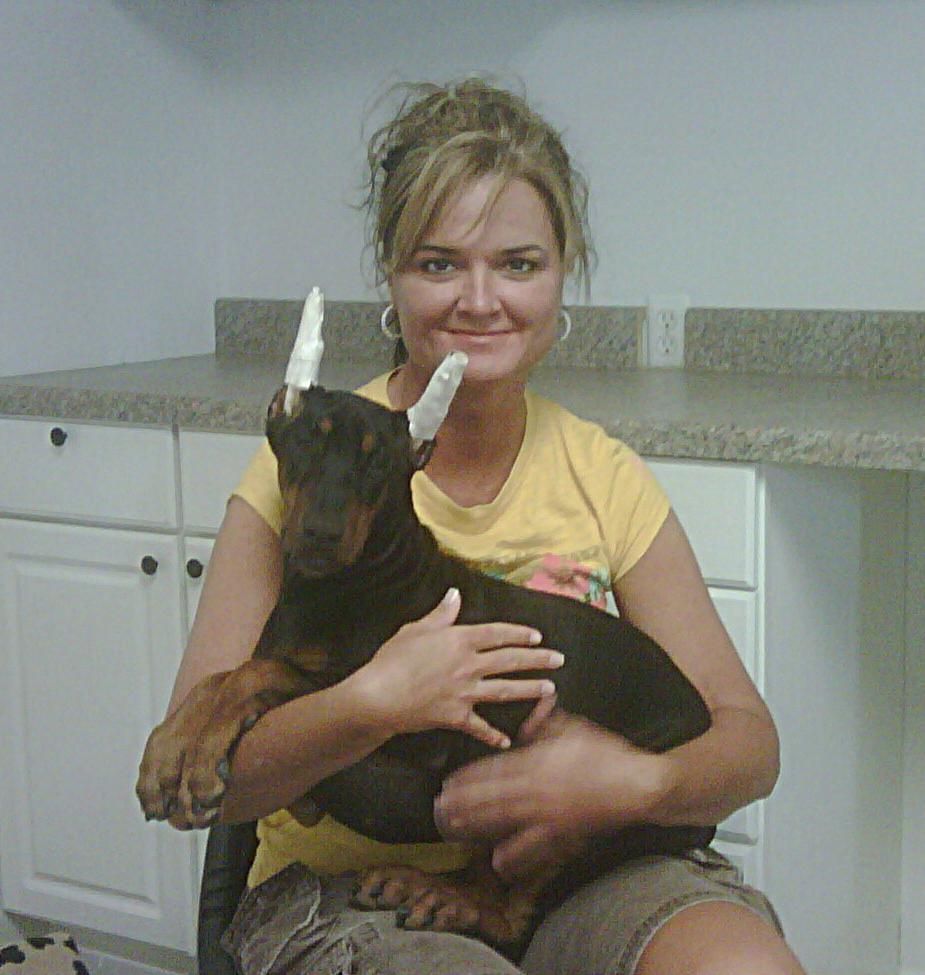 Twister's famous look.
Now you know why we have to spoil him!
Go ahead, you can kiss the screen. :)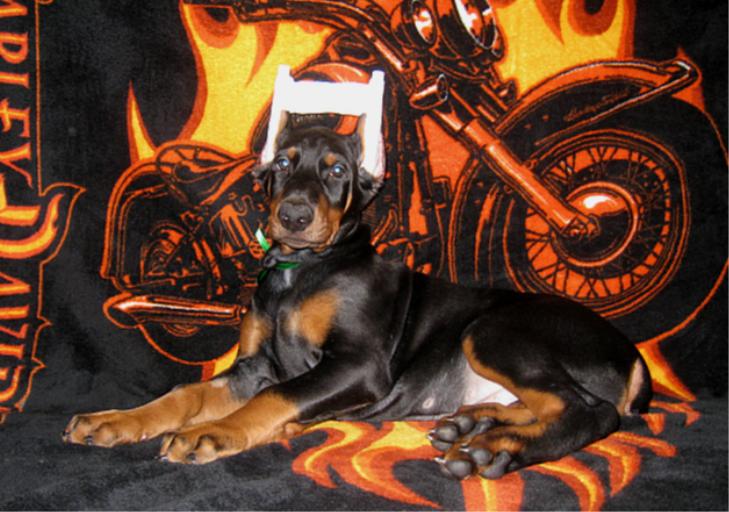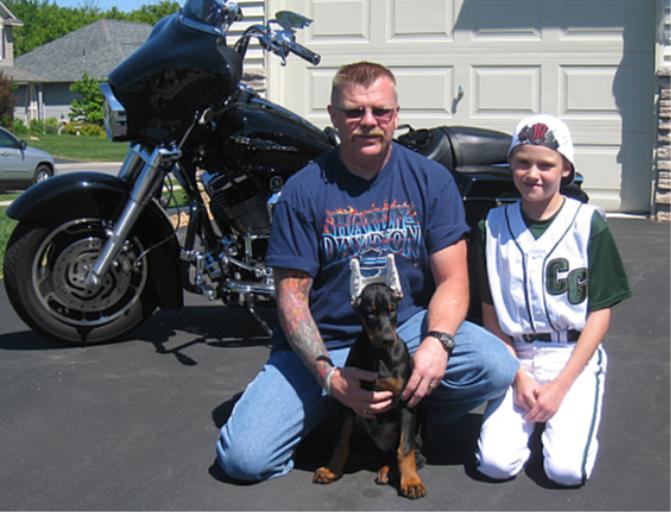 black male - green collar - born 9:00 AM- Dan and Dalton Sokolowski - Cottage Grove, Minnesota - "D&L's Batman's Dark Knight" has a very anxious family waiting on him in Minnesota! Batman will need to be on his best behavior since his new home has lots of experience in law enforcement and the military. But he can always play with his new best friend, Dalton. His new "Harley" collar is waiting and the back seat of the "Harley Davidson" truck is ready for Batman to spend lots of time riding around town. Although based on the size of Batman, the back of the Harley Davidson motorcycle is out of the question.
Update: May 09: Batman joined his new family and is doing wonderful. Everyone was waiting for him when he arrived. Even Hazel, the pug, was excited to see her new buddy. Dan took off work to spend the first full week with Batman. Dan says that Batman is now king of the king size bed and he loves the big leather couch too. Batman and Hazel are having lots of fun and Batman is also getting lots of excitement at the ballpark during his first week home. Batman had his friends Twister and Jacey on the trip to help him feel at home in Minnesota. Twister even got a special gift from Dan, his own Harley Davidson collar. Thank you Dan! :) June 09: Batman is doing awesome and Dan is doing great with ear taping too! August 09: Dalton and Batman - best buds! September 09: Batman is growing up so fast!! He is gorgeous! Great job Dan, Dalton and Destiny! I know you all have been active in taking care of Batman and ear posting. It shows how much you care for Batman! October 09: Batman's first snow in Minnesota. What a sweet face! He looks exactly like his mom, Star.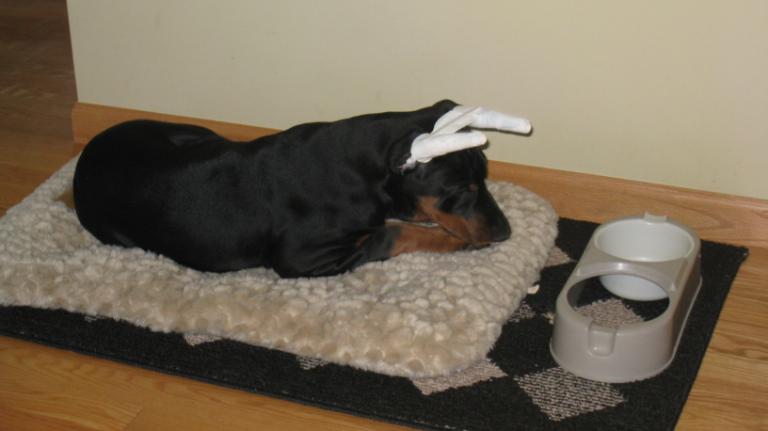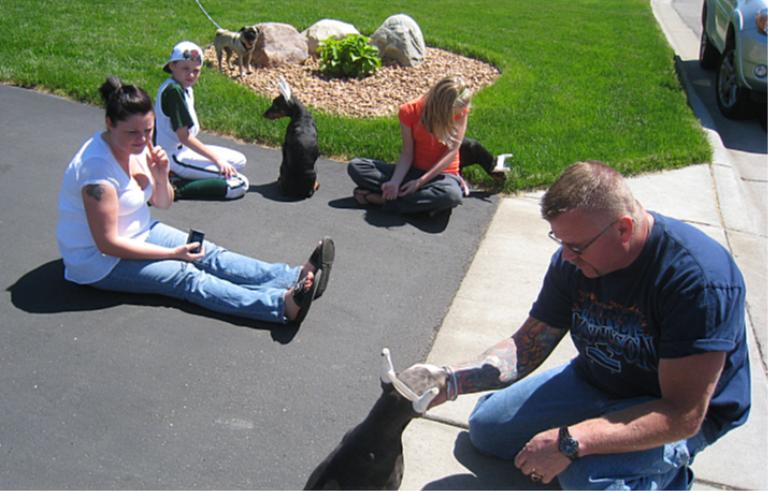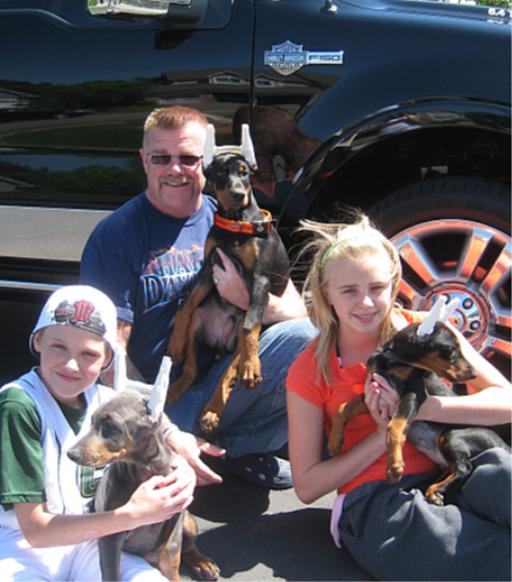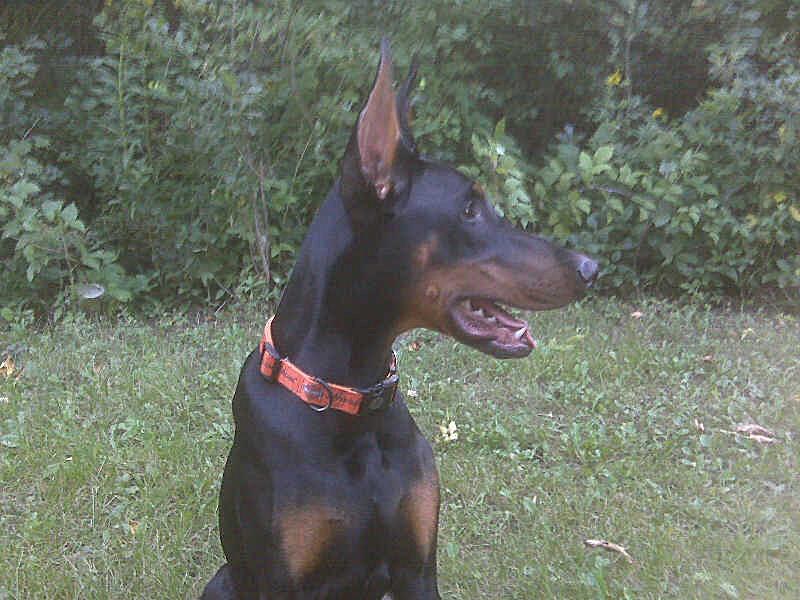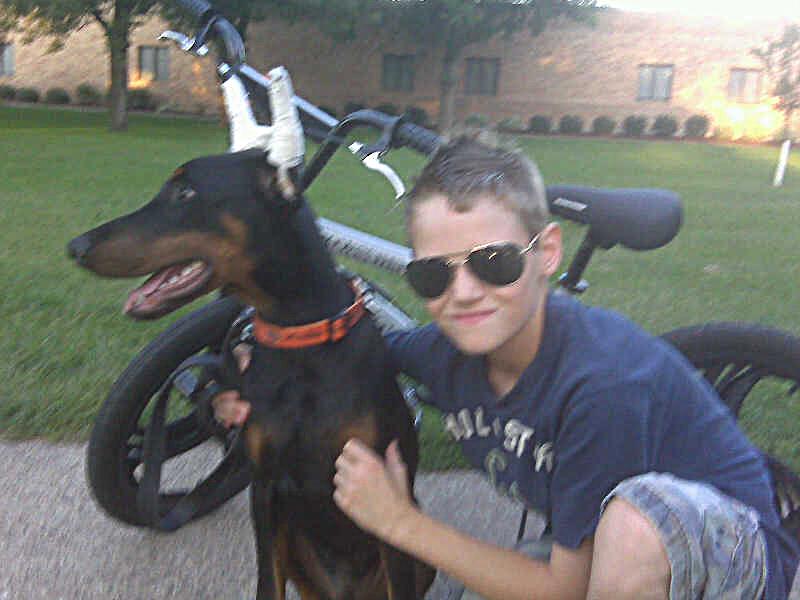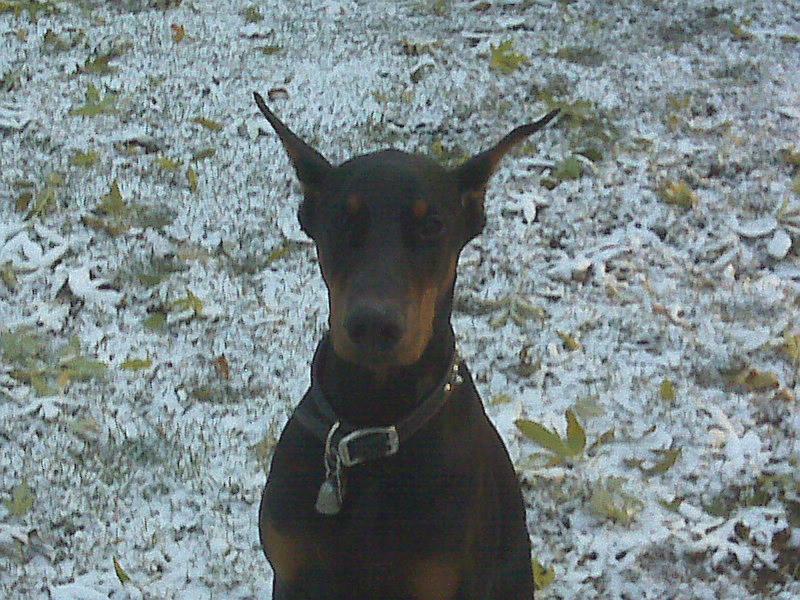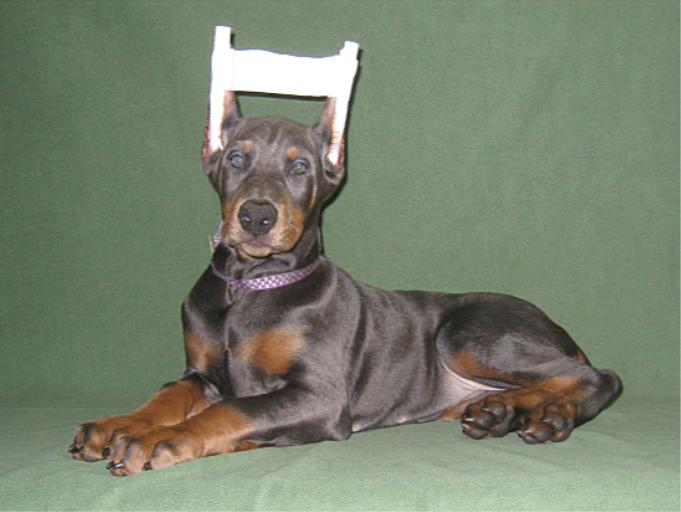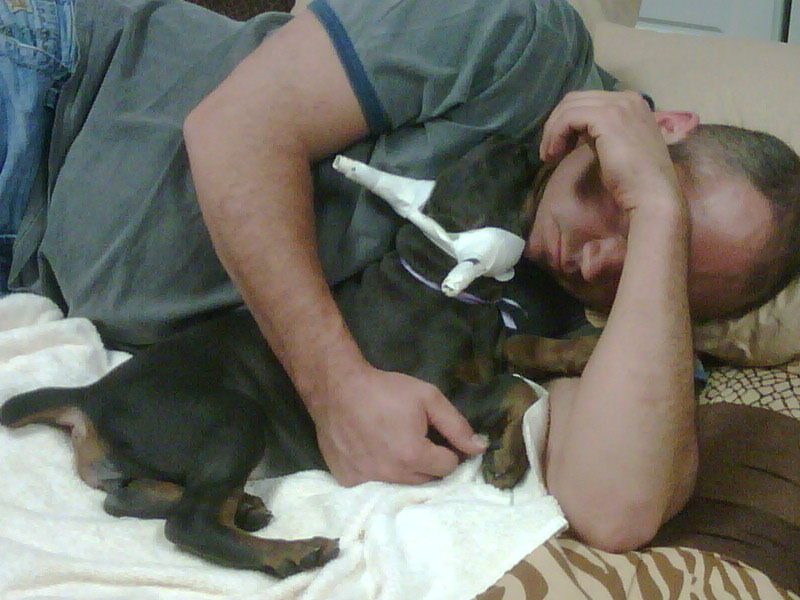 blue female - purple collar - born 9:59 AM - Dwight and Lesa Lewis - Jonesboro, Arkansas - "D&L's Amazing Jacey" will be staying at D&L with Dwight and Lesa. We were so anxious and hoping to be able to keep a female from the special breeding of this litter. This fourth generation litter of D&L dobies is a combination of all of our Dobermans (Gracey, Redford, Josie and Star). We were so excited and so surprised when Star delivered her first blue puppy and to see that the puppy was female was just overwhelming. We feel that our sweet Gracey (great grandma of this litter) had a lot to do with this special puppy being born to us. "Jacey" is a combination of "Gracey and Josie" and means "healer".
Update: June 09: Jacey is doing great and had a blast on her trip to Minnesota with Batman and Twister. She didn't meet a stranger and she loved all the new places and hotels. She is missing her litter mates but her and Twister are getting lots of one on one time with Dwight and I so that means more time hanging out on the futon which seems to be her favorite spot. October 09: Jacey is a very happy girl and is in total love with Deezel. She is so fast and can tackle Deezel before he even knows she is nearby. She also loves to use her front legs to hug Deezel around his neck. Jacey "talks" alot especially as she eats and makes a game at talking to her food in between each bite. She is a very funny girl!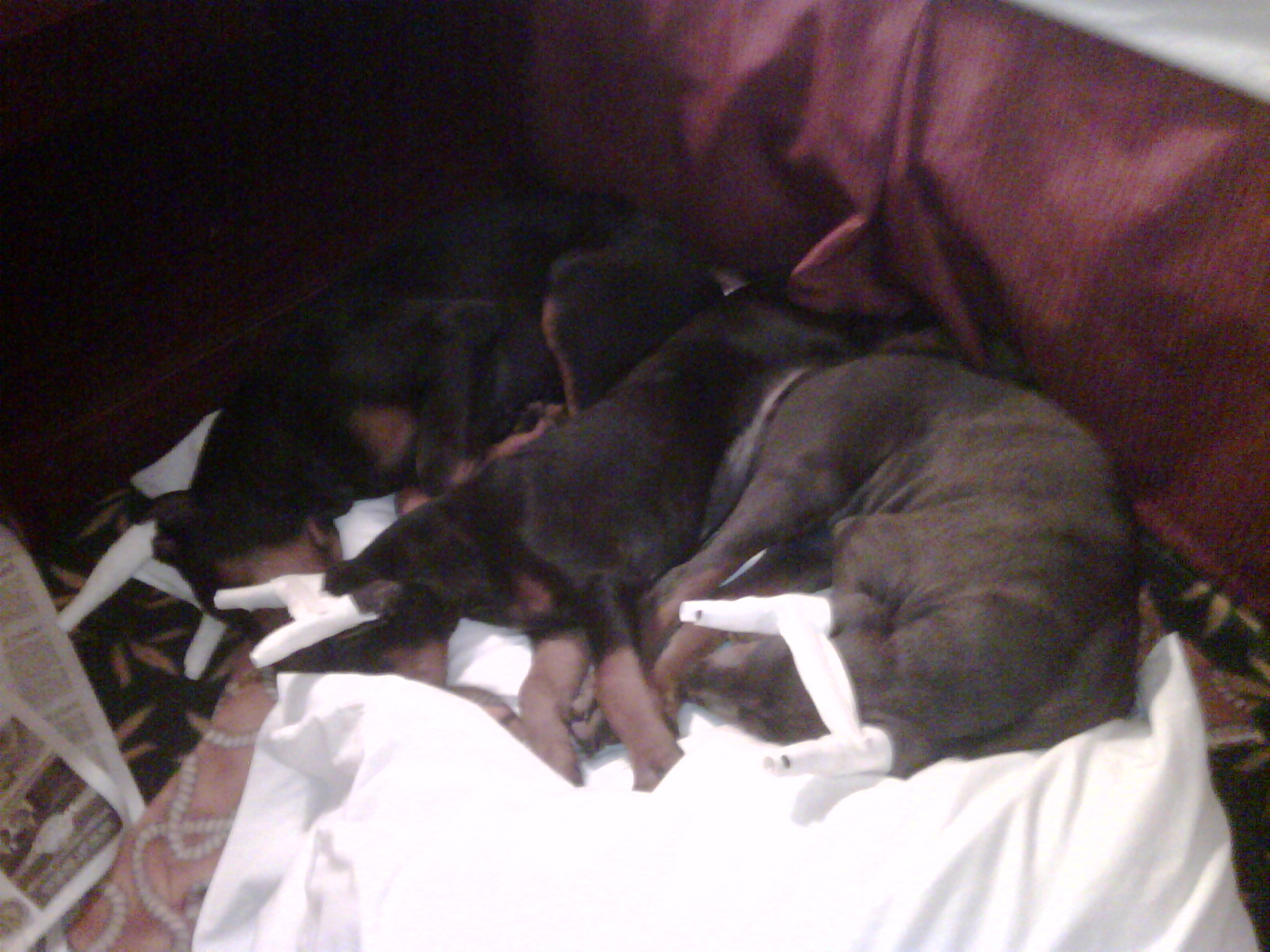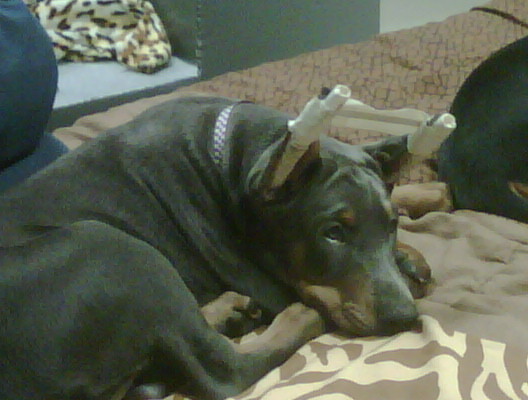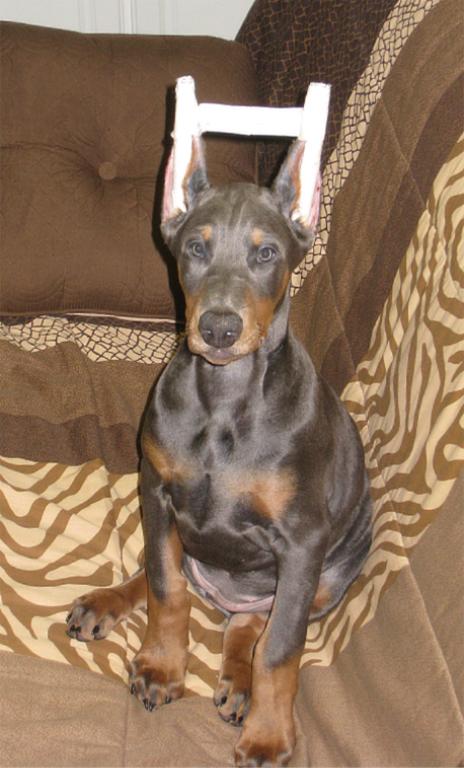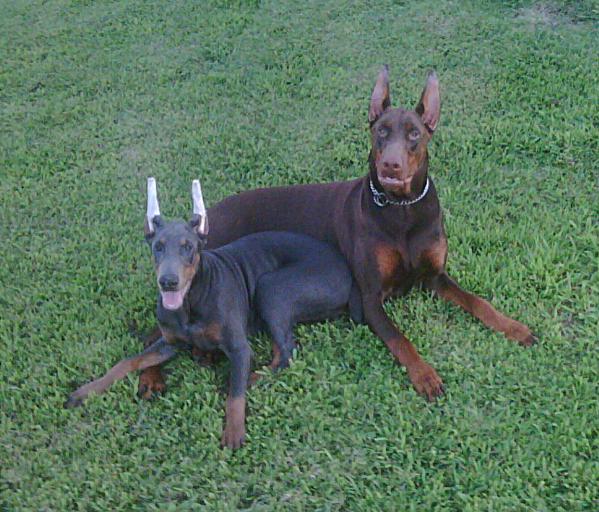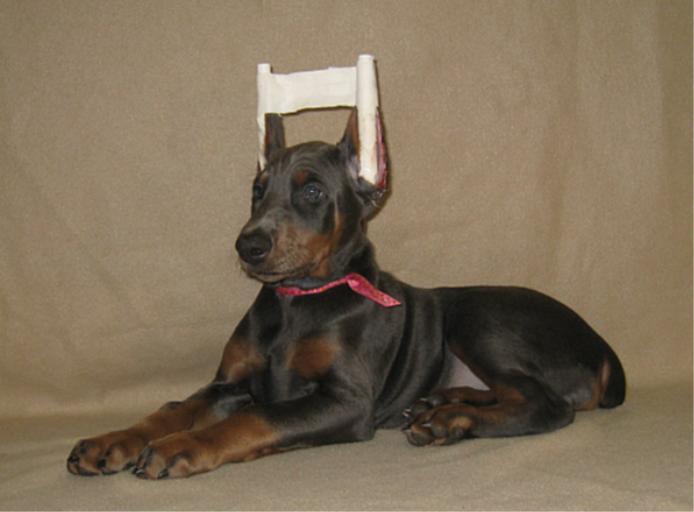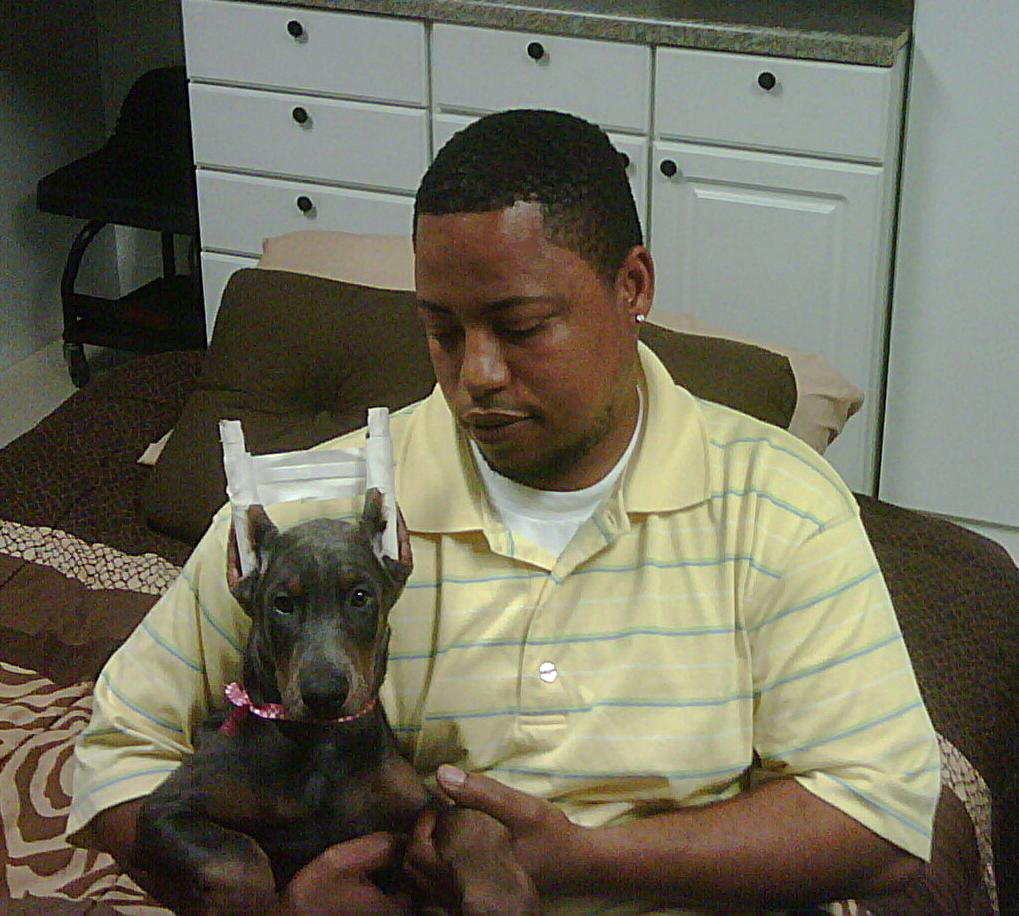 blue female - pink collar - born 11:15 AM - Dane Phipps - Clarksville, Tennessee - Dane has been waiting for a D&L Doberman since October 2008. His plans were for a red male since his red males were the first dobies to win his heart. But when he saw this blue girl, he could not help himself! Dane is very excited about his new puppy and has already named her "Maia Alyssa". Maia is such a loving and sweet puppy!! She absolutely loves to give kisses and to have her photo taken too!
Update: May 09 - Maia is doing great and decided that she wanted to sleep in bed the first night. Dane says she also likes to prop her head up on a pillow or him while she sleeps. She quickly figured out how to get on the couch too. Dane is doing an awesome job on ear taping after just a couple of conversations to make sure things were right. Way to go Dane!!! June 09: Maia is doing great and Dane says she is learning so much and so fast! Looks like she has learned where the most comfy spot is for a nap too. October 09: Maia is doing great and Dane says he couldn't be happier with her. He says she loves to bite at his foot when she wants something. She looks gorgeous and Dane did an amazing job with her ears, even with no experience. They look perfect! Great job Dane! Thanks so much for the update and the beautiful photos of Maia!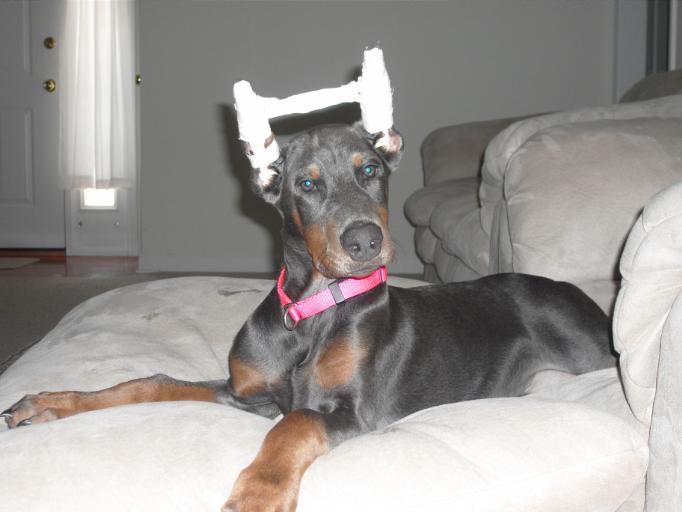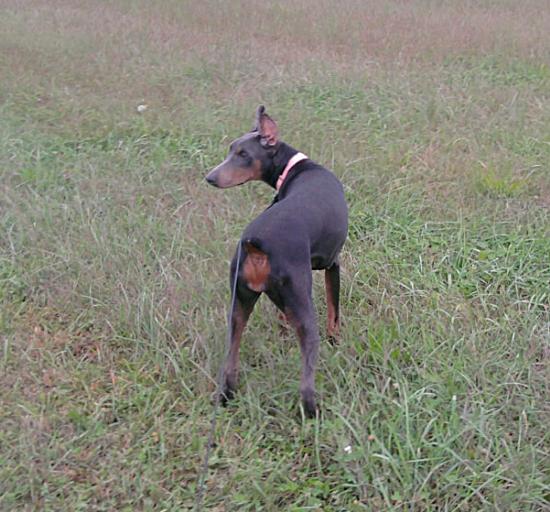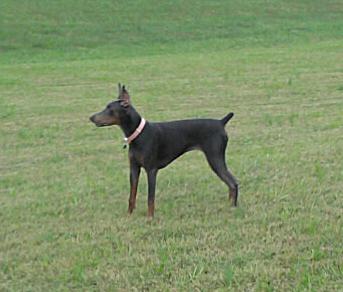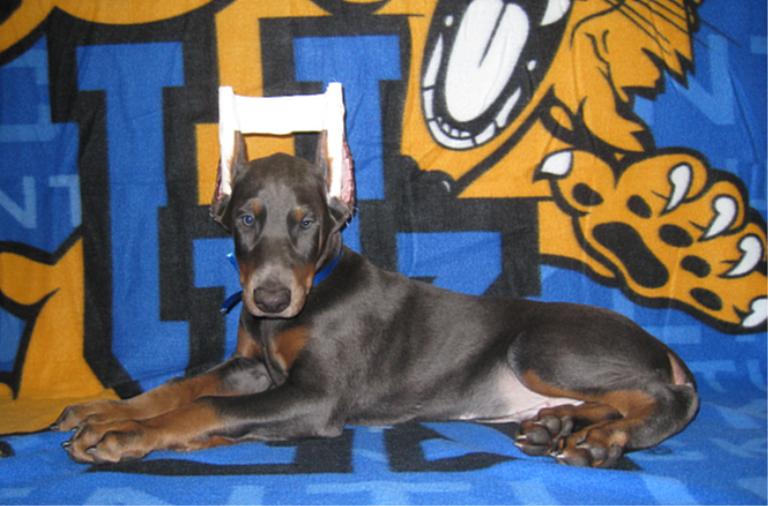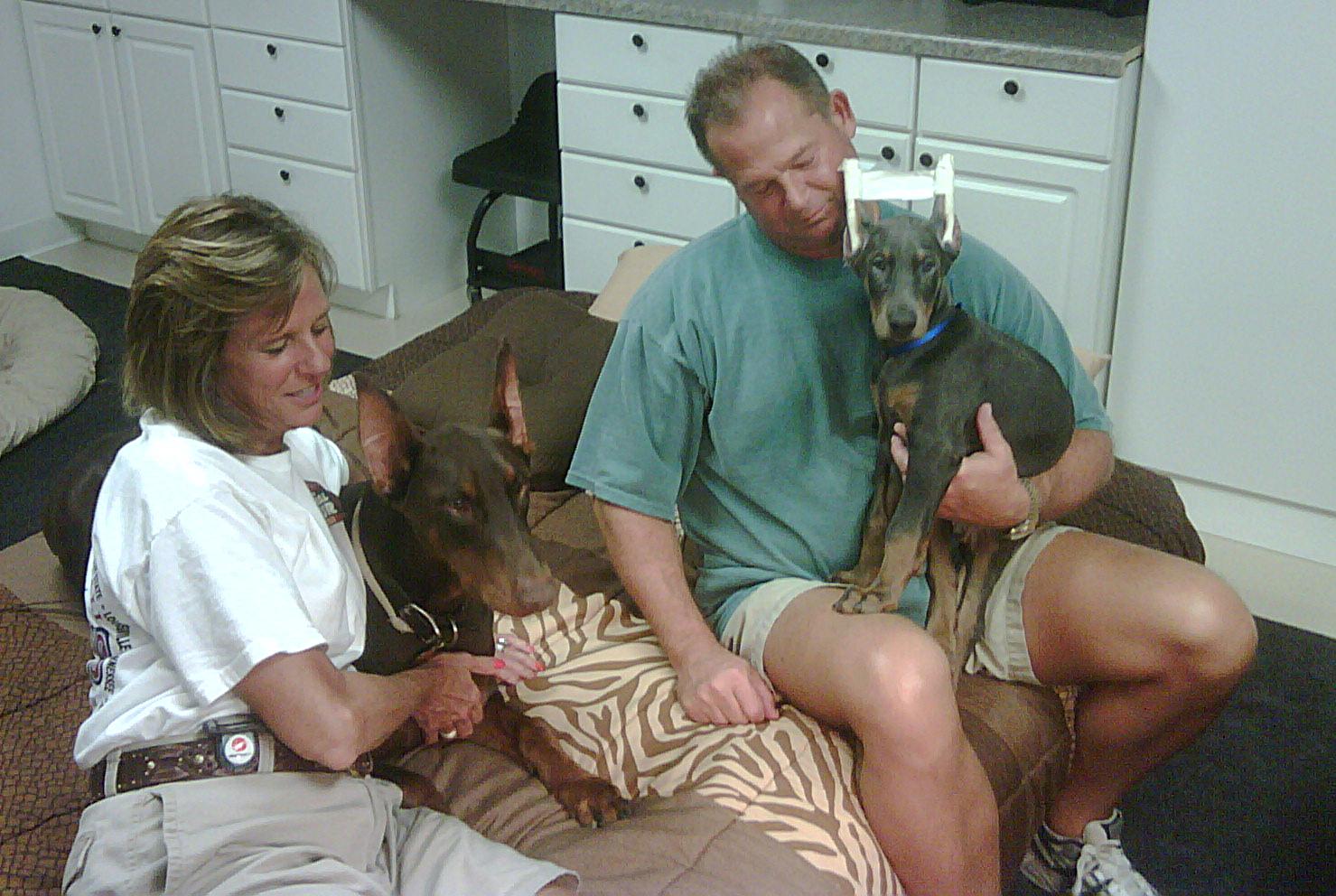 blue male - blue collar - born 12:02 PM - Jim and Lisa Kennedy - Louisville, Kentucky - "Razar" has a big brother waiting for him in Kentucky. The Kennedy's have a very special D&L dobie named Redford Jr. from our April 2006 litter. They can't wait to bring this big, gorgeous puppy into their wonderful home. Razar is such a sweetheart and plays so well with all the puppies in the litter. He absolutely loves to give kisses too! We are so excited to go thru this experience with the Kennedy's again. They are great friends and we are so happy for them, Razar and Redford Jr. Jim had a special request for his big boy to wear a blue collar to represent the color of Kentucky. He didn't realize that his wish would also produce a blue puppy as well. Razar is Kentucky through and through!! :)
Update: April 09: Razar got a very special visit on Easter weekend from his family. He got lots of extra lovin' and the Kennedys got lots of puppy breath. Star was happy to see them and even thought that Jim deserved a kiss or two. Lisa and Lesa took Deezel and Gressa for a walk around the neighborhood and we all had a great time celebrating Lisa and Redford's birthday (4/13). Dwight especially enjoyed the birthday celebration since there was lots of cake! :) HAPPY BIRTHDAY LISA AND REDFORD JR!! May 09: Razar is doing wonderful and has already gone potty on the grass and in his paper potty box in his new home. He and Redford are getting to know each other and are adjusting well. Razar even has plans to visit Lisa at work this week. Thank you Jim and Lisa for a fun weekend and lots of great help too!! June 09: Razar is doing great and he and Redford Jr are great buddies and are having tons of fun playing together. Lisa says that Razar has a great personality and is so smart! Thanks to Paula and David for his new Arkansas attire! October 09: Razar is a very loving and happy boy! He is enjoying the start of his agility classes and is doing great! His favorite part is the tunnel and he is so athletic. Lisa says if he is reluctant about anything, you can literally see him analyzing and thinking thru the situation. Good boy Razar, keep up the good work and have fun!!