Before D&L Dobermans, Lesa had an early love for Dobermans. The first Doberman to win her heart was a large red male named "Bo". At age 15, Lesa asked her parents for a red Doberman which was quite rare to find in the mid 80's. Dobermans were meant to be for Lesa and someone that worked with Lesa's mom was moving away and needed to find a good home for their young Dobie. Lesa was so surprised when her dad brought Bo home to her. Bo was an amazing sight and he planted a love for the breed with Lesa that would grow into D&L Dobermans years later. Dwight had the opportunity to meet Bo while Lesa and Dwight dated before Bo died in 1989. The day that Bo died was one of the hardest days for them and the pain of that day was only matched another day years later....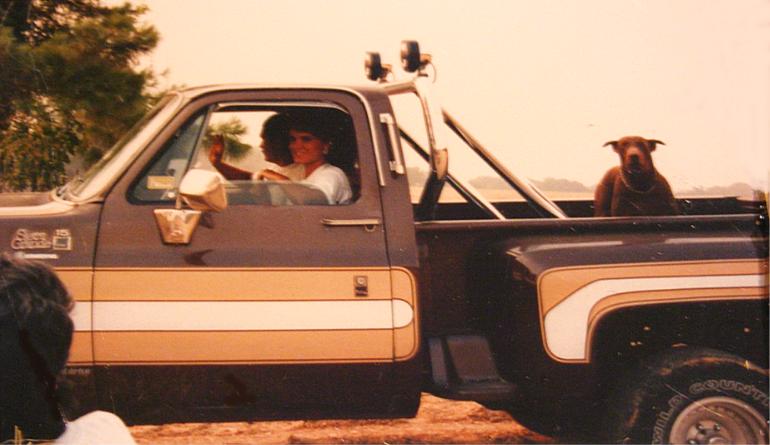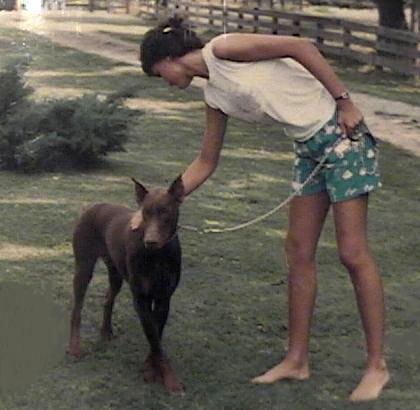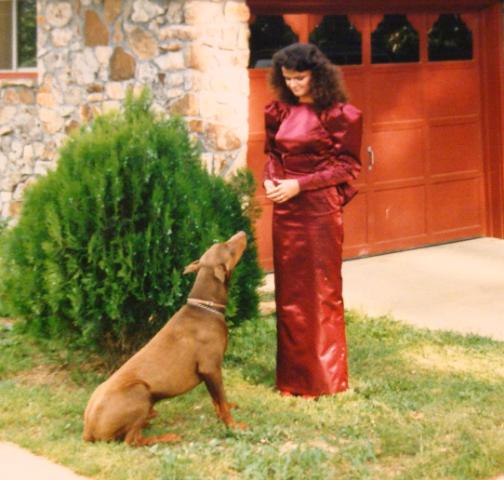 For years Lesa could not handle seeing a red male because of the loss of Bo. Dwight and Lesa had other dogs, but the feeling was not the same until they finally searched for another dobie.
"D&L's Rusty Concho" was Lesa and Dwight's first Doberman together in 1998, six years after they were married. Concho was named without knowing that "D&L" would turn into something else after his passing. Lesa and Dwight found Concho at a breeder in Conway, Arkansas. They picked Concho out in person when he was just days old. The wait for Concho was torture for Lesa so the breeder gave her a white kitten to help with the wait. "Conway" the kitty is pictured below with Concho. The breeder finally allowed Lesa and Dwight to pick up Concho when he was 5 weeks old because Lesa was so impatient in waiting. This was definitely too early but Concho survived all the attention and matured into a wonderful member of the family. (continued below)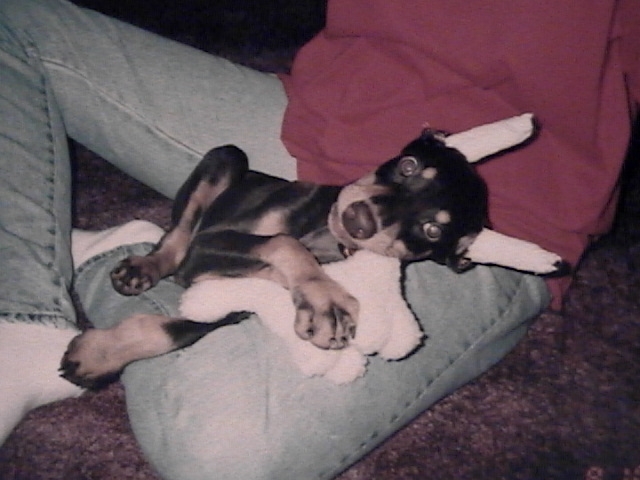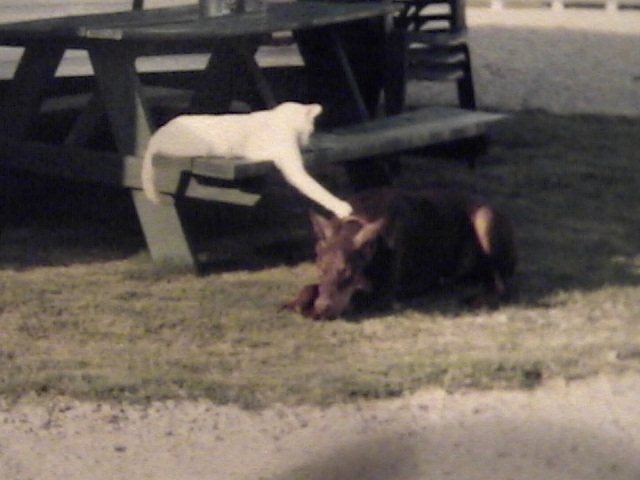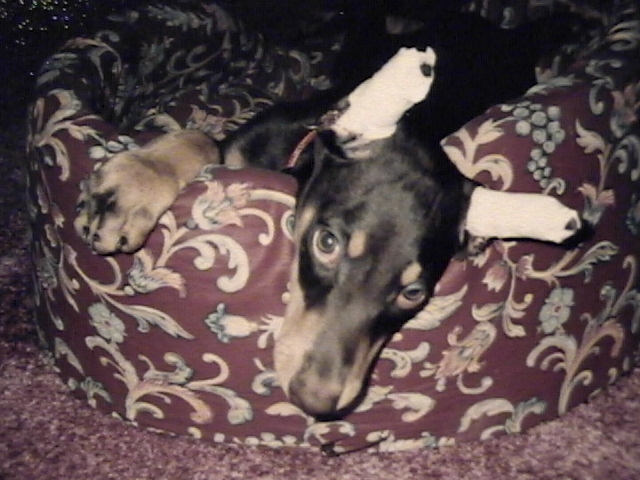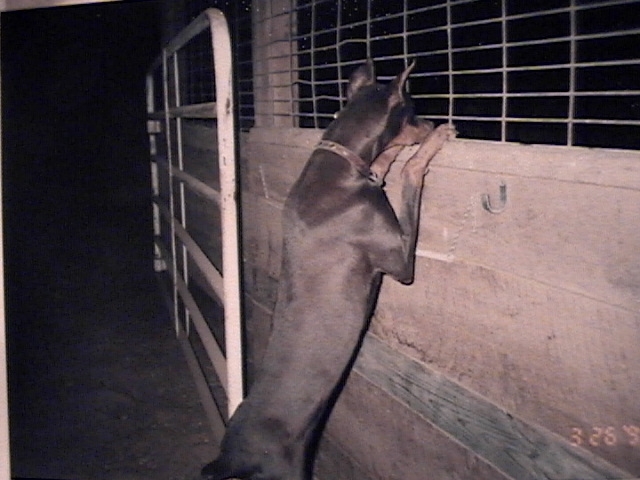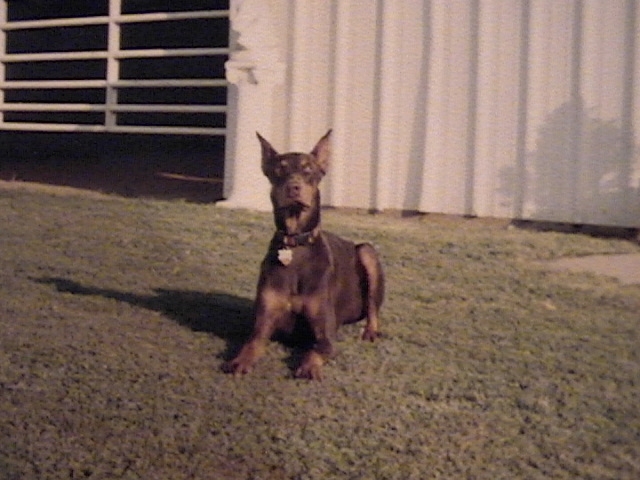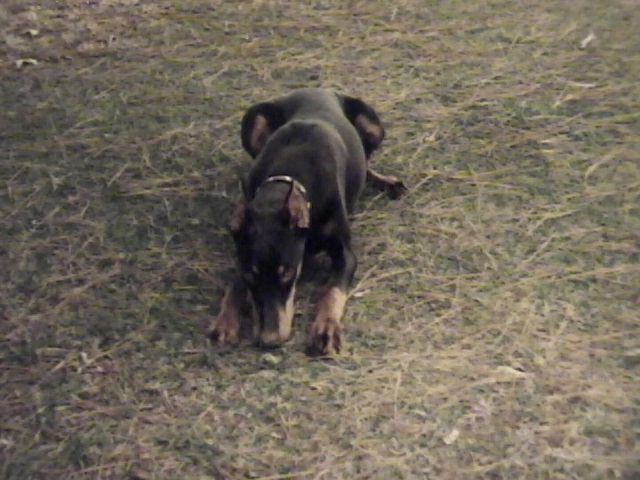 Concho was overprotected for the first 3 years of his life but he was finally allowed to play off leash around the barn. That decision would be regretted over and over. Everything changed on April 7, 2001. Concho did not stay close that day but instead heard the neighborhood kids on a 4 wheeler and went to visit them. He crossed the street and was hit by a truck and killed. The feelings of losing Bo came back that day when the loss of Concho matched the pain from years before. There is one bad thing about having a Doberman as a member of the family and it is the pain that you feel when you lose them. Dobermans are so devoted to us that we feel we should never be without them. The feeling of emptiness is almost unbearable. Concho's loss that day was a factor in the start of D&L Dobermans. Dwight and Lesa had just sold their horse farm where they boarded and raised American Quarter Horses. The traumatic loss of Concho, their love for the Doberman breed and the sale of their horse farm all combined at that point in time and sparked D&L Dobermans. After losing 2 red males, Lesa went in search for their first female Doberman. D&L's Amazing Gracey was the beginning of a new page in their lives. Now you also know why years later, the first sire of D&L Dobermans would be none other than a big red male named D&L's Regal Redford..... Rest in Peace - Bo and Concho (and Conway kitty) - you will never be forgotten....