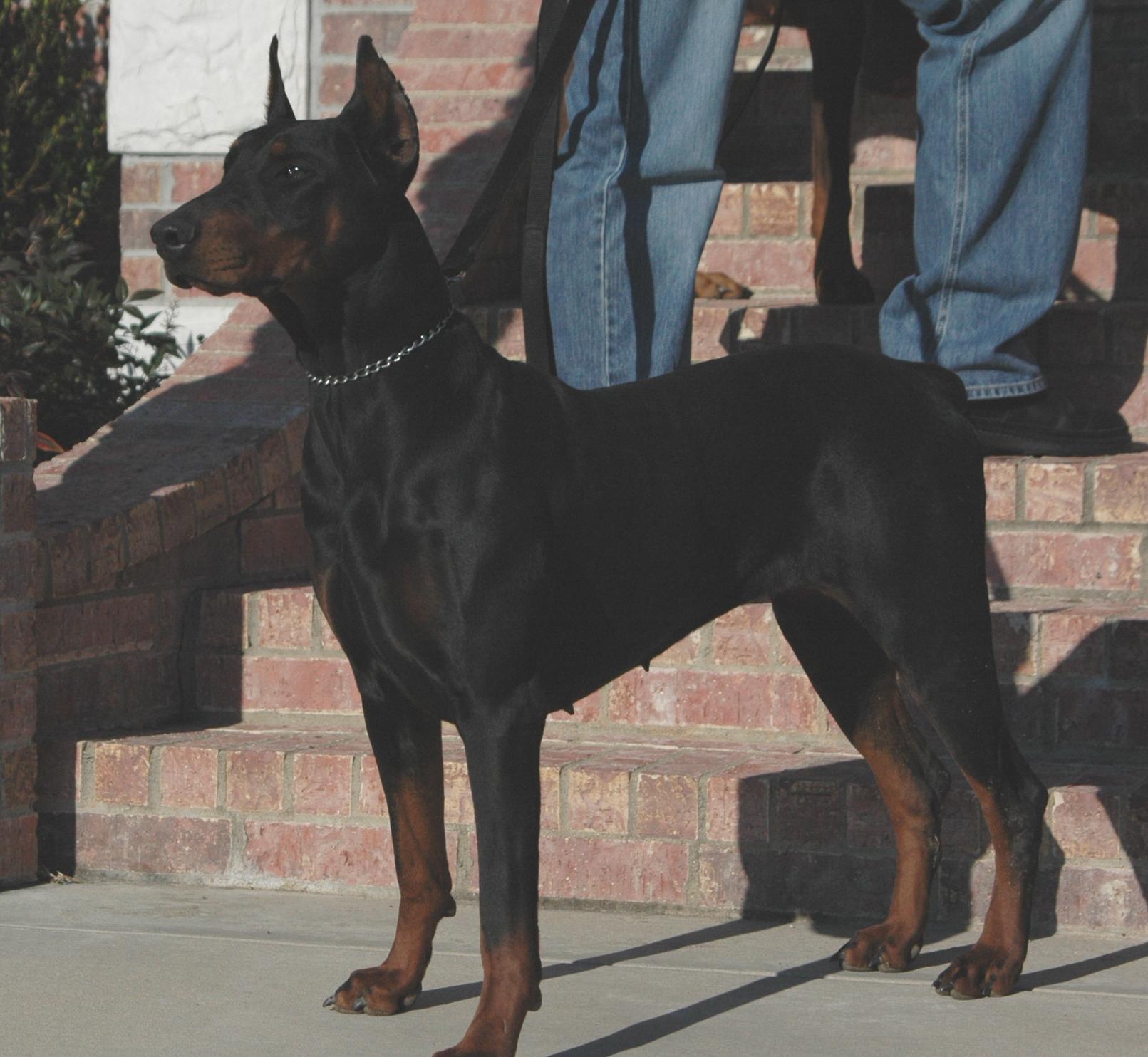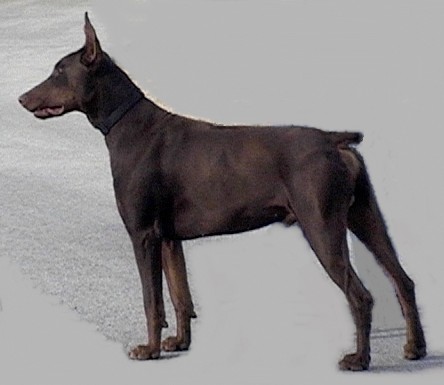 Click above to see all the video clips of this litter. Updated as of 09/29/08. This movie could take several minutes to download (the first time).
D & L's Kimbertal Star (AKC pedigree link) and D & L's Regal Redford (AKC pedigree link) delivered 4 beautiful puppies on August 27, 2008. We are extremely excited about this repeat breeding and the exceptional potential of this litter.
Good luck everyone and THANK YOU for providing wonderful homes for your D&L Doberman!!!
Please call or email with any questions.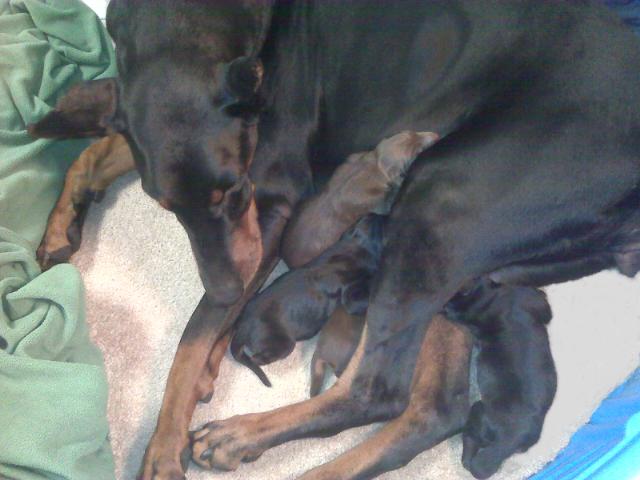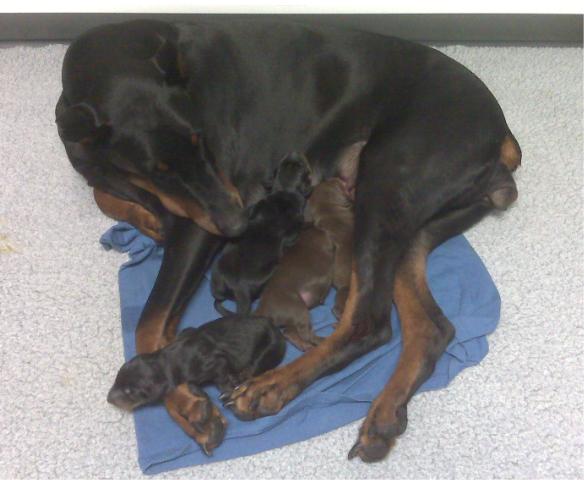 Star and her puppies immediately following delivery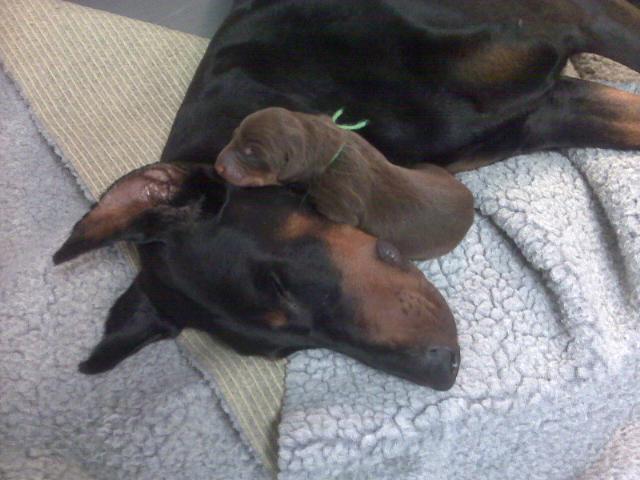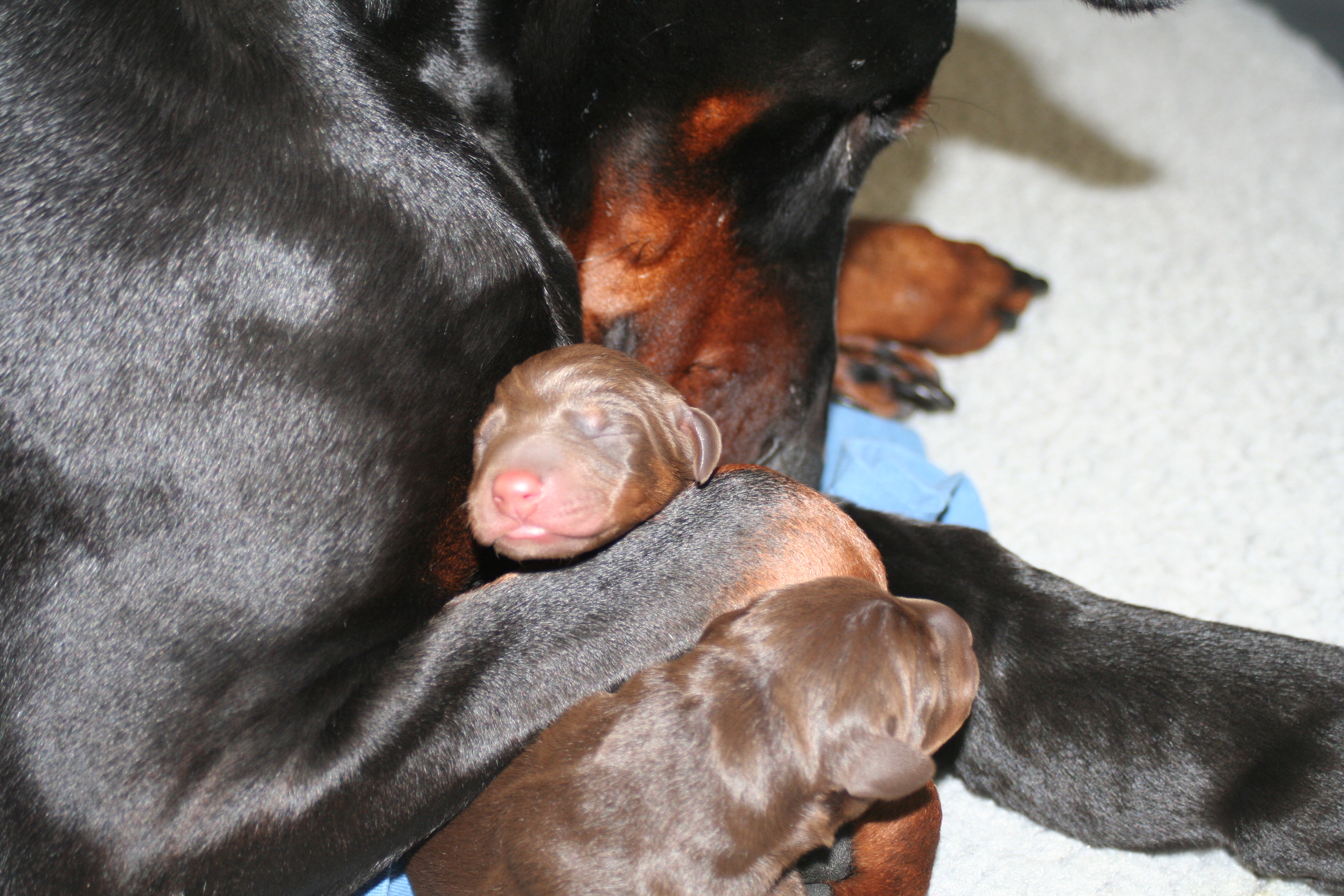 Star getting some special mommy time with "RJ"
CONGRATULATIONS TO THE FOLLOWING: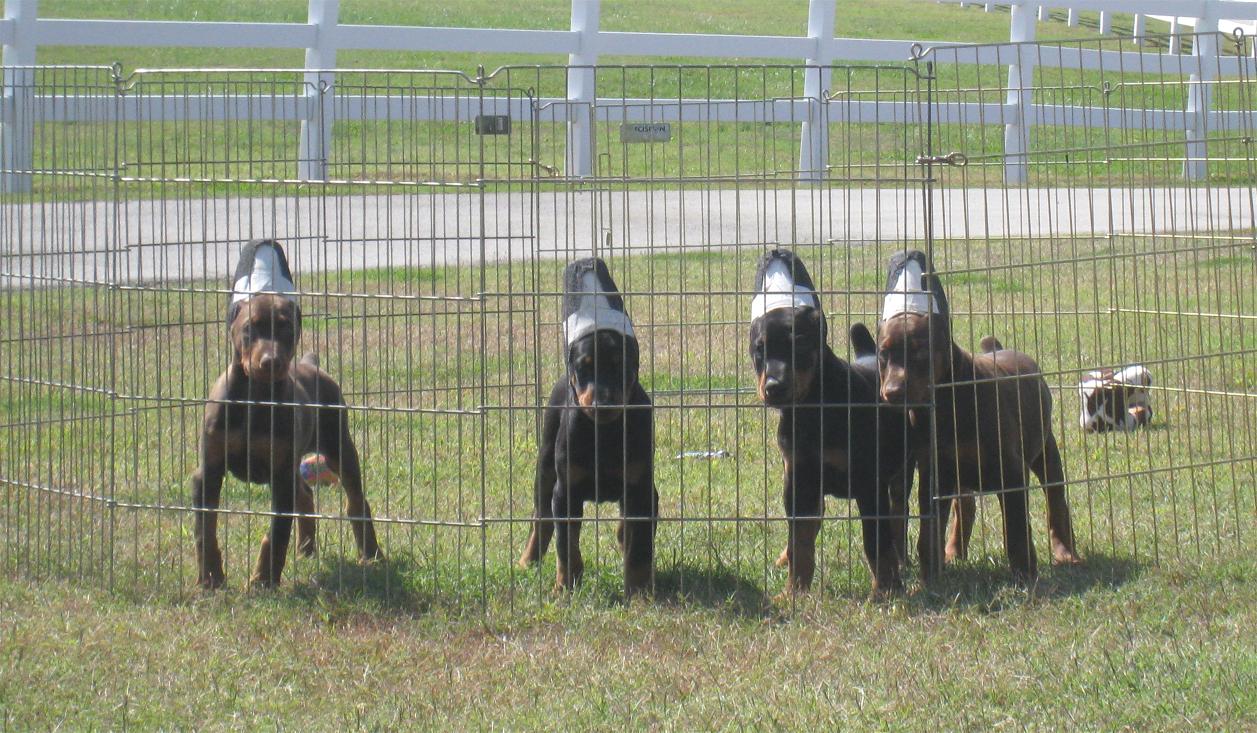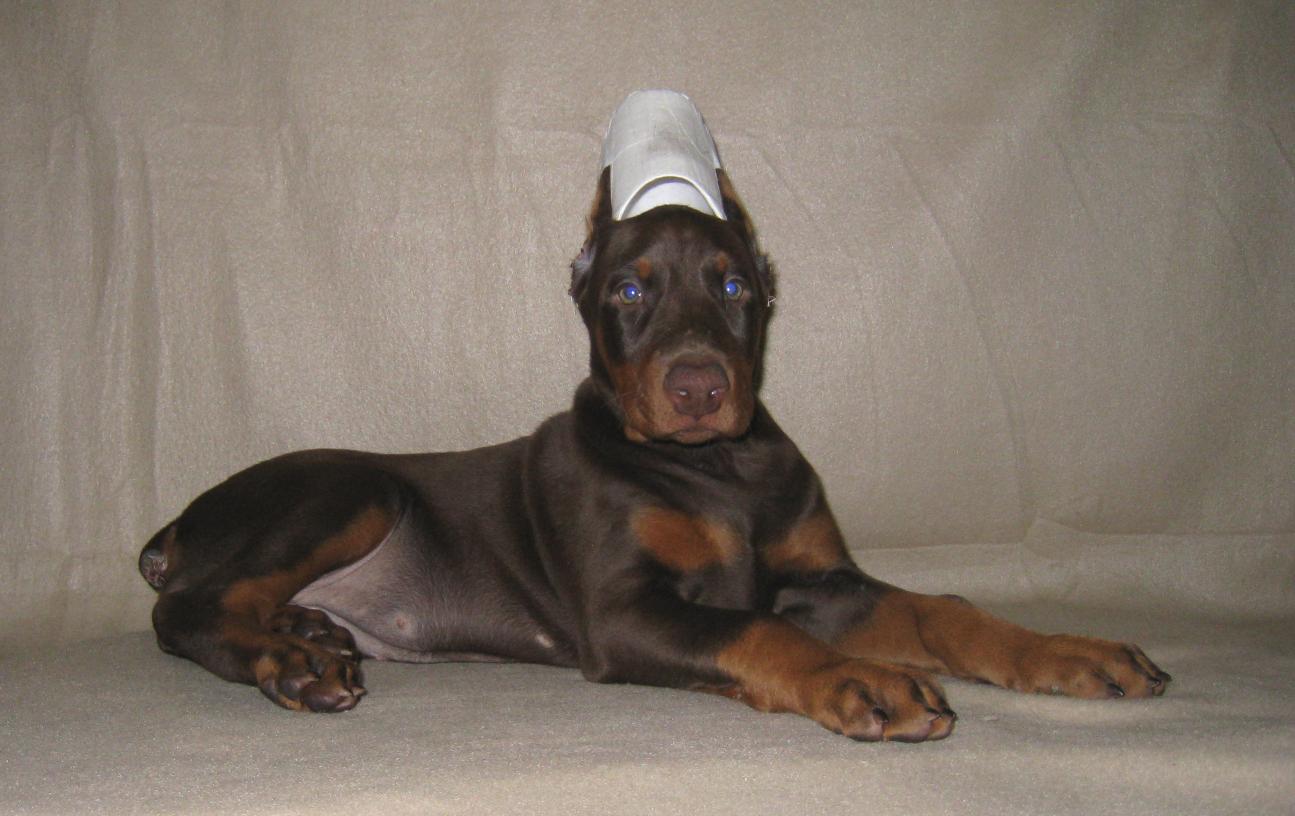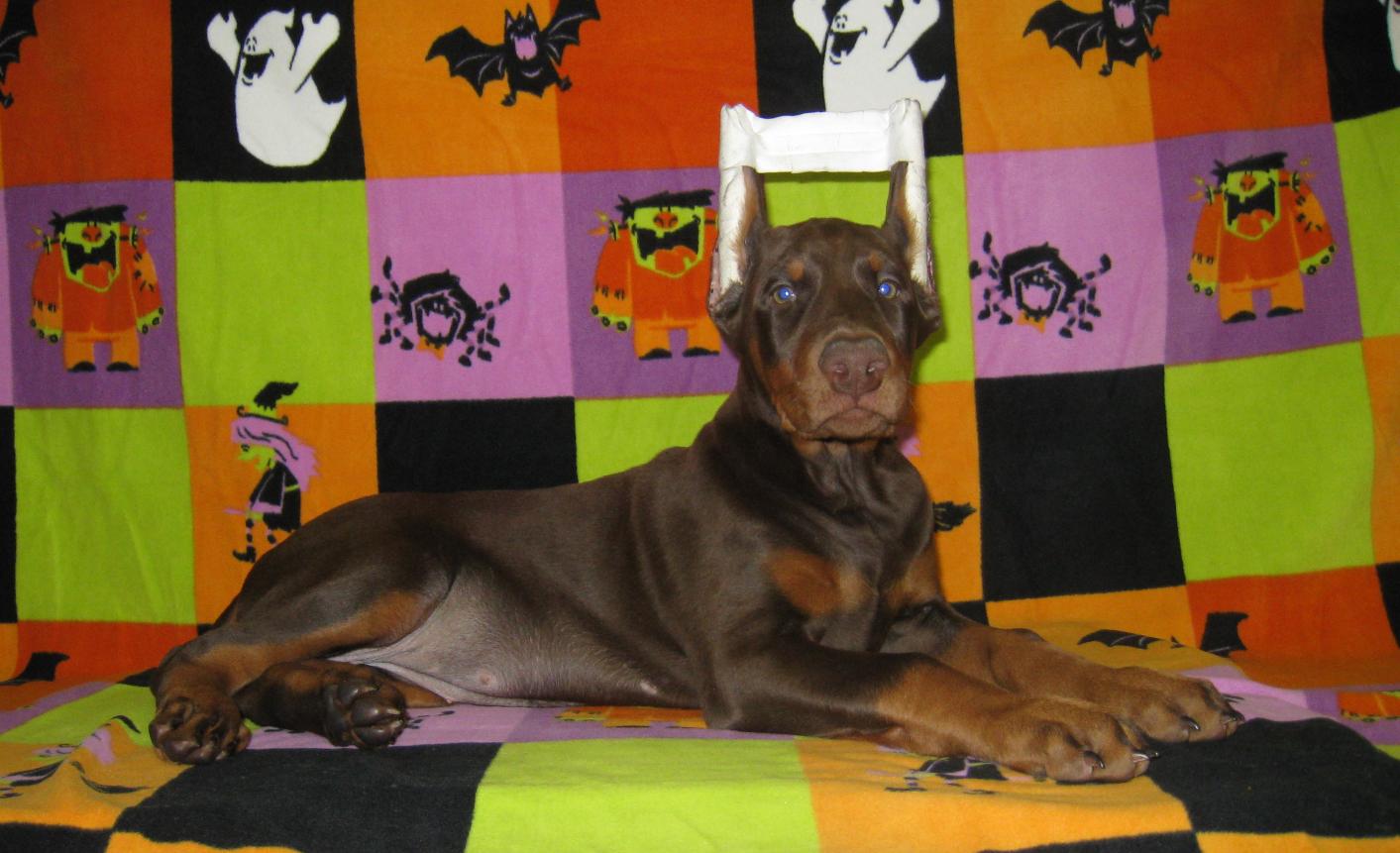 red female - yellow collar - born 12:47 AM - Aaron & Tanya Miner - Coventry, Connecticut -"Stargazer Lily" is so sweet and playful and she loves to give kisses! Lily is going to one of D&L's most wonderful homes. She will be joining her half brother Mason from our December 2007 litter. This placement is also special in that the Miner's were in Arkansas visiting D&L the night Star delivered her puppies So they actually saw this sweet girl born. Mason will be so happy to have Lily in his home. He had a ball playing with our Gressa on their visit to Arkansas. Since the Miner's have made 2 trips to Arkansas to pickup Mason and to visit, we thought we would return the favor and deliver this sweet girl to them in person. Especially since 2 puppies from this litter are going to friends in Connecticut! Connecticut, here we come!!
Updates: November 08: We had a great time visiting with the Miner's on our visit to CT. Thank you Tanya and Aaron for the awesome seafood!! Lily and Mason are already in love with each other. Deezel made the trip with us to CT and he joined in all the fun with the dobies in CT. Lily is helping to keep Mason busy already. Mason is a very busy boy and Lily will most likely rule the roost and let Mason know when its time to play and when it is time to rest. :) December 08: Lily and her brother Mason have moved into their brand new house and are doing great. Lily is growing up so fast and is a very good, smart, big girl! March 09: Lily is doing great! We talk to the Miners on a weekly or daily basis and hear about Lily and Mayson and how great they are doing. As you can see below, Lily enjoys playing in the snow! May 09 - Lily is doing great and could this big girl get any more gorgeous? :) She is not even a year old yet!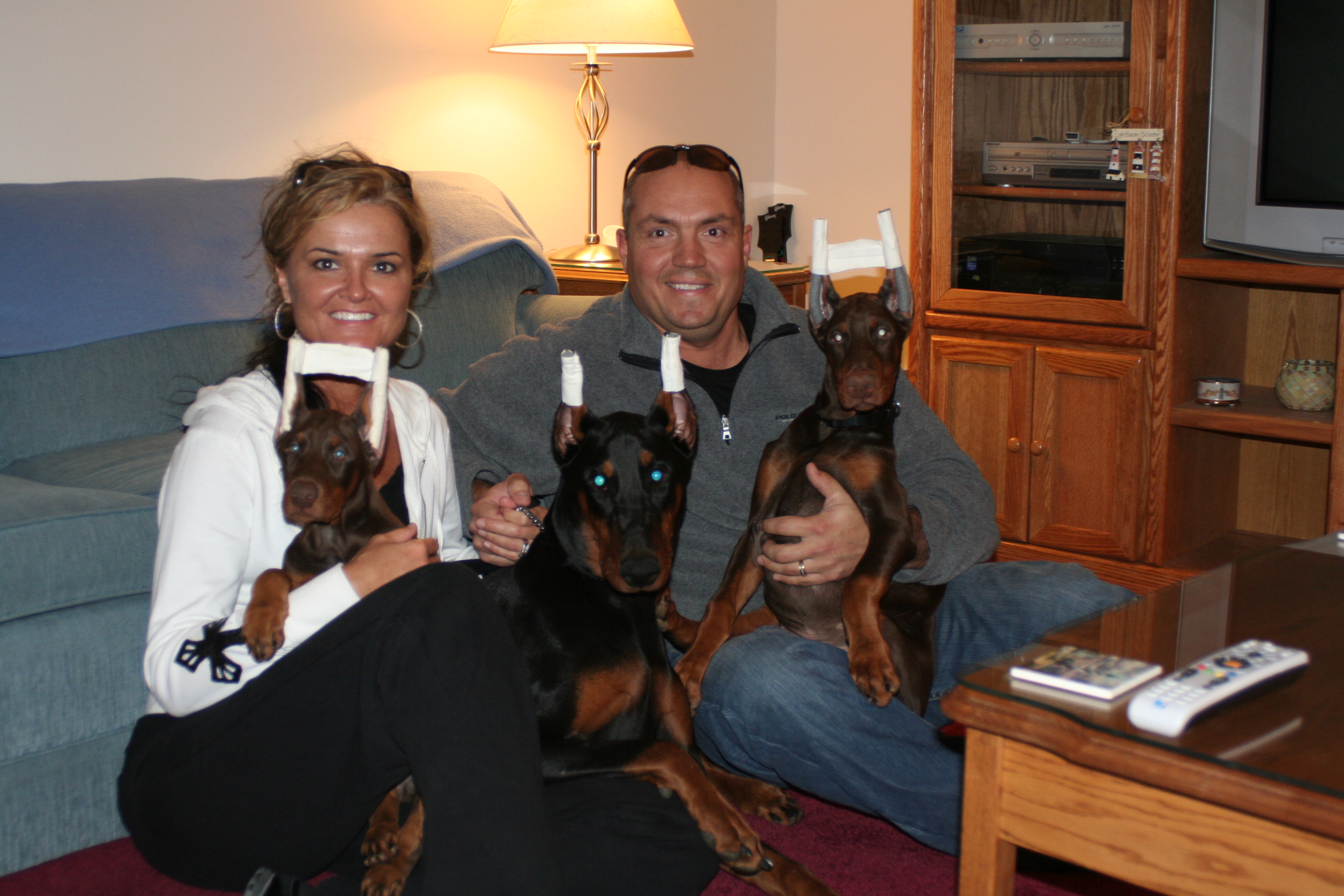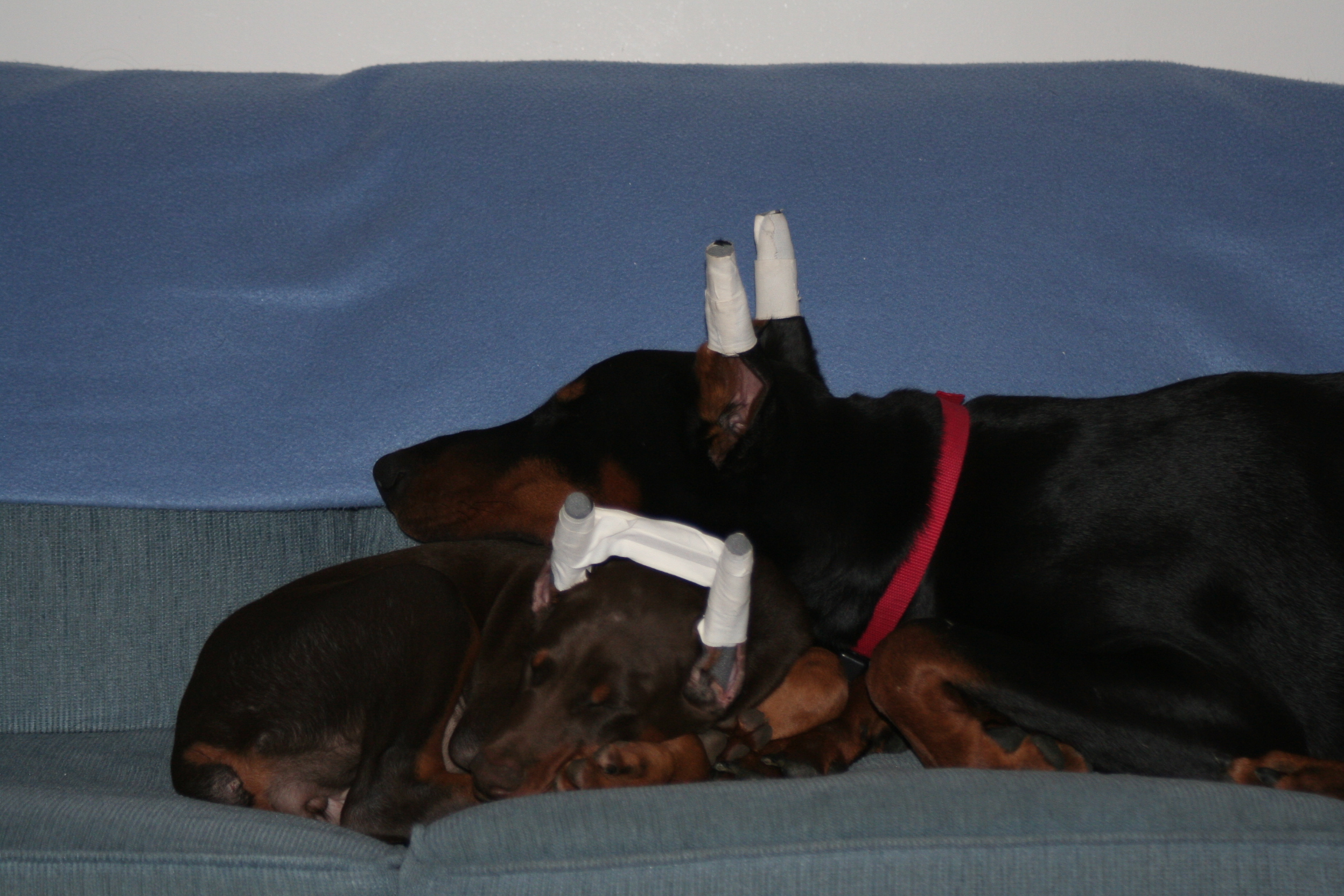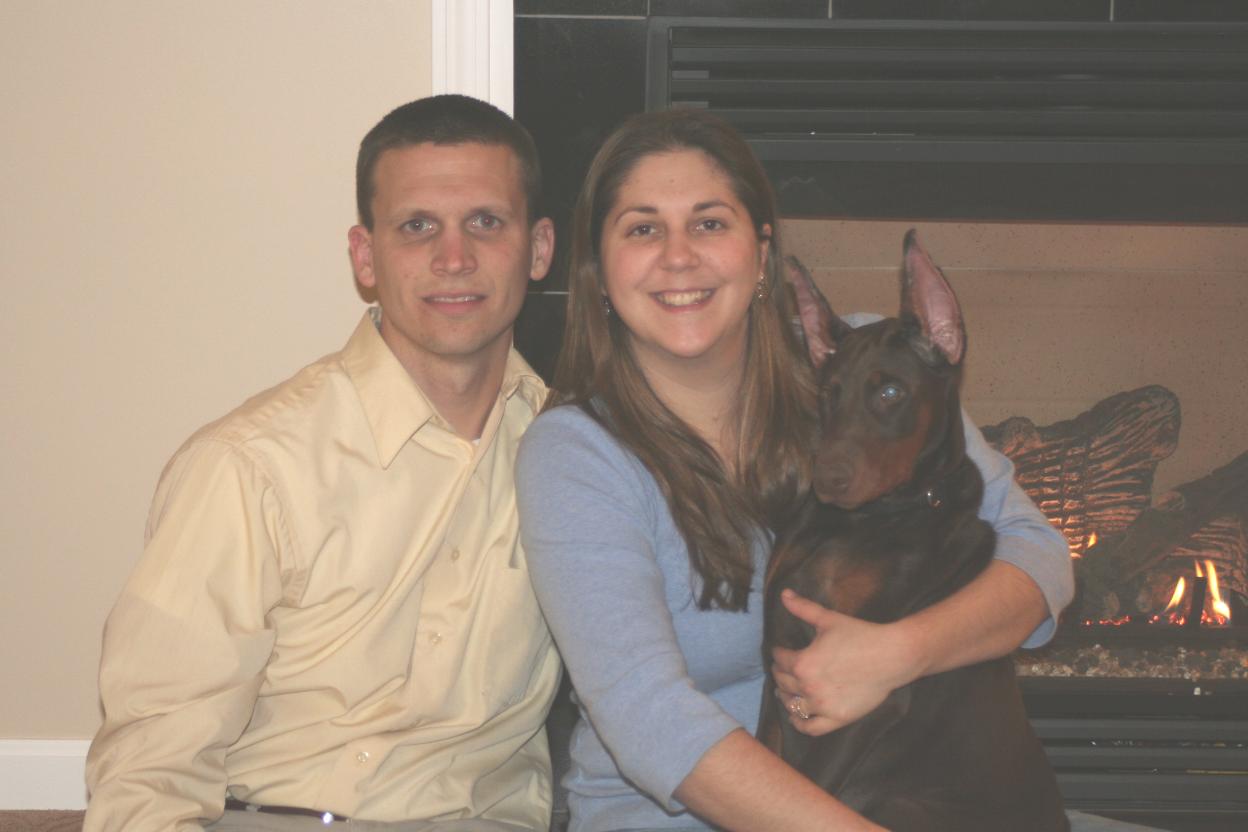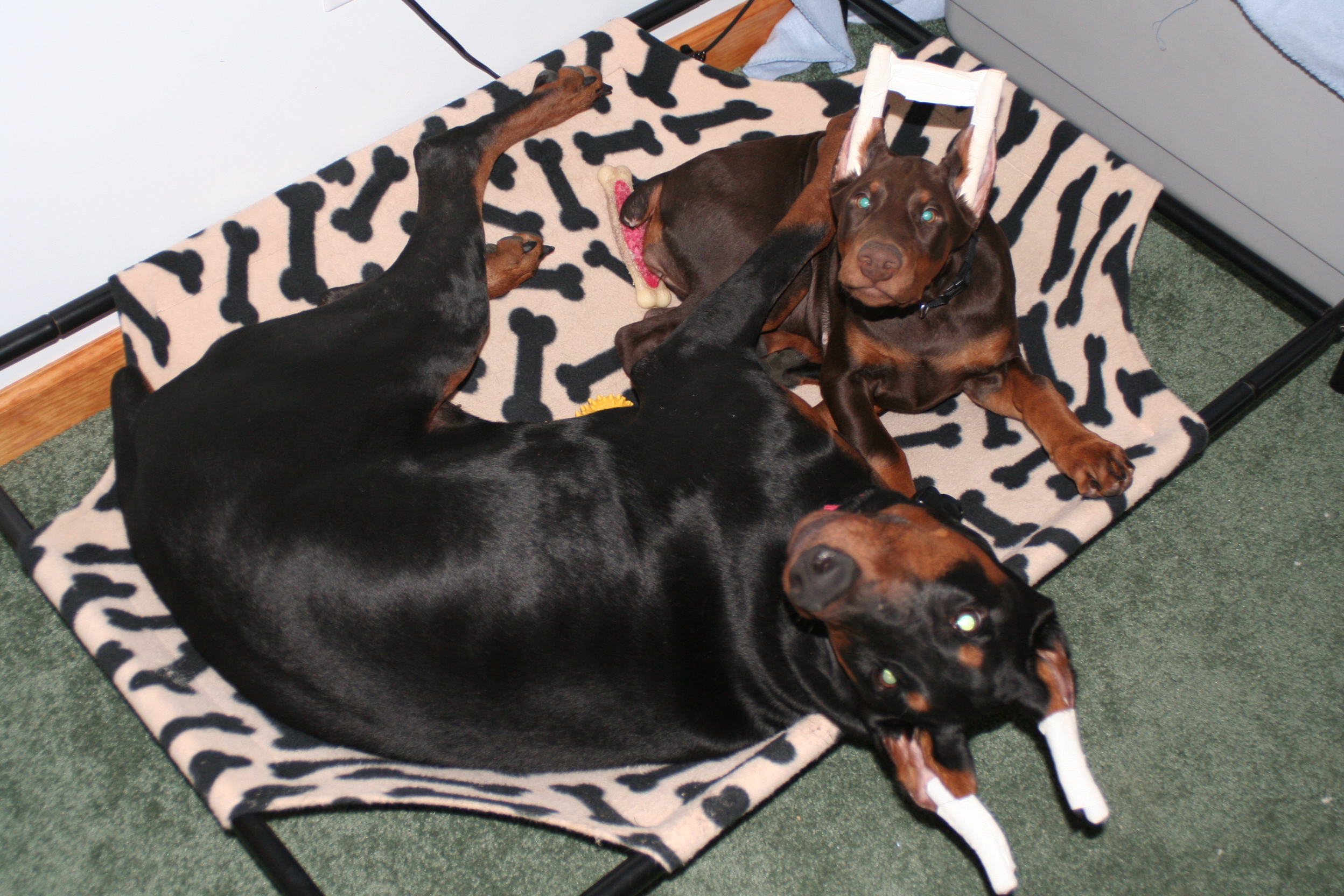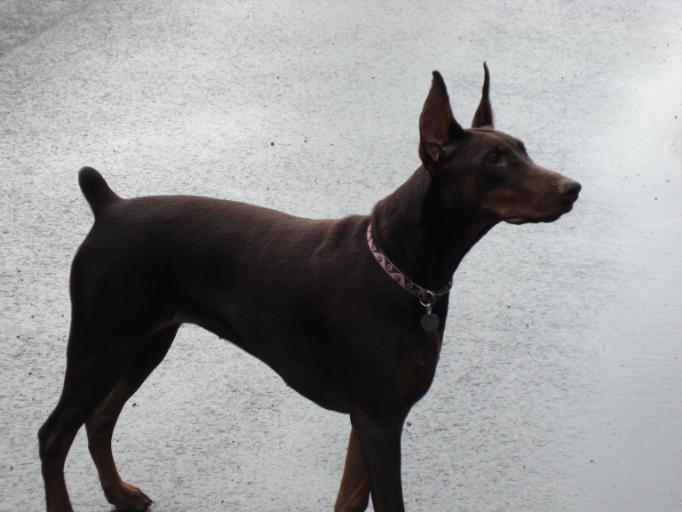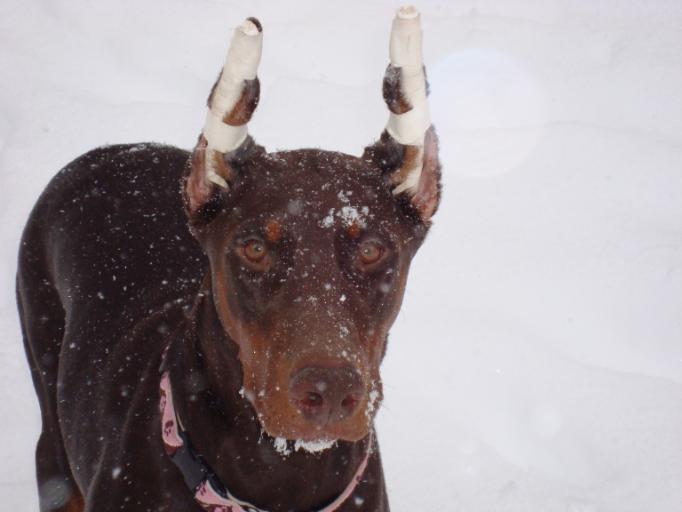 .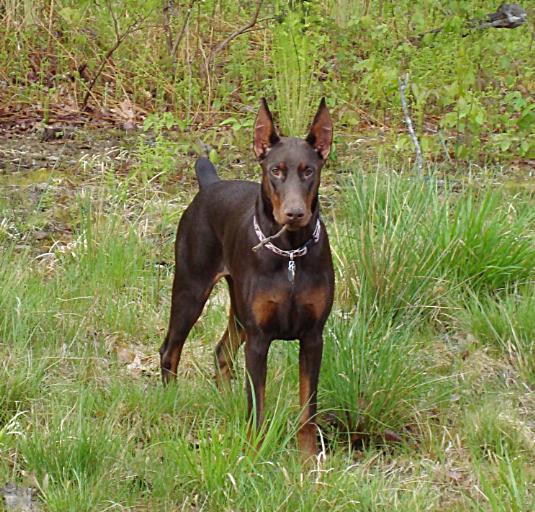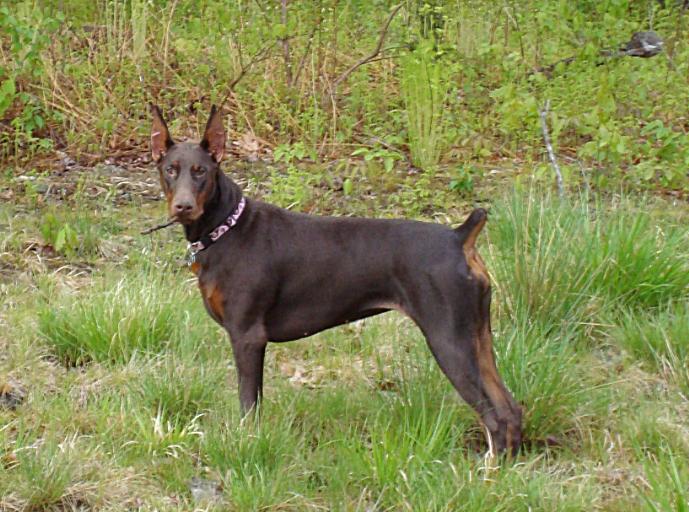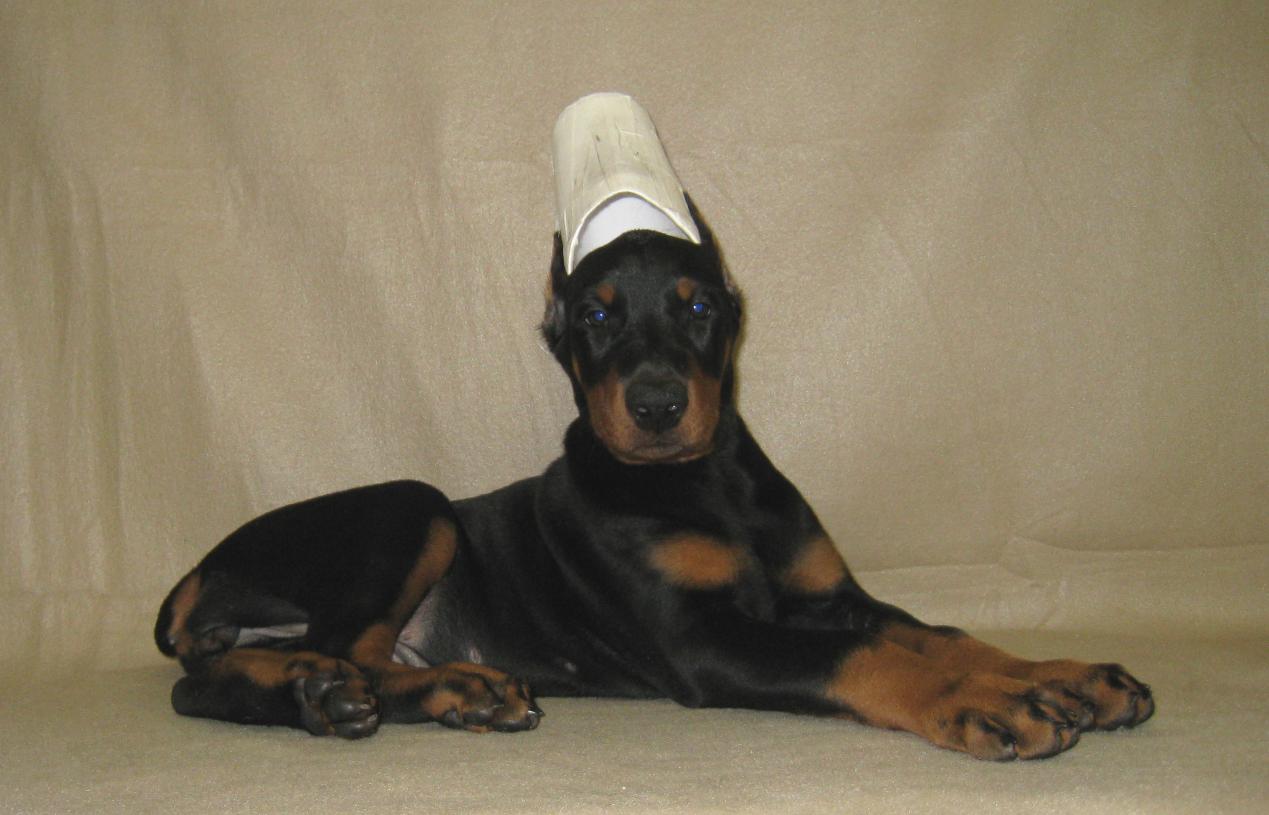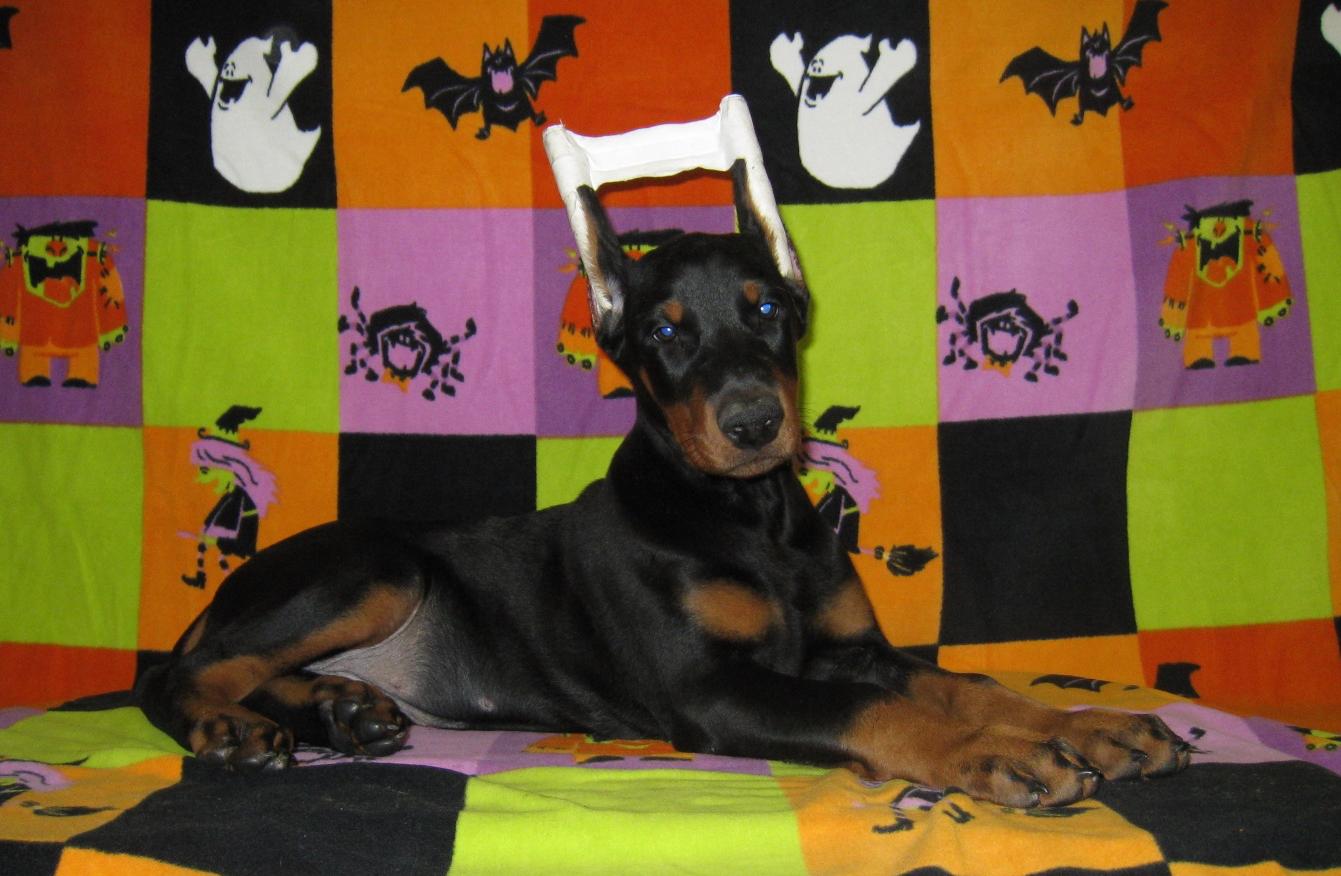 black female - purple collar - born 2:58 AM - Virginia Vilcinskas - Kensington, Connecticut - This gorgeous girl is going to one of D&L's best homes of all time. "Izabella" is going to live with Virginia and "Oberon" from our March 2004 litter. "Izabella" is a beautiful name and Iz is actually named after Ginny's grandmother. Virginia has become a great friend over the last 4 years and checks in with us often to share wonderful stories of 'Ob' and to make sure we are well. This is such a wonderful placement so we (Dwight and Lesa) are going to travel to Connecticut to hand deliver this special girl, "Iz", to this special home! Happy Birthday Ginny! See you soon!
Updates: November 08: Iz is doing wonderful in her new home! We had a wonderful time visiting with Ginny and her family and friends while we were in CT. Iz even got a new coat from a friend for those chilly days in CT. Ginny is in love with her and says she is doing great in her crate while Ginny is at work. Ginny is even installing a webcam so that she can get a peek at Iz while Ginny is at work during the day. March 09: Izzy is quite the smart girl and Ginny says her name could be Izabella Phd. Our thoughts and prayers are with Ginny since the loss of her dear father. Izzy is going thru a shy time with this as well. We hope that Izzy and Ginny will have some happy days this spring. Ginny's dad was a huge fan of her dobies so this is a very hard time for all of them.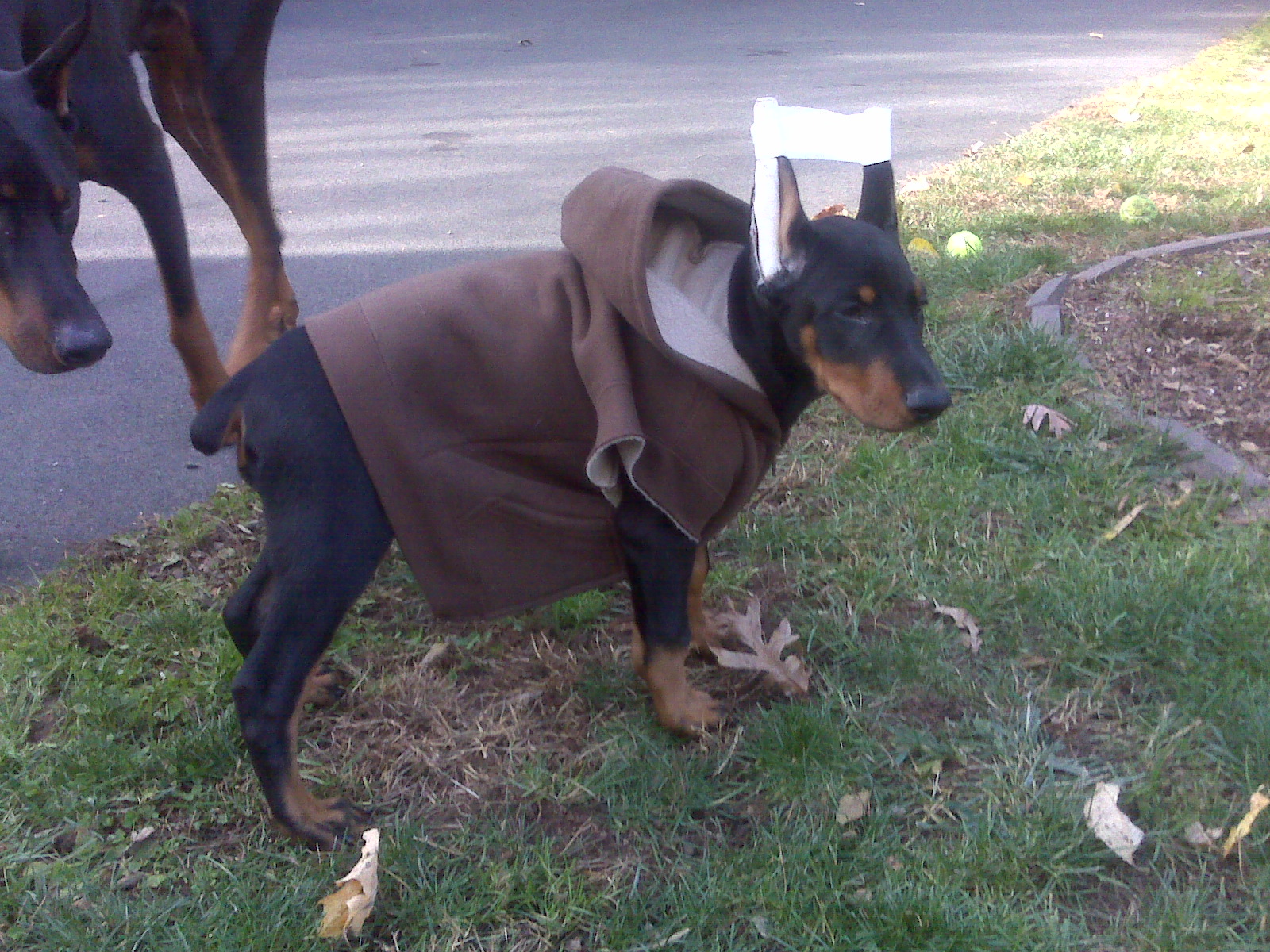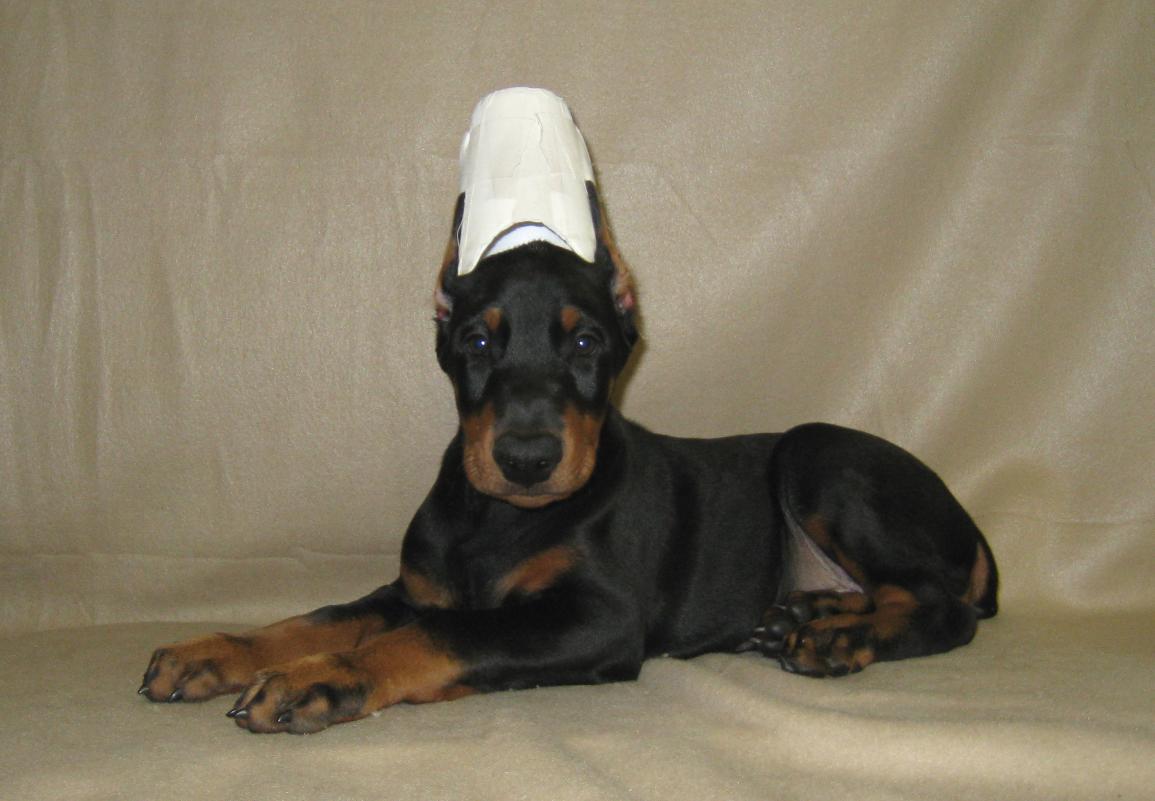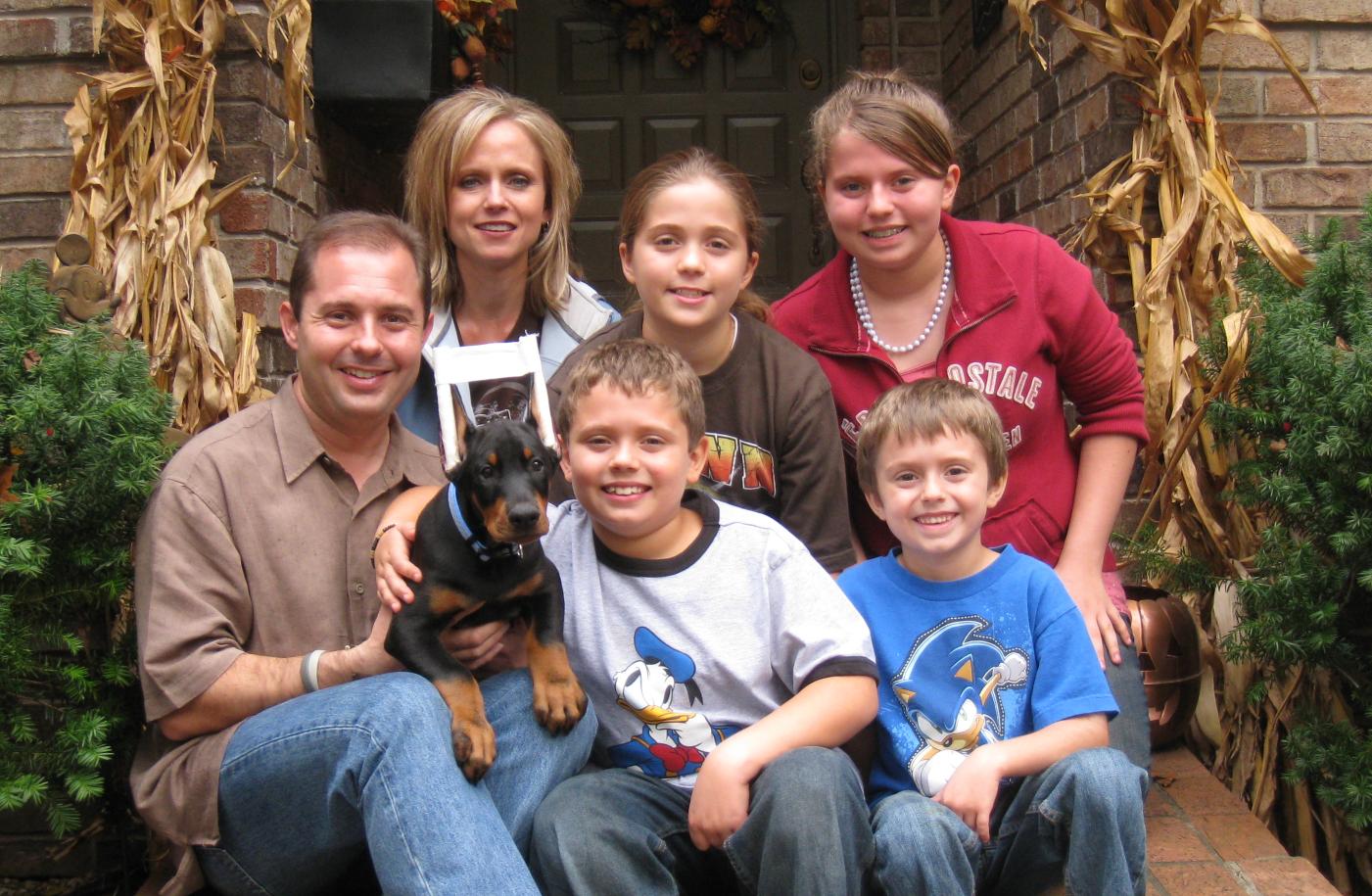 black male - red collar - born 4:44 AM - Scott, Malinda, Lauren, Brianna, Brett and Zach Presley - Branson, Missouri - This handsome puppy, "Presley", is going to be quite the busy boy with 4 children at home and a poodle too. D&L and Malinda both thought of the same name for him which was pretty amazing! When he isn't playing at home he might be found watching the Presley family perform at their show in Branson. If you travel to Branson, be sure to check out their show (www.presleys.com) and you might even see a glance of a big beautiful dobie somewhere behind the scenes.
Updates: October 08: Presley's Gunner Shadow with his new family! What a beautiful family and now even happier with their new dobie! The kids decided his call name will be "Gunner". "Gunner" had a great time his first night home. After playing all afternoon with his new family and tons of new toys, he attended the Presley's show in Branson (where he got lots of spoiling). Then he slept all night in his bed in the bedroom. He is doing awesome and is being the perfect puppy. He loves going to the show and they plan to take him every night. He is a little spoiled and only wants to eat when someone holds his bowl and he also doesn't care for the crate too much. :) But Gunner is amazing and already in tune to the kids and everyone is in love! The Presley's have already re-posted Gunner's ears and say they look great. They are not stressed about ears now at all! Zach also showed Gunner how he is suppose to behave in his crate. Pretty comfy spot, huh Zach? Great job Presleys!!! December 08: Gunner is doing wonderful and Malinda says he is just beautiful! He weighed 40.5 pounds 3 1/2 months old and he LOVES going to the show and on hay rides too! March 09: Malinda says that Gunner is doing great and is getting lots of attention when they take their daily walks at the Branson Landing Mall. Now we just need new photos of our boy Gunner so we can all see how handsome he is now. :) April 09: Gunner is doing great and is a very big boy but not too big for Zach's bed.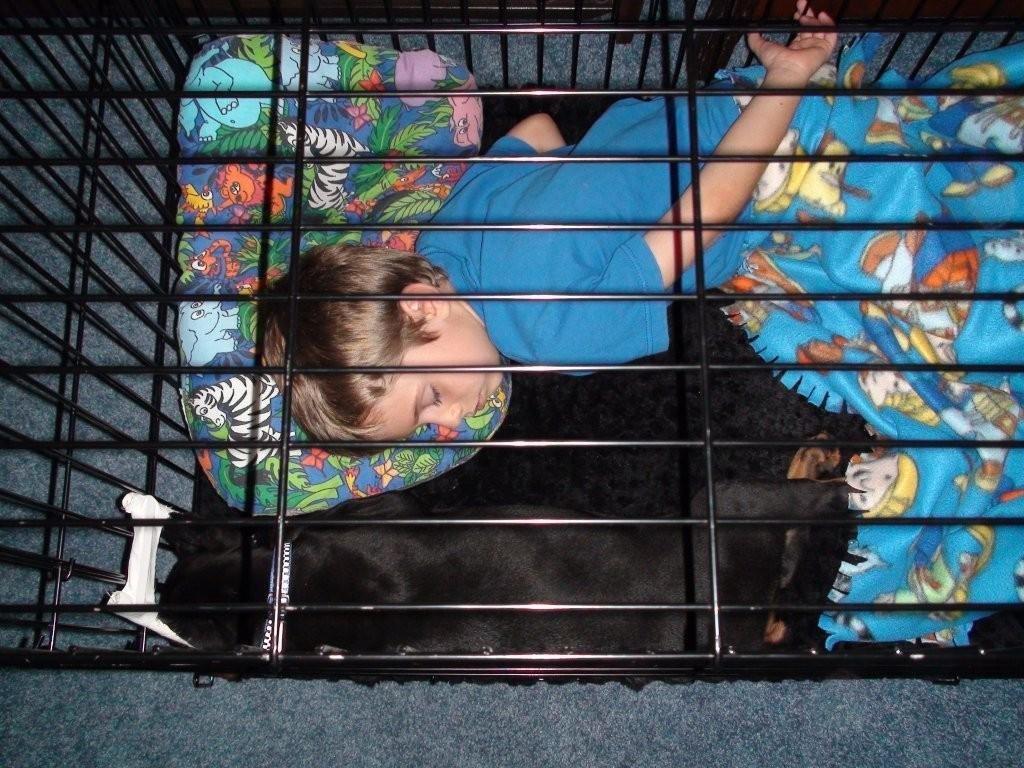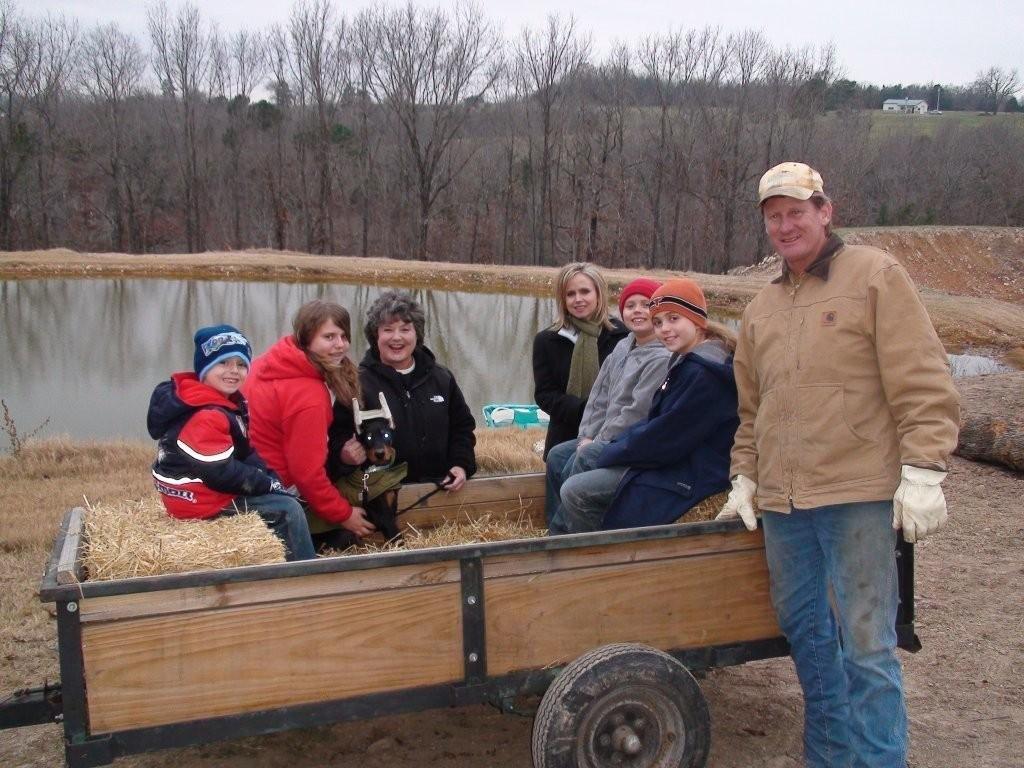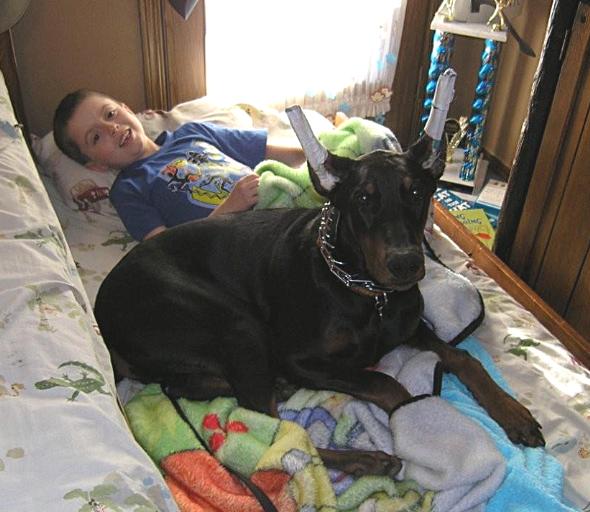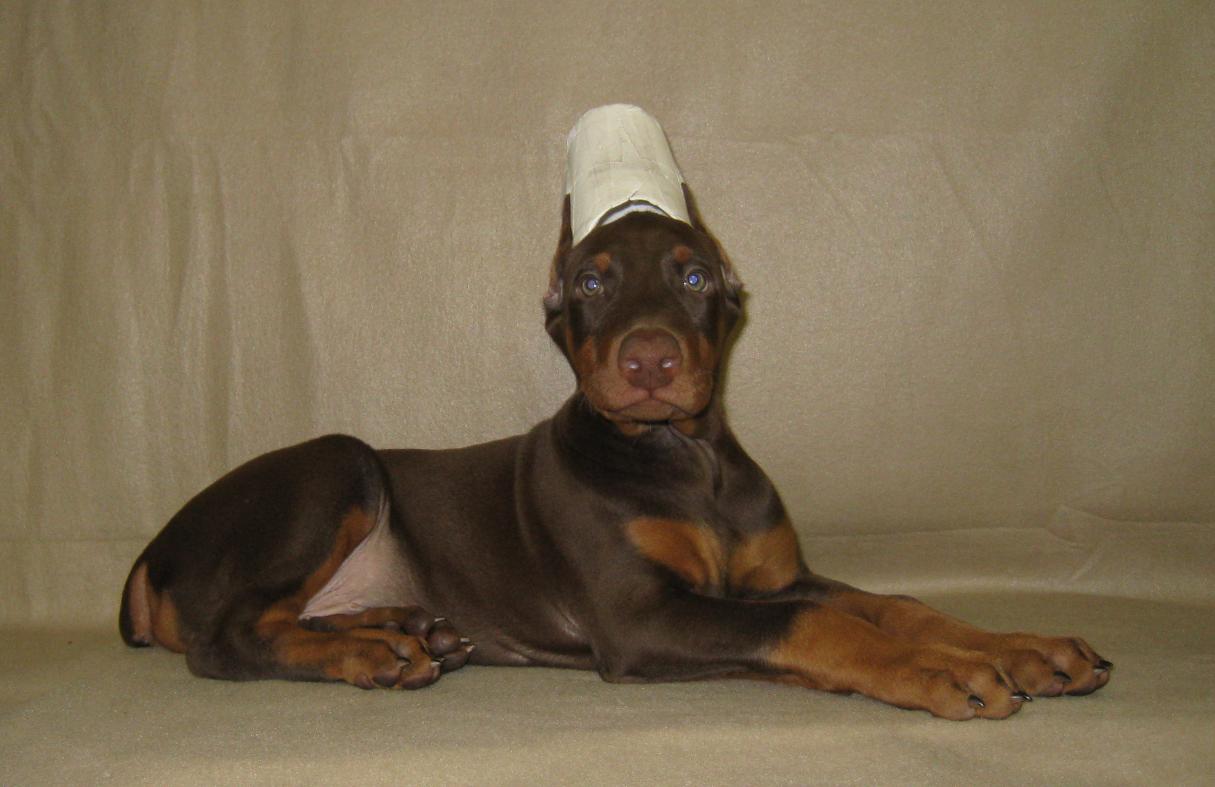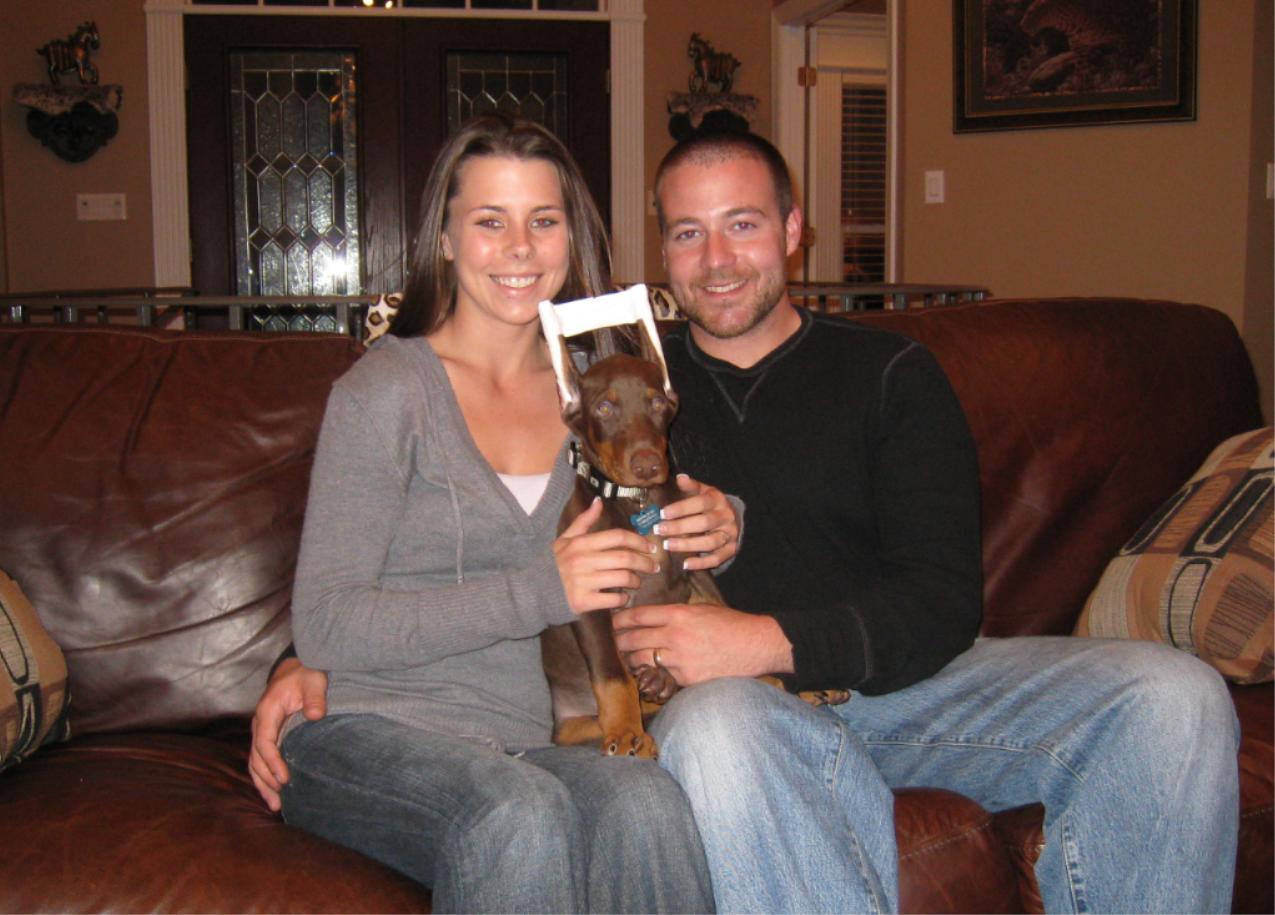 red male - green collar - born 5:30 AM - Christopher and Janice Mathews - Starkville, Mississippi - This adorable boy, "RJ", is quite the character. He barks and protects his litter at only 4 weeks old. 2011 update: Unfortunately this family was broken up due to a divorce and communication has ended.