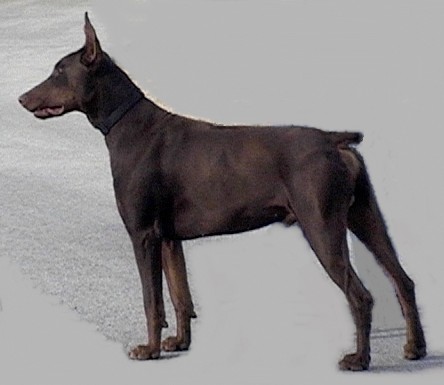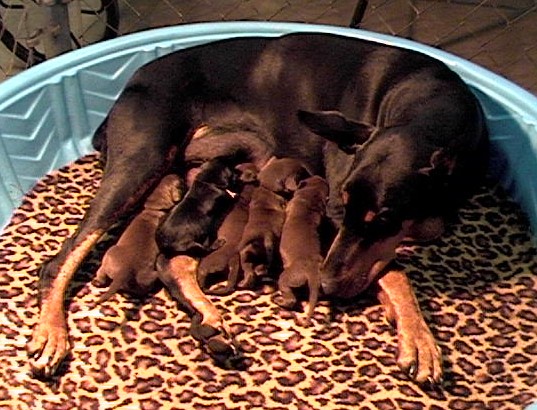 D & L's Outlaw Josie (AKC pedigree link) delivered 6 beautiful puppies on October 25, 2005. The sire of this litter is D & L's Regal Redford (AKC pedigree link). The beauty and personality of this cross has already been proven and we (once again) are very excited about the potential of this litter.
Good luck everyone and THANK YOU for providing wonderful homes for your D&L Doberman!!! Please call with any questions.

CONGRATULATIONS TO THE FOLLOWING: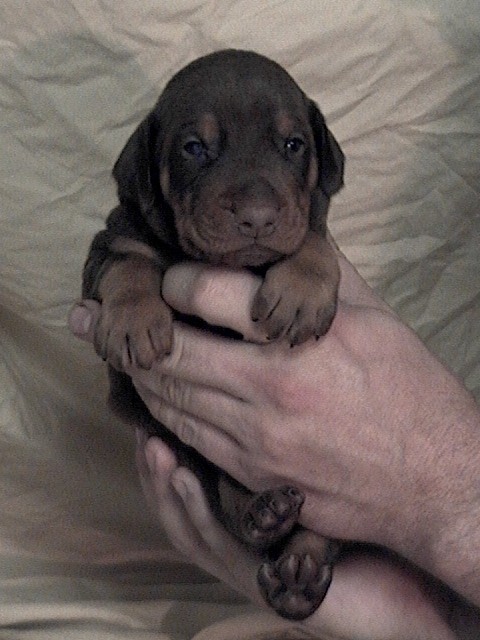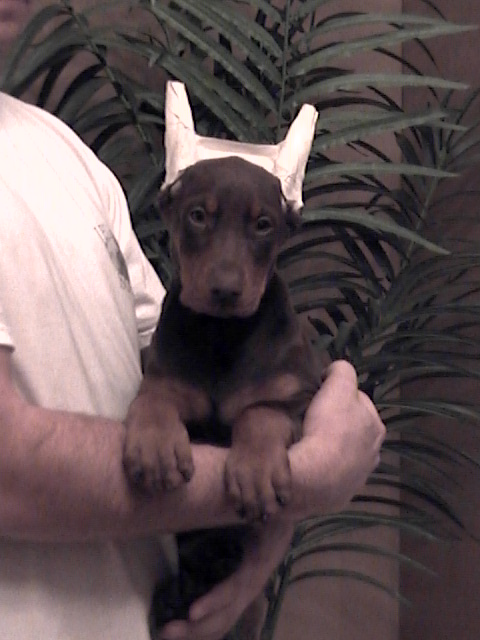 Dedric Palmer -Elsberry, MO - red male. Dedric was so excited about the arrival of his red male that he emailed almost daily to see if he was born. Dedric knows how awesome dobies are because he currently has a dobie family that he loves very much. Dobies are like potato chips, you can't have just one!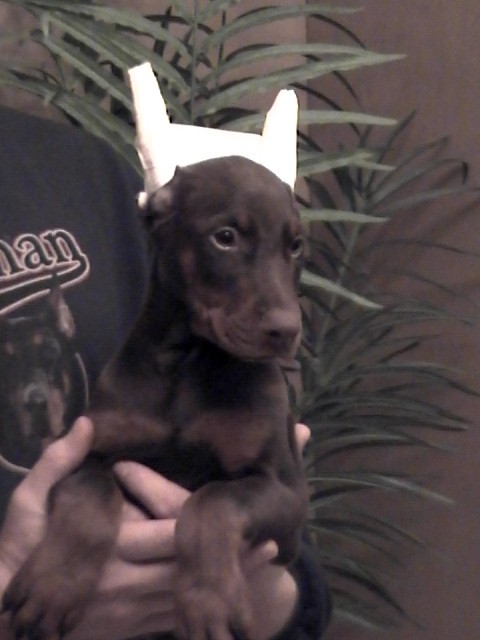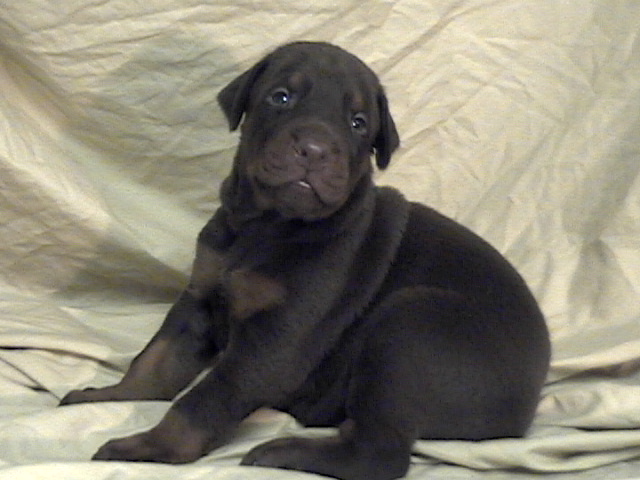 The DeLuca Family (Donny, Adrienne, Ali, Dionna, and Gabby ) - Las Vegas, NV - red male. "Diego" is getting lots of rest here, but he will have lots to do in Las Vegas with his new family. There are 3 girls and a lab named Angel, anxiously awaiting his arrival to his new home. Adrienne, maybe you can teach "Regal Redford's Dominating Diego" to find Robin the hamster when she escapes. "Diego" you will soon be on your way to "Vegas baby"!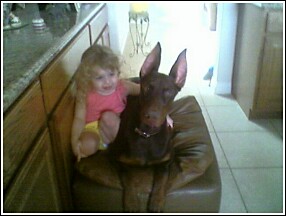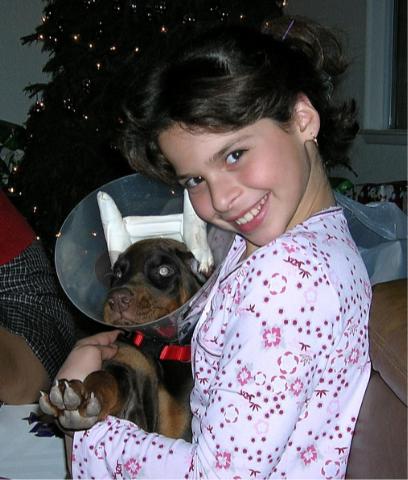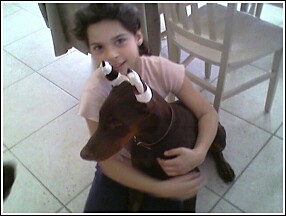 July 09 - Adrienne has recently shared some devastating news with us about Diego. Diego was walking down the sidewalk in their neighborhood on leash next to Gabby and Adrienne. A drunk driver ran off the street and onto the sidewalk. Diego was hit just as he jumped which pushed Gabby and Adrienne out of the path of the car. Diego was rushed to the vet but he passed away in Adrienne's arms. He was totally dedicated to his girls and died protecting them like he had done his entire life. Losing sweet Diego has been such a tremendous heart break for them. The DeLuca girls still talk about their sweet Diego and all the funny things he used to do. Below are two photos of Diego that Adrienne and the girls wanted to share. We are never ready to lose our dobies but Adrienne feels that Diego gave enough love to last the DeLuca's a lifetime. We all love you Diego and we will never forget.....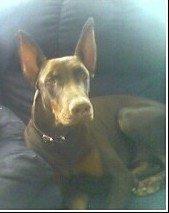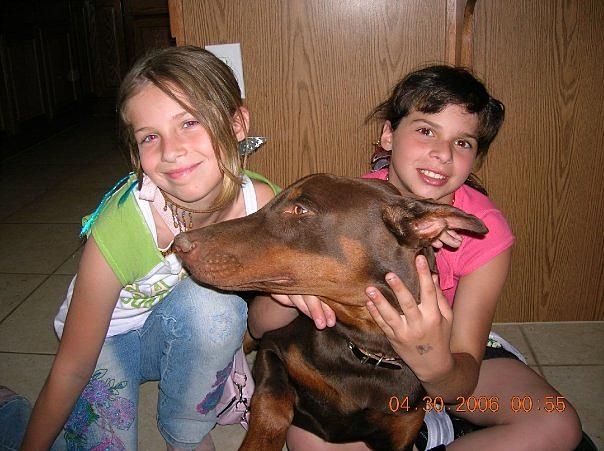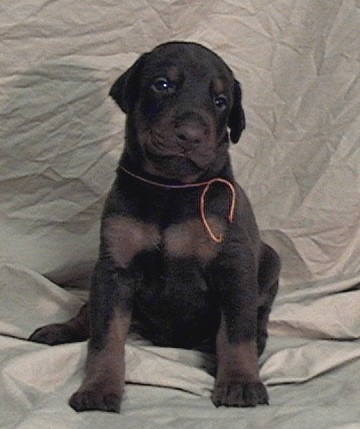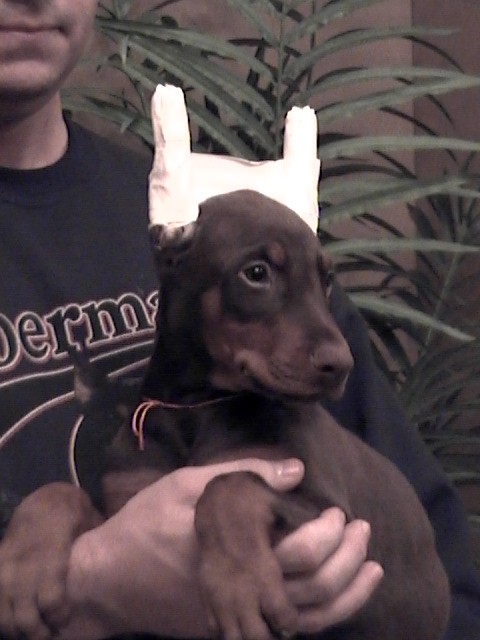 Dave, Lisa, Lacey and Gino Galea - Sebastapol, CA - red male. "Rocco" will have to learn quickly at his new home to keep up with his new border collie friend, "LuLu". "Rocco" will do the protecting while "LuLu" does the livestock work on the farm. Hopefully while LuLu is working, Rocco can get a little extra play time with Lacey and Gino. Lacey and Gino are working on filling Rocco's Christmas stocking or should we say stocking"s".
Update: June 08 - Rocco is now almost 3 years old and doing great! Dave and Lisa are absolutely in love with Rocco and his personality. Rocco is like their third child and they can never imagine being without him!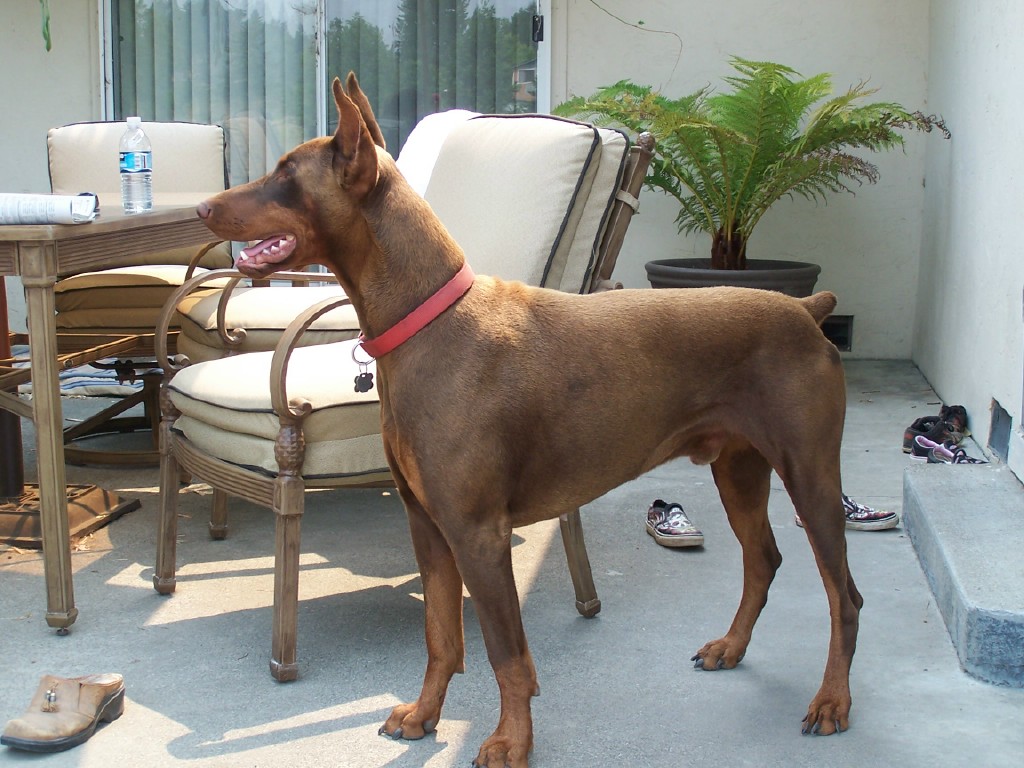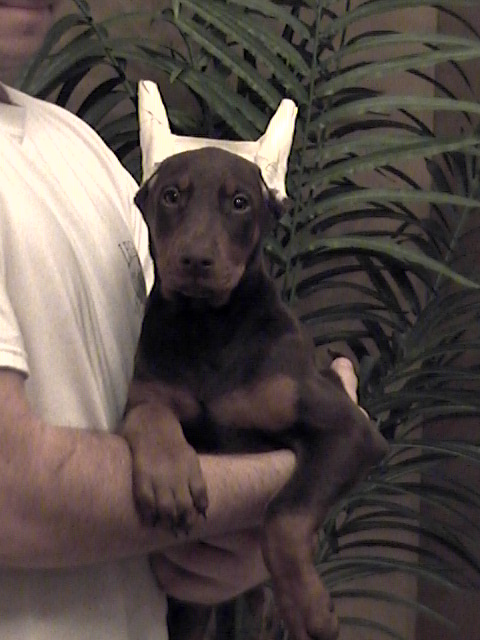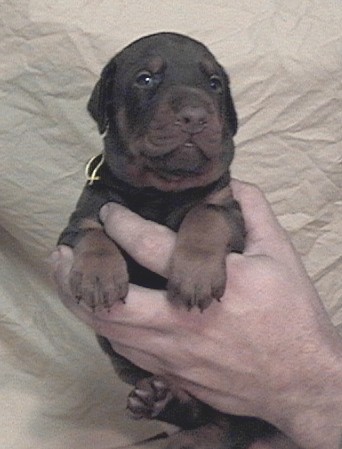 Shiloh Frasier and Shenoa Leslie - Carbondale, CO - red female - This sweet and playful girl was the biggest baby of the litter and her brothers never caught her in size before leaving D&L Dobermans. We are so excited to know that "Roxy" is going to an awesome home with Shiloh and Shenoa in Colorado. Shenoa loves to hike in the mountains of Colorado and I am sure Roxy will be able to carry her own backpack and Shenoa's too!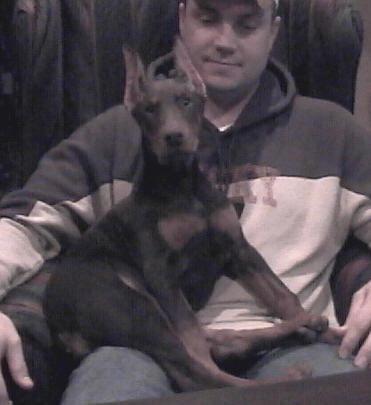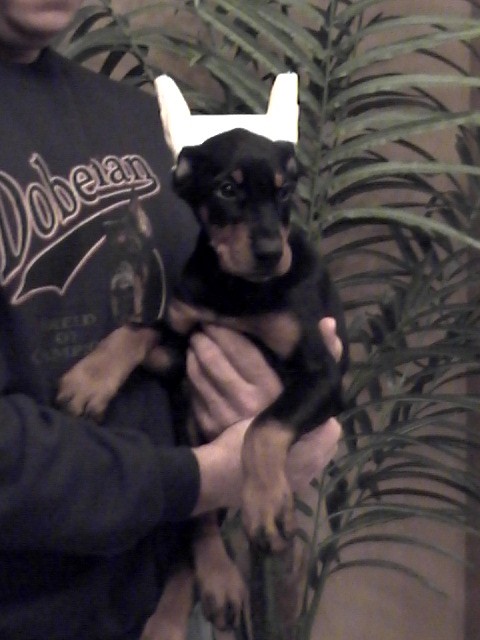 The Zelandi Family - Stoneham, MA- black female. This beautiful and very sweet black girl gets lots of attention since she is the only black puppy in the litter. This attention is not going to end when "Bella" meets the Zelandi's because there are 4 little boys under 6 years of age that don't know she is coming to MA. This is going to be an exciting Christmas at the Zelandi's.
Update: October 06 - Bella at 1 year old with her brother Zeus.