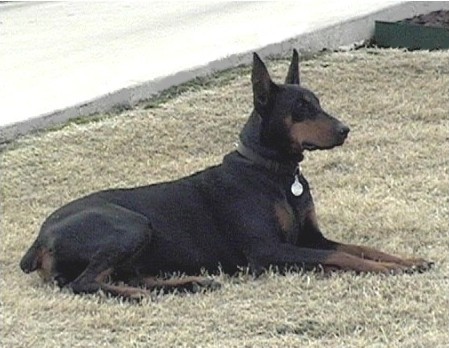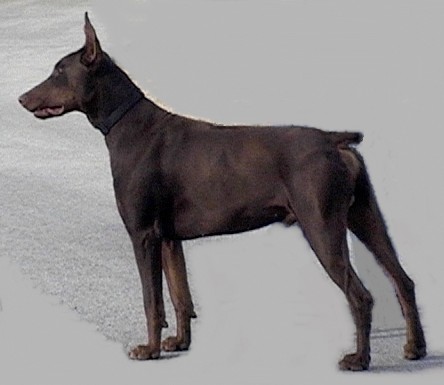 Click above to see a movie on the history of this litter. Updated as of 04/29/08. This movie will take approximately 10 minutes to download.
D & L's Outlaw Josie (AKC pedigree link) and D & L's Regal Redford (AKC pedigree link) delivered 7 healthy, gorgeous, and huge puppies on December 15, 2007. The beauty and personality of this cross has already been proven and we (once again) are very excited about the potential of this litter.
Good luck everyone and THANK YOU for providing wonderful homes for your D&L Doberman!!!
Please call or email with any questions.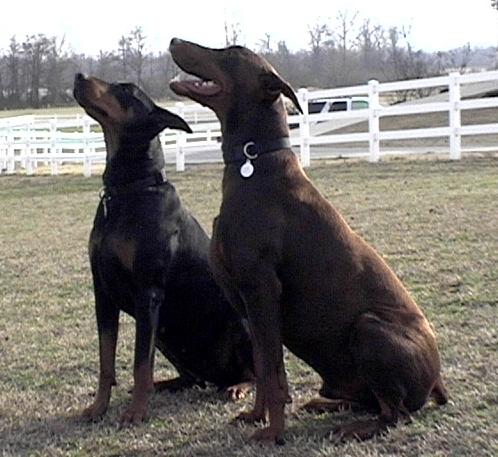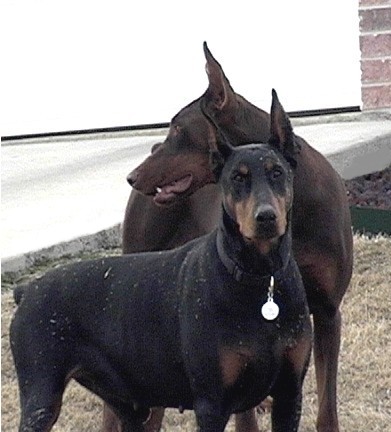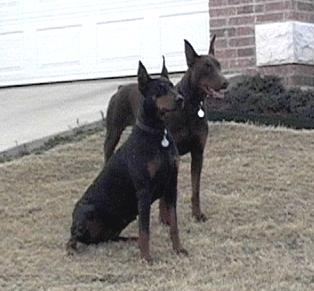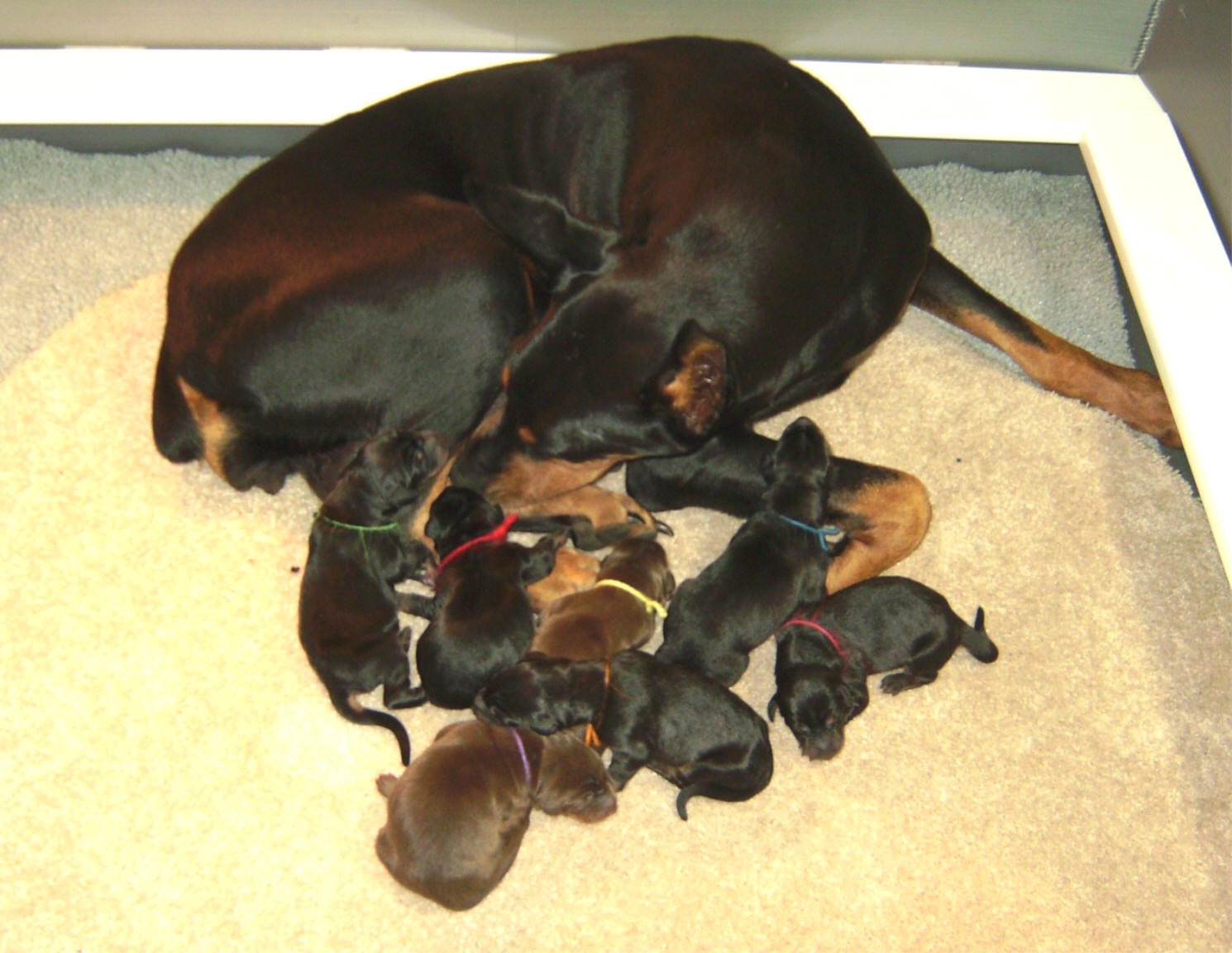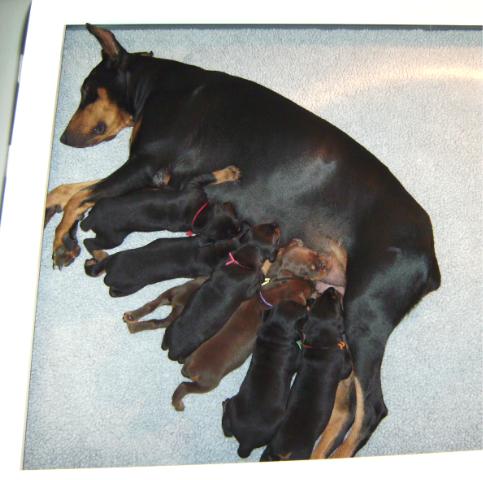 Josie and her babies on 12/16/07 and on 01/06/08.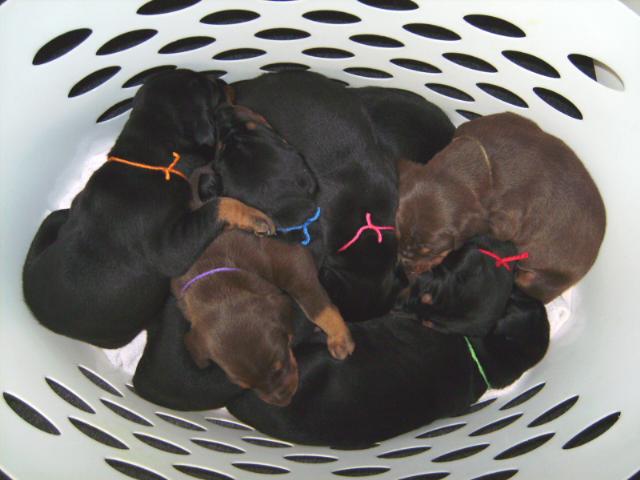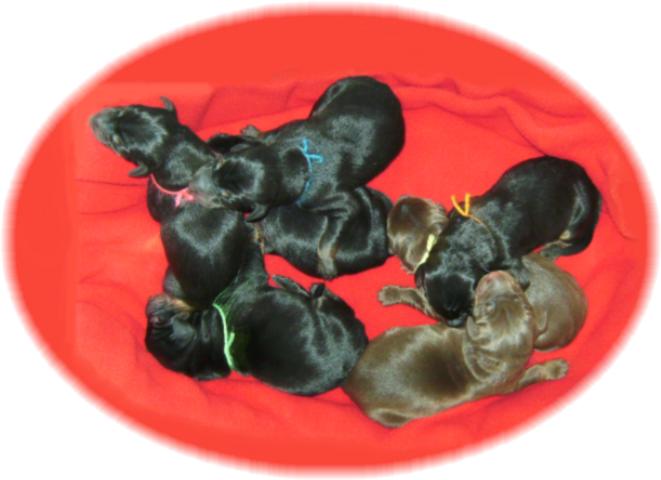 CONGRATULATIONS TO THE FOLLOWING: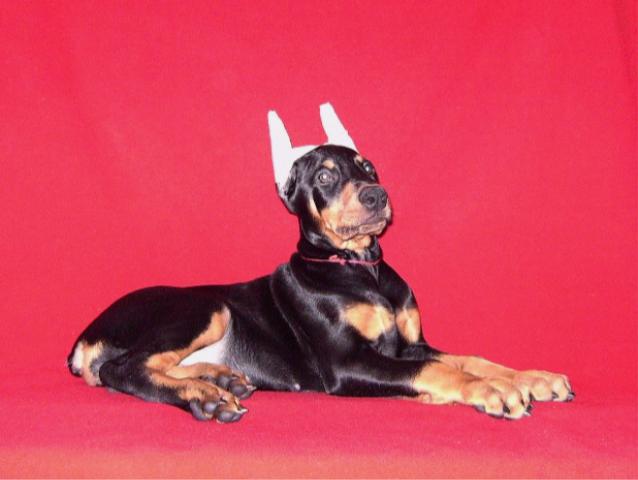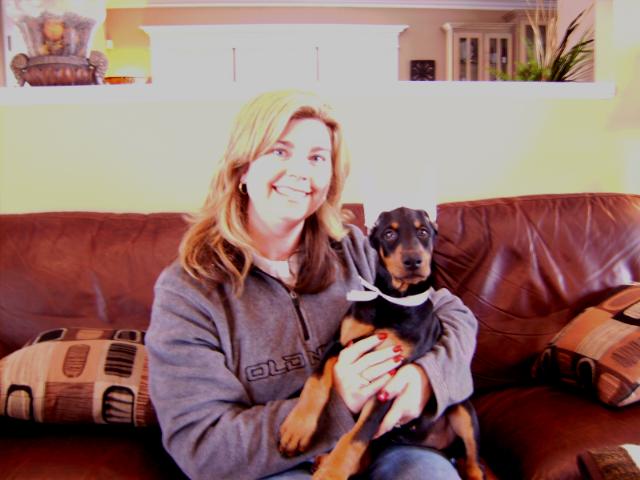 black female - pink collar - born 10:00 PM - Patrick, Anjenean "AJ", Mason and Chloe Holt - Shepherdsville, Kentucky - "Mabel" is a very active and smart girl. The Holts have loved a dobie before and know how special the breed is for their family. Mabel's outgoing personality should fit in quickly with their Vizsla (Phisher) and Golden Retriever (Callie). There are lots of details to cover when a Doberman joins your family, especially dealing with ears, and the Holt's are prepared and ready for the task at hand! Mabel is going to love her new family!
Update: Mabel doesn't even miss the D&L Gang since she has her own gang in Kentucky! AJ says that Mabel is doing absolutely wonderful! She is a great puppy and plays beautifully with Mason, Chloe, and Phisher (the Vizsla). Callie (the golden) just likes to watch. Mabel was the perfect addition to the family. She continues to sleep through the night, really likes to "talk", barking when they don't understand what she's wanting and she likes napping on the couch with the kids too. September 08: The Holt's report that Mabel is absolutely beautiful and is everything they had envisioned
she would be. She is huge (75.5 pounds at 9 months) and is a wonderful protector and companion to Mason and Chloe and is very watchful when she is outside with the kids. Mabel and Phisher are great buddies too! We are so sorry to hear that sweet Callie (Golden Retriever) passed away in July but are glad that Mabel got to meet Callie and learn from such a sweet girl.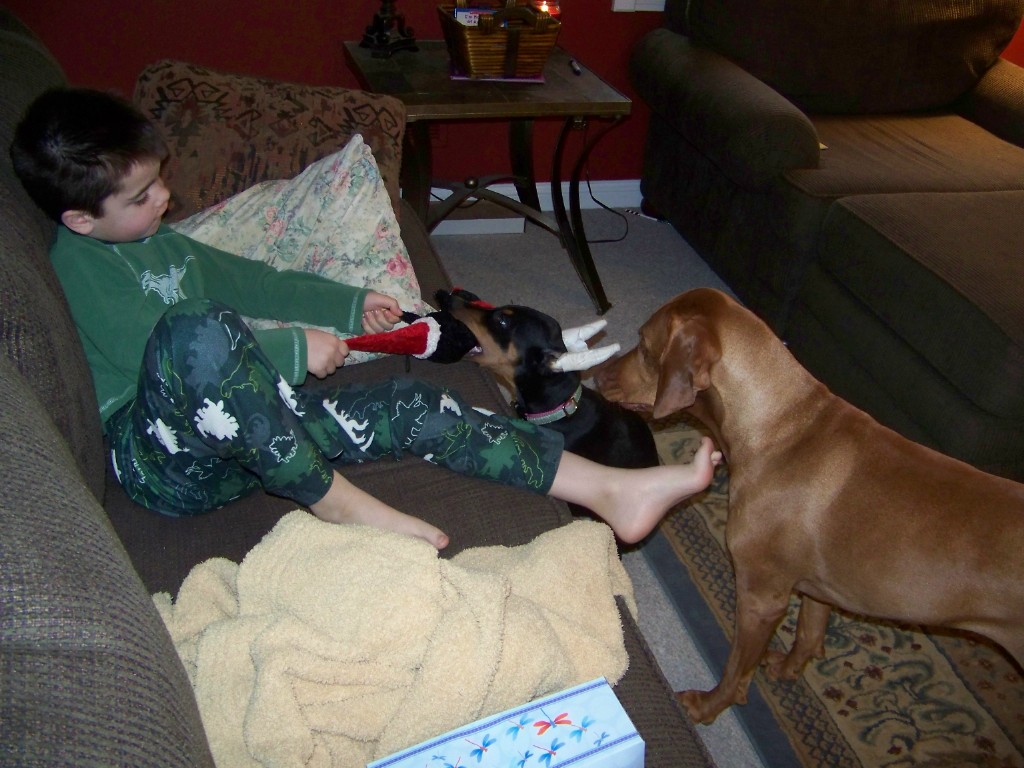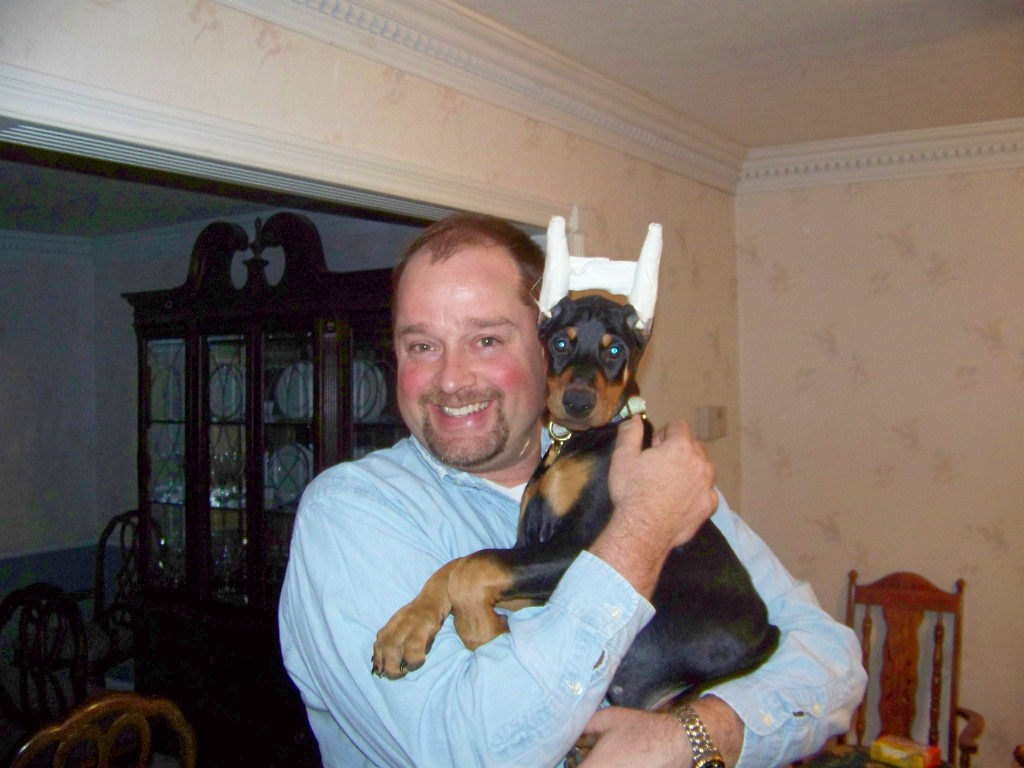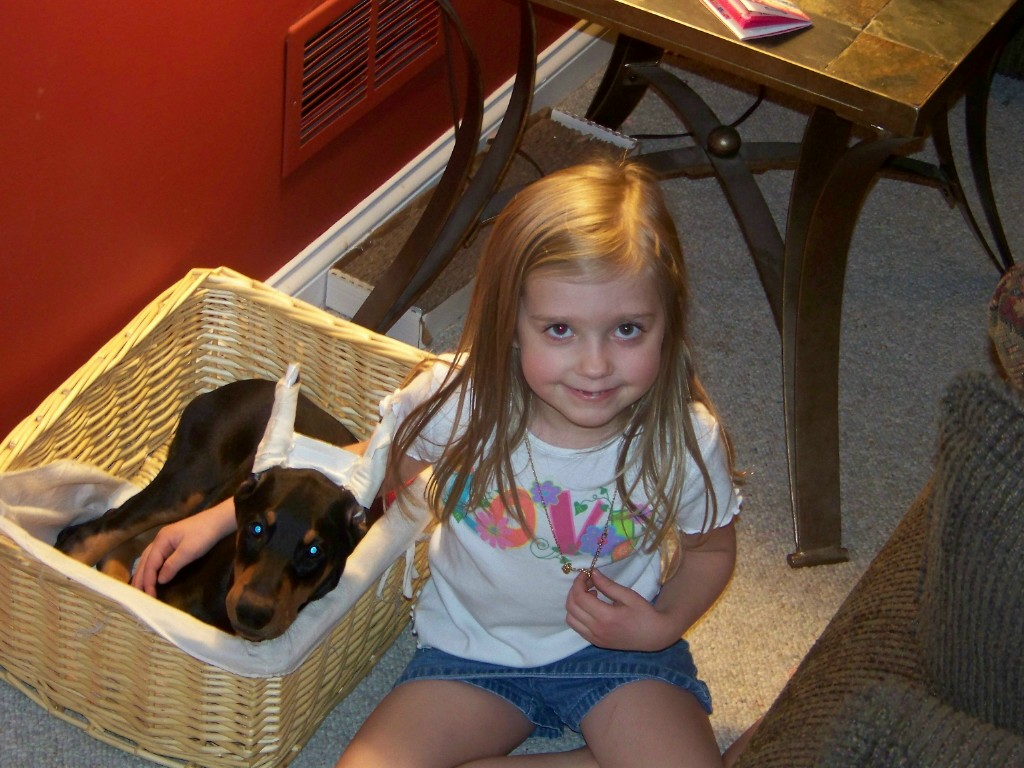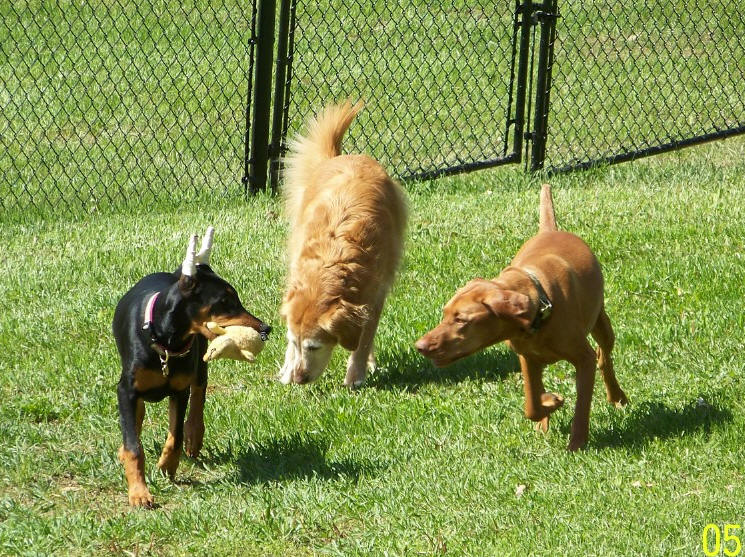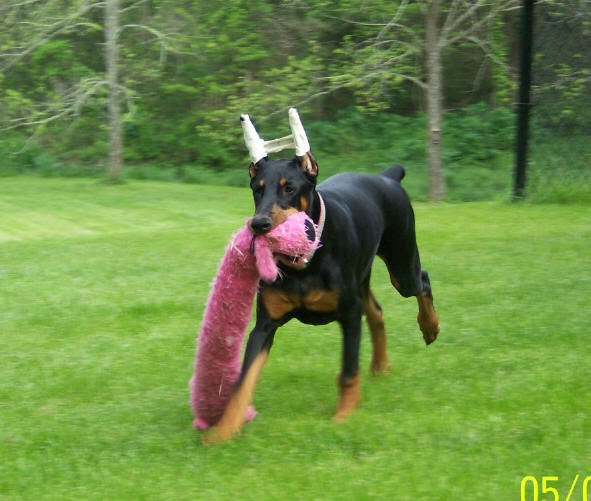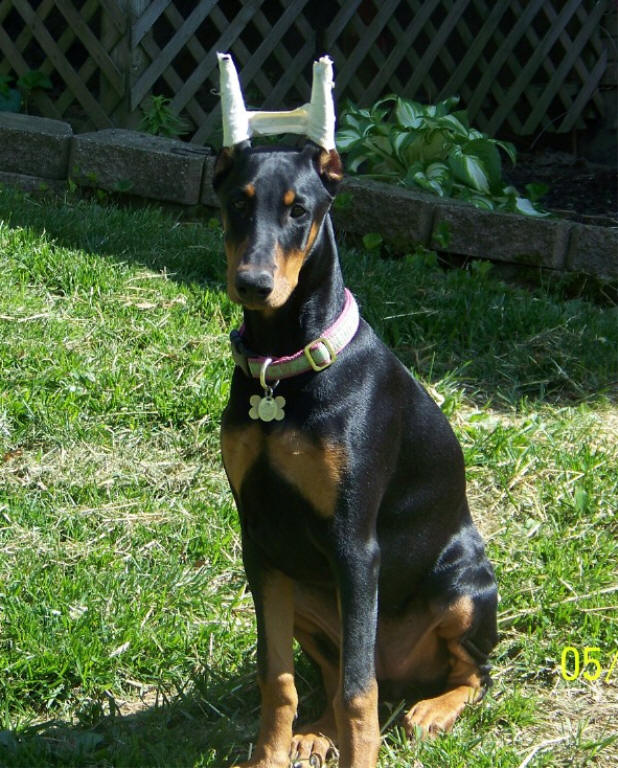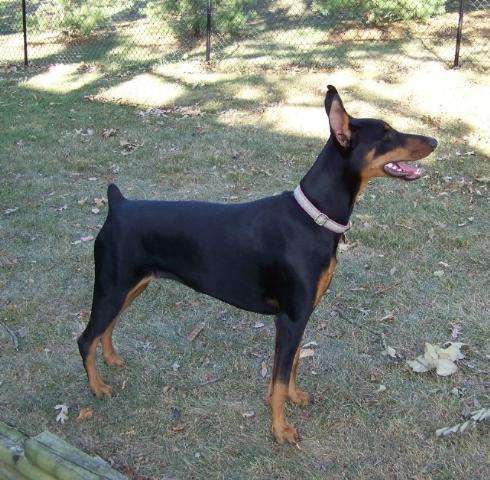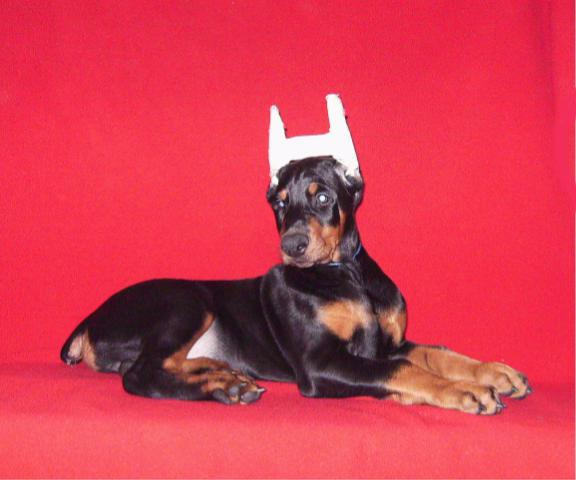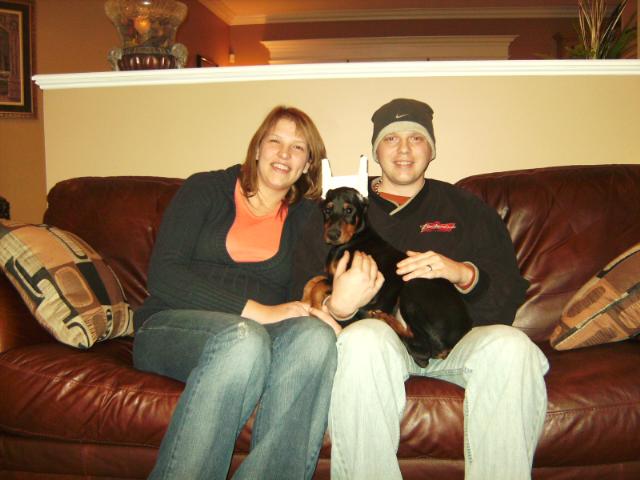 black male - blue collar - born 11:13 PM - James & Myranda Hobbs - Pocahontas, Arkansas - "Meirko" is a beautiful boy and he knows it. He should stand proud next to James in his police uniform. James and Myranda have waited the longest for their puppy to arrive and even got married during the wait. Congratulations on your marriage and the third member of your new family, Mierko!
Update: Mierko is adjusting well in his new home. He visited D&L weekly for the first 3 weeks so we could assist in ear taping. All is going well and his ears are looking great too! May 08: - Mierko went to the vet for his 5 month checkup and Lesa was visiting/working with the vet clinic when he came in. It was great to see Mierko and he weighed in at 60 pounds at 5 months! December 08: Mierko is doing wonderful and getting ready for Christmas. We hope Santa brings lots of dog food since Mierko now weighs 105 pounds at one year old! March 09: Congratulations Mierko for being the sire of D&L's March 2009 litter with Star. You did an amazing job and surprised us with a very special litter including blues and a very special blue female that we named Jacey, who will stay with us at D&L. Thank you Mierko!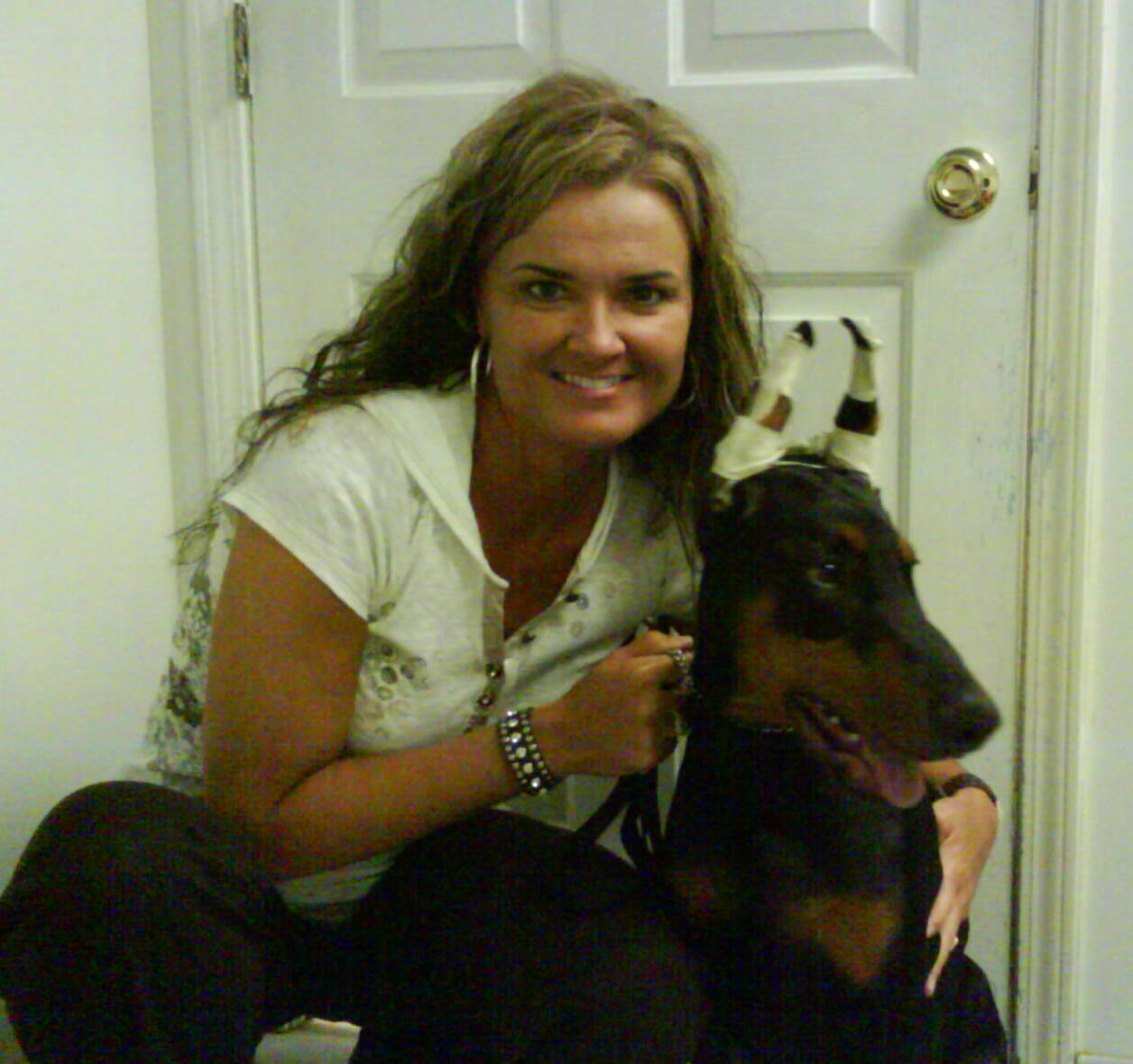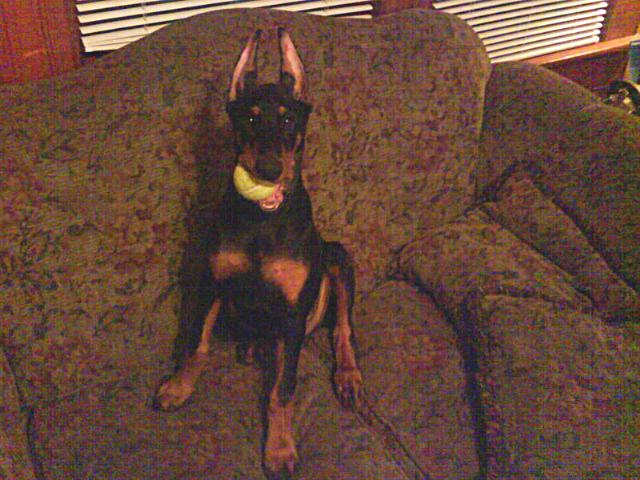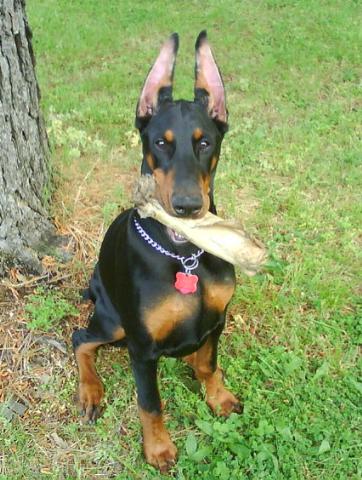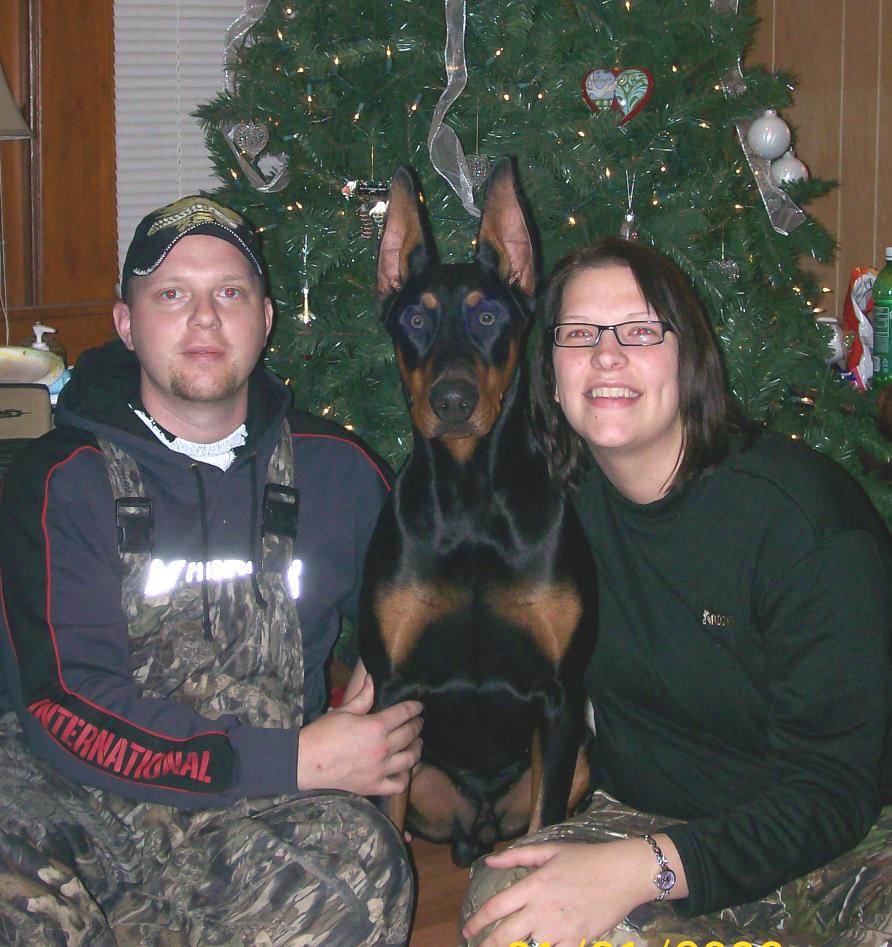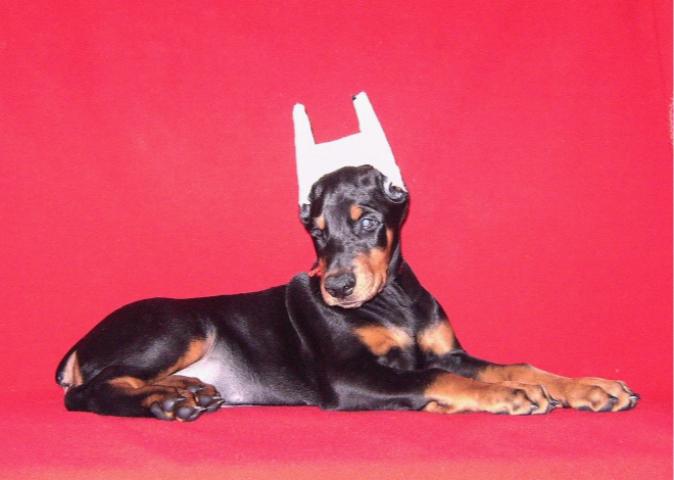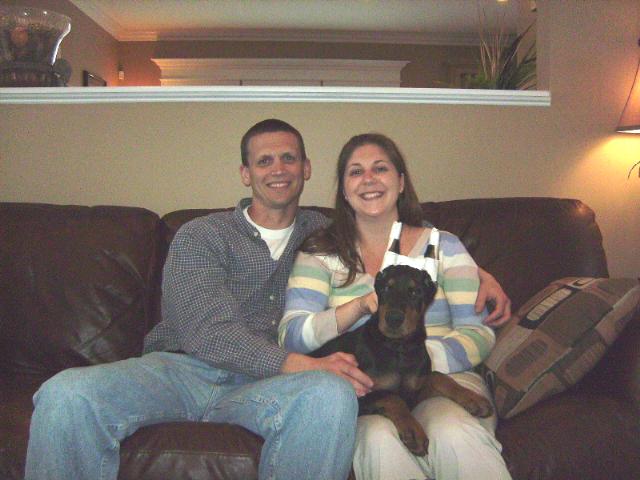 black male - red collar - born 11:40 PM - Aaron & Tanya Miner - Coventry, Connecticut - "Mason" is such a sweet boy and he should adjust well with his new family in Connecticut. His new play buddies/kitties, Tiger and Misty, have an idea that he is on the way. Tanya mailed blankets to Arkansas and Mason played with them. He then sent them back to Connecticut so they could smell that great puppy smell that we all love! Aaron and Tanya want only the best for Mason and even flew to Arkansas so they could personally drive Mason over 20 hours back home to Connecticut! Mason acted right at home upon first meeting the Miners. He was in love with Tanya's hair and thought they both needed lots of kisses too!
Update: Mason is adjusting well in his new home. He is meeting lots of people and other dogs as well. Mason has graduated from his beginning obedience classes and is doing great! August 08 - The Miners traveled back to Arkansas from Connecticut to visit D&L again. Mason weighs 90 pounds at 8 months old in this photo with Dwight and Lesa. Mason had a great time in Arkansas and fell in love with Gressa (Feb. 08 litter). Gressa and Mason kept us all busy when they played outside. They managed to find the only wet spot on the property and pretended to be pigs instead of dogs! :) January 09: Mason and his little sister Lily (August 08 litter) are having a ball together or should I say a "snowball" together.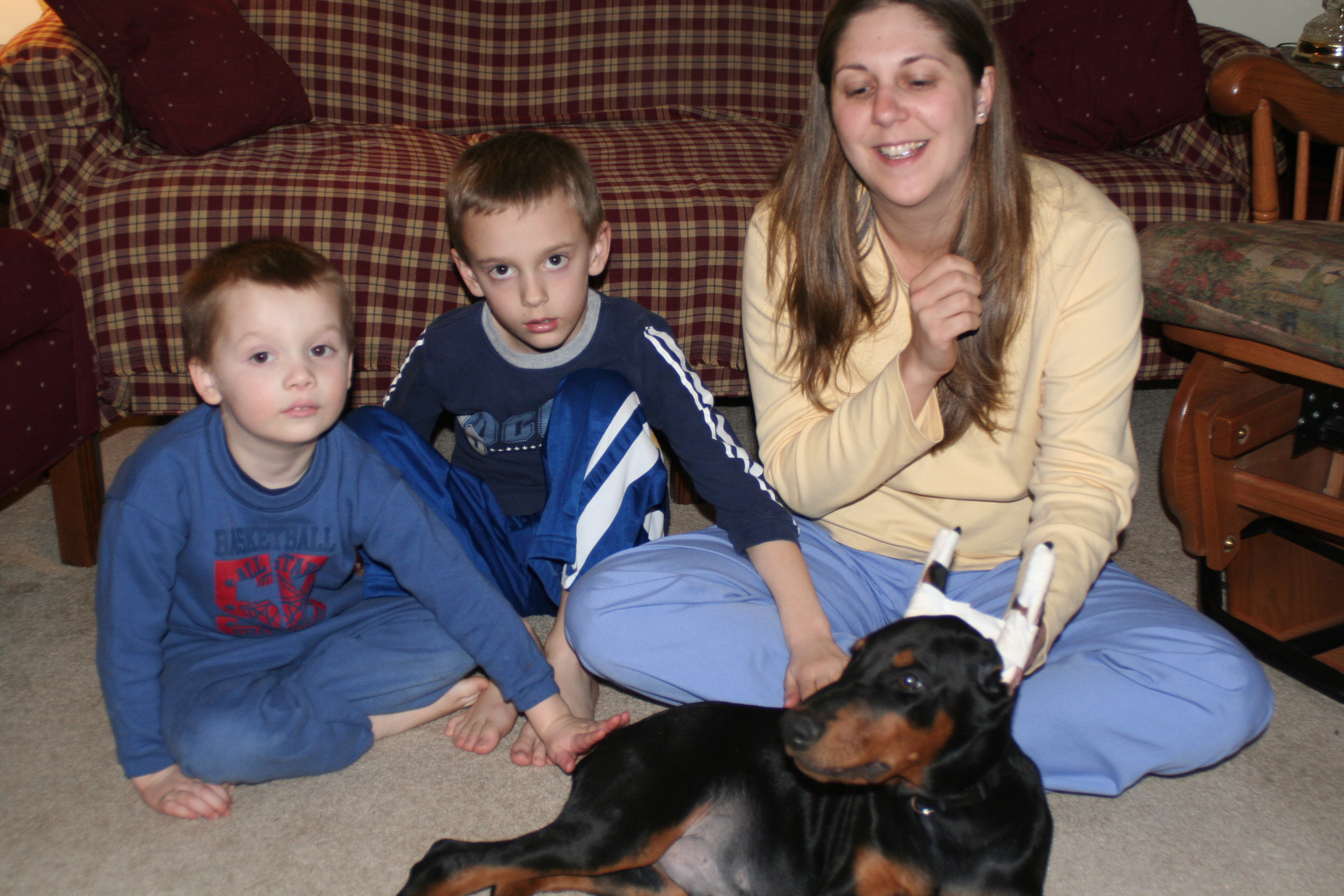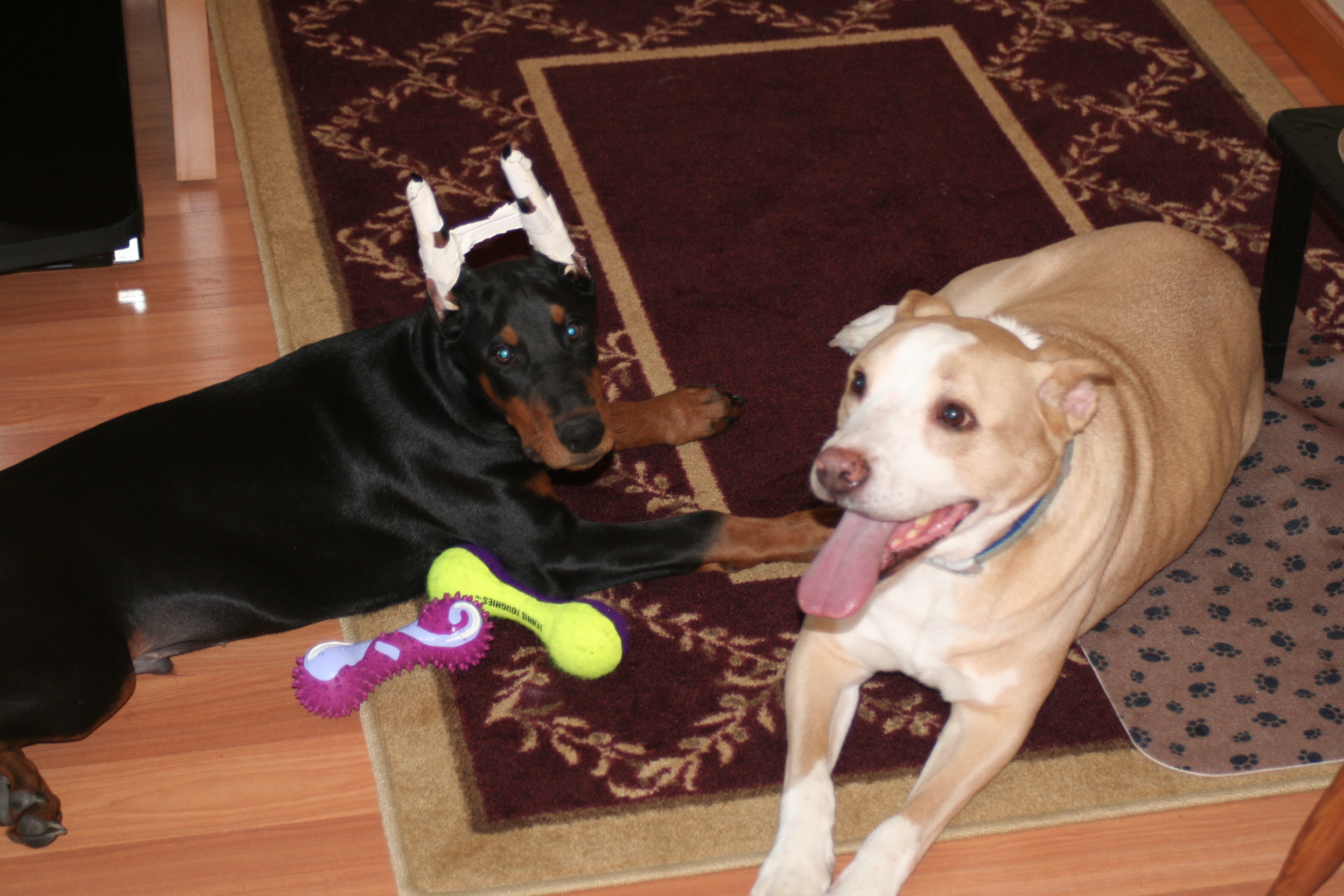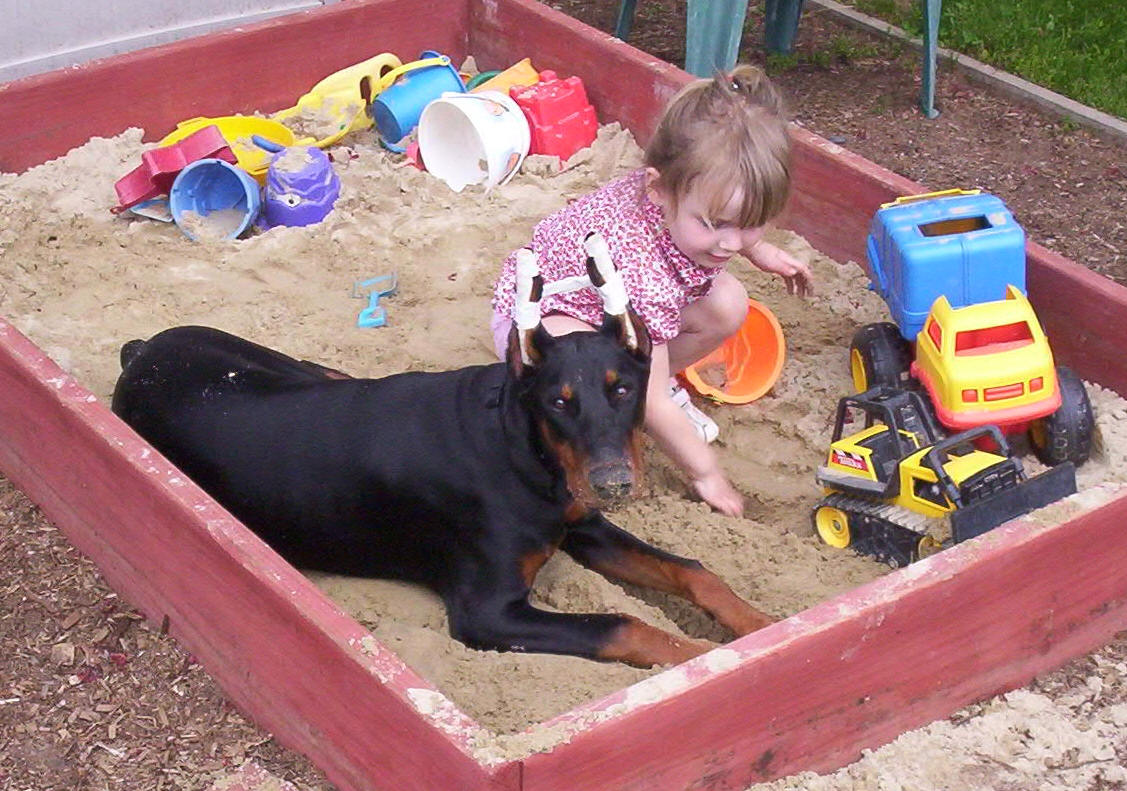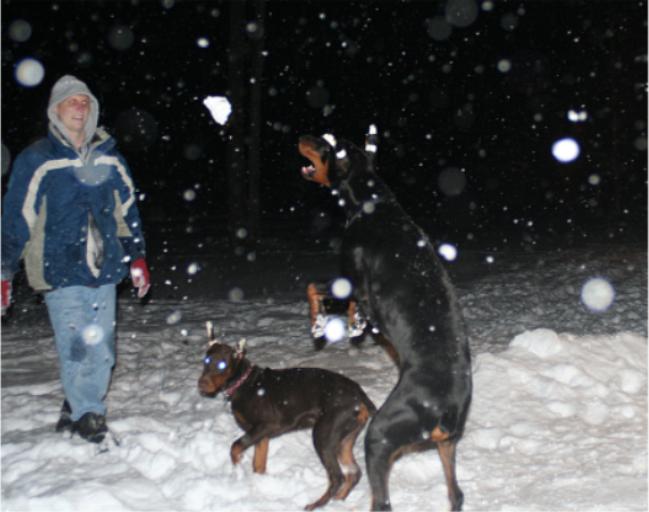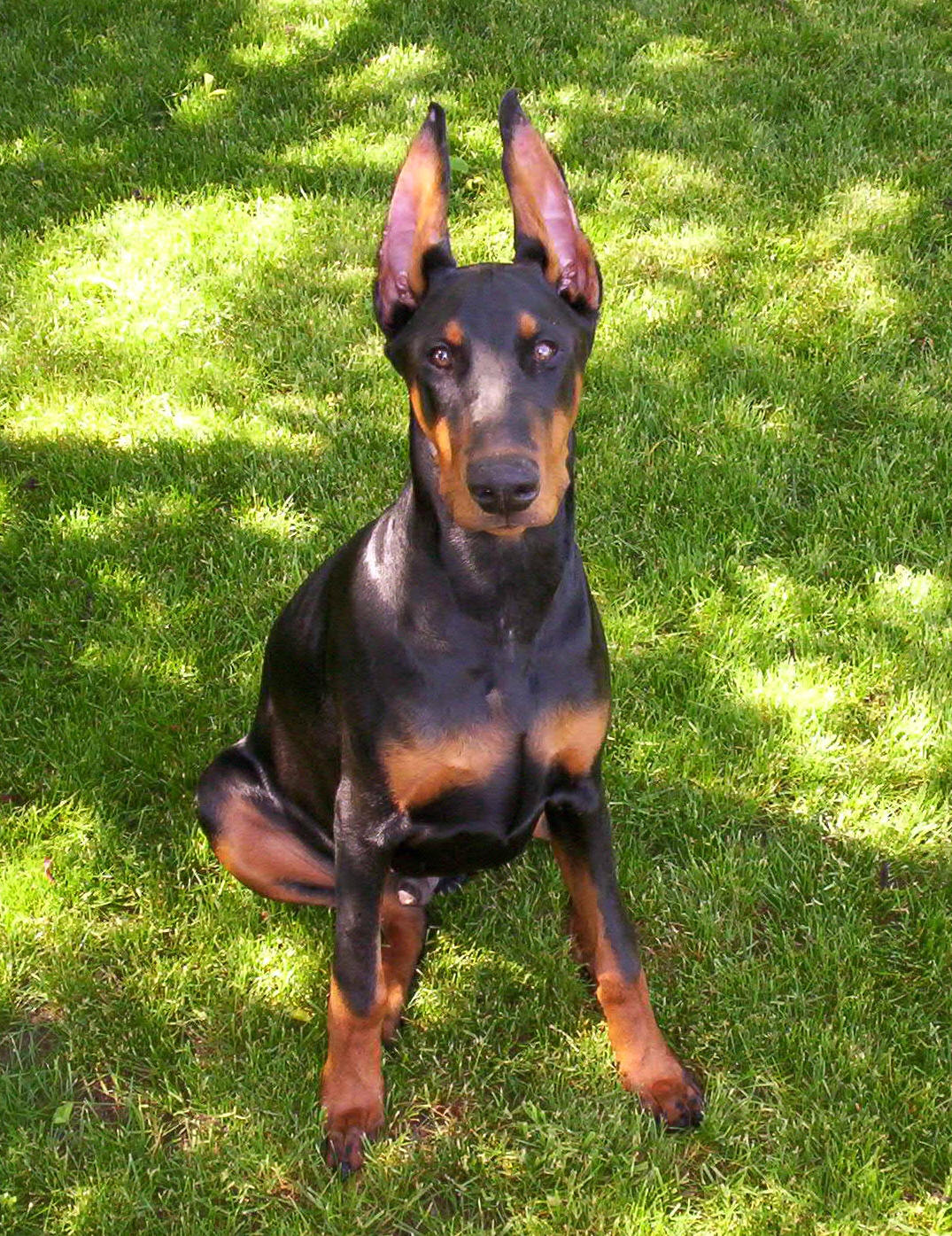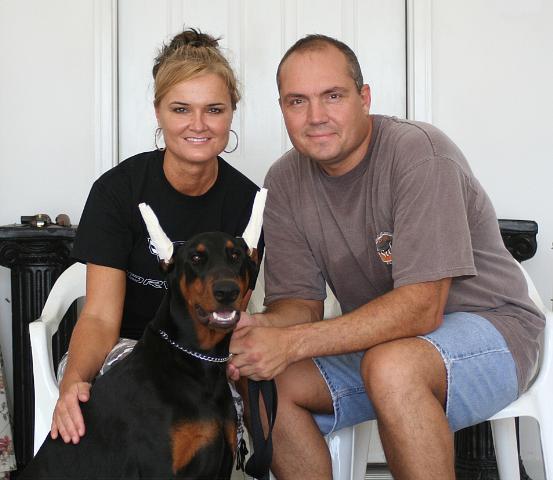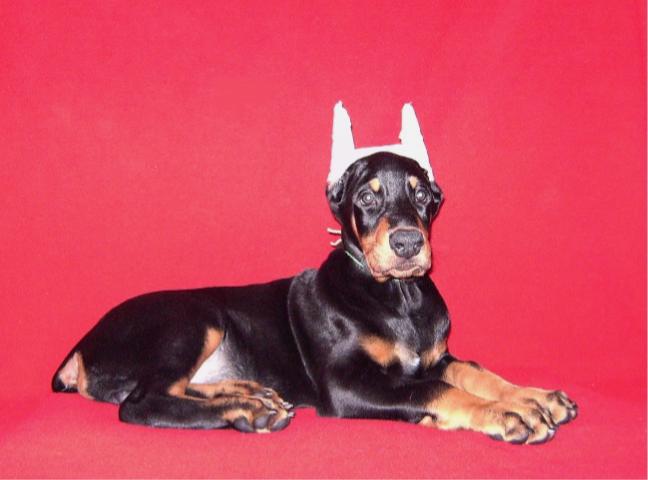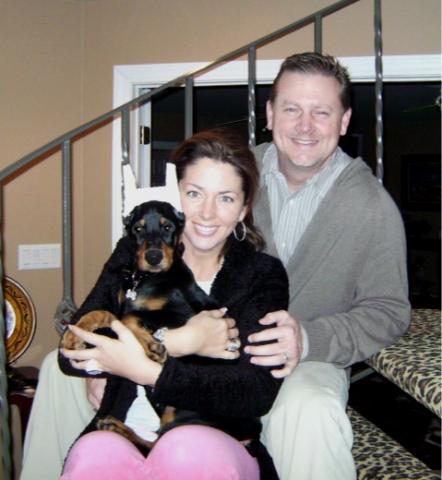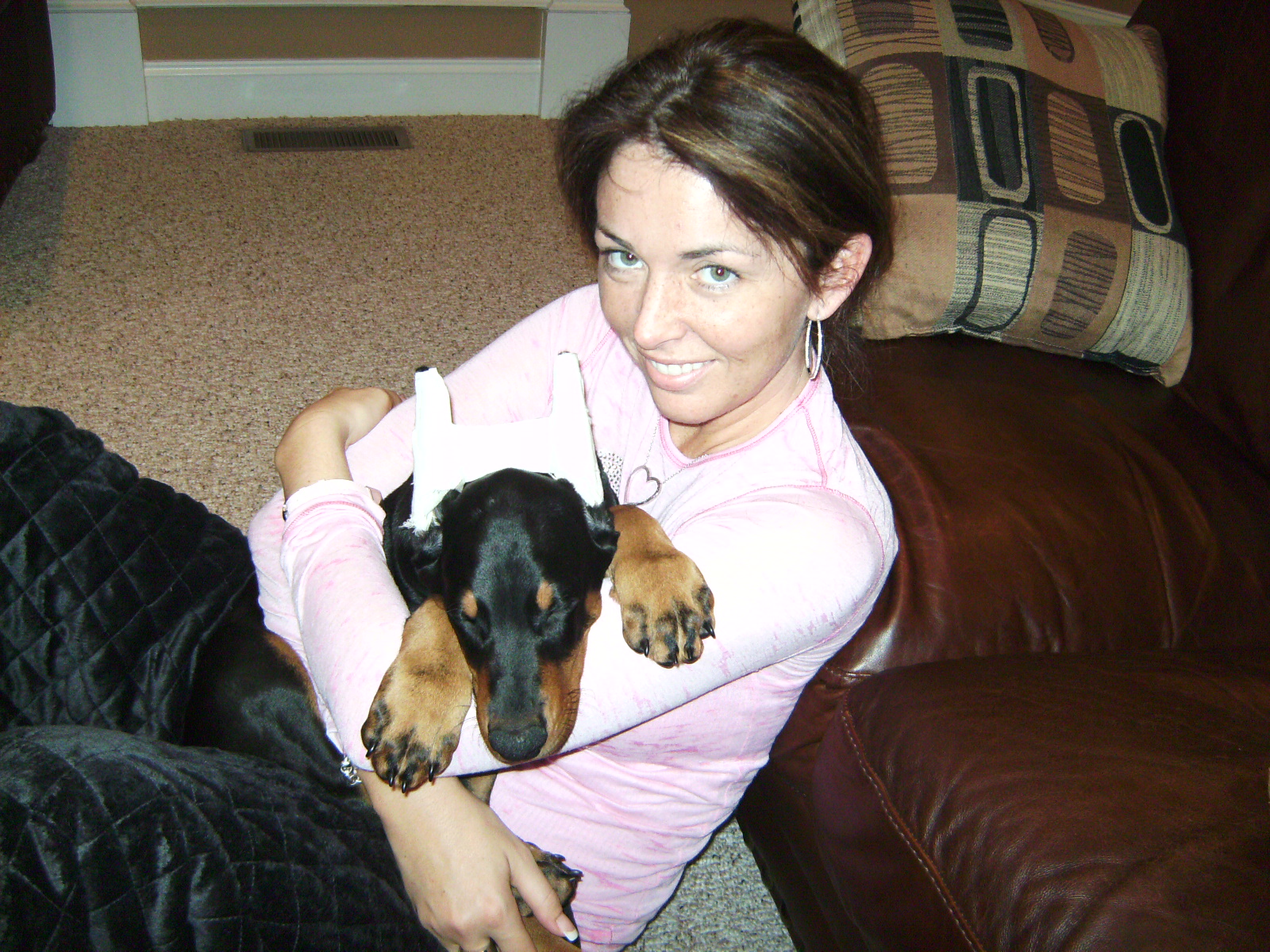 black male - green collar - born 12:45 AM - Andrew and Vanessa Whitwell - Colleyville, Texas - "Cash" will soon be seeing his 2 full brothers that live in Texas! Vanessa works with Ed and Lisa Young who have Dolce and Dutch from Redford and Josie's litters in 2005/2007. Cash is so extremely sweet and calm and a big boy too. He has an amazing personality and when you look at his sweet face, you just melt. He is going to be a wonderful cuddler just like his dad, Redford. Andy and Vanessa visited with Cash and he has already bonded to them on their first visit. Cash will be so happy in his new home and is even having a "puppy baby shower" upon his arrival!!
Update: February 08: Photos of Cash in his new home! His puppy shower went great and he received lots of new things. What a lucky boy doing what he enjoys most.... sleeping and cuddling! Cash is doing great!!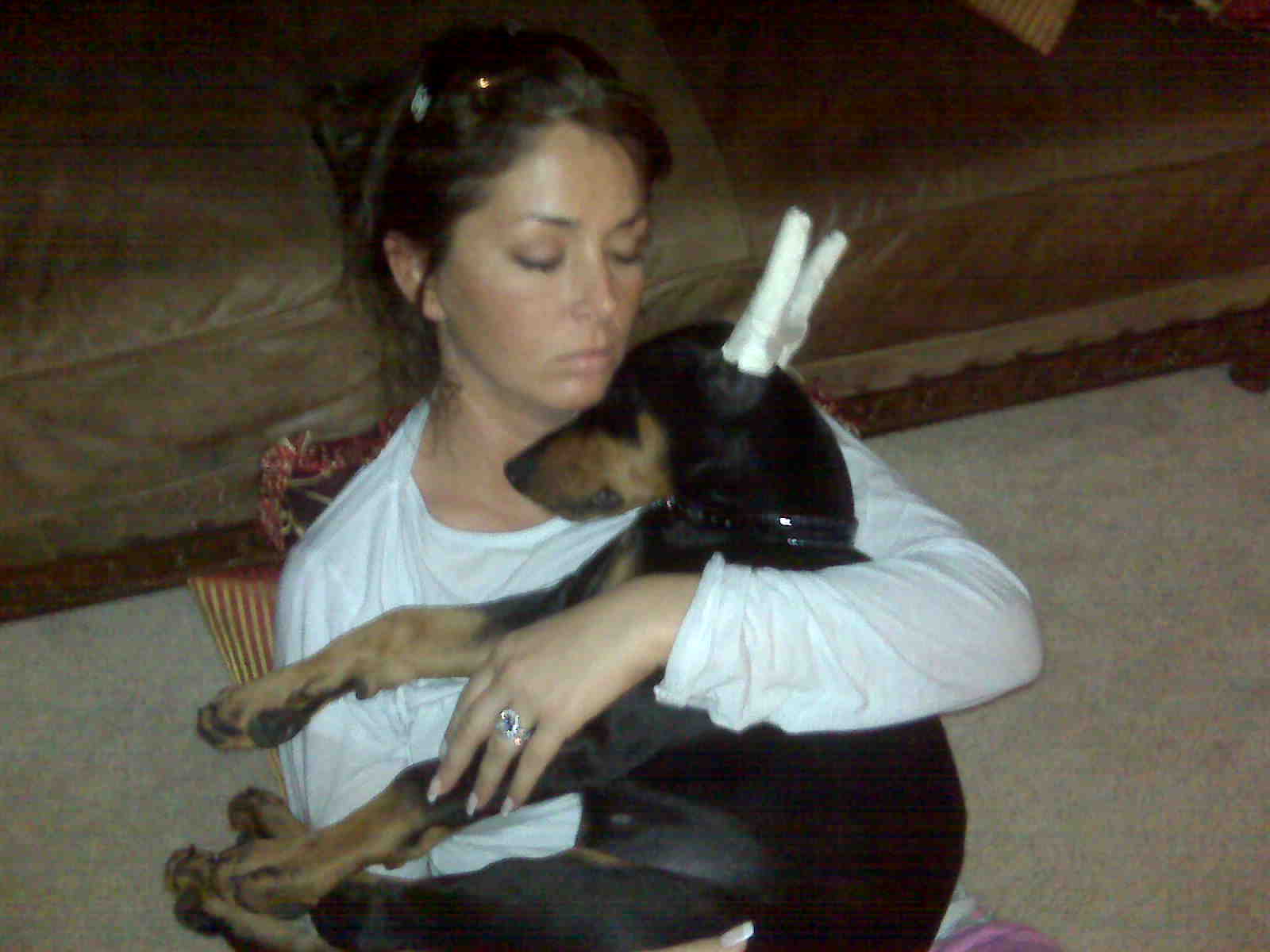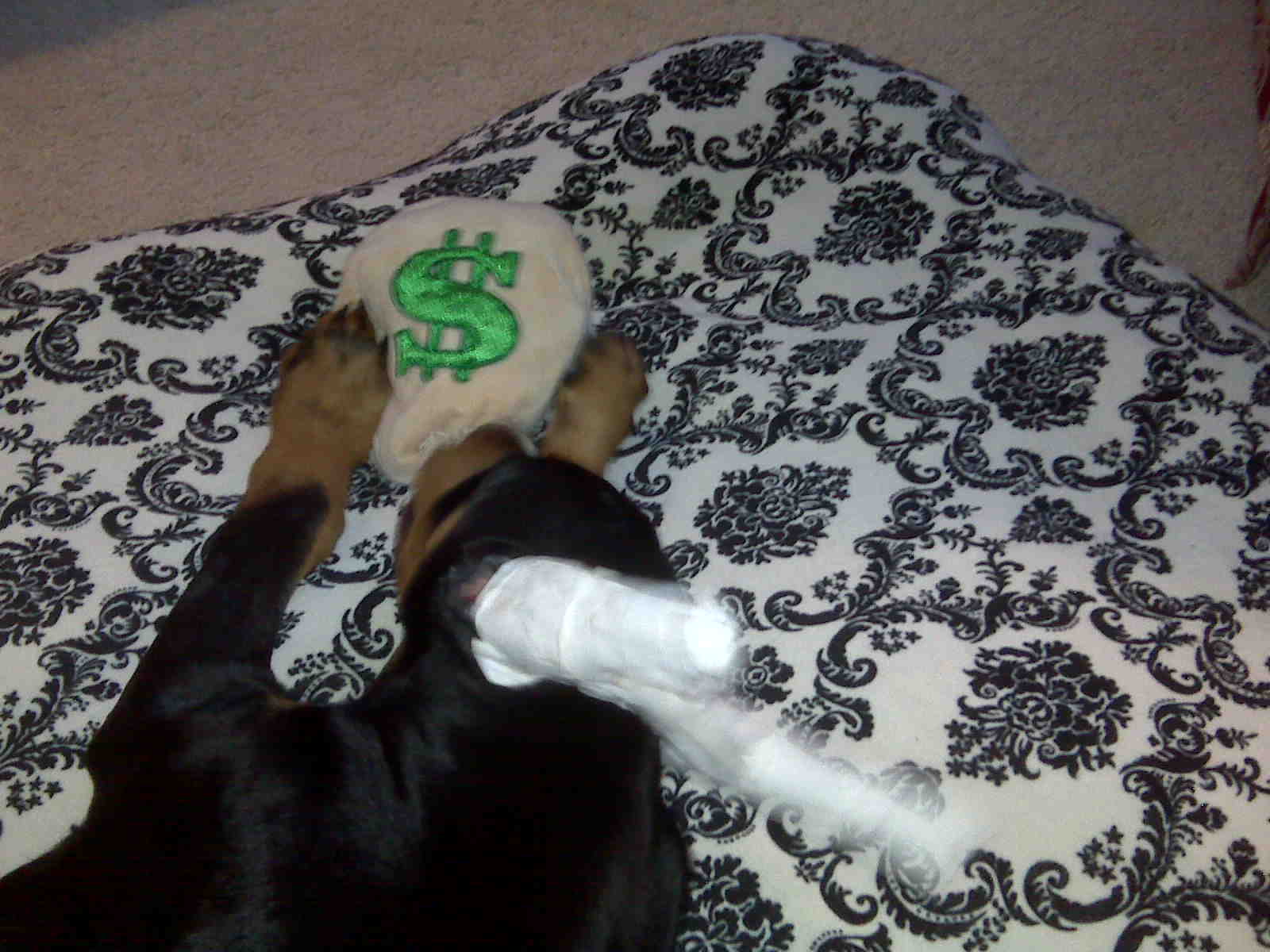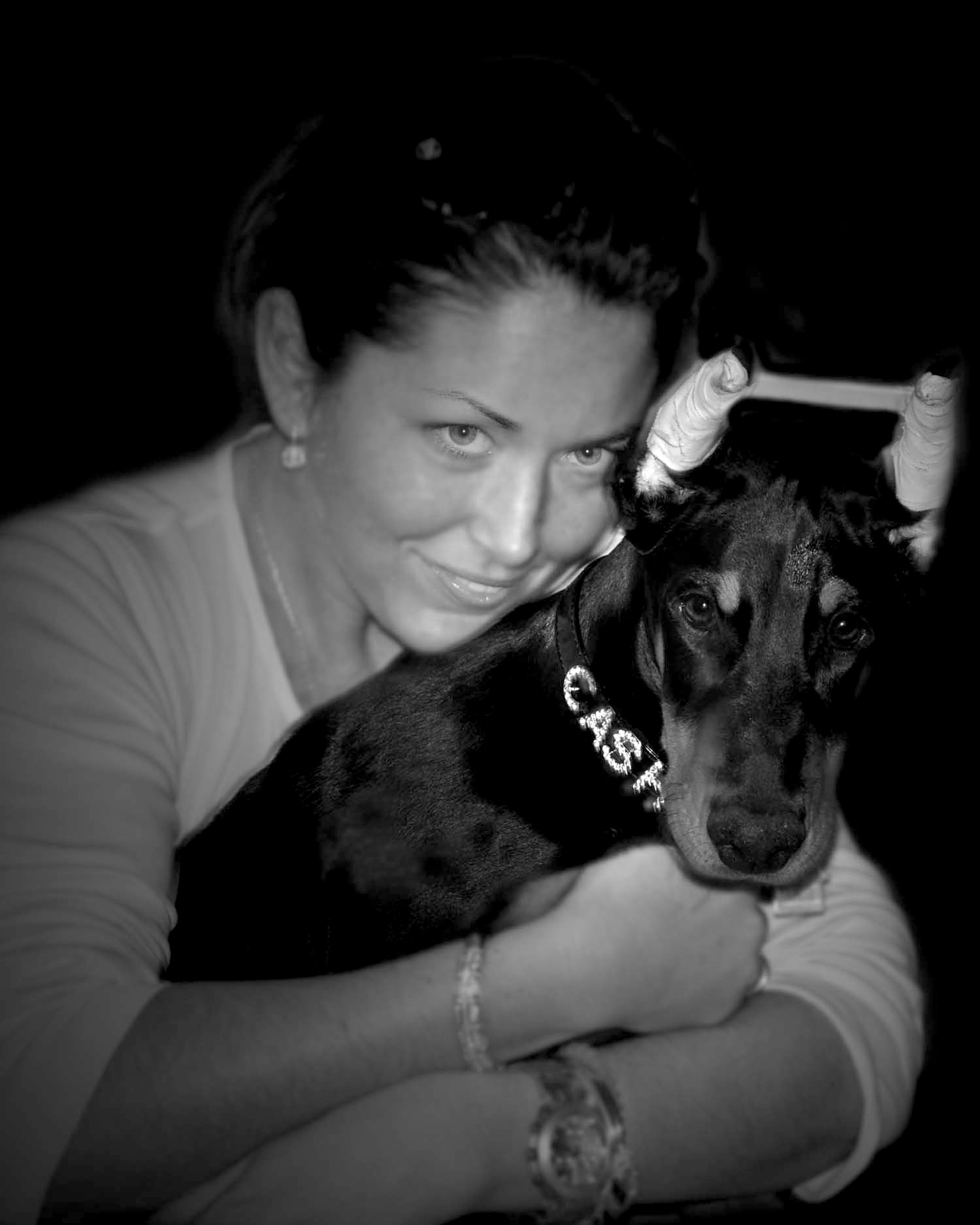 April 08: Our sweet friend and mom to Cash, Vanessa Whitwell, passed away on 04/06/08. Vanessa is loved by so many people because she was such an amazing person. We are so glad that Cash is with Andy. Cash is a very special puppy and we know that he was meant to be for Andy and Vanessa. We will never forget you Vanessa....
Contributions to the Vanessa Whitwell Scholarship Fund can me made thru the link below:
http://www.fellowshipchurch.com/vanessa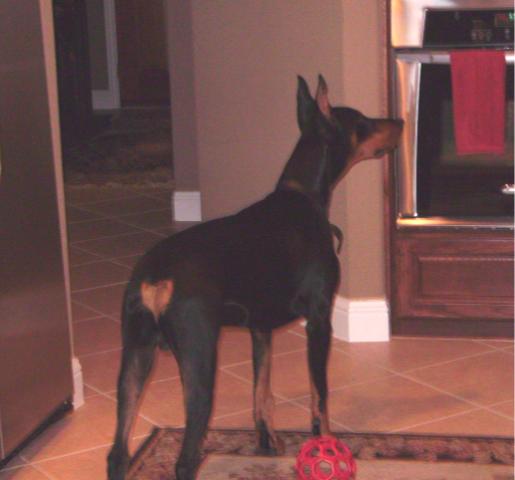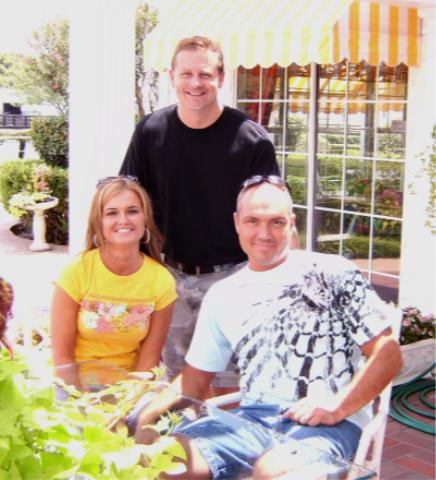 May 08: Andy and Cash traveled to Arkansas and spent the weekend at D&L. Cash had a wonderful time playing with Gressa and Daisy from our February 2008 litter. The girls finally wore him out by the last day of his visit. I think he was ready for some one on one time with Andy and to leave the girls behind in Arkansas. :) We loved spending the weekend with Andy and Cash.
August 08: Dwight and Lesa visited Dallas and spent time with Cash and Andy. Cash is doing wonderful and is a very happy and well behaved boy. Not to mention big and gorgeous. He is very devoted to Andy and Andy is to Cash as well. It was so wonderful to see both of them!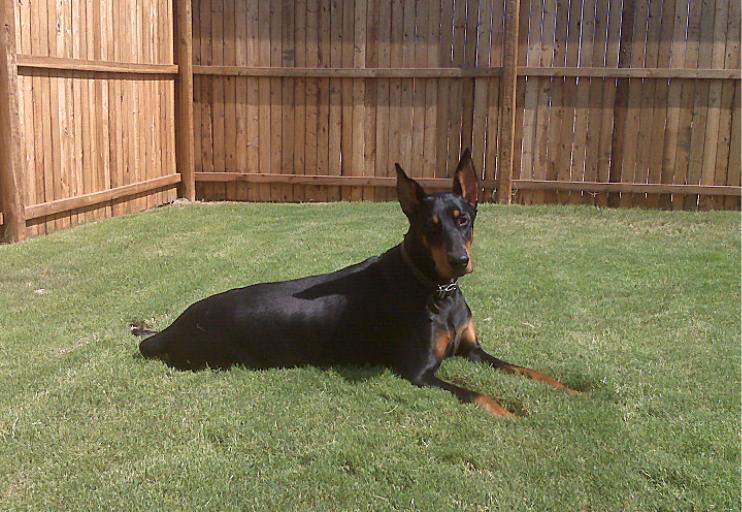 July 09: Cash is doing wonderful and is quite the big boy. Congratulations to Andy and Callie on their marriage and their new home. Cash seems to be enjoying his new back yard! What a sweet boy. Cash also has lots of fun with his new brother, Frodo. Frodo is a poodle and he is trying to teach Cash how to play fair. :)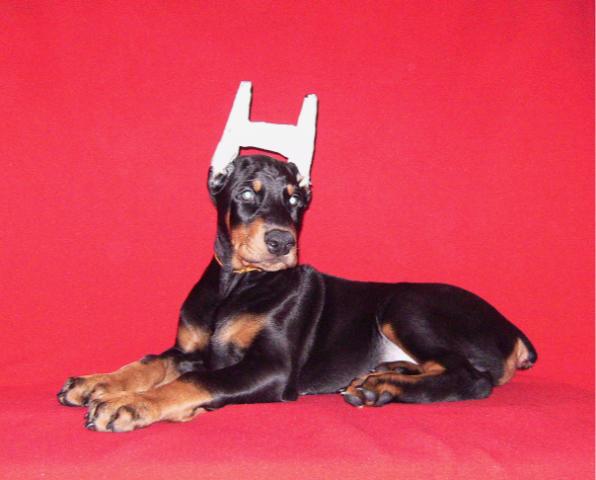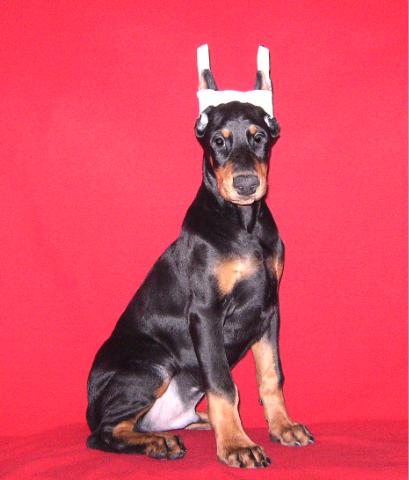 black male - orange collar - born 1:40 AM - Eric, Ashly and Raymond Matyka - Richmond Hill, Georgia - "Mayson" will soon be traveling to Georgia to join his new family. The Matyka family has been apart for quite some time since Eric has been deployed for 14 months. Mayson and Eric will both be arriving in Georgia, within a couple of days of each other, to join Ashly and Raymond in March. Mayson is so sweet and has such an outgoing and playful personality. He will be so happy in his new home. Ashly said she feels that everything is finally coming together now that Eric and Mayson are coming home!
Update: Mayson arrived home just in time for Easter! Looks like Raymond is working with Mayson on his leash training and they are both enjoying their new club house/crate! Ashly says that Mayson is doing well and even cried to go potty outside the first morning he was home. December 08: Mayson is doing wonderful and is quite the huge boy! He and Raymond will be having a new baby brother/sister in 2009. Congratulations Ashly and Eric! Ashly said that Mayson will probably think they are having puppies. :) August 09: Mayson and his new baby sister.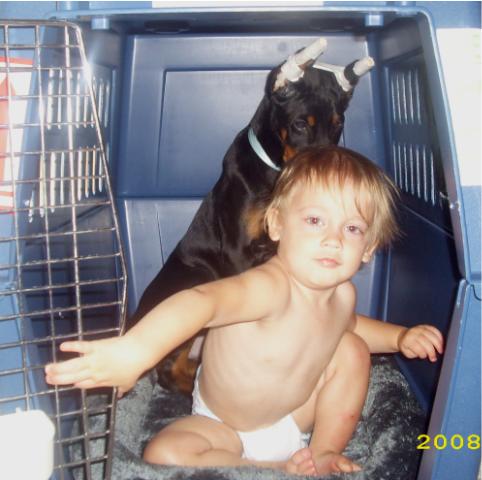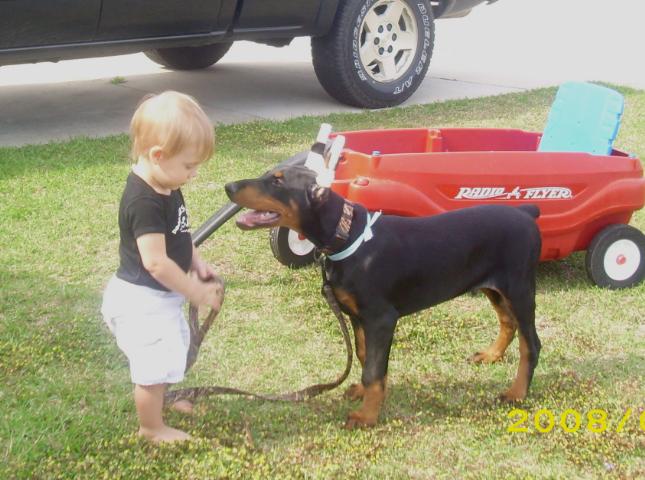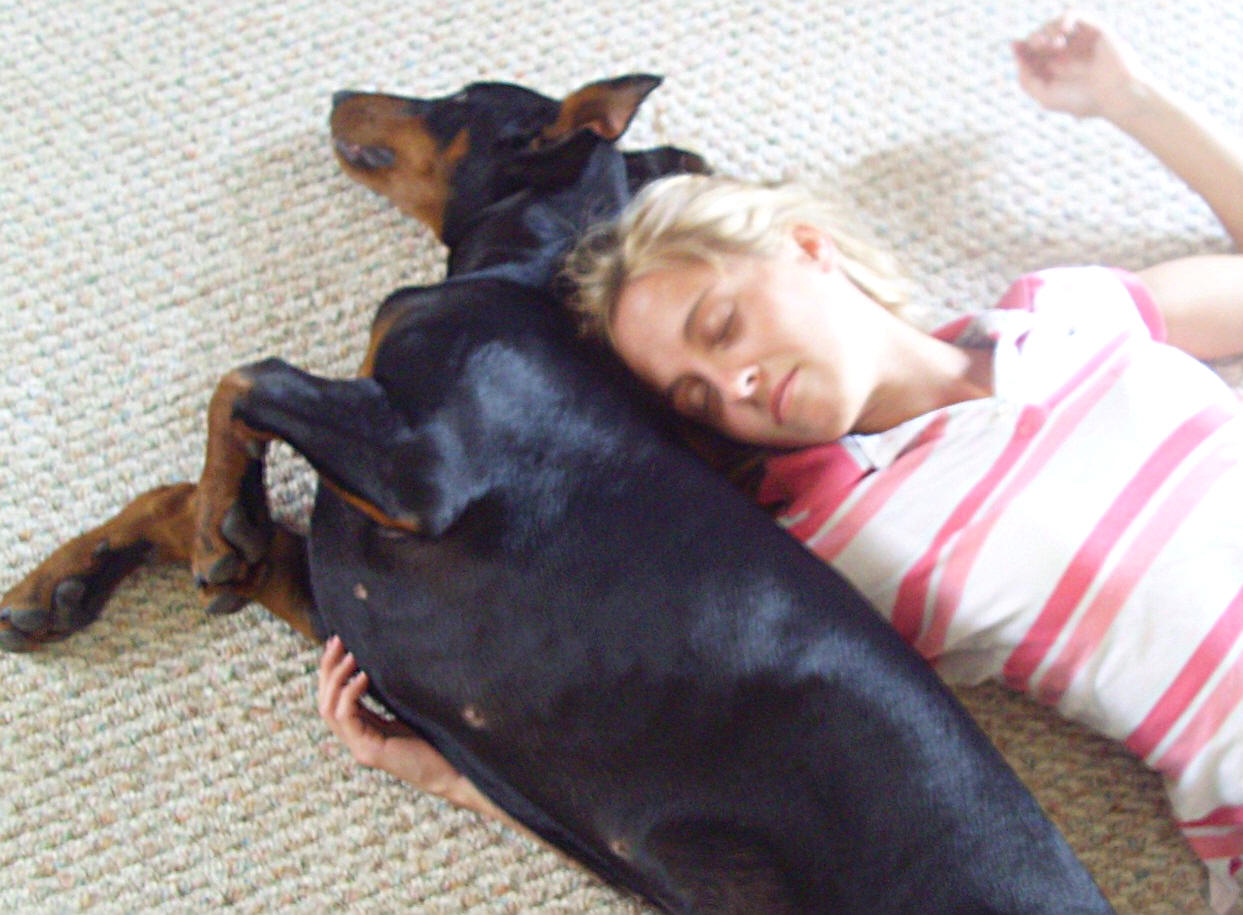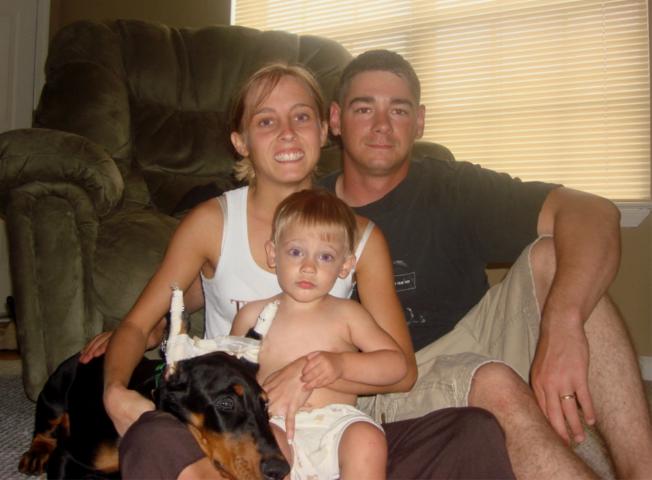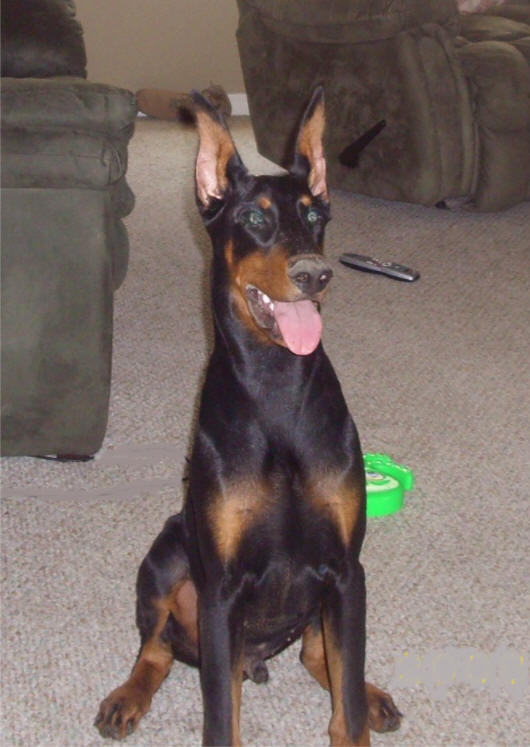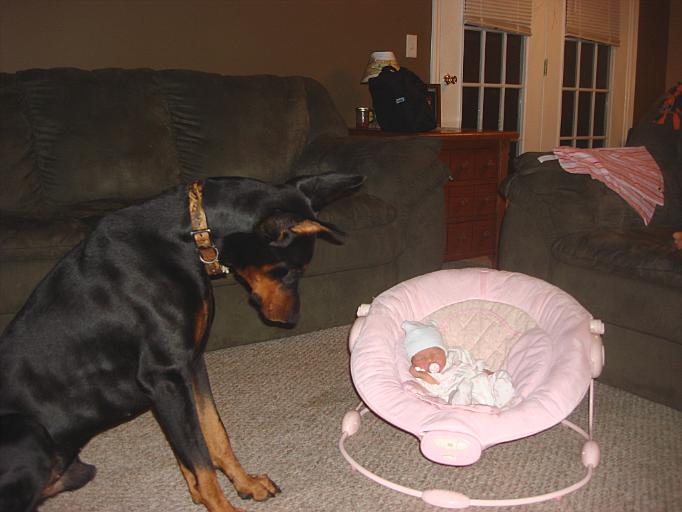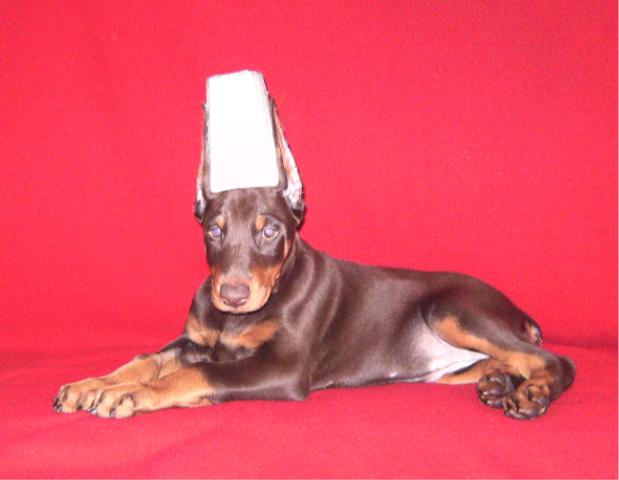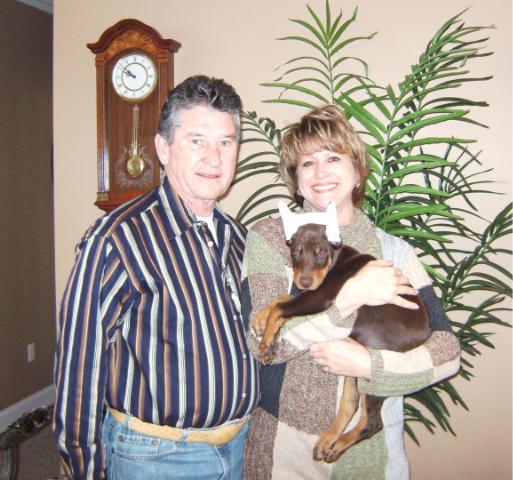 red female - purple collar - born 3:25 AM - Tessalah Florentino Hanby - Gulf Breeze, Florida - "Zoey" is such a pretty girl and has a very feminine face. Tess has loved a dobie before and can't wait for Zoey to arrive. She has been reading and preparing so Zoey will get only the best training. Mark even helped pick out a few of the best things for Zoey too. Zoey will love her new home and who wouldn't want to live in Gulf Breeze, Florida or on a horse farm in Tennessee! Congratulations to Tess and Mark on their upcoming marriage immediately following Zoey joining their family! Mark and Tess came to visit Zoey when she was just days old and met the whole D&L gang.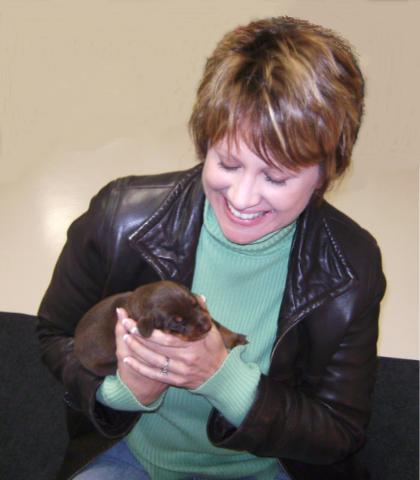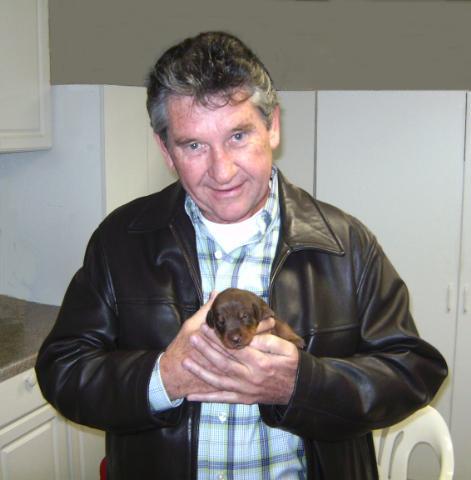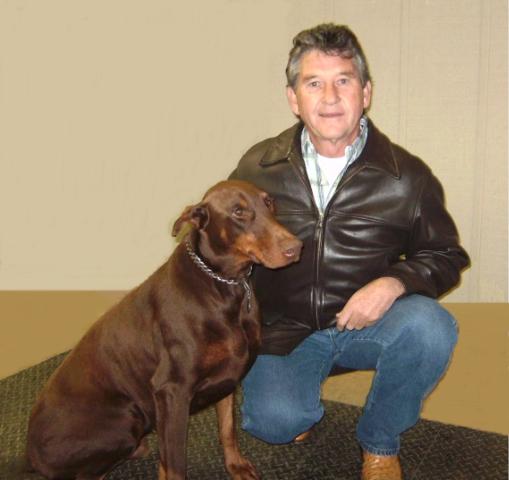 Update: Looks like Zoey has created a new form of puppy Pilates! What a great toy for puppies, a ball bigger than they are! Zoey has also been spending time with the grandkids. Zoey has already received her first stage of training with a trainer in Alabama. She did wonderful and Tess is so excited about learning with Zoey and advancing to the next stage of training as well. October 08: Tess says that Zoey is doing awesome! April 09: Zoey is doing great! January 2012: Zoey is doing great following bladder surgery at Texas A&M. Good luck Zoey and we hope you are back to 100% soon. Thank you Tess for the updates!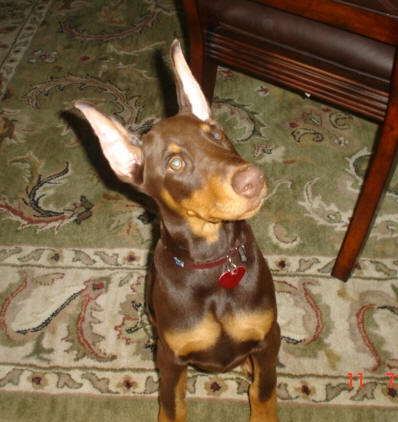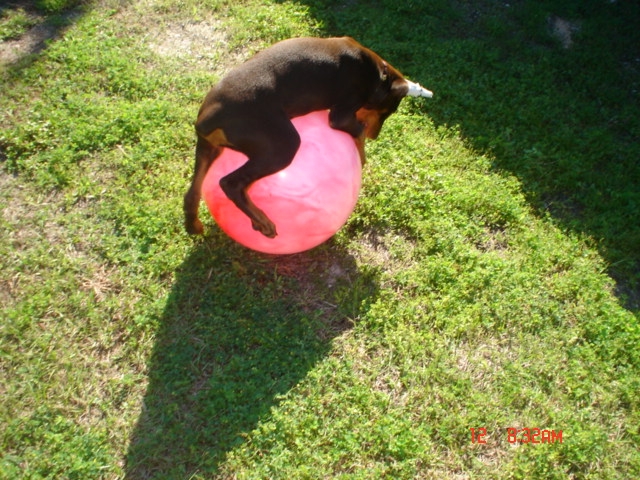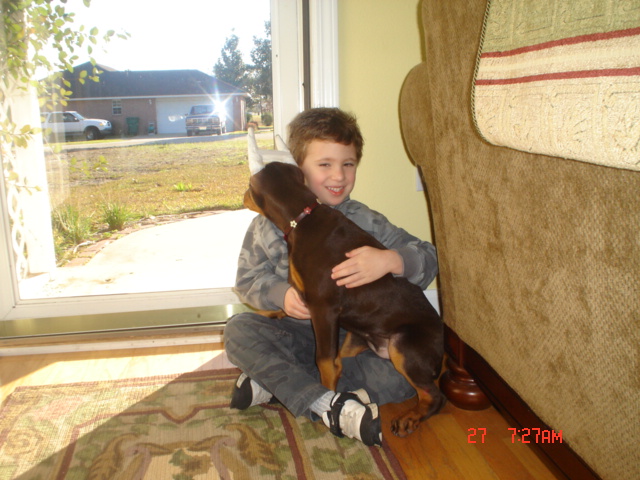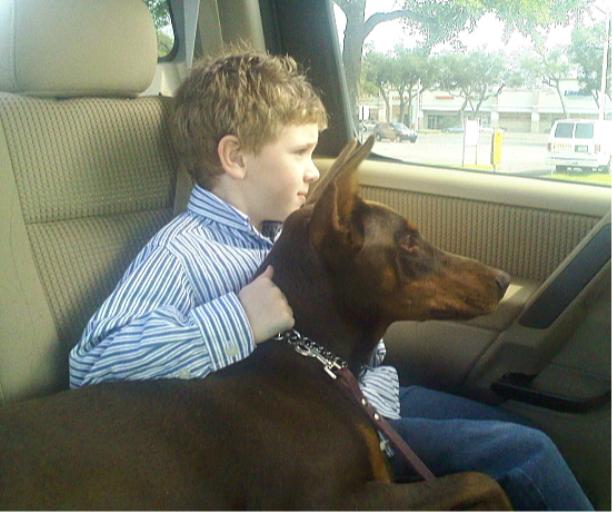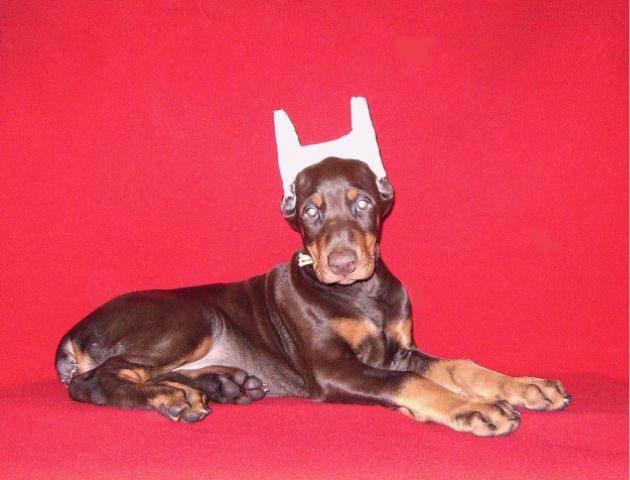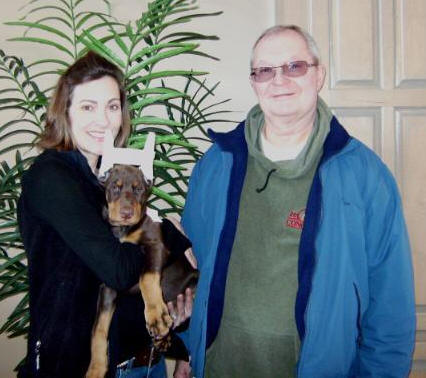 red female - yellow collar - born 7:00 AM - Keith, Staci, Harper and Tess Lawson - Lincoln, Nebraska - "Greta" has such a cute face and an outgoing personality to match. She is fearless and loves to tackle her big brothers. The Lawson's have loved a dobie in the past and also have Charlie, a Vizsla, in the family. Greta will have fun traveling to the horse shows with the family and will realize that the horses are a little larger than her brothers and they are to be watched and protected but not played with! With Greta's personality she will be ready for anything and the cold and snow of Nebraska will be just another experience she will enjoy! Staci and her dad drove from Nebraska to pick up Greta in person.
Update: Greta is enjoying her new friend, "Charlie". Greta is doing great and is adored in her new home. Staci says that Greta is "such a sweet dog and so easy to love". She is starting puppy kindergarten soon and is catching on well while on walks with the girls. Looks like she is using Harper and Tess's tunnel and preparing for agility too! Greta, Harper and Tess also take time to sit pretty for the camera on Easter! November 08: Greta and the girls playing on bales of hay. They are getting so big and so pretty!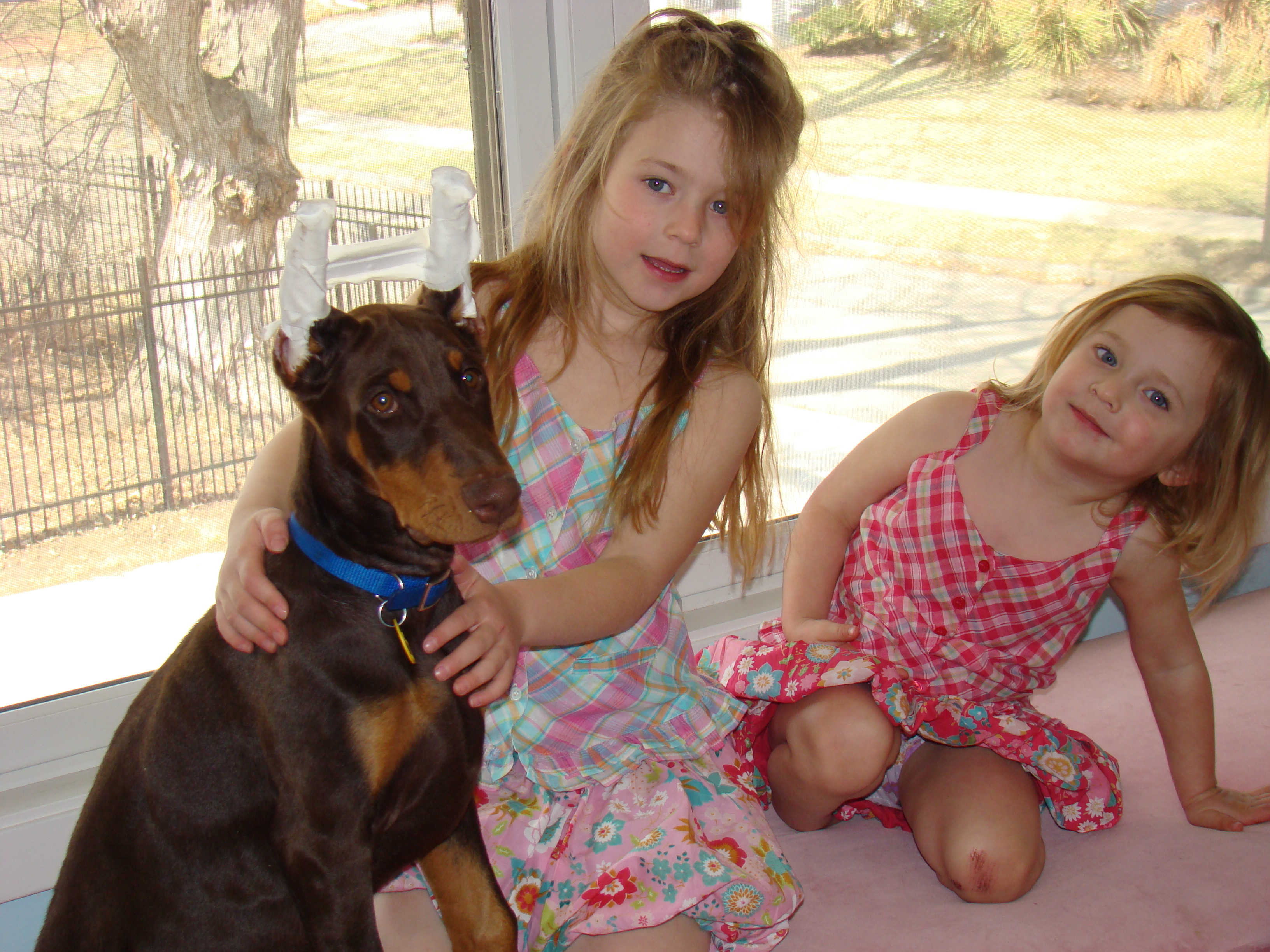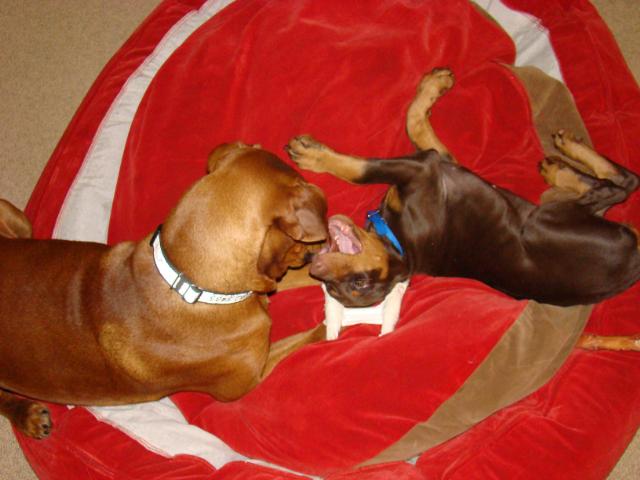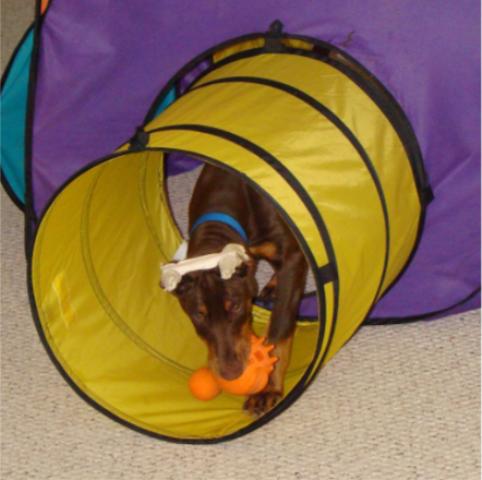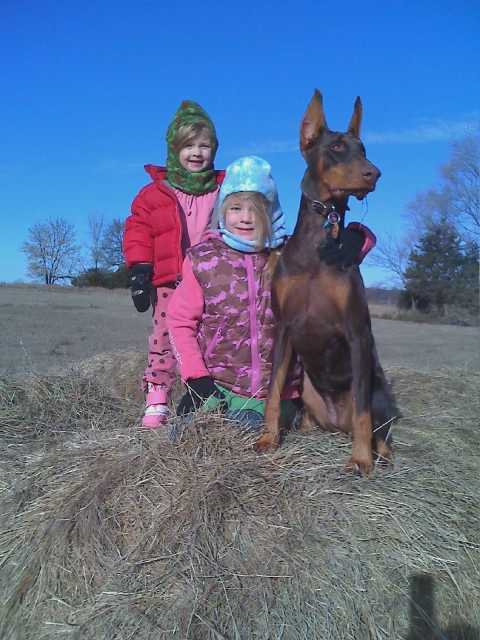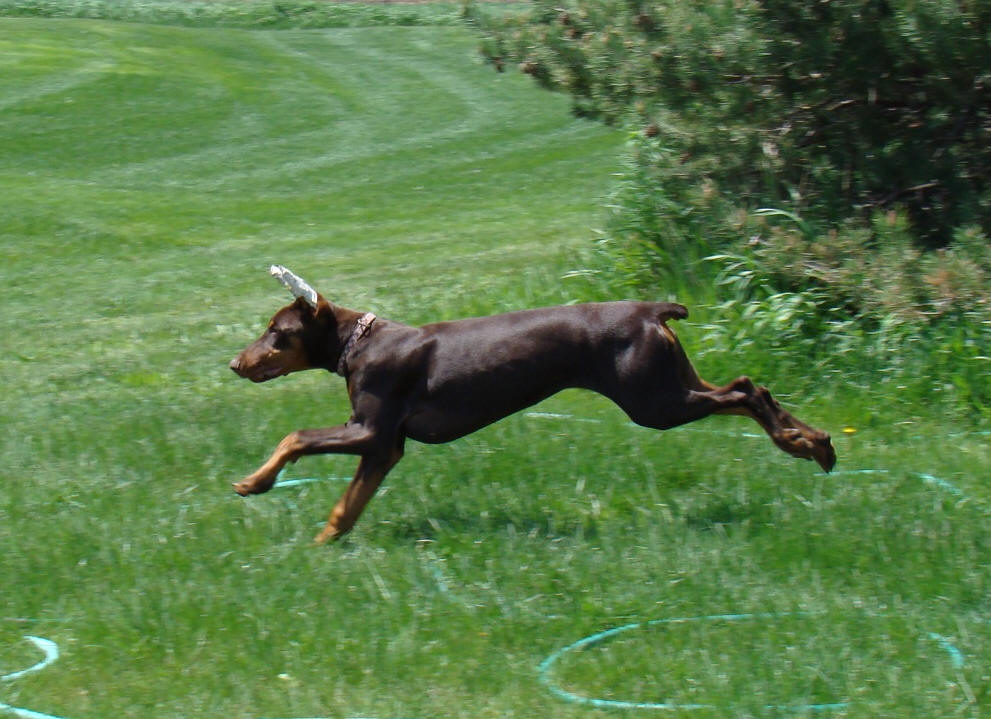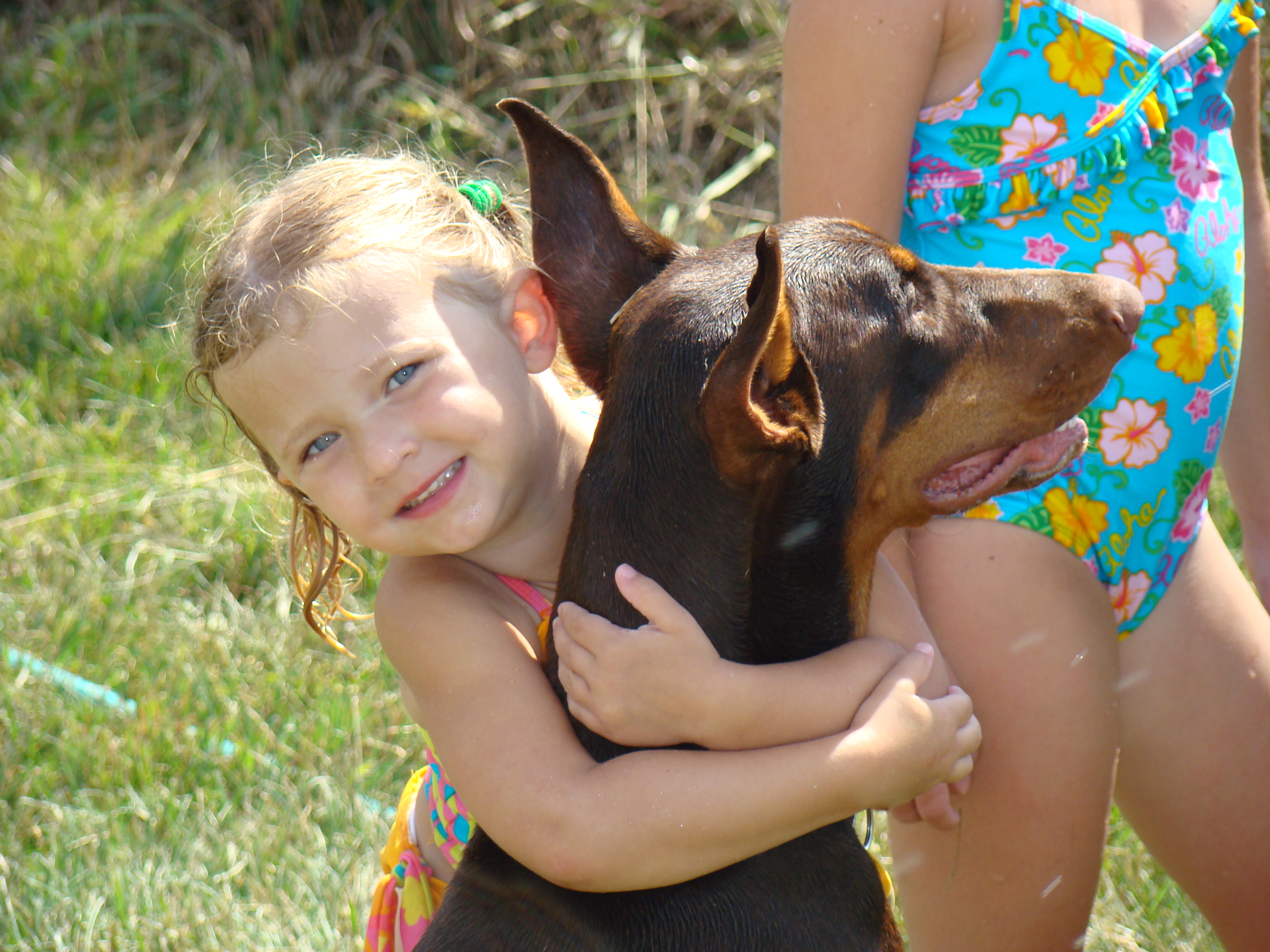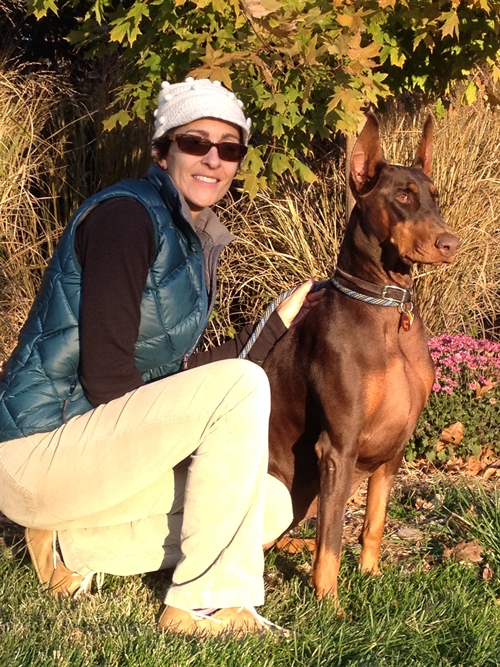 2011 Update (left): Greta is recovering from serious complications following surgery for eating a "corn cob". Good luck Greta and please just eat your food. :) Thank you for the updates Staci! Please just let us know if you need anything. :)