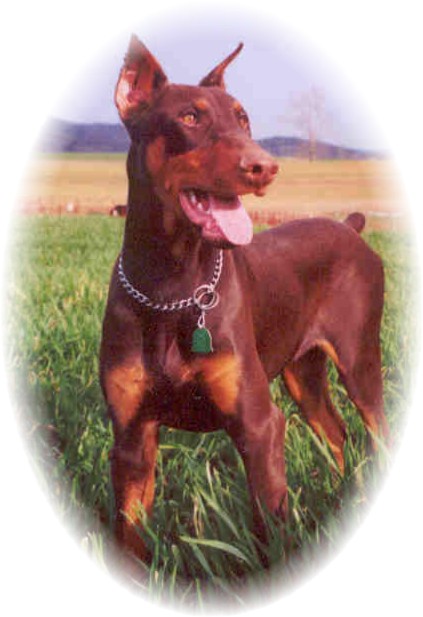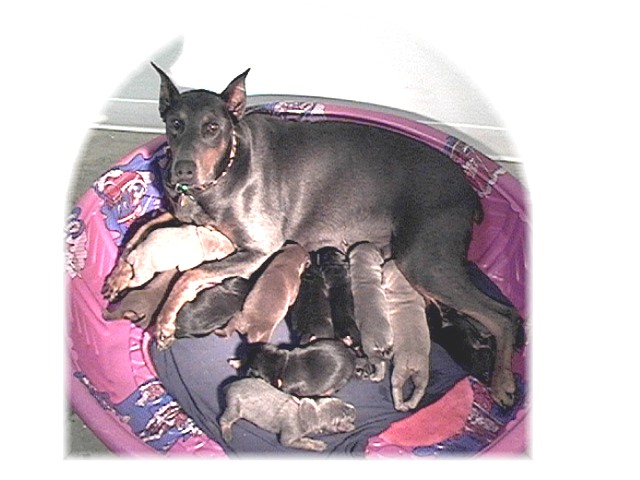 D & L's Amazing Gracey (AKC pedigree link) presented us with 12 gorgeous puppies on March 6, 2004. Her gift to us included all four colors: black, blue, red and fawn. The sire of this litter is RVF Royal Red Raif (AKC pedigree link).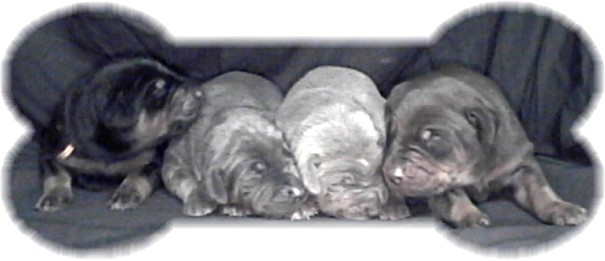 CONGRATULATIONS TO THE FOLLOWING: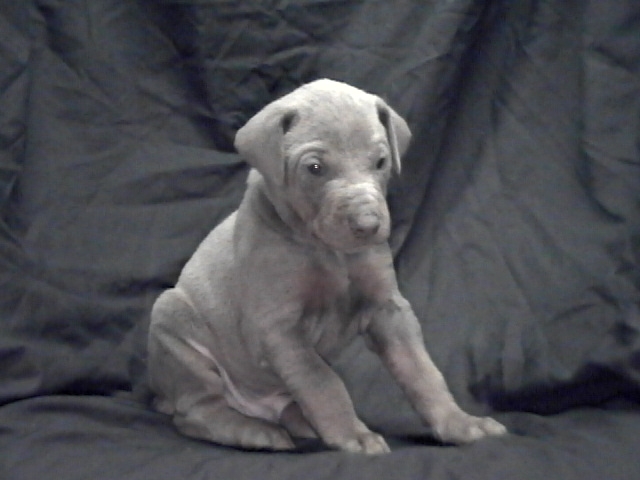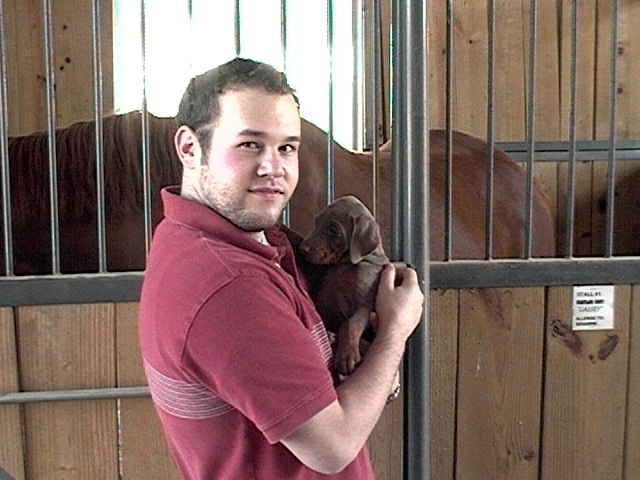 Nathan Elstein - Blacksburg, Virginia - fawn male. Nathan traveled from Virgina to pick up "Sterling". Nathan had everything Sterling might need ready for his trip and his arrival. Sterling will have it made in Virginia.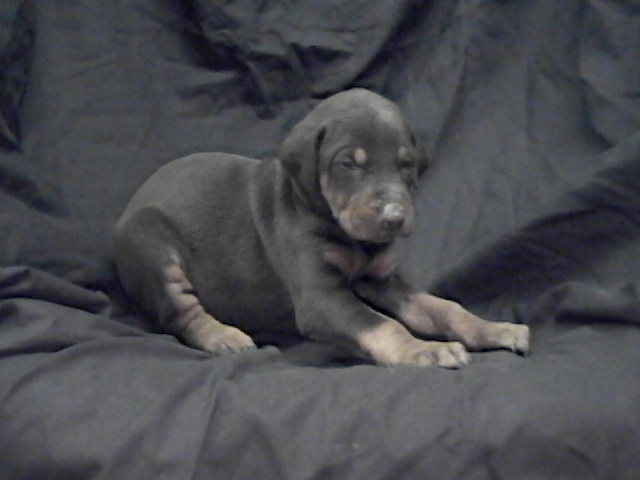 Bo and Abby - Maui, Hawaii - red male. "Samson" will live in a better home than most of us since he will live in Maui. Dwight asked Bo and Abby if he could come to Maui instead of the puppy and they said they thought the puppy might be easier to train. Bo and Abby were finally able to receive Samson into Maui on June 19, 2004. We very much enjoyed babysitting Samson in Arkansas during the wait and we will miss him very much. I am sure Samson will adjust well in Maui.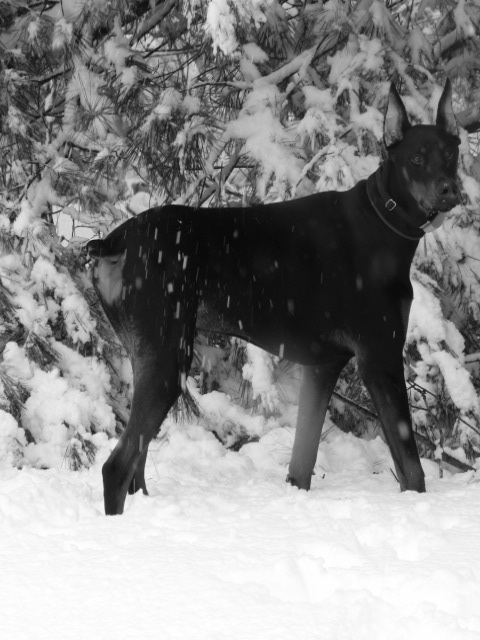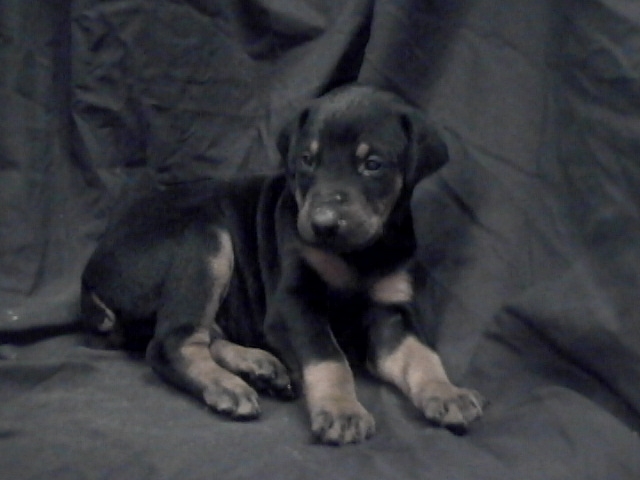 Virginia Vilcinskas - Kensington, CT - black male. This sweet boy lives in Connecticut with Virginia. Virginia lost her Doberman friend to cancer and we hope "Oberon" will bring her lots of joy. Virginia is not only a great school teacher but has taught Oby well as he has grown into a wonderful companion. We love you Oby!!
Update: Photos below of Oby at 4 years old in 2008. Oby you are a gorgeous boy! Note: Ear crop by D&L Dobermans, care given by Virginia! Great job Ginny!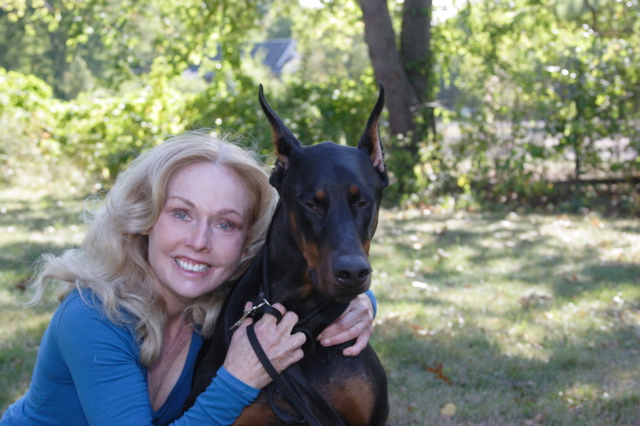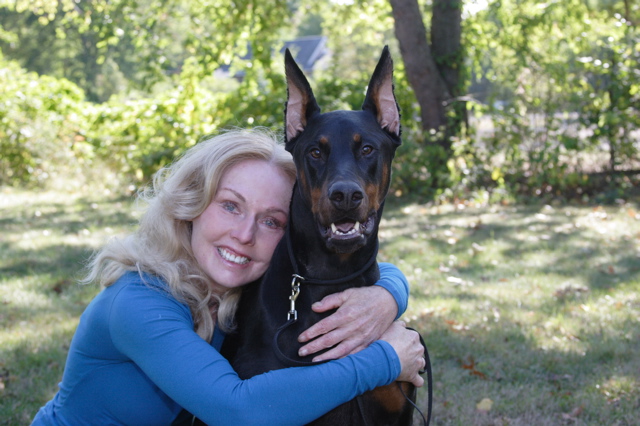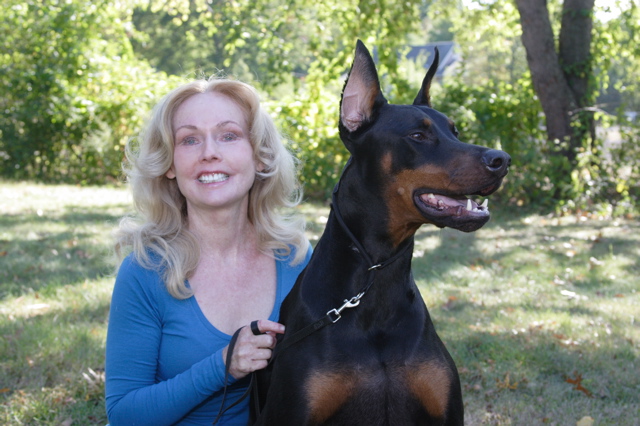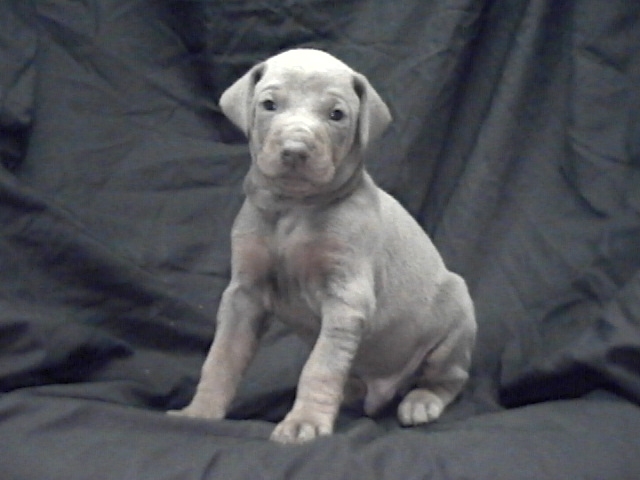 Tammy Hege - Baltimore, Maryland - fawn male. "Sampson" will have children to play with at his new home in Maryland. Tammy called just in time to snatch this little guy up before he was gone.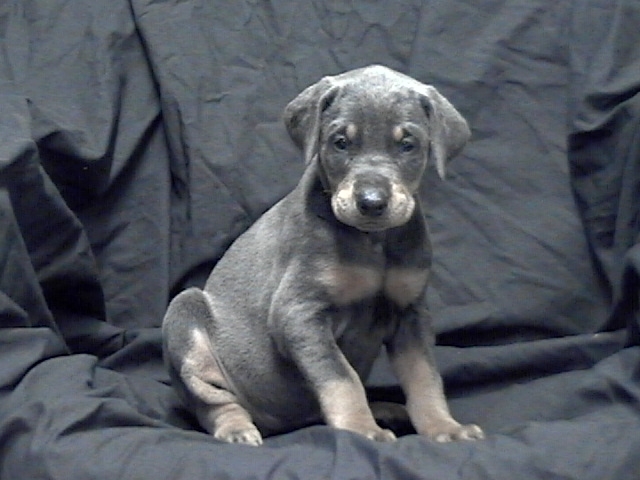 Monica Epling - McAllen, Texas - blue female. "Athena" will have four children to play with and protect at her new home. Monica is also planning to add a red male to the family along with this girl.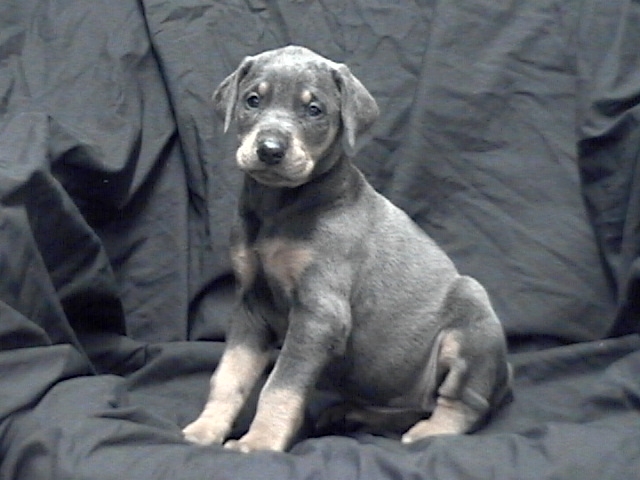 Keiki Mattson - Rancho Cucamonga, CA - blue male. This beautiful blue male will live in California with his family, where he will have two little girls to play with and protect as he grows.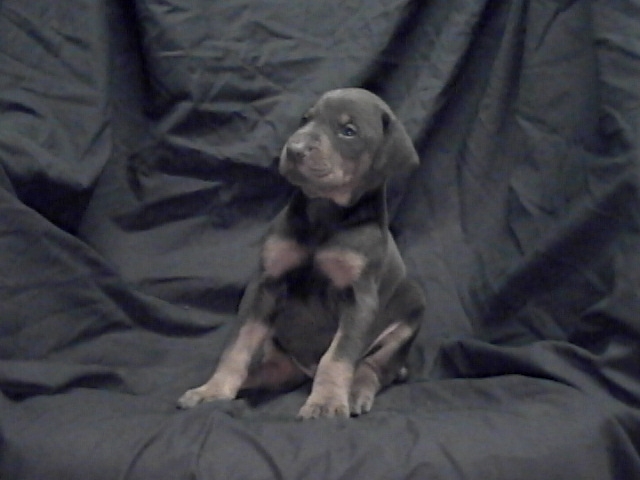 Christine Banner - Kokomo, Indiana - red female. Christine and her father alternated driving from Indiana to pick up "Sheba". Sheba will be a companion to Christine and protection for her and her barrel horses. Christine has been waiting for a puppy like Sheba since she lost her childhood friend years ago.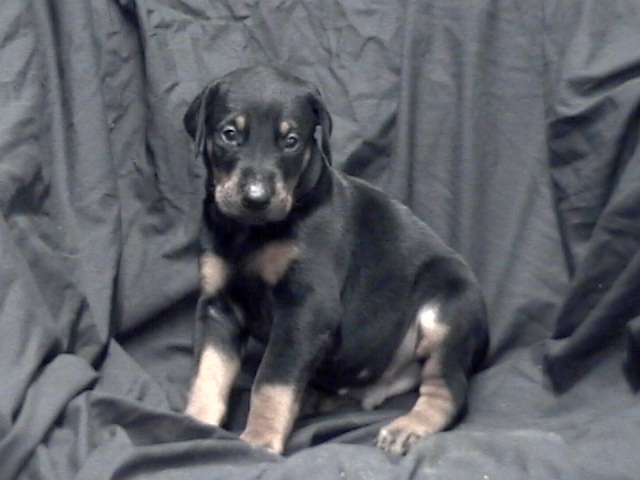 Mark Wautelet - Kewaunee, WI - black male. This beautiful puppy was a surprise for Mark's daughter's birthday party. The puppy was an hour or so late for the party but I am sure she didn't mind. He had a long trip to travel from Arkansas to Wisconsin for the party.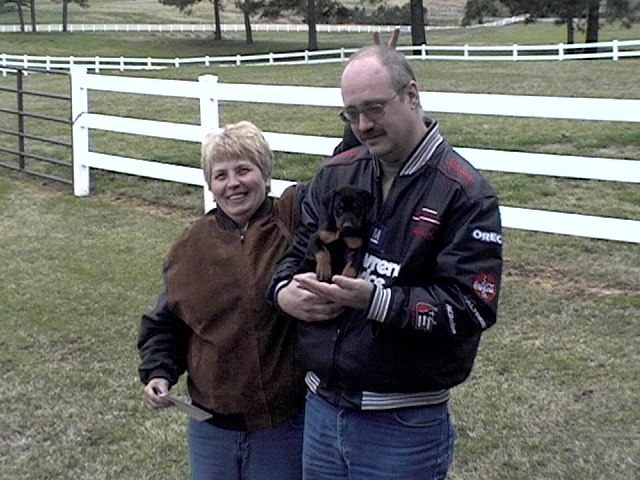 Corrina Wilbur - Hopkins, Michigan - black male. Corrina and Ralph drove from Michigan to pick up this little guy. "Mr. Jones" (Jonesboro, AR) will have his brother in Michigan to play with since Corrina has "Cruiser" from our 2002 litter.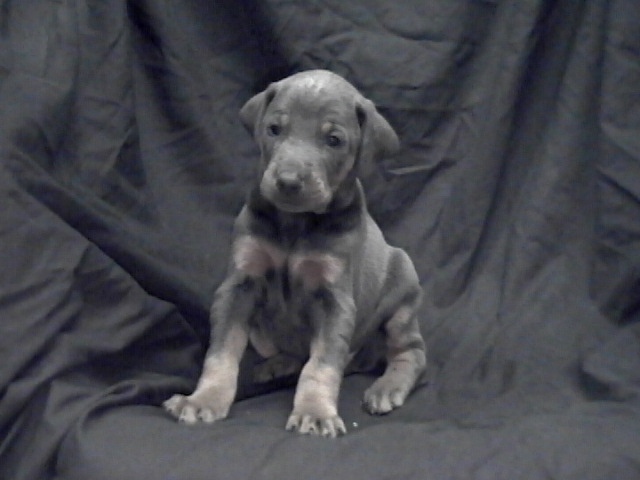 Tammy Hege - Baltimore, Maryland - blue male. - This huge handsome boy "Knuckles" will have children to play with at his new home in Maryland. He was shipped to Tammy following his fawn brother "Sampson" above.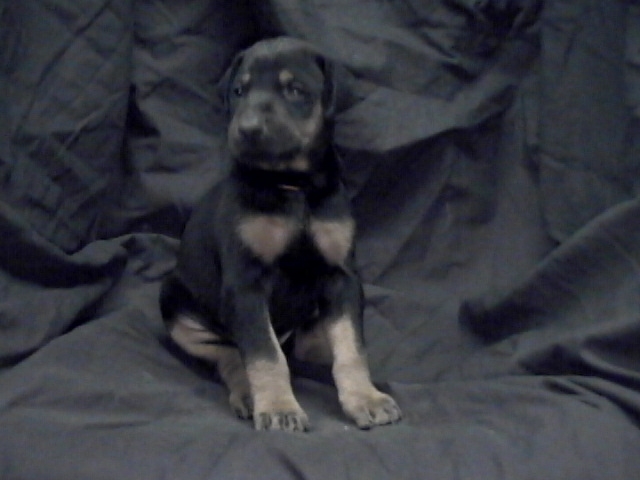 Bonnie Shaw - Clarksboro, New Jersey - black male. Bonnie is looking forward to this addition to her family since the loss of her Sampson. "Rock" will be sharing his home with Bonnie's new baby and Bonnie also works with shelters taking care of other animals so "Rock" will have lots of playmates.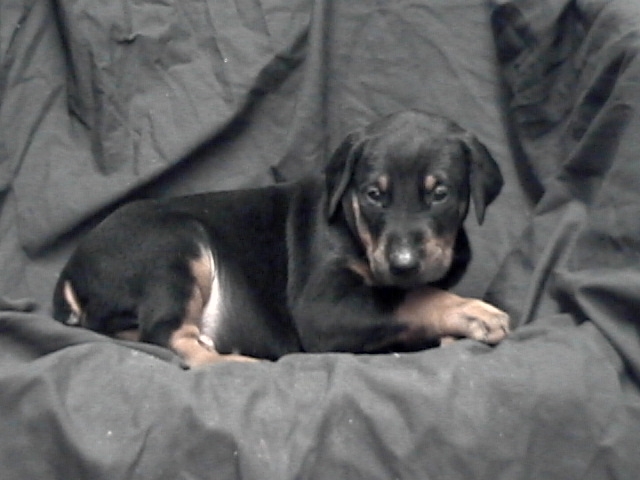 Mary Ancell - Puyallup, WA - black female. This little girl traveled a long distance to Washington state to live with Mary. I am sure Mary has fell in love with this puppy as we did. Hopefully she will help Mary feel at home since Mary relocated from New Hampshire.